When thinking about Mount Ventoux or the "Giant of Provence", we bet the Tour de France is the first thing that comes to mind. Indeed, thanks to this cycling challenge and its outdoor activities, it has become one of the most familiar mountains in the world. But did you know it is also home to outstanding vineyards and remarkable wines that benefit from its exceptional microclimate? Read on for our guide to Ventoux and have an inside look at what makes this region the new rising star of the wine world.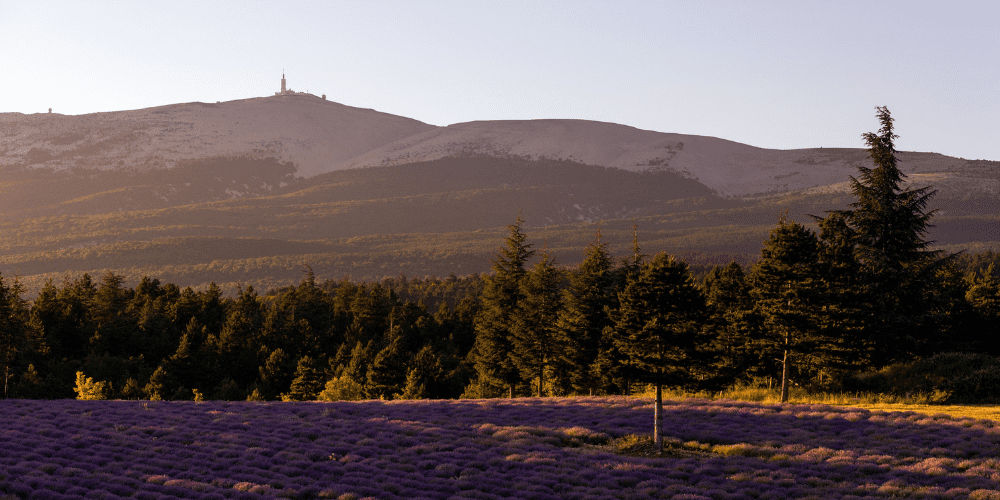 Photo credit: David Bouscarle
About Ventoux
Often overshadowed by its neighbours Côtes du Rhône and Luberon, the Ventoux wine region is nestled in the Southeast of the Rhône Valley along the lower slopes of Mount Ventoux, on the border with Provence. The appellation has 7,700 hectares of vines lying across 51 communes in the Vaucluse department and is the only AOC situated at the heart of two Parcs Naturels Régionaux (regional natural reserves of Ventoux and Luberon) and a UNESCO Biosphere Reserve.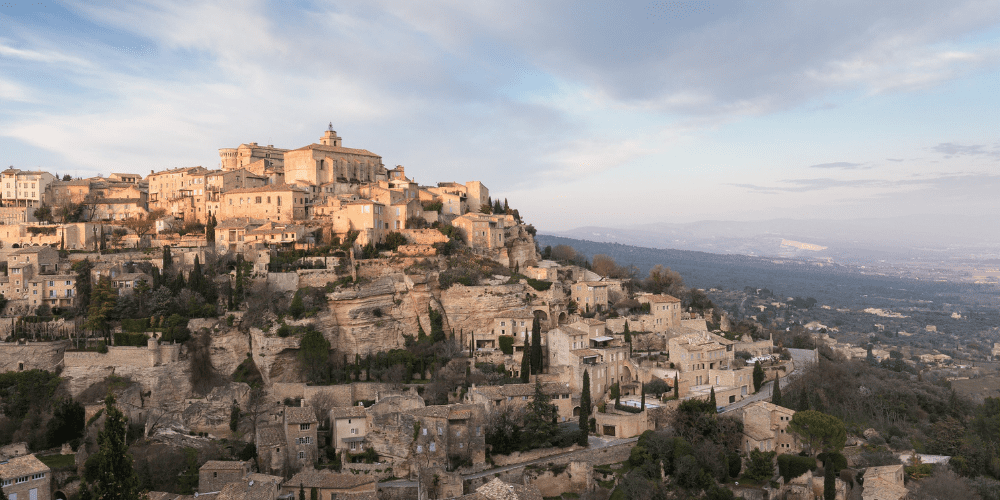 Photo credit: David Bouscarle 
Recent archaeological discoveries have shown that vines have been grown in the area since the 1st century BC, making Ventoux one of the oldest wine regions of France. Over the centuries, Ventoux wines have been consumed by popes, kings, and French royal houses. Originally established in 1973 for red, white and rosé wines, the AOC was called "Côtes du Ventoux" until 2009, when it was renamed to Ventoux.
The winegrowers of AOC Ventoux are an international, diverse, passionate and dynamic community. The Ventoux terroir is home to more than 20 nationalities of winemakers who are all gathered by their common love of the Ventoux mountain and its tremendous potential. Whether in cooperative cellars, private cellars or as wine merchants, they form a friendly and committed community and act to protect, embellish and transmit their infinite care for this unique land.
Over the past 10 years, Ventoux has been deservedly attracting more and more wine experts and lovers. The higher altitude, the cooler climate, its characteristic soils, outstanding terroir, and preserved biodiversity result in fresh fine wines with unparalleled balance.
Whilst wine tasting might sound like the main reason to visit AOC Ventoux, the other main attraction of this region is definitely its food! From goats cheese and local produce to black truffles, this incredible region has many things to satisfy your taste buds.
Altitude, the magic ingredient
What makes Ventoux wines so special and different from the neighbouring appellations like Beaumes de Venise is definitely its climate. In particular, the daily swing in temperatures is what determines a delay in the vine flowering and consequently in the harvest which starts in October.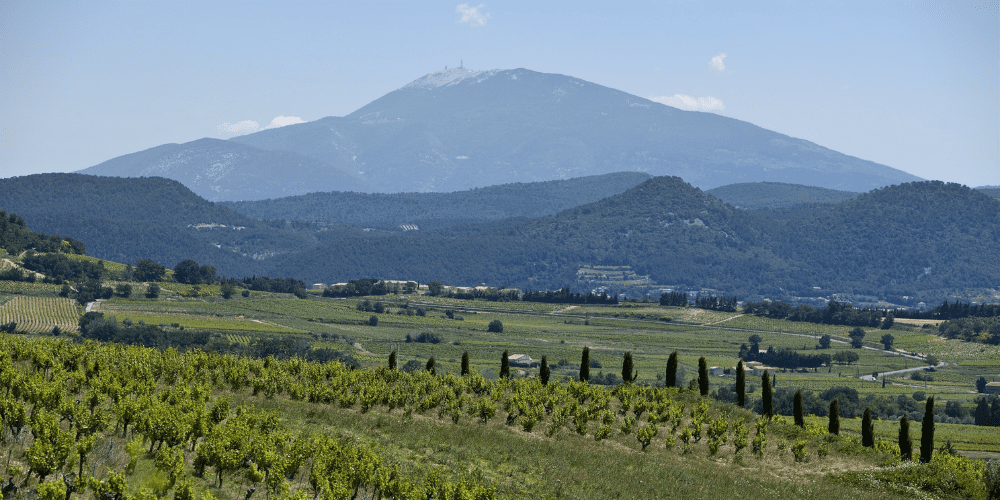 Photo credit: Christophe Grilhé
Thanks to its exceptional location at the foothills of Mount Ventoux, the territory benefits from a fresh microclimate, a unique asset for vineyards at the south of the Rhône Valley. This characteristic has been recently considered a great potential by several new winemakers who joined existing estates in producing wines perfect for every occasion and at an affordable price.
The raison d'être
In October 2021, all 150 wineries of the Appellation came together to create an outline of their raison d'être and their shared commitments. All the players are connected around one common ambition: to become an example of harmonious and sustainable development by protecting the living and the local culture and their know-how.
"We approach the future with the desire to make the most of the richness of their territory and the particularity of our terroir, thanks to new methods and a new approach to our profession. A new spirit, new methods, new techniques, new approach: we are ready to tackle the challenges of the future with dynamism, in particular the challenge of global warming, to make the most of the richness and diversity of our territory."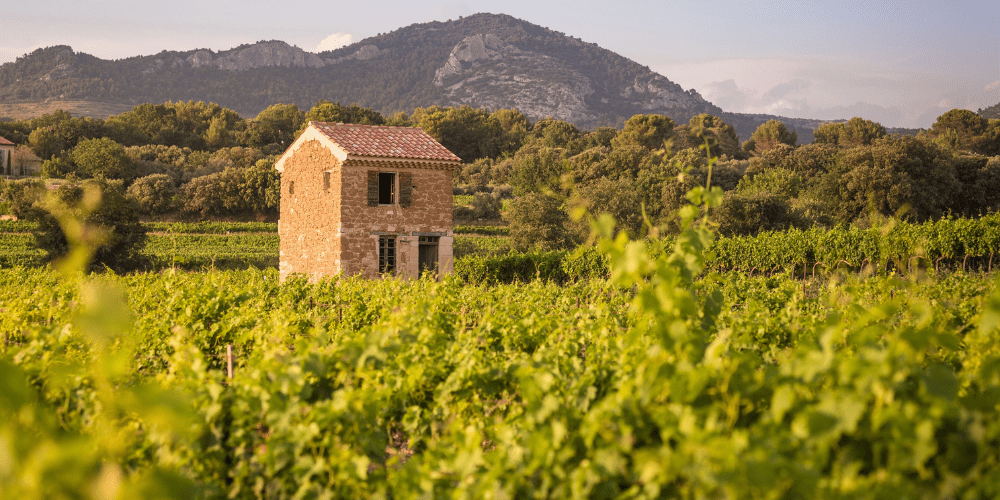 Photo credit: David Bouscarle
According to the AOC, it is up to the individuals of the region to provide local solutions to global challenges. For this reason, the AOC is committed to protecting the living by planting 30,000 trees by 2030; reducing its impact and adapting to climate change by reducing its carbon footprint by 30% by 2030, and reusing a minimum of 300,000 bottles every year.
"The two keywords of this commitment: respect for the environment and conviviality, in the sense of cooperation with and for the ecosystem."
Which wines to taste in Ventoux?
Ventoux wine style varies according to the blend of grape varieties used and the terroir from which they originate. Reds and rosés are made from Grenache, Syrah, Cinsault, Mourvèdre, and Carignan, whereas whites are made from Clairette, Bourboulenc, Grenache Blanc, and Roussanne.
The cooler temperature Mount Ventoux provides reflects in lighter and more fruit-driven wines, compared to the ones from neighboring regions. More specifically, the red blends, for which this region is known worldwide, come with an intense ruby colour and aromas of red fruit, spices, leather, liquorice and truffles. Rosés are elegant and refreshing, with a good length of flavour and notes of cherries, raspberries and flowers. The whites are golden coloured, with an enchanting youthfulness that gives off scents of citrus fruits, hawthorn and acacia.
Wineries and wines
Named after the magnificent ancient blue oak tree on the estate, the Domaine de La Verrière, Chêne Bleu wines are rooted in 500 years of local history, yet integrate the most forward-thinking qualitative approaches in their production.
Domaine de La Verrière is an isolated medieval priory in Crestet, north-east of Avignon, where the Rhône and Provence appellations meet. Located at 550 metres above sea level, the vineyards are some of the highest in Vaucluse and in the South of France.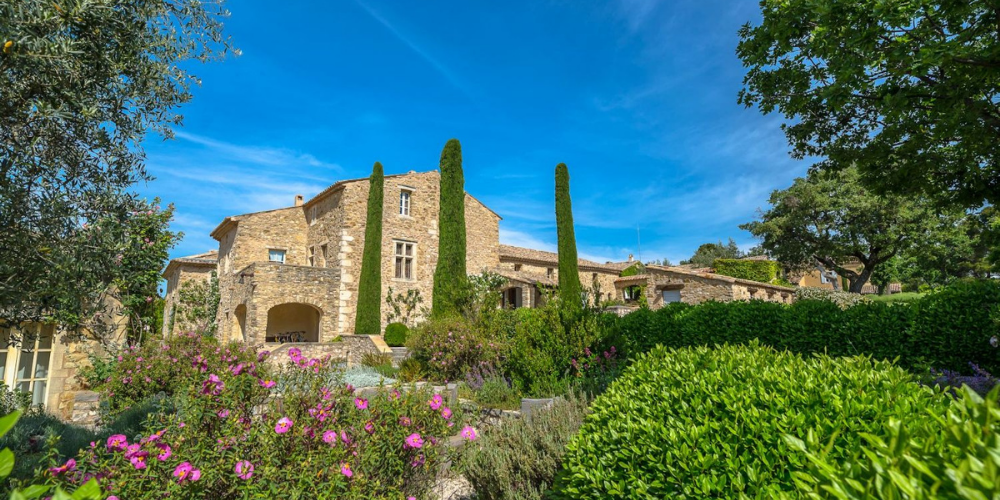 Organic and biodynamic practices in winemaking have been introduced to emphasise their respect for the land and the willingness to help the vines and local flora and fauna flourish. A sustainable equilibrium between the vineyard, the winery, and the people involved in every aspect of their work is the main goal of Chêne Bleu.
Chêne Bleu red, white and rosé wines have concentrated fruit aromas and rich meaty texture from the southern sun. They get freshness and acidity from the high altitude of the vineyards and have a complex basalt-based mineral structure from their unique geology.
Guided tours at Chêne Bleu are available year-round and allow visitors to discover their state-of-the-art winery, their history, and organic and biodynamic vineyard practices. Their workshop opportunities and first-hand experiences in winemaking are offered to educate people on vineyard work. Book your visit with Winerist today.
Wine to taste: Chêne Bleu – Abélard – 2012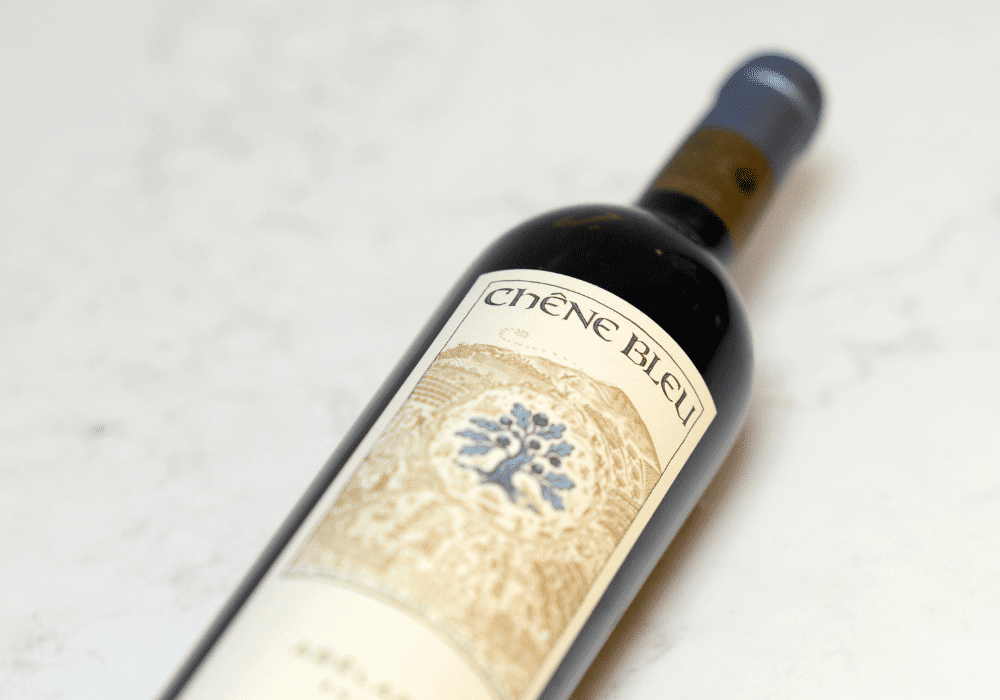 Grape varieties: 85% Grenache Noir, 15% Syrah, aged 18 months in French oak
Tasting note: Deep, brilliant garnet. Intense nose with notes of black cherry, plum and liquorice, mixed with hints of torrefaction and fine spices. Full-bodied and smooth, fresh with velvety tannins and notes of ripe red fruits. Long aromatic finish, with hints of spices and plums.
Food pairing: Enjoy with roast beef, venison, duck and roasted vegetables. Decant for 2-3 hours and serve at room temperature.
Stockists: www.winedirect.co.uk (UK), www.wine.com (USA)
Price: £62.95 GBP – $89,99 USD
Overlooking the Vaucluse plateau, Château Unang is an absolute gem of the AOC Ventoux Appellation. Since 2003 the Scottish couple James and Joanna King run this somewhat isolated and self-contained domaine which has its own geological category: les sables d'Unang, a sandy soil that lies overtop limestone.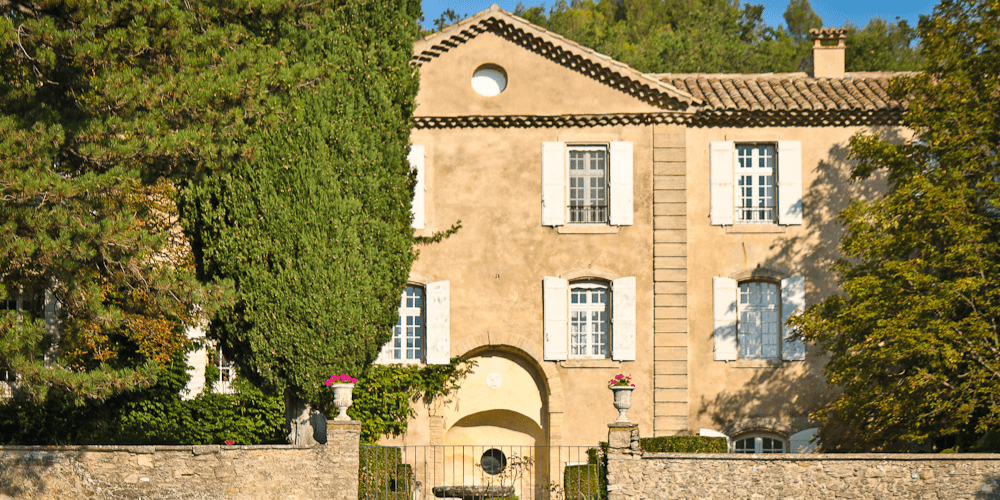 Photo credit: Château Unang
This beautiful estate has 40 hectares of forest and 20 hectares of vineyards surrounding one of the oldest castles of the Vaucluse area. The white grapes are all grown in the valley at the bottom of the hill, where they benefit from cooler early morning air and shadow in the longer heat of summer. This leads to delicious mineral white for which they have become well-known. On the contrary, the red grapes are spread in the forest over the rest of the hill between 250 and 320 metres above sea level.
Château Unang offers the opportunity to take a scroll through the vineyards, followed by wine tastings accompanied by cheese and local produce. Get in touch and reserve your spot.
Wine to taste: Château Unang – La Croix – 2018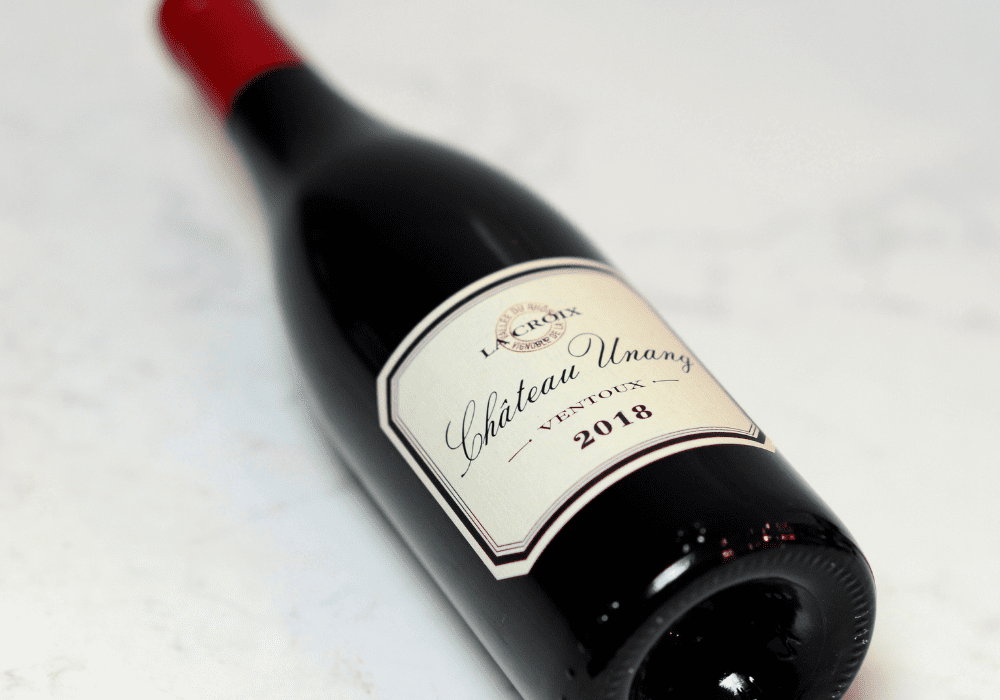 Grape varieties: Grenache, Syrah
Tasting note: Figs from Caromb and milk chocolate define the nose. The palate is dense, with aromas of Comtat cherry with a touch of camphor which brings freshness to the finish together with Sichuan pepper. Above all, it's an elegant wine with a beautiful long, smooth progression in the mouth.
Food pairing: You can pair it with beef, lamb, and game dishes.
Stockists: N/A
Price: N/A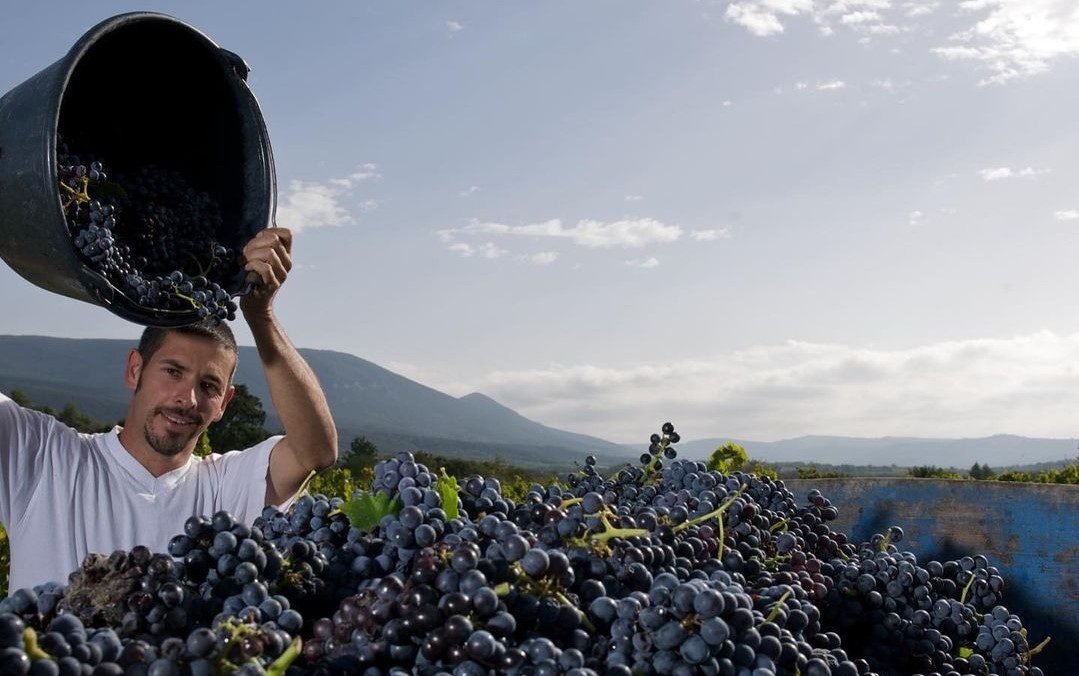 Photo credit: Marrenon Facebook
Located at the heart of the Regional Nature Park of Luberon, Marrenon brings together 650 winegrowers and wine producers. This community has a deep commitment to the respect of the environment, something reflected in the strong link with the land and the willingness to develop 100% of the AOC vineyard into a certified agriculture.
Their wines reflect elegance and finesse and are characterised by white, red and rosé wines that adapt very well to a diverse range of drinking.
Wine to taste: Marrenon – Orca – 2019
Grape varieties: 90% Grenache, 10% Syrah
Tasting note: A fine wine with aromas of tobacco and cherries on the nose. On the palate, it is rich with notes of ripe fruits accompanied by aromas of raspberry and strawberry. The finish is long, fresh and complex.
Food match: It pairs well with duck breast, lamb or game dishes. Best served at 17°C.
Stockists: N/A
Price: N/A
Situated at the foot of Mont Ventoux, between the villages of Mormoiron, Blauvac and Ville-sur-Auzon, Château Pesquié is a family-run estate at the heart of the Ventoux appellation. Over the centuries, the château has passed through the hands of many nobles, including the Counts of Mormoiron and the Lords of Maubec. Since the early 1970s it has belonged to three generations of the Chaudière family who strived to conserve the remarkable charm of the estate.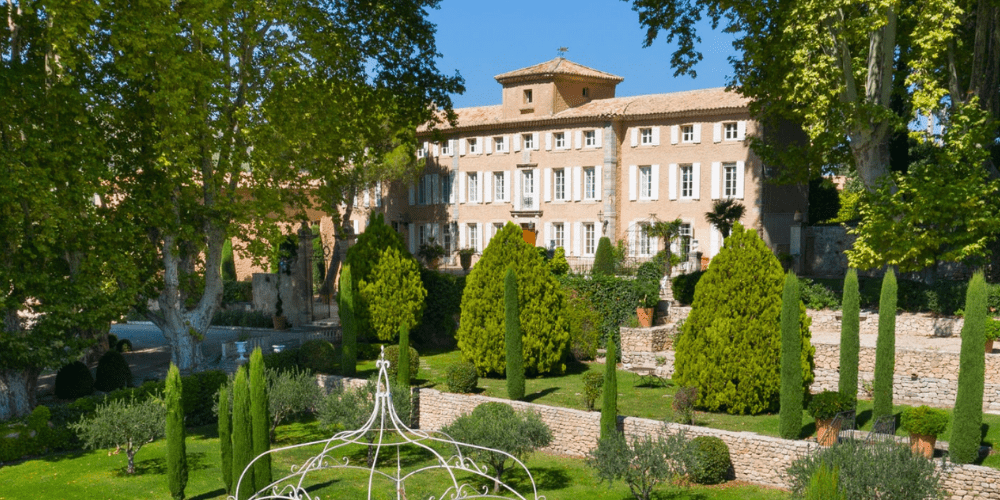 Photo credit: Château Pesquié
Odette and René Bastide, the grandparents of the latest generation, renovated Château Pesquié and began to re-structure the vineyard. Since 2003, their grandchildren, Alexandre and Frédéric, are continuing the family adventure with the same desire to offer the very best expression of the Ventoux terroir, characterised by freshness and finesse, while having a low impact on the environment. Their efforts were recognised in 2007 when the vineyard was certified organic by Ecocert.
To find out more about the history, terroir and wines of Château Pesquié, why not participate in one of the many activities this estate offers? Get in touch and reserve your spot.
Wine to taste: Pesquié – Silica – 2019 (red)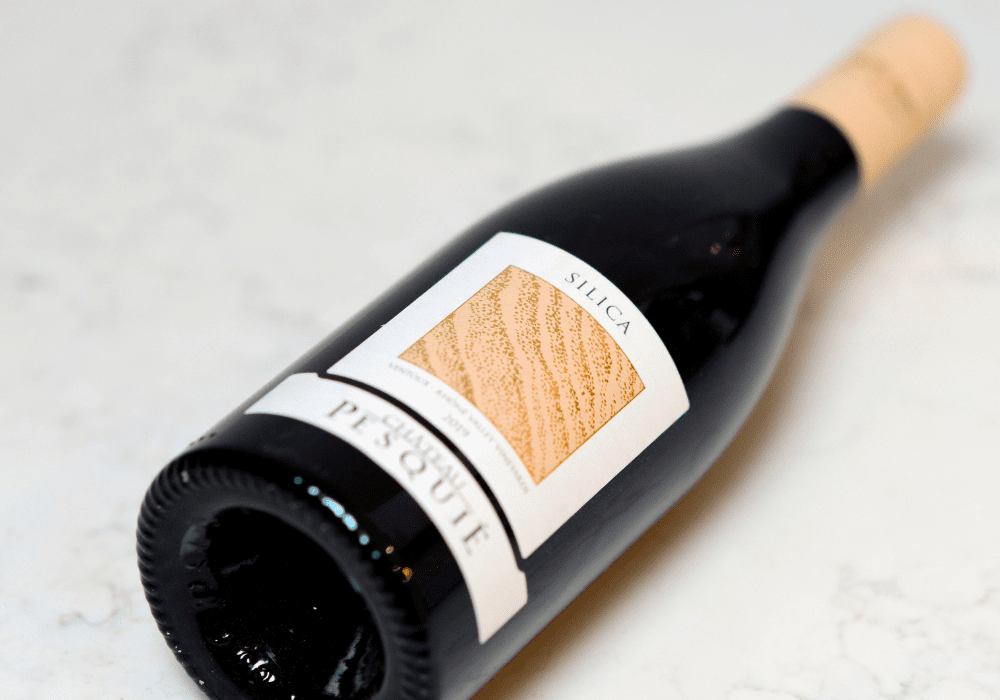 Grape varieties: 90% Grenache, 10% Cinsault
Tasting note: This medium-bodied ruby red wine comes with flavours of fresh red fruits, spices and flowers. Bright and juicy, on the palate you get notes of crisp berry and white pepper.
Food pairing: Serve at 18°C (64°F) with charcuterie or grilled meat.
Stockists: whwc.com (USA)
Price: $37.95
Wine to taste: Pesquié – Juliette – 2020 (blanc)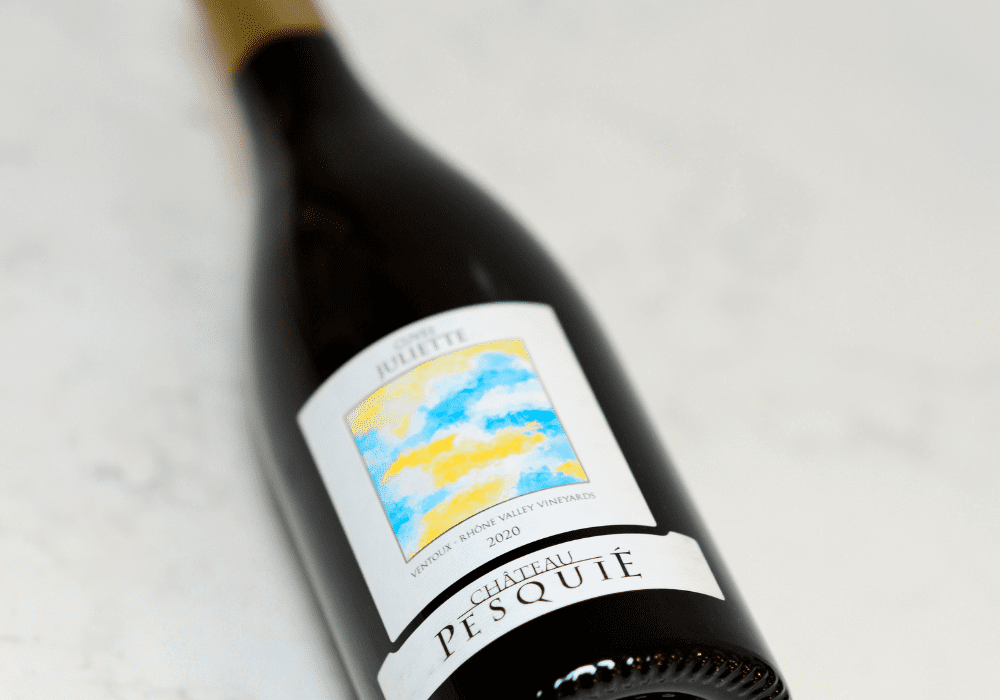 Grape varieties: 70% Clairette, 30% Grenache white
Tasting note: Golden with silver reflections. Very fine and bright with aromas of white flowers, hawthorn and citrus peel. Mouth: Fresh and rich together with flavors of zests of lemon and grapefruit, sweet spices and a salty finish that makes your taste buds salivate.
Food pairing: Salmon tartare, lobster bisque, scallops with porcini mushrooms. It also pairs well with turkey stuffed with morels or chanterelles. Parmigiano is also fantastic with this white wine!
Stockists: N/A
Price: N/A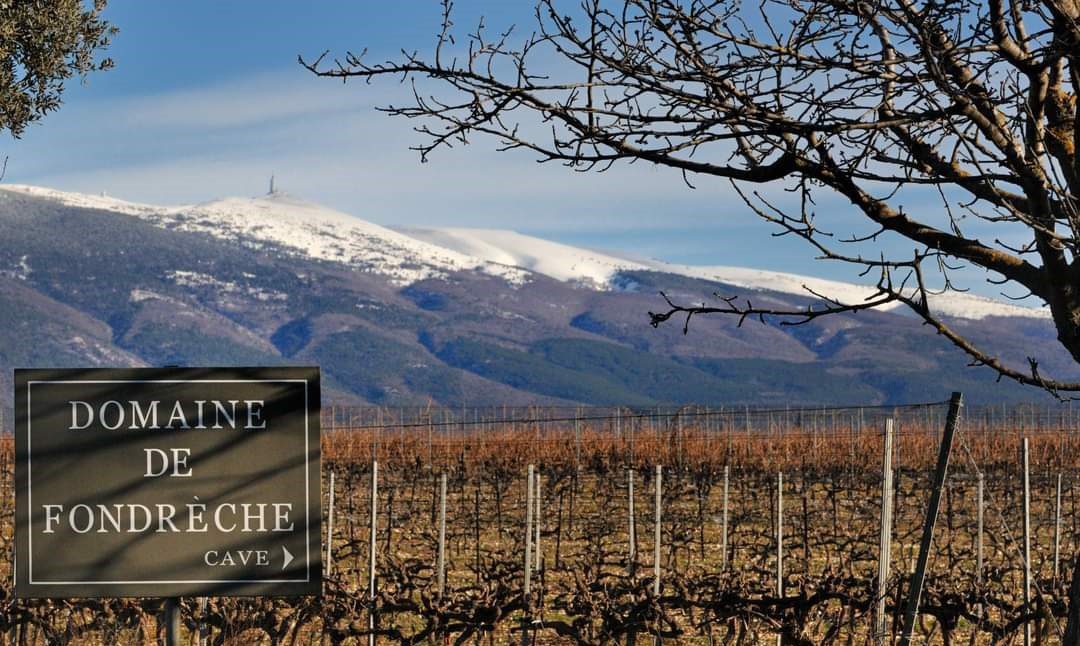 Photo credit: Domaine de Fondrèche Facebook
Domaine de Fondrèche extends over 40 hectares across the communes of Mazan, Mormoiron and Saint Pierre de Vassols. Its vineyards are divided into three sections with different production goals. The historical stony parcel is mainly dedicated to the production of red wines, while the others are sandy and chalky and dedicated to the production of rosés and whites.
Sébastien Vincenti, Fondrèche's winemaker since 1993, has now converted the vineyards to organic and biodynamic viticulture.
Domaine de Fondrèche red, white and rosé wines reflect the philosophy of the estate: planting the right grape on the right soil, working in a natural way, creating harmony between the soil, the grape and its environment.
Wine to taste: Fondrèche – Persia – 2018 (red)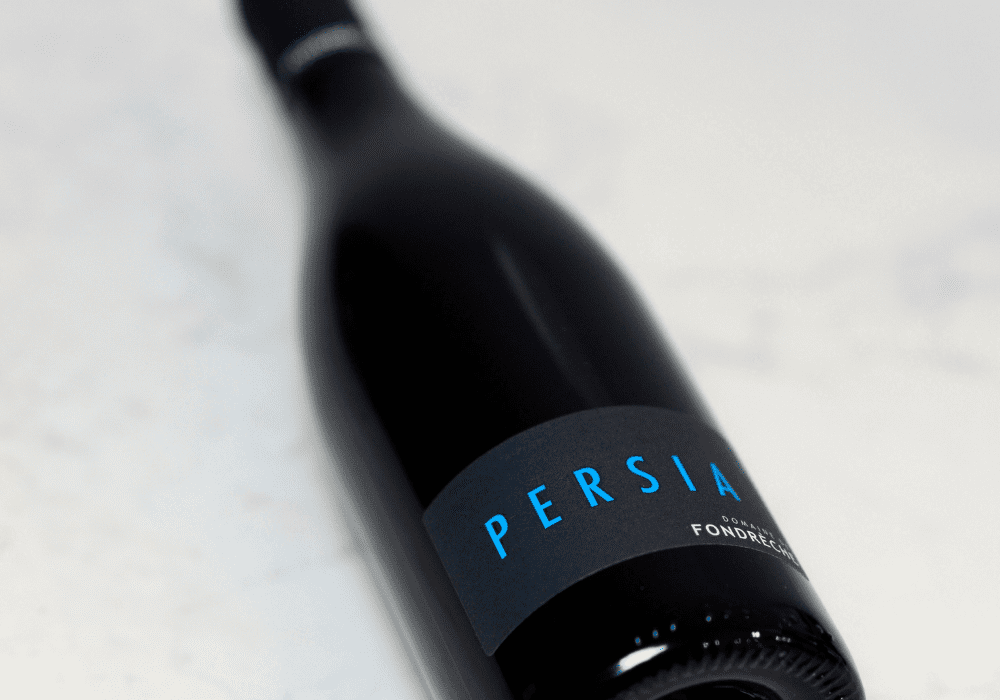 Grape varieties: 90% Syrah, 10% Mourvèdre
Tasting note: An elegant fragrance encompassing aromas of black fruit and pepper. It is a structured but fruity wine, plenty of bittersweet plum and cherry.
Food pairing: It pairs perfectly with red meat, poultry, and mature cheeses. Recommended serving temperature: 16-18°C.
Stockists: www.cadmanfinewines.co.uk (UK)
Price: £20.00
Wine to taste: Fondrèche – Domaine – 2020 (blanc)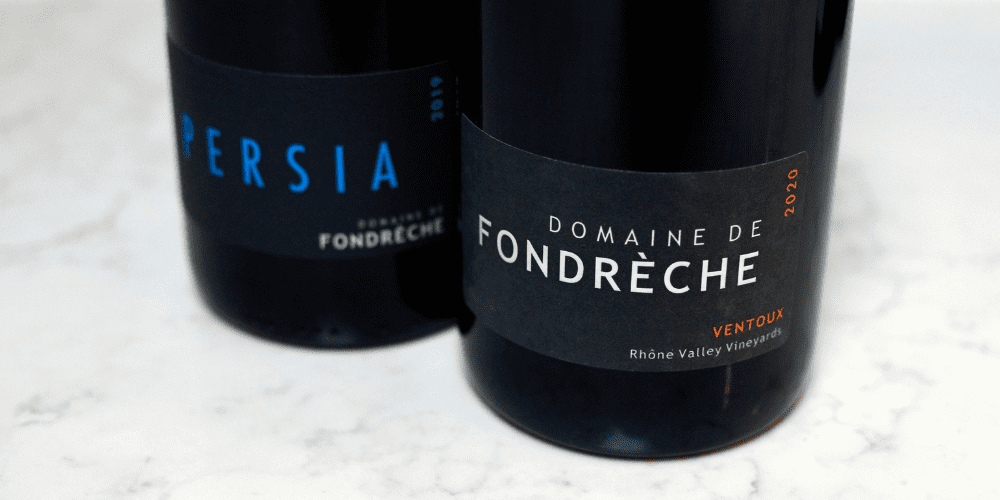 Grape varieties: 30% Roussane, 30% Grenache Blanc, 30% Clairette, and 10% Vermentino
Tasting note: An expressive nose of white flowers, peach, and grapefruit. Medium-bodied and fresh wine with surprising amounts of citrus fruit on the palate.
Food pairing: This wine is a match made in heaven with pork, rich fish (salmon and tuna), mature and hard cheese, poultry, and cured meat.
Stockists: www.cadmanfinewines.co.uk (UK)
Price: £15.00
---
To learn more about the wine regions in the Rhône Valley, meet the fascinating people making Beaumes de Venise a top wine destination.

*Hero image photo credit: David Bouscarle