Christmas is a time to eat, drink and be merry, but with everything else to prepare, the last thing anyone wants is to stress over which wines to serve. The simplest way to avoid the hassle and be confident that everyone will love your choices is to pick them all from one house and better yet, from one very exceptional house. And as Christmas in 2021 is also very special, for more than one reason, we are bringing you a selection of wines from Quinta do Noval, one of the most respected port houses with stunning vineyards high above the Douro river. And which now also makes award-winning table wines. Thanks to its wide range of still wines and Ports you'll have your Christmas lunch paired to perfection.
Turkey
The main event on many Christmas tables across the globe is turkey.
Despite being part of the poultry family, depending on the cut it can be classed as either white or dark meat, which means for a wine to match it needs to be able to work with both. The white meat needs freshness so as to not overwhelm the delicate flavours, whereas the dark meat needs something with a bit of body to match up to its fattier texture.
Cedro do Noval 2020 white is a blend of 65% Viosinho and 35% Gouveio – the perfect pairing for such an occasion as the Viosinho brings acidity, while Gouveio is renowned for being able to produce richer styles of wine.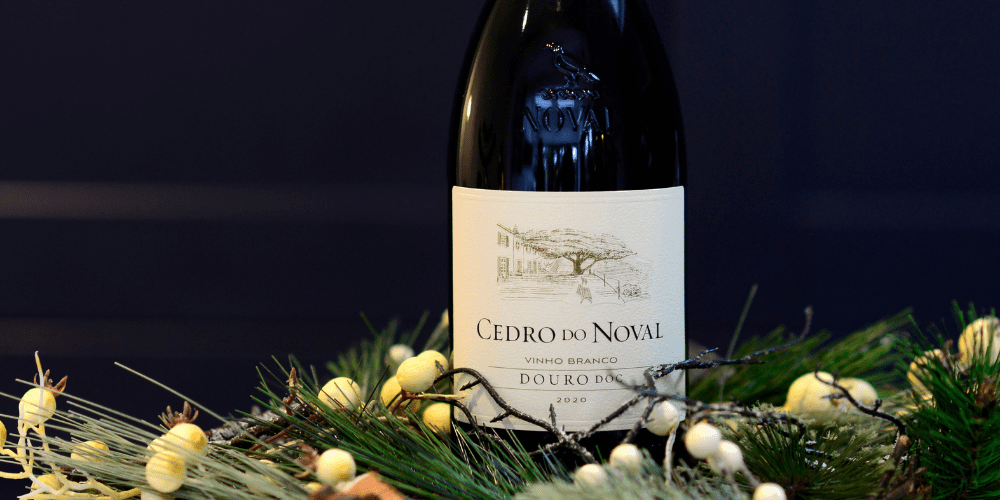 Further texture and complexity are added by the winemaking choices of fermentation and maturation in oak, as well as some battonage (lees stirring), all of which help the wine stand up to the proteins in the meat.
A fruity and floral nose with streaks of minerality, this has a full 'mouthfeel' and freshness with hints of vanilla from the oak.
Where to buy: Cellar Door Wines, Gosforth Traders, The Whalley Wine Shop, South Down Cellars, The Drinks Agency
Beef
For those that prefer red meat, red wine is the obvious partner.
Being protein heavy, these dishes demand something with decent levels of tannin and body and with the meat flavour being stronger, the intensity of the wine has to match.
Quinta do Noval Reserva Douro DOC 2018 sees the amount of Touriga Nacional in the blend upped to 60% – for that much needed concentration and body, while Touriga Francesa and an additional field-blend of grapes maintains acidity and structure.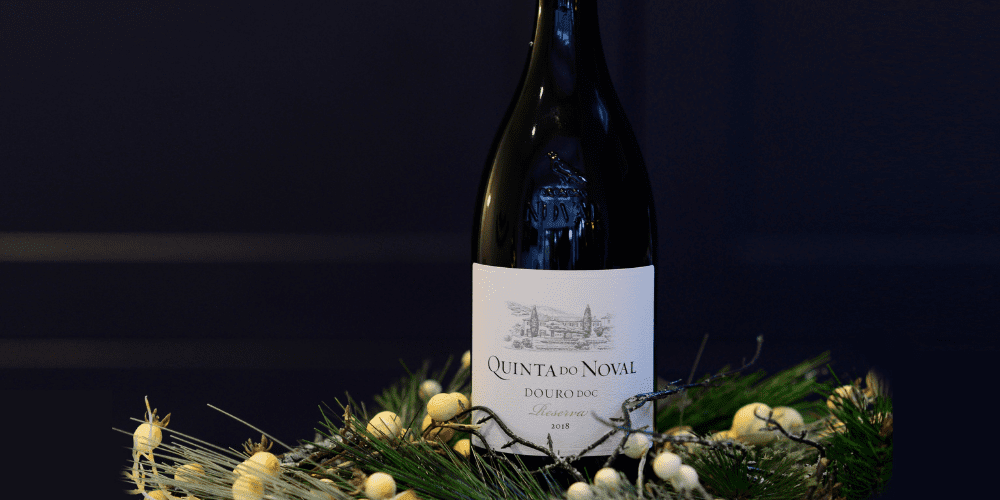 In line with Douro DOC Reserva regulations this wine is also aged for 12 months, with Noval choosing to do so in 50% new oak barrels to add extra body and layers of flavours.
This is a wine with intense fruit characteristics of black fruit, blueberry and raspberries with pastry, dark chocolate and spices on the finish.
Where to buy: Tanners, Seckford Wines
Nut roast
A blend of nuts, veggies, herbs, legumes and sometimes even dried fruit – nut roasts can have a lot of flavours going on. As such an accompanying wine needs to also possess plenty of fruit, good body and savoury notes.
Cedro do Noval Red 2018 is a blend of three noble grapes typically used in the production of Port, as well as Syrah, a recent introduction to the Douro. Similar to the Reserva, the Touriga Nacional in this wine (50%) is used to add body which is needed to stand up to the surprisingly dense texture of these dishes. Touriga Francesa brings finesse and lightness to stop the wine overpowering the food, while the Syrah and Tinto Cao both add pepper and savoury spice notes. Brought together they produce a dark fruit-centred wine with firm acidity and a slight smokiness on the finish.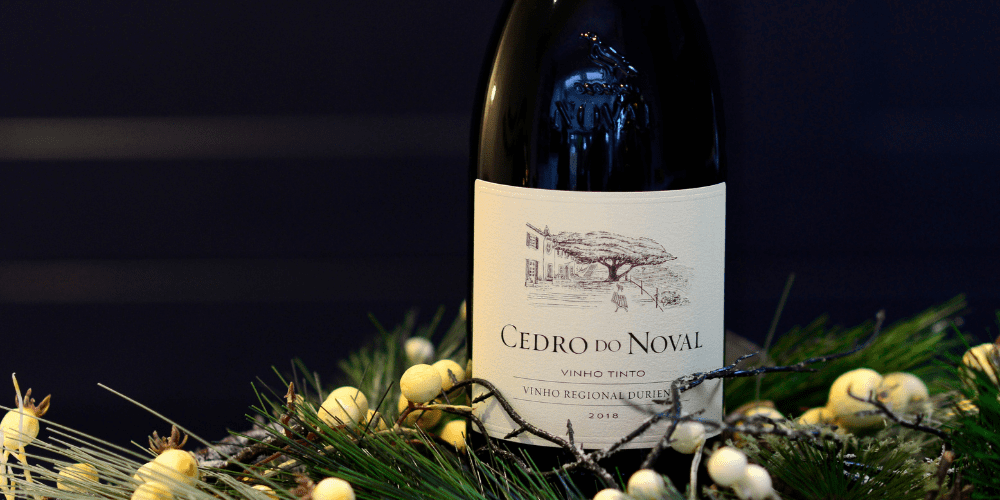 Where to buy: Tanners, Cambridge Wine Merchants, South Down Cellars, Ake & Humphries, Cellar Door Wines, Venus, Nysa International, Sandham Wine Merchants, The Vintage House, Partridges of Sloane Square
Desserts
The perfect pairing for dessert is Port, but the many styles available can be confusing at first. Once understood however, they open up an array of new food pairings – and not just for sweet desserts.
Christmas cake or mince pies
This is a perfect match for the Quinta do Noval LBV Unfiltered 2016.
LBV stands for Late Bottled Vintage and starts life in exactly the same way as Vintage Port – ruby and with grapes chosen for their high quality, from a single year.
Instead of being bottled after 2 years in barrel (to be aged further in bottle) like a Vintage Port would, an LBV is left to age in barrel for much longer, 5 years in this case, and then bottled ready to drink. This gives the wine time to mellow and become smooth on the palate, while still retaining lots of ripe fruits and freshness.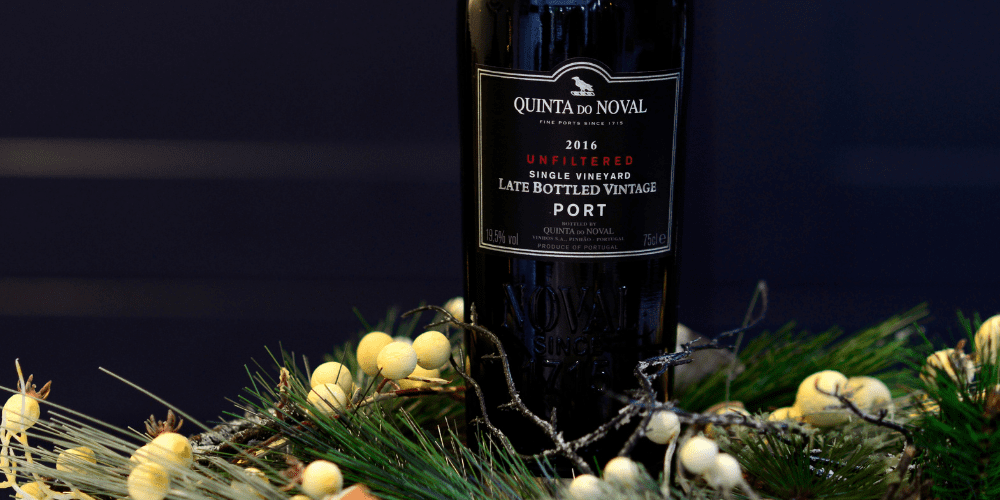 This particular LBV is a remarkable example of the Noval style. Treated exactly like a Vintage Port, and made with the same grape varieties solely from the Quinta, it is trodden by foot and unfiltered to bring more depth and colour to the wine. Definitely an LBV with a difference..
The structured tannins, great freshness and rich taste of pure black fruits and baking spices make this the perfect match to fruit-laden treats like Christmas cake or mince pies.
Where to buy: Ocado, Drinks Inc, The Fine Cheese Co., Cork & Cask
Nut based desserts or savoury
These types of desserts will pair wonderfully with Noval 10 Year Old Tawny Port. As the name suggests this Port has an orangey-brown hue, due to how it is matured.
Placed in smaller casks, the wine has more surface area contact with the oak and air, leading to increased micro-oxygenation.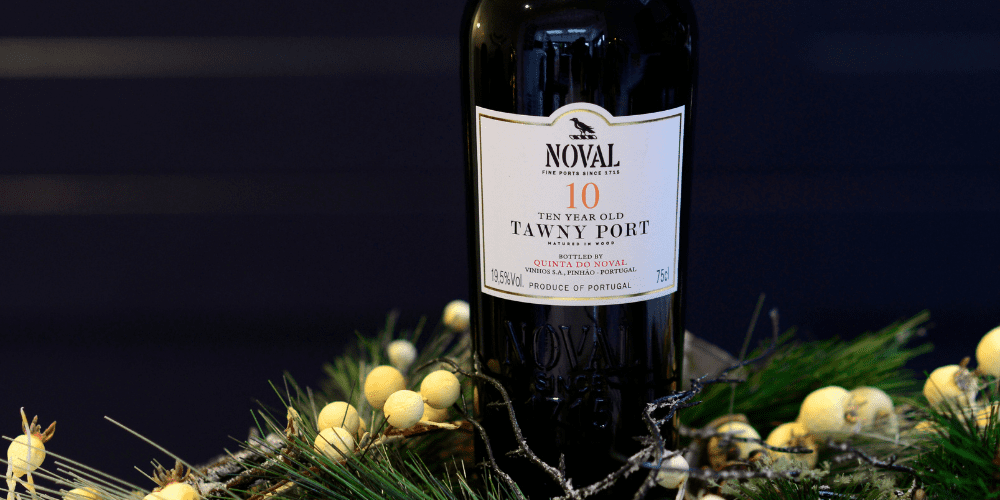 This process means the Port evolves quickly, changing not only the colour but also the flavour profile to include more dried fruits and a savoury nuttiness. As such, less sweet desserts work really well including anything with nuts; pecan pie, walnut tart and biscotti, but also completely savoury dishes such as duck liver pate or terrine.
While there is no single year labelled, the '10 year old' refers to the average age of all blended wines in the bottle. Some younger but a large proportion of older wines, to achieve Noval's unique style.
Where to buy: Waitrose, Ocado, Amazon, Harvey Nicholls, The Fine Cheese Co., The Seriously Good Wine Co., Master of Malt, Walley's Liquor Cellar, Humble Grape
Mixed cheese board
A perfect pairing for the variety of cheeses, crackers, nuts and umami flavours found on a cheeseboard at Christmas is the Colheita 2007. This Port is essentially a 'vintage dated' tawny Port, produced from wines of one year only, and from some of the best vineyard sites on the estate – giving a true sense of place and terroir. Left in the barrel to mature right up until bottling and release, this wine is only produced in the best years.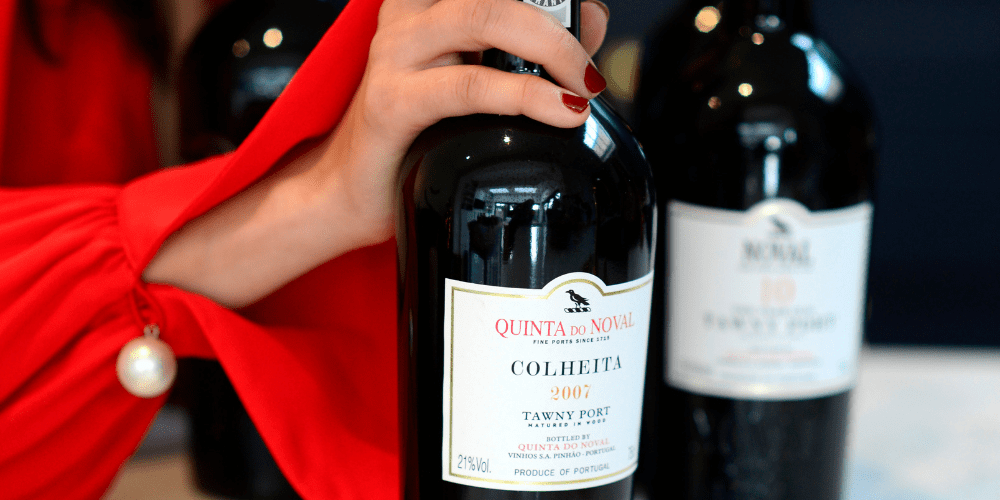 Amber in colour, the palate has developed layers of almond, cream, spice, toast and liquorice while still retaining some younger fruit flavours – due to the sheer intensity of the originally selected grapes.
Velvety in texture, this Port straddles both sweet and savoury flavour profiles and therefore is perfect for the variety and complexity of umami flavours found on a mixed cheese board.
Where to buy: Ocado, Haynes Hanson & Clark.
With your wines sorted, that's Christmas drink prep all wrapped up early, leaving you more time to do some urgent last minute present shopping.

---