This week we were delighted to be invited to celebrate this year's World Malbec Day in London with Argentina's leading wine producer, Luigi Bosca and the amazing Argentinian restaurant Casa Malevo in Mayfair.
Argentina, and Mendoza in particular, is one of our favourite wine producing regions and we take pride in the wonderful wine experiences we offer there! And it's for this reason that we were so delighted to explore the pairing of such great gastronomic and winemaking heritage.
The wine pairing menu was created by Luigi Bosca's winemaker Pablo Cuneo and Casa Malevo's Patron, Alberto Abbate. And, we had the pleasure of being guided through the tasting by Luigi Bosca's Head of Europe, and Alberto Abbate himself. It comes as no surprise that steak and Malbec, as the most renowned exports of Argentina, were the stars of the show with delicious courses paired with other varieties in their range on either side.
Alberto Abbate, Chef and Patron of Casa Malevo
We started with the traditional Argentinian starter dish Humita (with a Casa Malevo twist) paired with La Linda Torrontés 2019 (one of our favourite white varieties), Provolone Cheese, honey and almond Crostini paired with De Sangre White Blend 2020. Next came the stars of the show; succulent premium cuts of Argentine Sirloin and Ribeye Steak paired with a wine flight of Luigi Bosca's finest Malbec wines carefully selected from varying Mendoza terroirs. De Sangre Malbec D.O.C 2019, an elegant wine with spicy notes of coffee and blackberries and slightly toasted because of its aging in oak barrels. And, De Sangre Malbec Valle de Uco 2019, featuring black fruit aromas and spicy notes, along with mineral hues. For dessert, a Passion Fruit Sorbet and a Churro inspired pastry was served with Luigi Bosca Gewürztraminer 2019.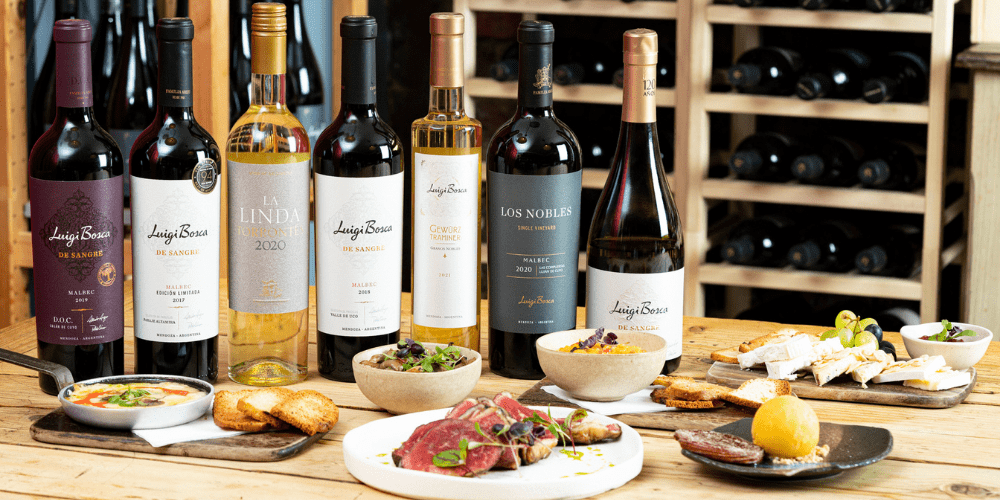 It was truly such a great experience and a real insight into the best of Argentine gastronomy and wine. And if you'd like to celebrate World Malbec Day for yourself, the full Luigi Bosca World Malbec Tasting Menu is available at Casa Malevo from the 15th-30th April.
If you'd like to experience Argentine wine and food in Argentina itself, explore all of our experiences here.