Have you ever wondered why your glass of wine just can't stay crisp, cool and chilled all the way through to the last sip? Well you're not alone. This is just the conundrum that bothered Lisa and Randall Pawlik and inspired them to create the very first personal wine glass chiller that can uniquely, and stylishly keep your glass of wine at the perfect temperature for maximum enjoyment.
Each style of wine has an optimal serving temperature that brings out its intended flavour profile, character and bouquet. While other variables of serving wine may be subtle, such as glass shape and aeration, wine experts agree that wine temperature is crucial.
Until VoChill however, most of the attention was given to the serving temperature of the bottle, rather than to the temperature in the glass. And products designed to keep the wine chilled, such as insulated wine tumblers and frozen objects that can be inserted into the glass, can compromise the taste, colour and aroma of the wine. Something no wine lover wants.
Lisa and Randall designed their product to be incredibly simple to use. You simply store the VoChill Chill Cradle in your freezer for 3 hours and then attach it to the stand and insert your stemmed glass. It's also cleverly designed to give maximum control to the individual; allowing you to choose your own preferred drinking temperature by simply removing your glass for less chill or leaving longer for more!
When the founders first set out to create their wine glass chiller, they weren't thinking of using it beyond whites, rosés, and sparkling wines. However, once they began showing their concept to sommeliers and wine professionals, they were surprised that the common response was
"that will be fantastic for reds!"
Once they started to use VoChill with red wine, they quickly realised what a profound effect it had on their experience with reds as well. It softened the tannins, lessened the presence of alcohol, and brought the red to life. The suggested serving temperature for red wine is generally around 60F, but it is commonly consumed at room temperature, or around 72F.
Wine enthusiast Randall Pawlik is an inventor and entrepreneur at heart.
From a very young age, Randall was always finding ways to sell things, whether it was picking up and bagging pecans to sell to his teachers or loading the back of his truck with grapefruit from his family's farm to sell to Texans in the Rio Grande Valley. He has always been a tinkerer, taking apart and rebuilding machines to figure out the mechanics. The skills he learned in a CAD Design class brought together his passions in one product – as the original inventor and designer of VoChill.
Lisa Pawlik, Randall's wife, had been unknowingly mapping out her entrepreneurial path since age twenty when her first trip to Europe sparked a passion for wine.
She began her career in international business working for the Australian Trade Commission before moving on to leading roles in innovation and sales & marketing at one of the US's largest grocery retailers. It was during this time that the seed for entrepreneurialism and a desire to have a product of her own began to manifest. After a corporate restructuring, Lisa faced a defining decision – move to another role within the company or take a chance and focus on the idea she and Randall had been creating on the side for years. With that, VoChill was born.
"The story started at an outdoor wine bar in our hometown of Austin, Texas, where I was taking my first sips from a flight of white wines. I soon noticed, like many times before, that my wine was quickly warming in the outdoor heat and my enjoyment was fading. I said to Randall "I wish there was something I could rest my glass in to keep my glass chilled". The idea was born. We immediately started to brainstorm about what the perfect solution would be.
The product would have to accentuate the wine glass and the wine while not compromising the wine experience. It had to look great in any setting, and most importantly it had to work and provide a long-lasting chill.

We felt that ice or any frozen object inserted into the wine, and plastic/metal tumblers were not acceptable options as they each devalued the wine and compromised the tasting experience. We firmly believe that the wine glass is central to wine enjoyment and should be the only thing between you and your wine, so we set our minds on something better."
"Once the idea was born, I immediately set to work. By the next day I had tested and proven the idea with the most basic of prototypes – a few small ice packs formed into shape and held together with foil then secured to a wine glass with rubber bands. The prototype worked! I was so excited that I continued to use this very basic prototype with each glass of wine while refining ideas using my CAD skills, growing more excited with each glass by how well it worked.
In the beginning, we kept our idea under wraps, only sharing it with a few close friends and family. After filing our patents, we finally started to show our concept to more people, and we were delighted to consistently be met with comments such as:
"Why hasn't anyone done this before?" "It's brilliant" "What a great idea" "You need to be on SharkTank!"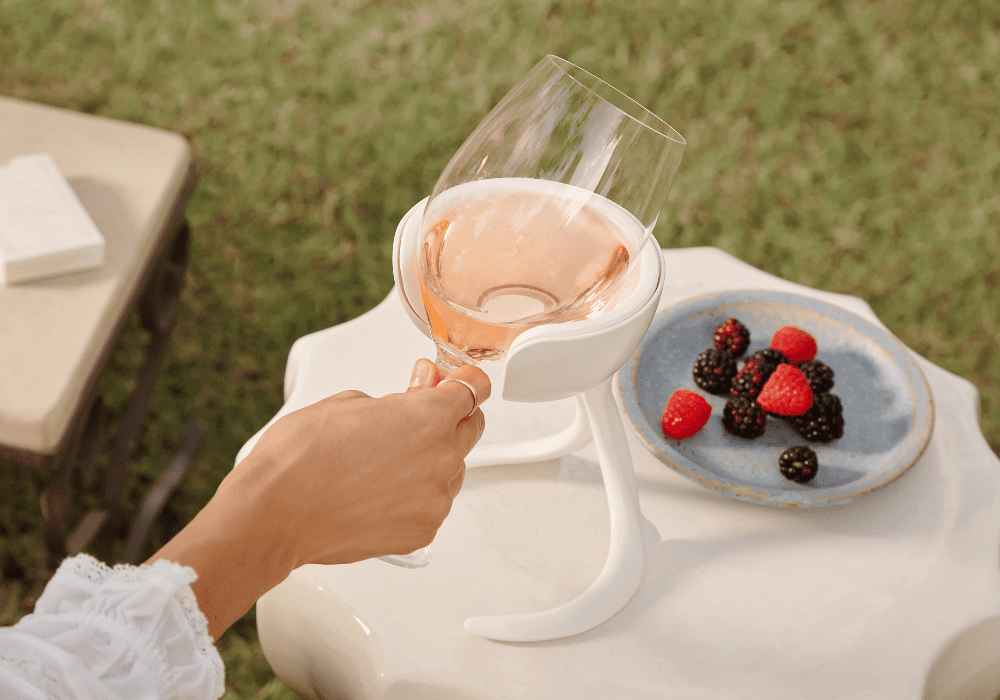 At any opportunity, we started to pitch the idea to strangers to get feedback so that we could better understand the market and how the idea would be received. We also began the long search for manufacturing partners and found quickly that finding a US based manufacturer would not be easy! After a number of rejections, but still convinced our design could be made, our persistence eventually paid off and we were lucky to find the two partners that would take on the challenging and never-before made product with two first-time CPG entrepreneurs.
Securing investment was also time-consuming but we are fortunate to have found a handful of investors that believe very strongly in the product and company and we are very appreciative of their support.
We had to overcome all sorts of hurdles along the way including labour shortages due to covid as well as packaging issues, but we overcame the challenges and in late 2020 we launched! Sales began to stream in and we were so excited when USA Today and NBC News both picked VoChill as a top wine gift for 2020. It was a whirlwind time of stress and excitement, but we were up and running!"
"We learned quickly that
an entrepreneur must have grit, determination and a real passion for the product or idea, because every day can test each of these qualities.
And it's our passion that continues to drive us.
Launching a product is hard work with plenty of obstacles but the sense of accomplishment and ownership makes all the work worth it, and we wouldn't trade it for anything. It probably helps to be a little naive when starting out and not knowing all the difficulties up front allowed us to charge forward without hesitation. We have never felt more in our element or that we could enjoy working as much as we do."
Not satisfied with the success enjoyed so far, Randall and Lisa have big plans for VoChill with exciting product line extensions in the pipeline and expansions into retail and hospitality.
The winery community has shown great enthusiasm for the product. Many wineries have purchased the VoChill for onsite use and are also merchandising. Add-on retail purchases of VoChill are easy after the try-before-you-buy experience guests are having. Lisa and Randall say:
"Retailers and wineries were looking for an innovative and elevated offering and have been excited to merchandise VoChill."
And, as for where they'll be this time next year; they say that any place where a beverage can be better enjoyed chilled in its glass is where you will see them grow their brand!
"We both agree that entrepreneurship is a challenging (yet fun) road. If you expect that having your own business is going to give you free time then you ought to reconsider!
One of the most important things is to listen to other entrepreneurs and their experiences and not close yourself off and think that you can do it alone. If you do not have a founding partner, find one, as it is a heavy load to carry by oneself. Be grateful that most people want to help you succeed and will give you their time and share their stories. Always try to reciprocate and offer help to those who help you.
Read books, articles, and listen to podcasts about all things start-up. Get involved within a start-up community if you have one nearby. There will be difficult days and sleepless nights, but the successes and pride you can build in yourself are unequal. Be tenacious. If you are truly passionate about your idea you can succeed.
Launching an innovative product is challenging, but don't let nay-sayers or doubt get in your way. It's not an easy road, but it's a fun and rewarding one and something you'll never regret trying."
Hop on over to vochill.com and choose from their range of individual VoChills or gift sets. They come in 3 beautiful colours so you can find the ideal one to match your tableware. Shop now with code WINERIST20 and enjoy an amazing 20% off.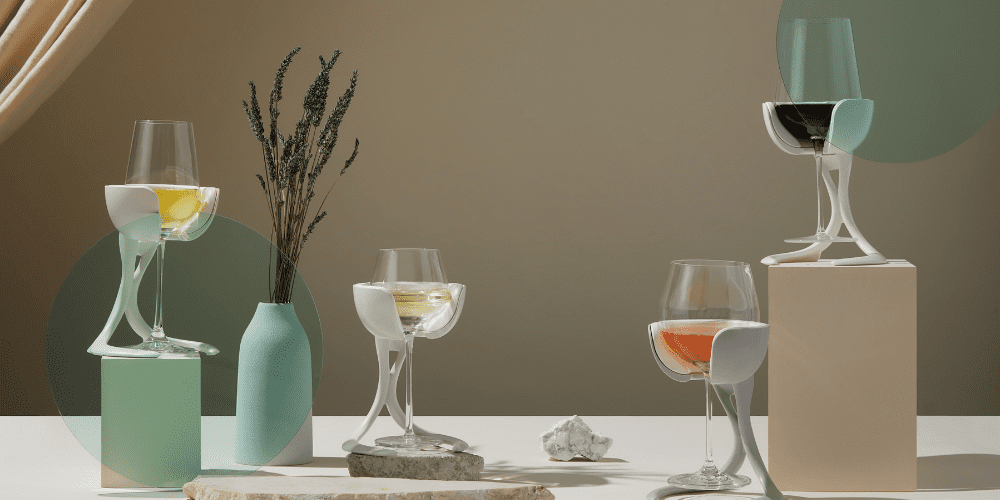 ---