Hôtel Chais Monnet & Spa is a luxurious and enchanting destination nestled in the heart of the picturesque town of Cognac, France. This exquisite five-star hotel is a true embodiment of elegance, combining historic charm with modern sophistication.
Nestled between verdant vineyards and picturesque landscapes, the hotel houses a charmingly refurbished 19th-century cognac distillery, providing visitors with an exceptional fusion of vintage allure and modern opulence. The architecture creates a pleasant ambience by carefully combining elegant, sophisticated design with the original industrial features.
Everything about it is well thought out, from the carefully chosen décor to the flawless service offered by the helpful employees.
Opulent Accommodations
The Hôtel Chais Monnet & Spa's accommodations are an ode to elegance and cosiness. Each suite and room is carefully designed to feature an elegant blend of contemporary amenities with traditional French splendour. Expect soft bedding, roomy interior designs, and opulent en suite bathrooms—many of which have breathtaking views of the hotel's exquisitely landscaped gardens or the nearby vineyards.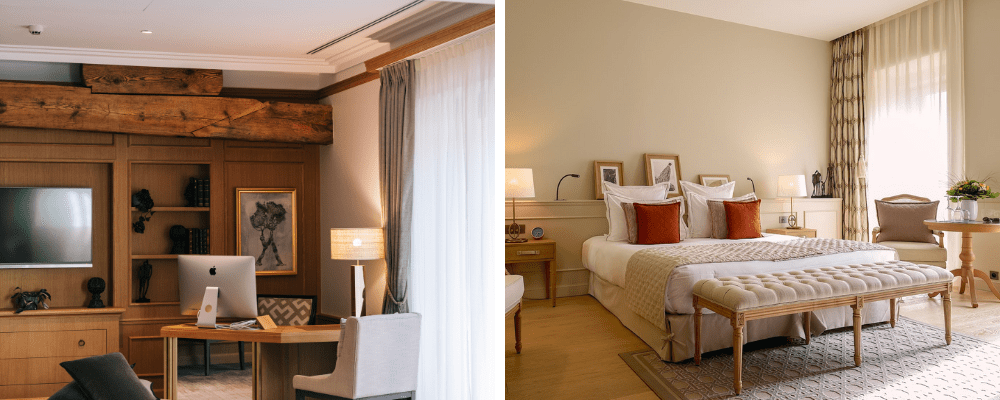 The Spa: A Sanctuary of Serenity
Featuring a range of indulgent treatments and therapies, the spa offers a holistic approach to wellness, allowing guests to unwind and revitalize both body and mind.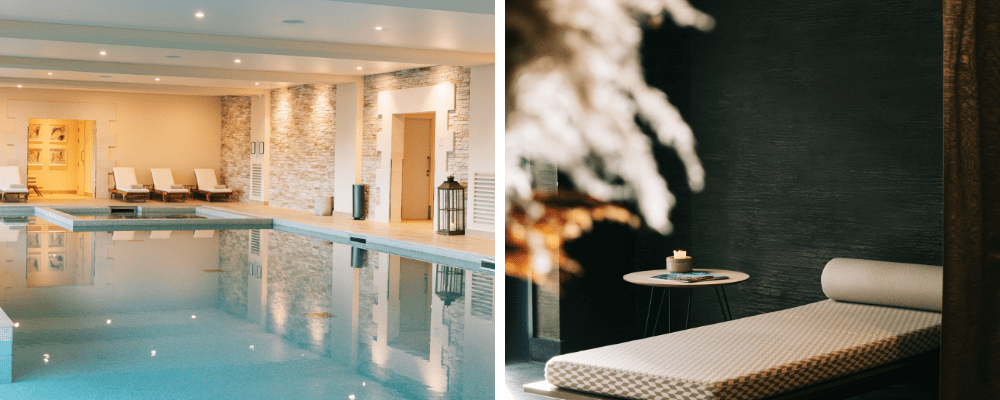 Gastronomic Delights
Lovers of culinary delights will be impressed with the hotel's dining options. Under the guidance of a group of talented chefs, the Michelin-starred gourmet restaurant offers a mouthwatering selection of dishes that highlight the region's rich culinary history. In addition, the hotel's brasserie provides a more leisurely eating atmosphere with an emphasis on locally produced, fresh cuisine.
Enriching Experiences
The hotel's position in the centre of the Cognac area is honoured by the immense wine cellar. A voyage through an exquisite assortment of cognacs and fine wines from across the globe is available to guests.
In addition to its excellent facilities, Hôtel Chais Monnet & Spa provides a variety of experiences and activities. Guided tours of neighbouring cognac distilleries, scenic bicycle rides through the vineyards, and cultural journeys to historic locations in Cognac and the surrounding area are some of the many educational opportunities available.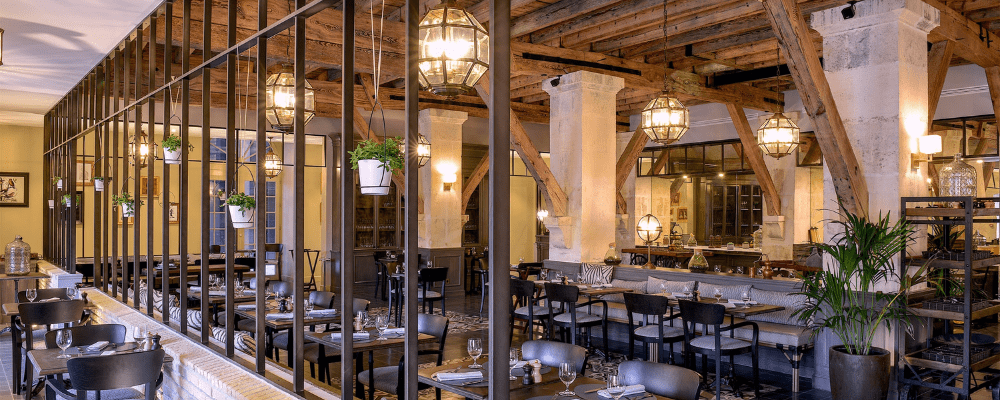 Seize the Charm of Cognac 
Hôtel Chais Monnet & Spa takes great care to provide something for everyone to enjoy! Choose the Welcome to Cognac Package and create memories for a lifetime while discovering stunning places and culture of Cognac! You can attend the annual event of the Fête du Cognac, or enjoy La Croix Montamette Fun-Fair with attraction for everyone!
With the Welcome to Cognac Package you can spend two nights in total luxury, which includes an automatic room upgrade for an even more luxurious stay. Reconnect at the tranquil spa of Hôtel Chais Monnet with a pleasant 60-minute Spa Treatment for two. You will enjoy a delicious breakfast to start your day, either in the luxury of your bed or in the classy La Distillerie restaurant and experience the essence of Cognac with a fascinating tour and delectable Cognac tasting at the famed Hennessy distillery. You can take a leisurely bike ride through the beautiful vineyards or along the Charente River to further discover the wonderful surroundings. We recommend you savour a delicious picnic that the hotel's Executive Chef has carefully chosen — a memorable gastronomic experience!
As the day comes to a close, you can savour a Michelin-starred meal at Les Foudres, a magnificent capstone to your Cognac journey.
Starting at only €650 per person, the Discovering Cognac Package has everything and more in store for you. Don't pass up this chance to make lifelong memories right in the centre of Cognac, France. Make your reservation today to start the magic!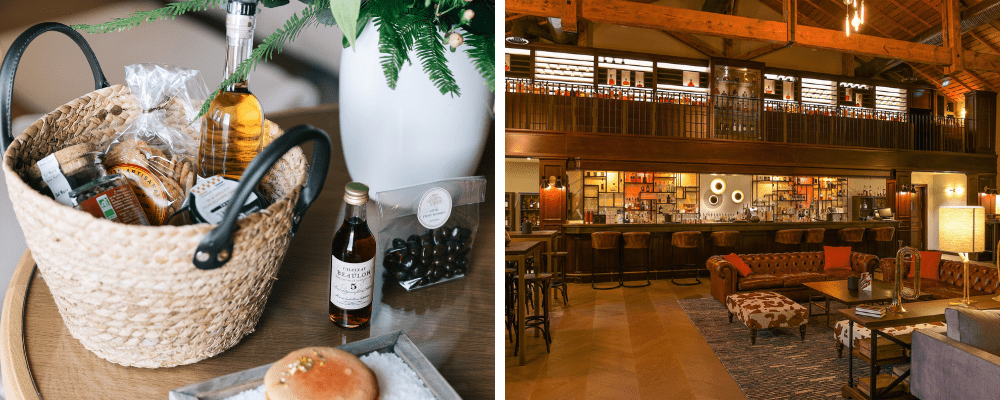 Impeccable Service and Hospitality
Hospitality and service are transformed into an element of art. Warm hospitality is offered to each visitor, reflecting the sincere concern and careful consideration shown by the committed employees. The team anticipates every need and satisfies it with efficiency and grace, from easy check-ins to tailored recommendations. Their real hospitality creates an atmosphere of respected and treasured visitors who feel valued and cherished during their stay, and their commitment to delivering a faultless and unforgettable experience is noticeable. With a passion for providing exceptional service, the team of Hôtel Chais Monnet & Spa goes above and beyond to create a new standard for opulent lodging.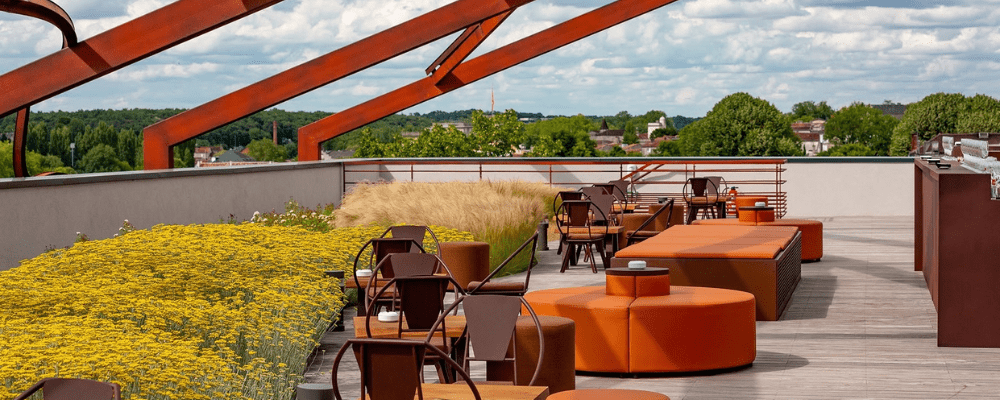 Lastly, don't forget to check their autumn offers! Immerse yourself in the secrets of artisanal walnut farming at the Noyeraie des Borderies, where each visit is a journey into tradition and taste. Savour organic delights, including a virgin walnut oil tasting, and bring home a special walnut-infused gift from our gourmet shop.
Back at the hotel, chefs will craft a walnut-infused culinary experience at the Distillery restaurant, infusing your menu with the rich flavours of the season. With a VIP welcome gift, a blissful spa session, and a delectable Monnet Breakfast, every moment is designed for your utmost comfort and enjoyment.
Don't miss this opportunity to welcome autumn in style. Book now and treat yourself to a one-night stay of unparalleled luxury, starting from just 250€ per person. This offer is available from Tuesday to Friday until October 31st, making it the perfect escape for those seeking an unforgettable seasonal experience. (Beverages not included)