Our beer expert Anthony Gladman takes us on a food and beer matching journey with the Brewers Association. Here, he describes how American Beer and English food go together rather well…
The Brewers Association, a not-for-profit trade association dedicated to small and independent American brewers, hosted its prestigious annual food and beer pairing lunch at BRAT restaurant in Shoreditch, East London, on Wednesday 8th August. The event showcased cutting-edge food and beer pairing, prepared by BA executive chef Adam Dulye and BRAT head chef Tomos Parry. This one-off dining experience highlighted the natural affinity between the full flavours of American craft beer and seasonal British produce, cooked on an open fire wood grill. Here are some of the fantastic matches: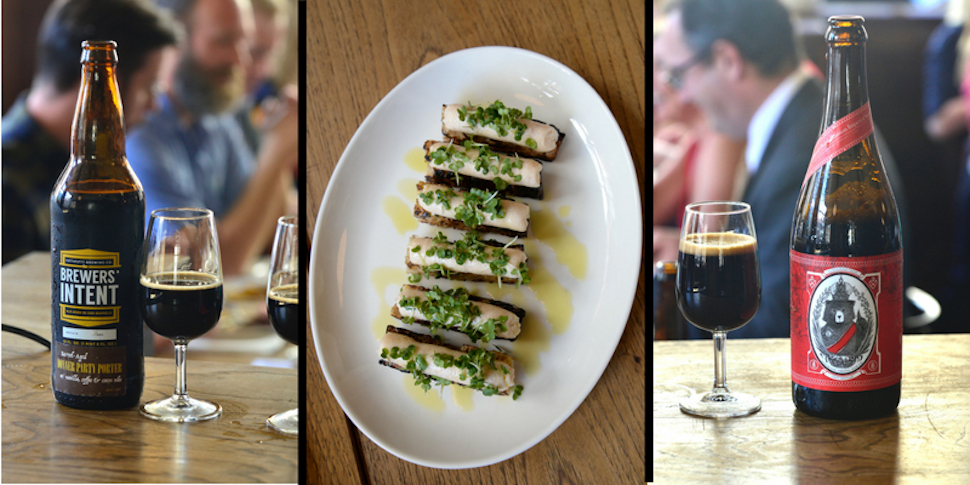 While we waited to begin, I enjoyed a Bikini Blonde from Hawaii's Maui Brewing Company paired with an hors d'oeuvre of smoked cod's roe and Sockeye salmon. This demonstrated an important point if you're keen to try pairing beer and food yourself: match the intensity of flavours in each element: light food needs a light beer.
We started with a plain dish of grilled young leeks with fresh cheese. Samuel Adams, from Massachusetts, supplied a New England IPA that was soft and fruity and picked up on the sweetness of the leeks. This was balanced by the charred notes where the grill had made its mark, which provided a slight bitter edge, and the sharpness from the fresh cheese. The flavours from the beer and the food mingled so successfully it was hard to tell where one ended and the other began.
Onto California and beyond…
Three Weavers Brewing, from California, whose Seafarers Kölsch is a true thing of beauty, brought over their Knotty IPA. This was paired with a whole wild turbot that had been grilled in a wood fired oven. The beer's carbonation scrubbed our palates clean. What was left was the beer's lighter fruity hop flavours floating over the meaty but delicately flavoured fish.
Next up we had Enlightened Despot, a hefty barrel-aged stout from Virginia's Lickinghole Creek Craft Brewery. This was deftly set against a dish of moorland beef, potatoes roasted over hay, and tomatoes simply prepared with salt and olive oil. The beef was salty and caramelised on the outside, rare and gamey inside, and served with its fat still intact to give a rich and unctuous texture that stood up to the beer perfectly. Eyes rolled skywards with the first bite. Conversation was instantly refocused. Beer and food can be that good, every bit as much as wine can.
We ended on a pairing of burnt cheesecake with peaches and Meadoweisse, a sour Berliner Weisse from West Sixth Brewing in Kentucky. The combination was bright and light, with the dry sweetness of the cheesecake balancing out and grounding the beer, muting its sour bite and allowing its citrus notes to come through. These were lifted by the peach and the slightly tart sour cream garnish, making a refreshing end to an excellent meal.
You can look out for these and other US beers arriving in the UK thanks to the BA's export development programme. And if you're quick you can also catch some of them pouring at the Great British Beer Festival in Olympia until Saturday.
Want to know more about beer? Here's Anthony's guide to talking intelligently about beer and his piece on how to find a beer you will like. Want to do a beer tour in the UK? Here are some of the best, according to Anthony.
Cheers!