The Christmas tree lights are twinkling, your Christmas top is glittering, and your presents are decked in gold and silver. All that's missing is a glass of something sparkling in your hand. Reluctant to go for the usual suspects; we've searched far and wide across the world's wine regions to bring you our favourite sparkling wines. From Champagne and English sparkling to Cava, Prosecco, and sparkling from California; we have you covered. And for the designated drivers out there, we even found you an incredible alcohol-free, tee-total sparkling to enjoy. Read on and get your sparkle on!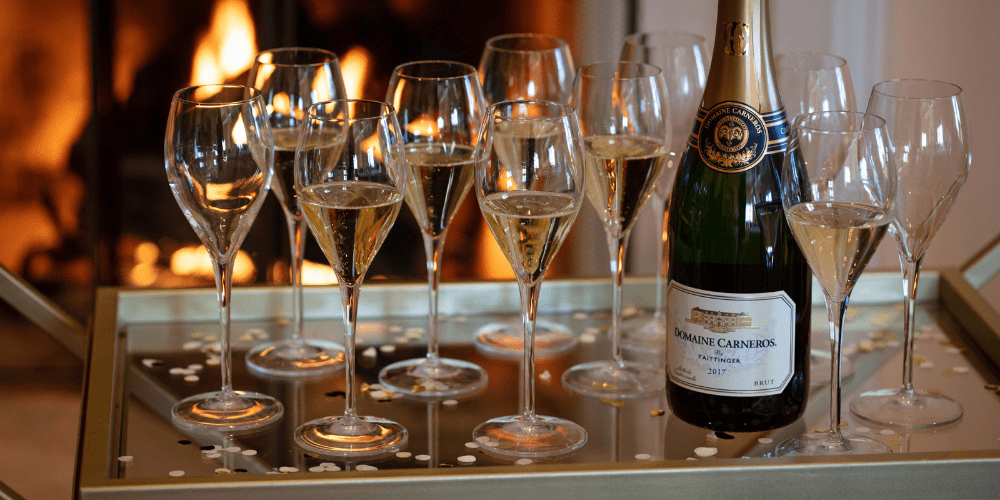 Founded by the family behind Champagne Taittinger in the late 1980s, Domaine Carneros in Napa is a renowned small grower-producer using the méthode traditionelle premium for sparkling wine. Situated at the heart of Carneros AVA, the Domaine Carneros French-style château has been a landmark of California wine country since its construction in 1987.
Our Choice: They boast a range of 7 acclaimed California sparkling wines and we went for Domaine Carneros Brut 2017. Why? Well, being 100% organic and made exclusively from Carneros green certified grapes, it is without doubt the signature wine of the estate and a wonderful choice to celebrate Christmas.
Grape varieties: 53% Pinot Noir, 44% Chardonnay, and 3% Pinot Gris.
Tasting notes: Fruity and balanced in acidity, on the nose it is rich with aromas of green apple, melon, and lemon zest. On the palate, it displays hints of shortbread and baked apple. The finish is dry, extended, and refreshing.
Food pairing: We recommend pairing it with shellfish, appetizers, or roast chicken over the festive period.
Find out more: www.domainecarneros.com
How to visit: Plan your tour of Napa with Winerist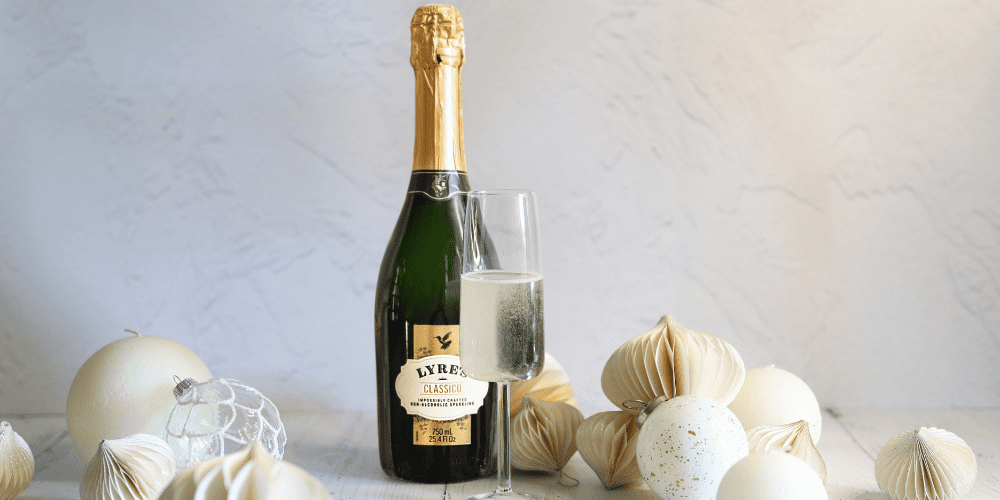 Launched in Australia in July 2019, Lyre's is fast becoming recognised as the most awarded and recognised non-alcoholic brand globally! With an amazing range of 14 alcohol-free classic spirits already under their belt, they've now launched a sophisticated bubbly to ensure moderate and mindful drinkers can raise a toast this Christmas and New Year. Hooray!
Our choice: Their Classico is a deliciously crisp non-alcoholic version of the popular classic Italian style sparkling drink. It's the perfect accompaniment to your festive soirées and all-day Christmas celebrations with friends and family. We love it!
Tasting notes: This wonderfully tee-total sparkling wine is lightly coloured with alluring lifted lime and notes of fresh peach and granny smith apple skin on the nose. Generous aromatics continue in the glass, classic green apple tartness followed by a soft richness of pear, peach and red apple on the palate to taste. Chalky fine acids are present to clean the palate and get you ready for the next glass.
Food pairing: Lyre's Classico will pair perfectly with Christmas Eve canapés or desserts like Strawberry Pavlova or Lemon cheesecake.
Find out more: lyres.com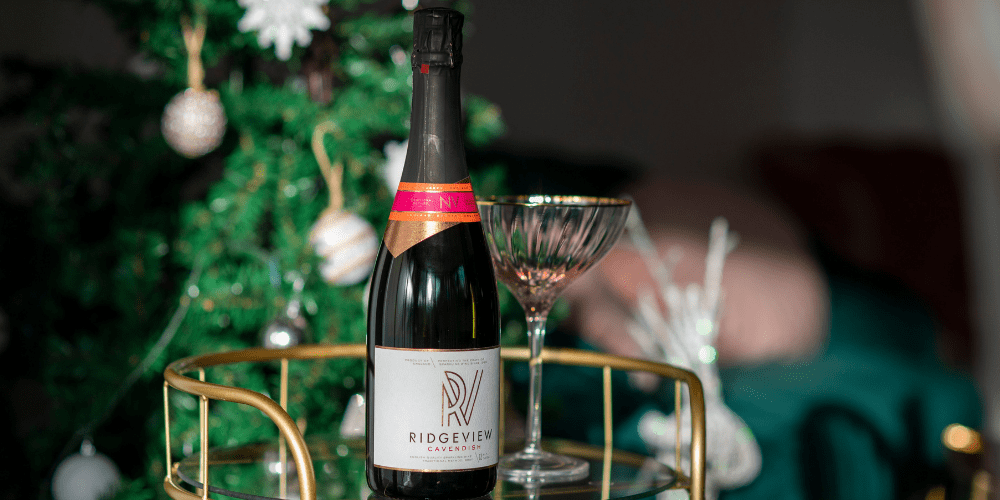 Established in 1995 in rural Sussex on the edge of the beautiful South Downs in England, this family owned estate makes wines focused on exceptional quality from vine to glass. They were one of the first wineries in England to focus solely on the production of sparkling wines from Chardonnay, Pinot Noir and Pinot Meunier grape varieties, bringing the world some truly wonderful sparkling wine!
Our choice: They produce a wide range of sparkling wines but our pick is the Cavendish. Why? Well, it was the silver winner of the Decanter World Wine Awards in 2017 and its complex palate makes it a sure winner for us too!
Grape varieties: Pinot Noir, Pinot Meunier, Chardonnay.
Tasting notes: Rich golden coloured with hints of red fruits and almond on the nose. It's complex on the palate thanks to the Pinot dominance, yet fine and fresh thanks to the Chardonnay.
Food pairing: We recommend pairing it with duck, trout, or charcuterie dishes over the Christmas holidays.
Where to buy: Available to buy in the UK and Europe at Ridgeview (£30.00), and in the US at VinConnect.
How to visit: Visit Ridgeview with Winerist and enjoy tours and tastings all year round. During the winter months the Ridgeview Winter Wine Garden is open with a beautiful cosy space to sip and enjoy the views of the stunning Ridgeview vines.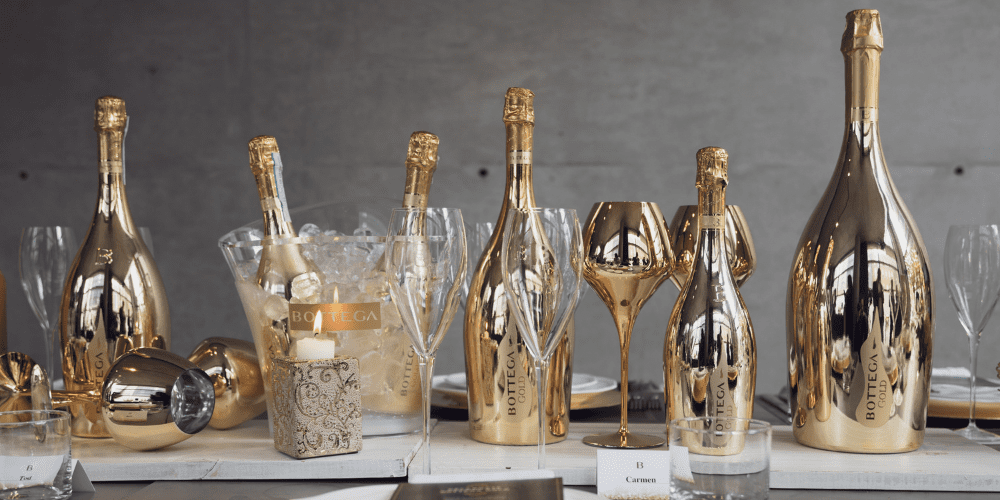 Bottega may seem like a wonderfully modern brand given its incredibly contemporary design but do not be fooled. This estate has been producing wine for over 400 years! From the 17th century, when the vines were first cultivated, through to today, each moment of product creation from the vineyard to the bottle is monitored with artisan care and attention to detail. And you can tell!
Our choice: How could we not fall in love with the shining, glamorous beauty of the Bottega Gold. With the freshness and liveliness of its bubbles it's really a wonderful sparkler to celebrate the festive season with. It tastes great in the glass and looks amazing on the table!
Grape varieties: Glera
Tasting notes: Fruity and floral, this Prosecco is rich in green apples, pear, and white flowers on the nose. It is soft, harmonious and elegant with lively yet balanced acidity.
Food pairing: This bubbler is a match made in heaven for those of you looking to serve lighter Christmas dishes and first courses of raw fish or grilled white meats.
Where to buy: Available to buy in the UK at Selfridges and Ocado (£19.99), in the US at Bottega USA ($39.90), and at wine-searcher (worldwide).
How to visit: Plan your visit to the Prosecco hills of Northern Italy with Winerist.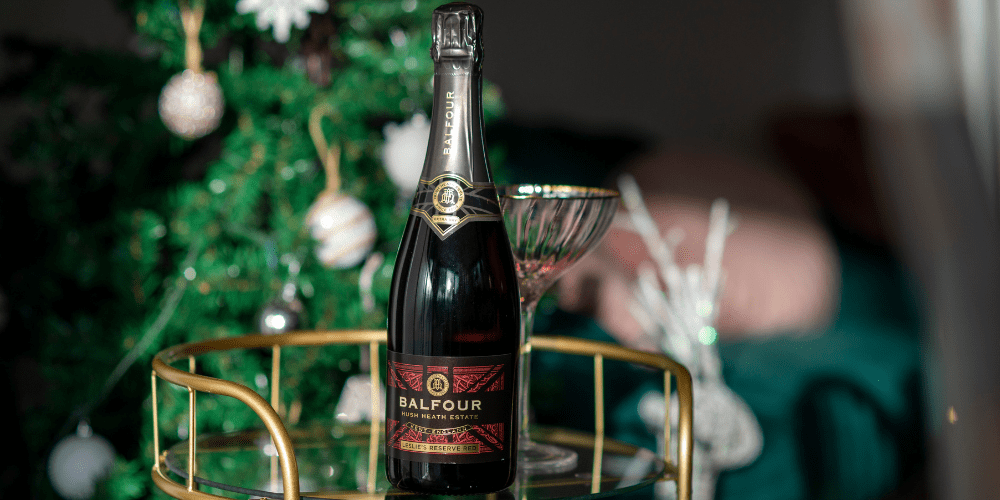 Located in the heart of Kent, the Garden of England, Hush Heath Estate is the home to Balfour Winery and its 161 hectares of vineyards. Winemaking since 2002, Balfour Winery has rapidly become one of England's most awarded and leading wine producers with their line of renowned traditional sparkling wines and innovative English still wines.
Our choice: They produce a wide range of sparkling and still wines but our pick is Leslie's Reserve Red. Why? Well, being a delightful red rarity, this sparkling red wine fully reflects their passion and flair for winemaking and adds a real dash of rosy red sparkle to the Christmas season.
Grape varieties: Pinot Noir
Tasting notes: This traditional method sparkling red has rich aromas of red fruits that combine with earthy notes, rounded off with a pleasing tannic grip.
Food pairing: We recommend pairing it with gammon steaks, ham and bird game dishes.
Find out more: www.balfourwinery.com
How to visit: Visit Balfour winery with Winerist.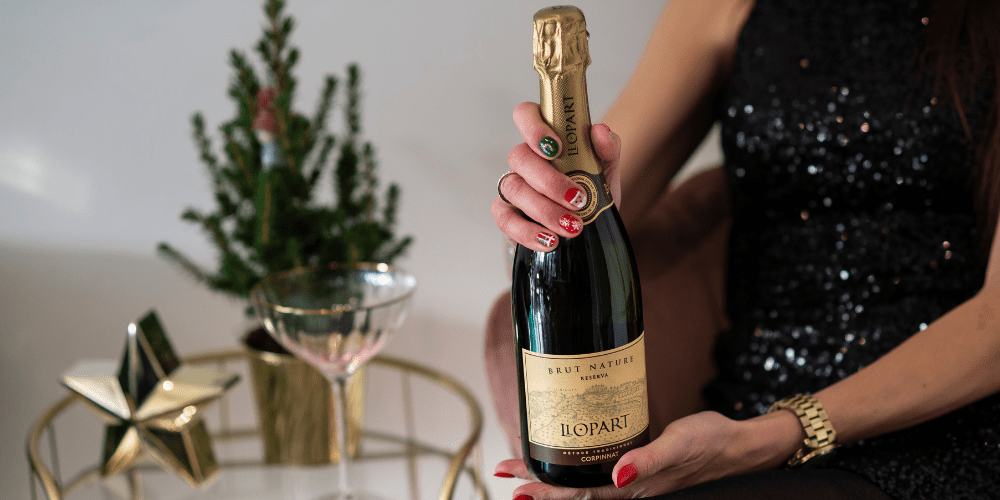 The family-run Llopart winery is a wonderfully historic Spanish estate located in Alt Penedès in Catalonia and one of the most famous and high quality sparkling wine producers in Spain. It's been making premium sparkling wines since 1887 when their first sparkling wine was produced following the traditional champenoise method but their roots can be traced all the way back to 1385!
Our choice: We chose Llopart Brut Nature Reserva; drawn by its elegant bubbles and the fact that it truly expresses the essence of the Llopart estate and its organic mountain vineyards. It is made from the indigenous grapes of the Penedès region which are manually selected during harvest. The wine is organic and vegan, and ages for over 30 months in the cellar before disgorgement. And if these credentials weren't enough; it also happens to be one of the first Brut Natures produced in the whole of Spain!
Grape varieties: 45% Xarel·lo, 35% Macabeu, 20% Parellada.
Tasting notes: A straw yellow colour with fine and constant bubbles. On the nose, it's perfectly balanced with notes of fruits and delicate tertiary tones of aging. It is completely dry, soft and fine in the mouth.
How to enjoy: We recommend sipping it as an aperitif or pairing it with grilled seafood and foie gras.
Find out more: Visit www.llopart.com and get in touch to find your nearest stockist.
How to visit: Visit the home of Corpinnat sparkling wine in Catalonia with Winerist.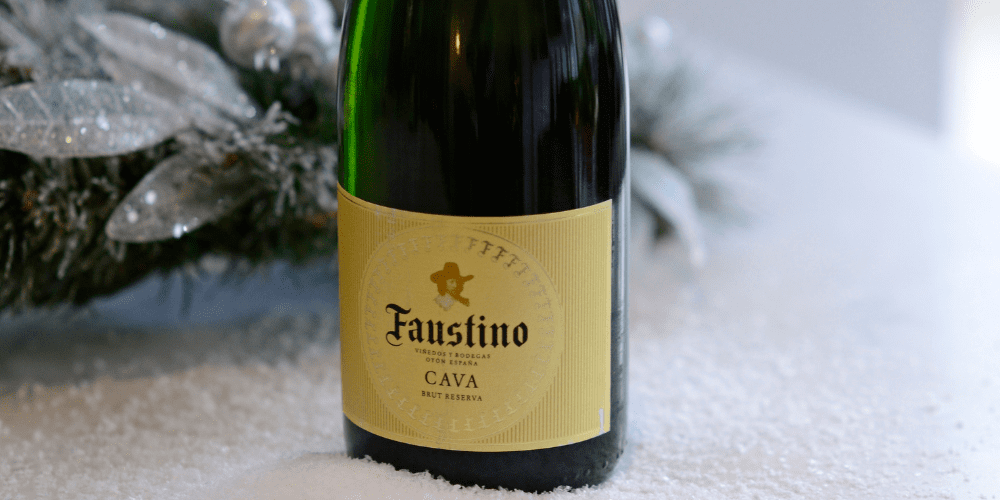 Located in Rioja Alavesa, Bodegas Faustino has been producing wine for more than 160 years. With 650 hectares of vineyards, it is one of the largest owners of vineyards in the DOC Rioja. Recently, they introduced new sustainable practices in grape growing reflecting the two pillars of their winery philosophy: love and respect for nature.
Our choice: Among all the outstanding wines Faustino produces, we chose its Cava Brut Reserva. Why? We were intrigued by its fruity and floral flavours and we were sure it would lift our Christmas mood. And it definitely did!
Grape varieties: White Champagne, Macabeo, Chardonnay.
Tasting notes: Pale yellow coloured, on the nose it is warm and fruity with a touch of honey. With a long finish and fine bubbles, it is sweet and balanced in the palate.
How to enjoy: It's a perfect match for the day-after-Christmas cold meats and strong flavoured cheeses.
Where to buy: Available to buy in the UK at Ocado (£12.00), across Europe at wine-searcher, and in the US at wine-searcher.
How to visit: Visit the home of Cava in Catalonia with Winerist.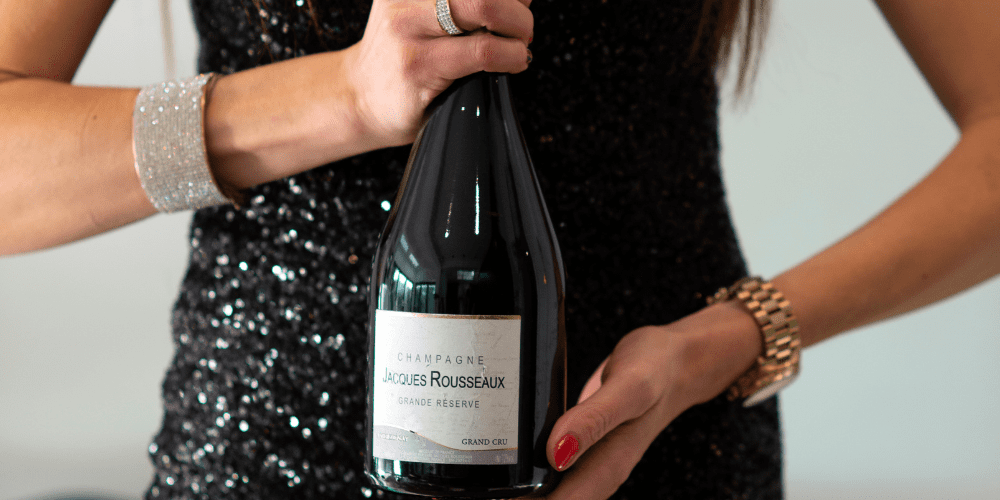 In a small village named Verzenay, far from the big champagne houses of Avenue de Champagne is the family owned Champagne Jacques Rousseaux. Each winemaker has, over 5 generations, skillfully combined family tradition and a passion for winemaking with modern techniques to produce a wonderful line of Grand Cru champagnes. Opting away from mass production style harvesting techniques, they employ a team of local residents to manually select the grapes. The delicacy afforded by this process can be detected in the drinking of their champagnes.
Our choice: Their Grand Reserve is made from 100% Pinot Noir and is aged for several months, making it the perfect choice for special occasions, especially Christmas.
Grape varieties: 100% Pinot Noir
Tasting notes: Pale yellow with reflections of gold. Great brioche on the nose followed by a charming cherry profile and plenty of blackberry and sweet spice. On the palate it's velvety with great minerality, again encountering blackberries, pomegranates and great toasty notes.
How to enjoy: It pairs perfectly with bold dishes such as duck and veal over the festive season.
Find out more: www.champagne-jacquesrousseaux.com
How to visit: Plan your visit to Champagne Jacques Rousseaux with Winerist.
---