In July we visited Tuscany's Querciabella winery and had a great time. During our visit we met with Giorgio who gave us a private tour, and we instantly fell in love with the property.
Founded in 1974 in the scenic hills above the medieval market town of Greve in Chianti, Querciabella exemplifies forward-thinking winemaking within a context of tradition. The estate (located 30km south of Florence and 45km from Siena) has evolved over time into a benchmark for biodynamic viticulture, leading the way for producers throughout the region in eliminating the use of pesticides, herbicides and synthetic agents in wine growing.
Querciabella's owner Sebastiano Cossia Castiglioni, has integrated his personal regard for the environment into every facet of production at the winery. A lifelong vegetarian and committed animal rights activist, Sebastiano led Querciabella's conversion to organic farming in 1988, long before the terms "green" or "organic" were over-spun, and subsequently converted the Tuscan estate to biodynamics in 2000. Today a cruelty-free approach to land stewardship is an integral part of daily operations at Querciabella, where animal-derived products are banned from all phases of production. Instead, cover crops and plant-based preparations, composed of estate–grown grasses, medicinal herbs, cruciferous vegetables and legumes, serve to nourish, diversify and balance the vineyard ecosystem.
Set amidst 80 hectares of prime Chianti Classico vineyards in Greve, Panzano, Radda and Gaiole, as well as 32 hectares in Alberese (Maremma), Querciabella offers a unique insight into the creation of some of Italy's most iconic wines.
Come see what it means to hand-craft wines of great personality, each individually reflecting what the Romans referred to as the genius loci, or spirit of a place, of this magnificently varied territory. To highlight the diversity of soil features of each area vinification of individual lots is carried out separately prior to blending.
Querciabella's acclaim rests on six extraordinary wines: Camartina, the winery's iconic flagship Supertuscan, Palafreno, a monovarietal Merlot, Batàr, considered by many to be one Italy's greatest white wines, Querciabella Chianti Classico, made from pure Sangiovese, Turpino a real mosaic of Tuscan terroir and Mongrana, a versatile food-friendly red produced in coastal Maremma.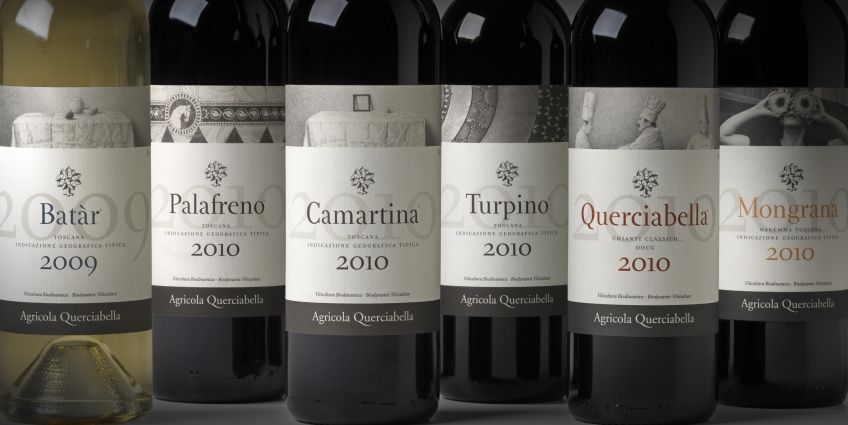 Discover Querciabella today!
Book Now