Just how much do you know about Beaumes de Venise? A lot, a little, nothing? Well, we can tell you there is a lot waiting to be discovered. John Brunton visited this wonderful region, meeting some of the most prominent and exciting winemakers and restaurateurs making this a must-visit destination. Read on for our guide to Beaumes de Venise and have an inside look at the local wineries, restaurants and hotels you should be adding to your itinerary.
About Beaumes de Venise
This small but wonderful wine region is located in the south-eastern central area of the famous Rhône Valley. The breathtaking Dentelles de Montmirail mountain range defines the winemaking region, with beautiful terraced vineyards clinging to its slopes, spreading down to the four picturesque villages of Lafare, La Roque-Alric, Suzette and Beaumes itself. Around a hundred innovative and dynamic independent winemakers work the rich and varied geological soils that bring so much of the character to the wines produced here. They work alongside hundreds of smallholders who still follow the age-old tradition of selling the grapes of their tiny plots to the local Cave Cooperative, and négociants (merchants) who use their skills to promote and distribute the precious wines to wine lovers all around the world.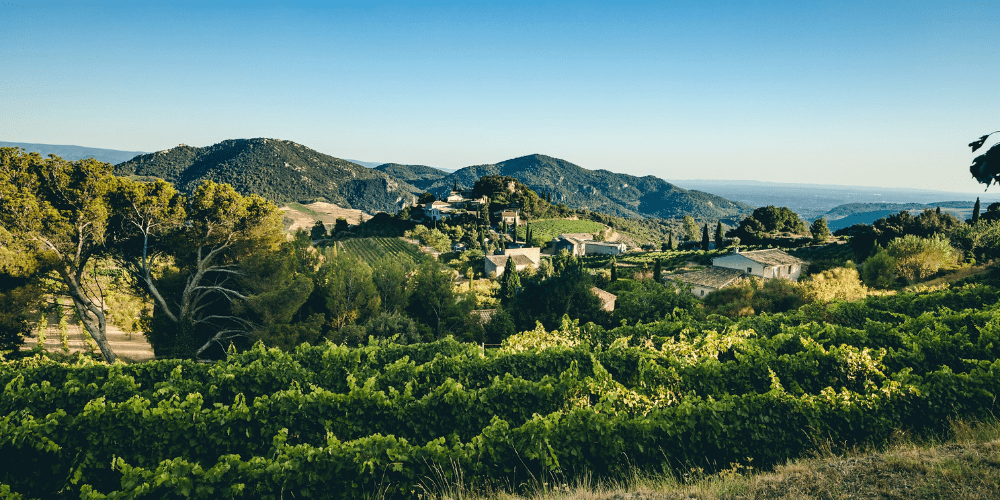 Photo credit: Thomas O'Brien
While the Dentelles provide shelter from the Mistral winds, the vineyards coexist with a vibrant, protected biodiversity of olive trees, fruit orchards, woods and forests that harbour flora, fauna and insects, all crucial for sustainable and organic cultivation. Vines were first planted here by Greek colonisers around 600BC and the luscious, naturally sweet Muscat de Beaumes de Venise has a history of world-renown going back centuries.
A deadly frost in 1956 that destroyed olive and fruit production for a generation led to the planting of the Southern Rhône's characteristic red grapes; Grenache Noir, Syrah, Mourvèdre and Carignan, which today's winemakers blend into exceptional fresh, fruity red wines that officially became an appellation on its own 16 years ago.
Visiting Beaumes de Venise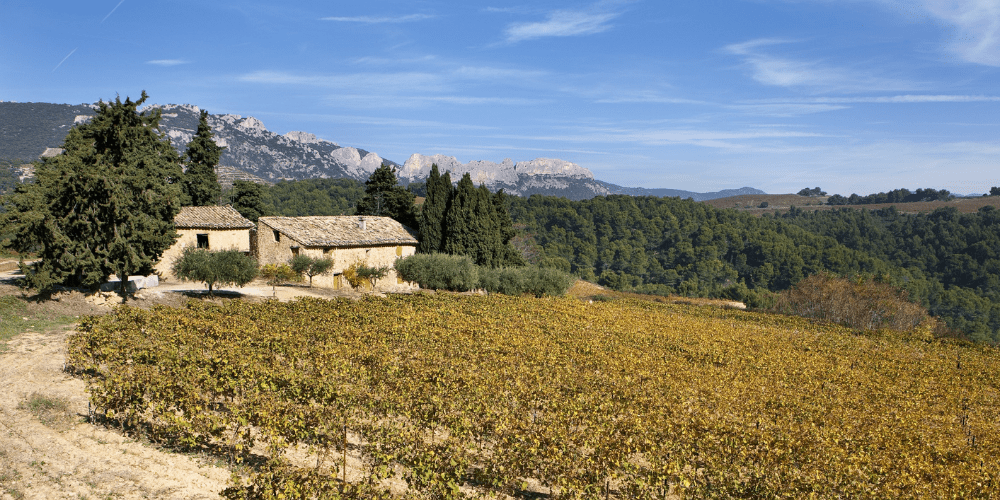 Photo credit: Christophe Grilhé
The friendly winemakers here give an enthusiastic welcome to visitors, offering not just the chance to taste wines but to explore and understand the vineyards, savour food pairings and frequently providing comfortable lodging in the grounds of the estates.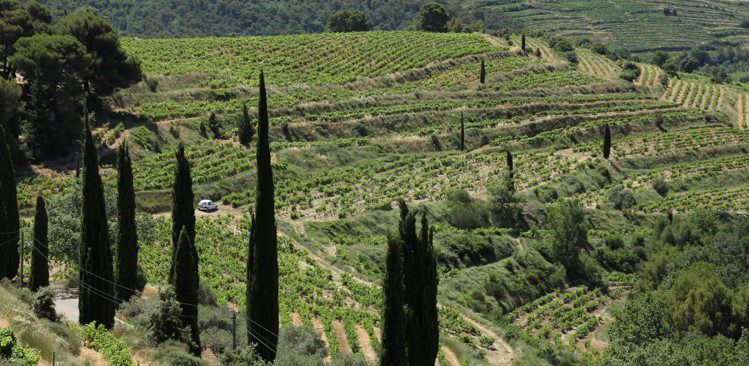 Domaine de Piéblanc is a spectacular 15 hectare vineyard that tumbles down the hillside just outside the village of Suzette. A dream location for owner Mathieu Ponson who described finding it as 'Wow at first sight. The vineyard was everything I wanted; 300 metres altitude for freshness, certified organic, a must for me, hot days and cool nights because of the nearby Mont Ventoux, so perfect acidity. Wine is like real estate – location, location, location.'
Mathieu arrived here in 2015 to start a new life after selling his digital start-up company, declaring, 'I may have no vigneron background but I know what kind of wines I want to make. So I found the right oenologue and vineyard consultant, set up a temporary cellar in the village of Beaumes and produced my first vintage in 2016.'
Piéblanc is in the part of the appellation reserved solely for red grape vines, with no Muscat, but that suits Mathieu fine because, 'Syrah is the perfect expression of the terroir here.'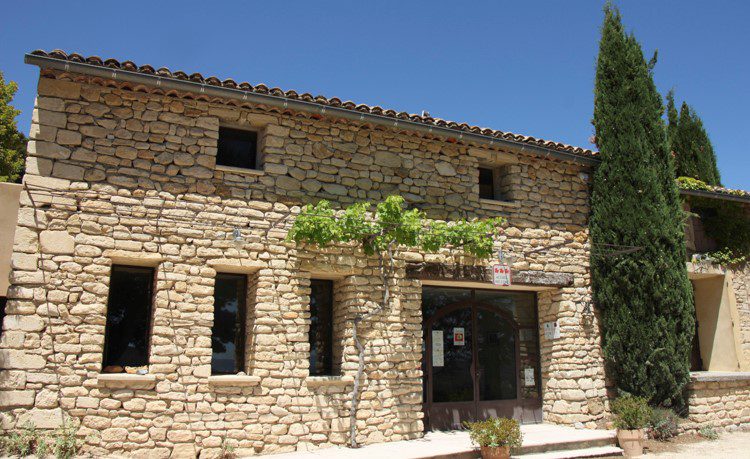 A meandering route lined with graceful cypress trees climbs high above the village of Suzette, eventually emerging outside an idyllic Provençal farmhouse whose terrace offers a spectacular panorama of vines, olive trees and perched villages, with the Barroux mountains in the distance. Tasting this domaine's remarkable wines, it quickly becomes apparent that third generation vigneron, Thomas Jullien, while deeply attached to the farm and vineyard his great grandfather bought back in 1955, has instigated a host of surprising innovations. 'I studied the basics of agronomy and wine making, but my real education was taking off on 2 six month trips in a camping van traversing the whole of France to visit some 300 different wineries.'
His vineyard is a pioneer of certified organic cultivation in Beaumes. 'Today sulphites have been all but eliminated in our vintages as I am convinced that natural wines can be aged perfectly if the conditions of the cellar are good.' And he is also addressing the problem of global warming and high-alcohol wines by creating intense but accessible cuvées like Diapir, which blend grapes from his wonderful century-old Grenache vines with rare local varieties Terret Noir and Counoise, which mature later with less alcohol than the usual Syrah.
Thomas and his wife Sophie are also committed to wine tourism, with the Ferme hosting art exhibitions, blending ateliers and hypnosis tasting, accommodation in the family gite, and an ambitious programme of open air theatre, concerts and movie screening. All accompanied by their distinctive wines.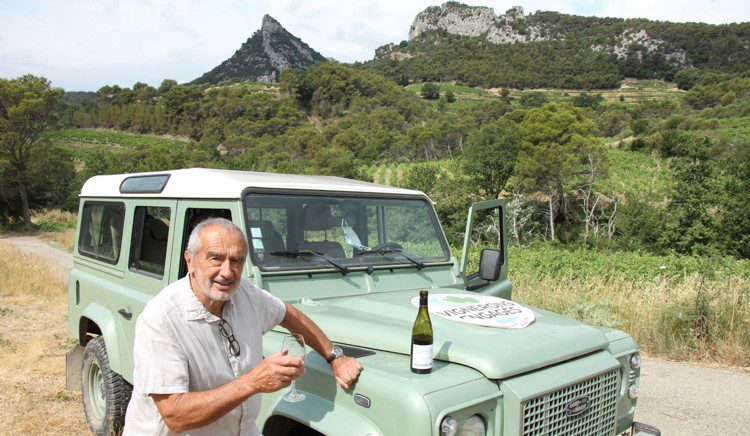 The days have passed when small winemakers could not survive economically without selling their grapes to the local Cave Coopérative, but while today it is generally independent winemakers providing the creativity within France's appellations, Beaumes de Venise is fortunate to have a Coopérative that has moved with the times. Rhonéa wrote its own Environmental Charter and targets 100% organic by 2030. It aims for quality and also develops innovative wine tourism initiatives including tastings amongst the vines, wine and food pairing, traversing vineyards on horse, quads or electric bikes, food truck festivals and concerts. It is the most important Cave Cooperative in the Southern Rhône, covering Beaumes and neighbouring Vacqueyras, with some 300 members.
Emblazoned on the land rovers that take visitors on memorable tasting trips is 'Artisans Vignerons', because despite producing a massive 8 million bottles a year, most of Rhonéa's coopérateurs are smallholders cultivating around 7 hectares of vines. There is a genuine family feel here, typified by its genial President, Claude Chabran. 'My father was one of the pioneer coopérateurs, and when I came home to the village after 20 years travelling the world as an engineer, it was perfectly natural to stay with the Cave, and I am pretty sure my son will feel the same.' An inspiring crowdfunding project has seen Rhonéa buying up vineyard plots from vignerons retiring or with no heir, then renting them out to young winemakers who cannot yet afford to buy their own domaine.
The Cave creates exceptional premium cuvées, blending parcels of Grenache and Syrah that reflect strikingly different types of soil.
Driving through the village of Beaumes you can't miss the striking sign for the Domaine des Bernardins, though many people stop off for a tasting and cellar visit without realising this is a historic reference point. The unique, naturally sweet Muscat grape has roots here going back 2,000 years; with Roman chronicler, Pliny, writing that 'Muscat has been long cultivated in Beaumes, producing a remarkable wine.' But it only received official recognition as an appellation in 1945, after a long and passionate crusade by then owner of Les Bernardins; Louis Castaud.
His estate, run today by his granddaughter Elizabeth and her family, is proudly traditional, seemingly untouched by contemporary trends, with a long history stretching back to the Middle Ages when Bernardin monks cultivated vines, cereals and fruits here. 'Our Muscat is a wine for ageing…With age you appreciate how it evolves, losing much of the initial sweetness.'
Their winemaking is all about tradition, using only steel and raw cement vats, not wood. 'We respect the environment but don't feel the need to seek organic certification.' The label is exactly the same today as the first appellation vintage in 1945. 'All winemakers here have their secret recipes, and we believe that using 25% Muscat Petit Grain Noir grapes in the blend creates our signature colour – old gold, amber pinky gold – a unique hue that subtly changes with age. That was how Louis first planted the vineyard, three lines of Muscat Petit Grain, one of Petit Grain Noir, and we see no reason to change.'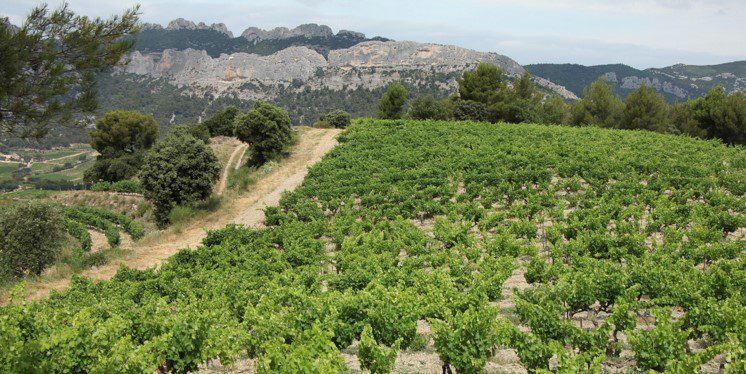 It is quite a drive through steep forests to reach the Domaine de Durban, which lies right on the border with Gigondas, but a steady stream of faithful wine lovers trek out to this beautifully-renovated 11th century farmhouse and cellar regularly.
The vineyard has grown from 13 to 70 hectares, the majority being Grenache and Syrah, producing a wonderful range of reds, but the owner, Henri Leydier insists that 'Muscat remains the emblem of the domaine, renowned for its quality. And we are also producing Fruits de Durban, a dry Muscat – aromatic and perfumed but with no sweetness.'
Henri's grandfather purchased the somewhat isolated property in 1967, and he recounts how, 'People in Beaumes said we were crazy to buy a property that was not just miles from anywhere but whose vines were not maintained…Well, now when visitors make it all the way here, they realise they are arriving in paradise.'
Henri is a proponent of traditional methods 'Don't expect to see fashionable terracotta amphorae or glass wine globes in my cellar, as I prefer to trust to tradition, and I am very happy with the quality of my wines by using classic cement tanks for the reds, stainless steel vats for the Muscat, and a tiny selection from large tronconique casks and small barrels for our prestige reds.'
Looking out over Beaumes' quaint town square it is difficult to resist being tempted into Xavier Vignon's wine boutique. This bubbling, irrepressible character is the Southern Rhône's leading wine consultant, but also a new generation winemaker.
He declares 'I have always had a special affinity with the Dentelles vineyards, a total belief in the potential of the wines that can be produced here.' After acting as consultant to numerous local wineries, Xavier has been making his own Beaumes wines since 2017.
To understand Xavier Vignon and his commitment to winemaking you need to understand his personal history, which begins in Northern France. 'I come from a long family of craftsmen stone cutters. I should have been the 7th generation stone-cutter, but I made the momentous decision to opt out and embark on a dream to work in wine. I never even thought about owning my own vineyard because of the financial implications, but diplomas at the wine universities of Bordeaux, Reims and Montpellier set me on the road as a consulting oenologue, making wine across the globe and France.' And today, finally a genuine winemaker, Xavier seduces everyone with his total enthusiasm of the possibilities for his Beaumes vineyards to produce exceptional wines.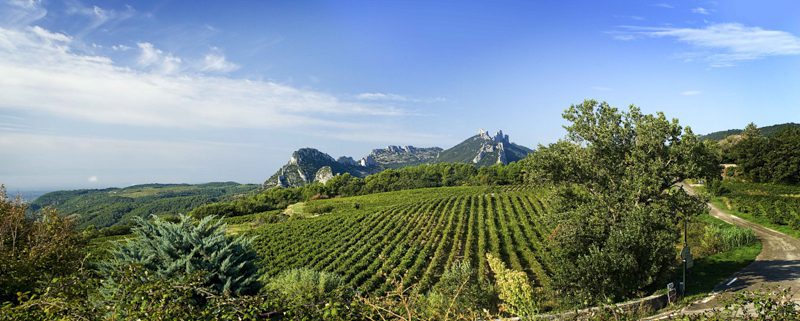 Fenouillet's rustic tasting room is hidden away in a shady courtyard in the heart of Beaumes village, and pride of place on the wall is an ornate 1902 Wine Concours Diploma for their Muscat de Beaumes de Venise.
While the domaine produces a fine selection of Beaumes red wines and an interesting dry Muscat blending Viognier, Bourboulenc and Picpoul with Muscat Petit Grain, the friendly Saorde family have firm views on how to make Muscat de Beaumes de Venise, very different from the days of the 1902 Silver Medal.
While traditions are still strictly followed – Fenouillet proposes several different twists; a rosé, whose grapes are macerated to achieve a subtle pinky colour, Selection Ancestrale, with old vine grapes, barrel-aged for 6 months, and the surprising Muscat Rouge, 100% Petit Grain Noir grapes, vinified as a red wine, but still with Muscat's signature natural sweetness.
The winery is currently run by the youngest generation; two dynamic, young cousins who are officially classified as Jeunes Agriculteurs, and are brimming with plans to modernise the winery and create new wine tourism opportunities.
Before 2002, Domaine des Garances was another of the many Beaumes vineyards that sold their entire grape production directly to the Cave Coopérative. But today, all the wine that Sébastien Logvinenko makes from the 18 hectares is sold directly, mainly to people who cannot resist the roadside sign to his idyllic tasting room, overlooking a panorama of vines and olive groves.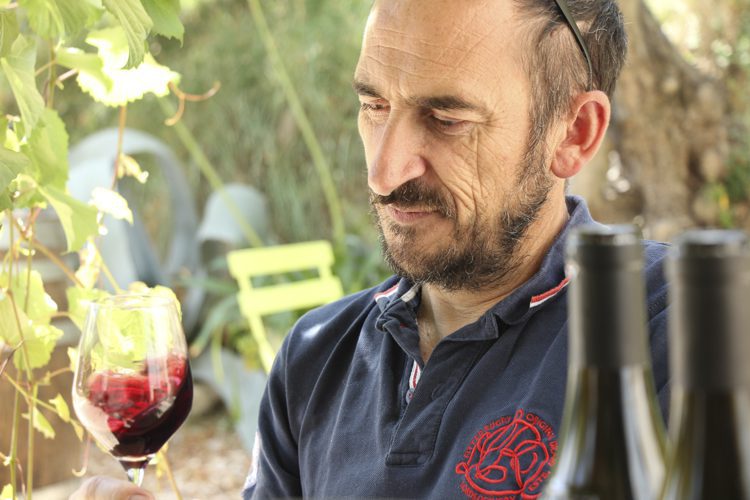 This thoughtful winemaker may have roots back in the Ukraine, but he is very much a local and single-handedly runs the vineyard that was inherited by his wife, whose family have been in the village of Suzette since 1640.
He admits 'I love the period alone in the cellar when I am blending the wines, understanding the effects of our unique geology, from the Terres Blanches and Jurassic Terres Grises soils to ancient Triassic deposits. It is like cooking or a modern form of alchemy, and that is reflected in my wines.'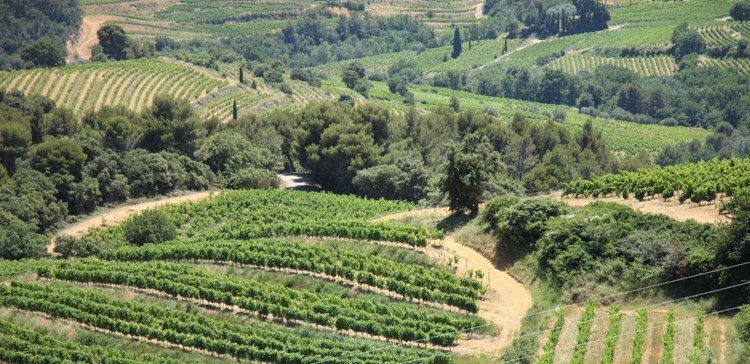 His production is predominantly red, with 4 different vintages, subtly different percentage blends between Grenache and Syrah, essentially vinified and aged in raw concrete tanks. Each one is named after the lieu-dit, the 'given name' of the vineyard plot; Rouyère, La Blache, Pierre and La Faysses, the local term for the distinctive stone terraces here, necessary for cultivating his magnificent parcels of high altitude vines.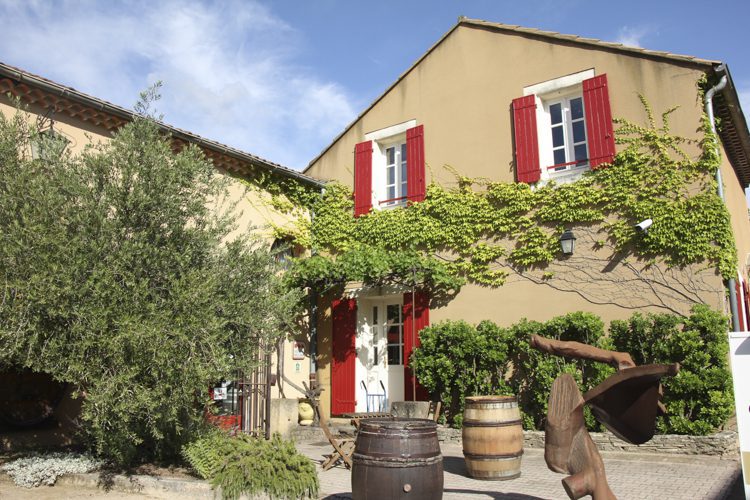 A visit to Maison Gabriel Meffre is the opportunity to discover what the négociant wine merchant can do when he decides to follow his own ideas to make a wine from a certain appellation. You will need to take a short drive outside of Beaumes de Venise to visit Meffre's tasting room and cellar, located at domaine Château Longue Toque in the neighbouring Gigondas appellation. Apart from their Beaumes de Venise wines, you can also taste anything from Châteauneuf-du-Pape, Côte Rôtie and Costières de Nimes to Condrieu.
Beaumes de Venise is represented in Laurus both by a Muscat and a red, and the respected oenologue behind the concept, Véronique Torcolacci, who has overseen Meffre's winemaking for the last 30 years, explains that, 'we as a négotiant take on a new innovative role, following cultivation, advising on harvesting, following vinification, sometimes in the vignerons cellar, as is the case for the Muscat, sometimes vinifying and blending in our own cellar as for the red.' Meffre encourages long term, close relations with their vigneron partners, and for Muscat this has meant working with a single vineyard cultivator for more than 20 years.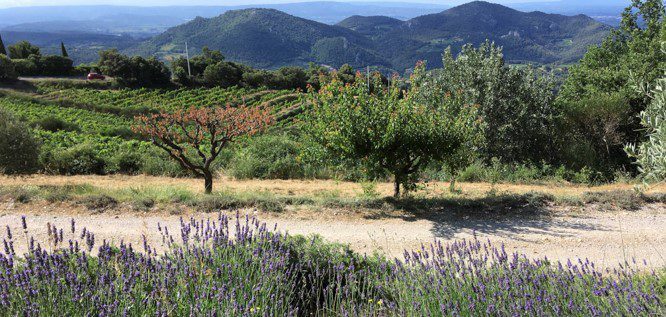 Many Beaumes de Venise wineries boast spectacular locations, but to really take your breath away, save Saint Amant till last. From the village of Suzette, a steep road winds up into dense oak tree woods, a favourite haunt of local truffle hunters, before emerging above an amphitheatre of terraced vines, lavender, olive and fruit trees and to the cellar and tasting room of Domaine Saint Amant.
This is the highest vineyard in the Dentelles at some 600 metres, but the owner and winemaker, Catherine, explains that it was not always like this. 'When my father first bought the land in 1975 there was nothing here, just a wild shepherd's hut where our family stayed while he built our house. Then 25 years ago, he met an oenologue who persuaded him this was the perfect terroir to make white wine – the opposite to the reds that everyone else in Beaumes was concentrating on. But my father loved a challenge, so slowly he bought existing plots and planted white Viognier and Roussane, building up the estate to 14 hectares. Then in 1995 he built the cellar and produced his first vintage.'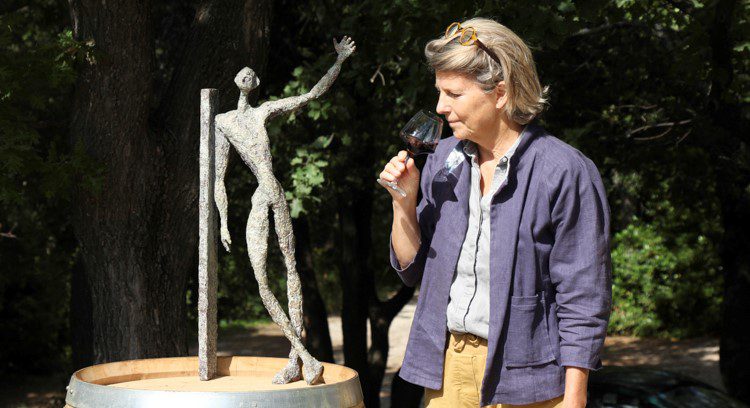 Catherine was then in New York, working as an architect, but was intrigued when her father sent over a bottle. A brief holiday back there followed, that has lasted until today.
Catherine makes a surprisingly fruity, easy to drink vintage where she harvests and ferments all her red and white grapes together, and soon will see a zero sulphite version. Visitors to the estate can enjoy regular art and sculpture exhibitions, while an even better option is to rent one of the two holiday gites.
Where to eat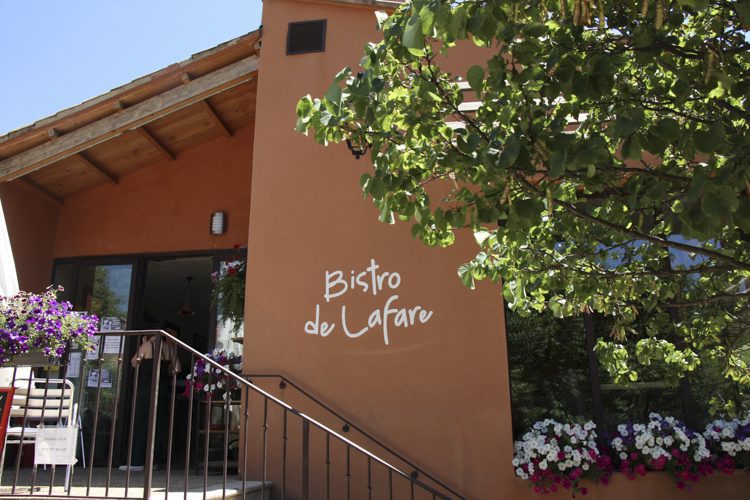 To rub shoulders with Beaumes winemakers just turn up at this cosy village bistro. They may be playing a game of pétanque, sipping a midday apéritif in the garden or enjoying the hearty cuisine of chef Maria. There is a surprising mix of dishes from boeuf à la Provençale, to Portuguese-style cod and an excellent selection of vintages by local winemakers.
Le Dolium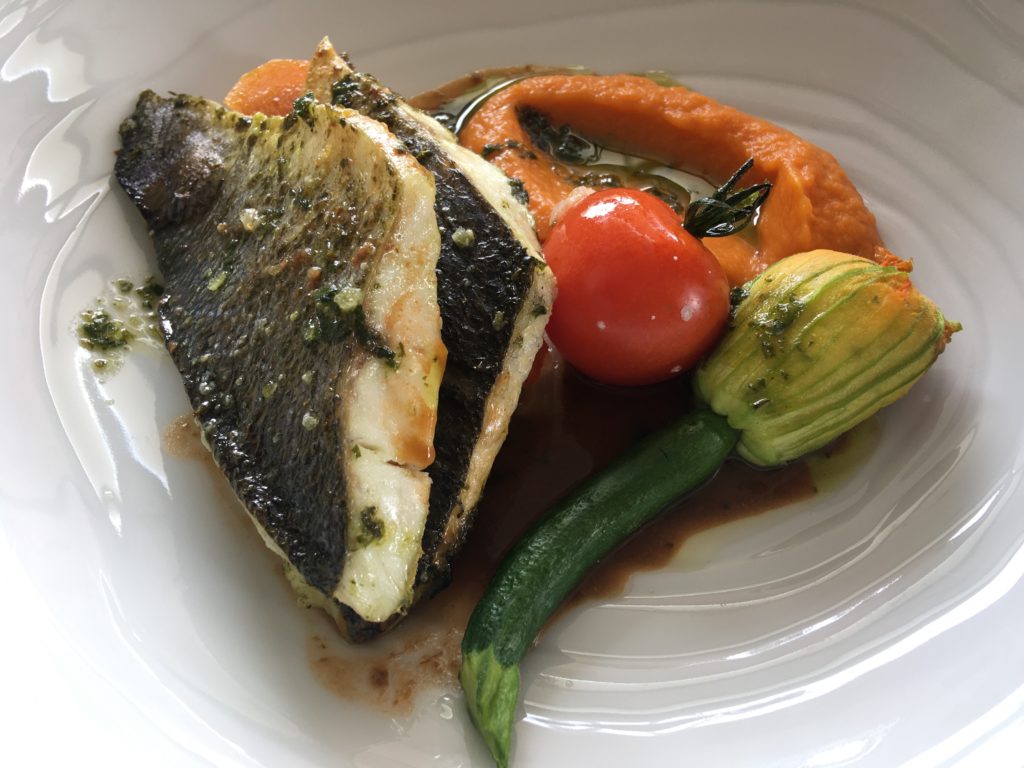 This makes for the perfect wine and food pairing location; adjoining the Rhonéa Cave Coopérative, they pair regional wines with regional cuisine. They offer affordable dishes of the day or an irresistible gastronomic menu featuring courgette flowers stuffed with anchovies, homemade foie gras, roast pigeon and peaches braised in honey, perfect with a glass of Muscat de Beaumes de Venise.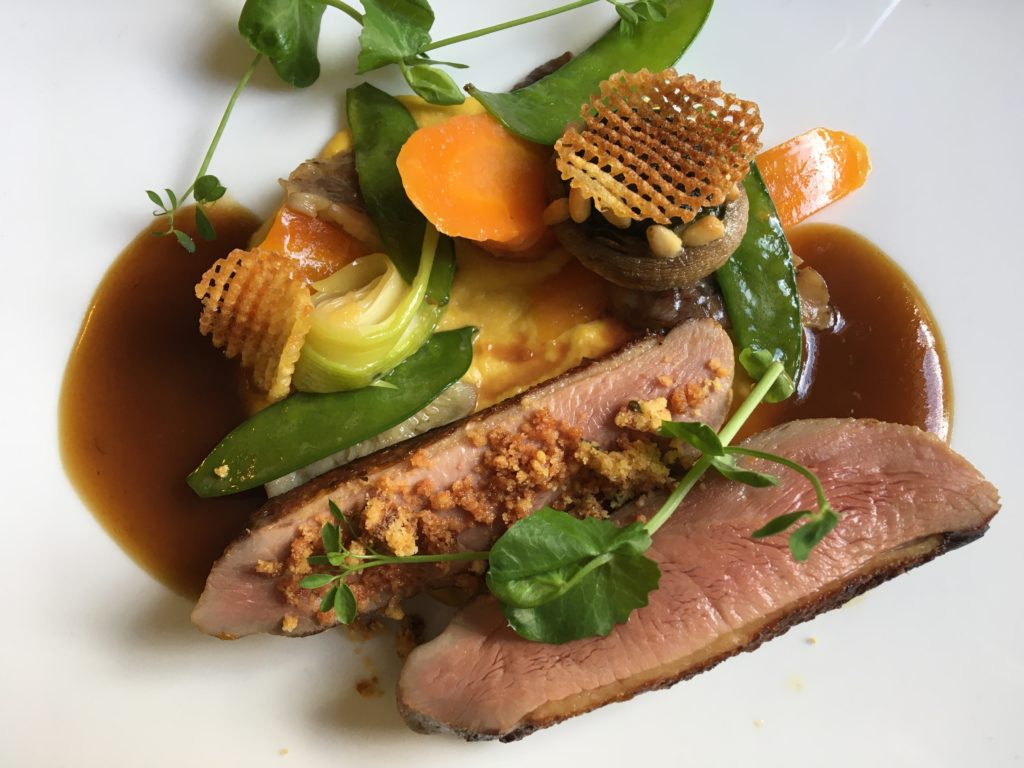 Creative young chef Boris Schrader delights diners with his inventive cuisine in this friendly family bistro with a surprising gourmet menu. Using local, seasonal ingredients, try the succulent duck breast with a sweetcorn mousse and hibiscus juice or a tangy tomato soup with smoked pork and baby red peppers stuffed with goat cheese.
Where to stay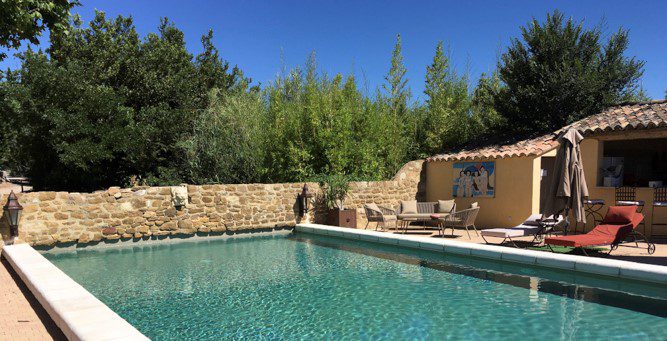 The perfect luxury hideaway after a long day of wine tasting, this Provençal farmhouse, at the edge of the vineyards just outside Beaumes village, offers fabulous rooms, a gorgeous pool and a delicious breakfast of cheeses and hams from neighbouring farms.
Stay at the Le Clos Saint Saourde
---

*Hero image photo credit: Thomas O'Brien