We've been out searching for the best selection of cheeses to grace your cheese board this year! Rather than searching for just the perfect cheese, we also did some research on what we think would make an almost perfect cheeseboard. As it turns out, you need something salty (the cheese!), something sweet (quince jam, grapes, honey), something crunchy (nuts, spicy almonds), something bready (crackers, a lot of crackers), something tangy (tapenade). And don't forget to put it all on a good looking board and serve it with a few fancy knives.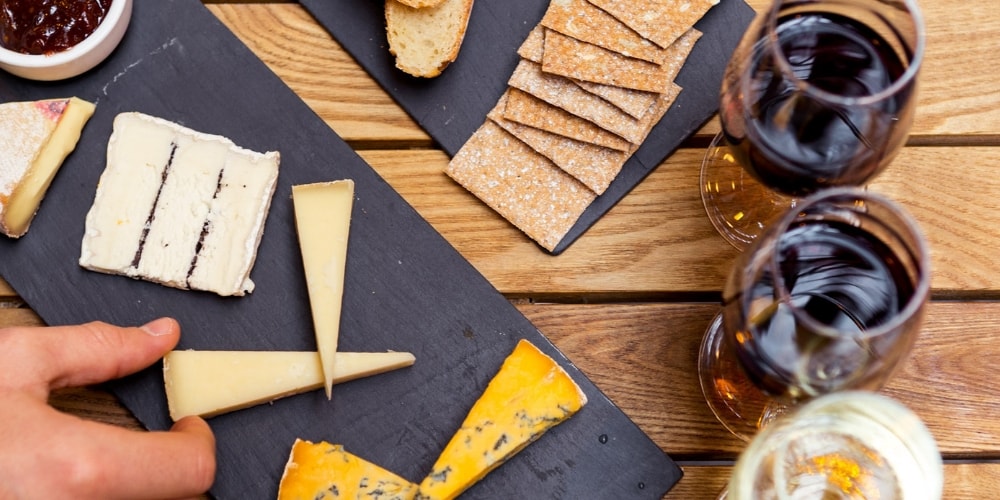 And we did not have to go far. Hidden in the historic and beautiful Leadenhall market, is what has become one of our most favourite cheese shops in London, Cheese at Leadenhall. Founded and owned by Sue Cloke "The Duchess of Cheese", as her team likes to affectionately call her, this beautiful shop has become a must stop in the City. Here you can run away from the daily madness, take a deep breath, and enjoy a beautiful cheeseboard paired with fantastic wines.
Cheese at Leadenhall is heaven for cheese lovers. Regardless of whether you are a novice or an ardent cheese lover, you are guaranteed to find the perfect cheese for your palate and for your guests. Here are some fantastic matches from there that we tried and tested: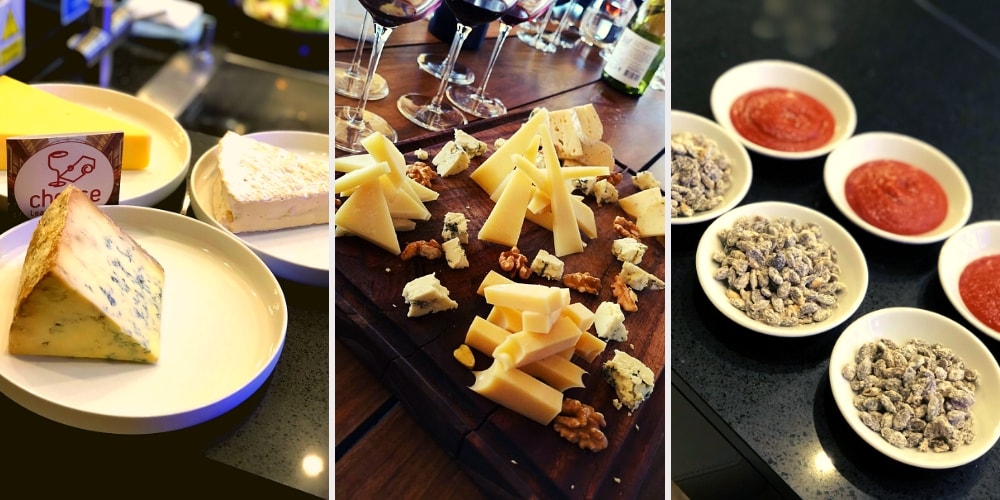 No. 1: Bath Blue – A delicate change to Stilton
Which wine does it pair with: Diszonko Tokaji Late Harvest 2016. The sweetness of Tokaji (or any other sweet wine) will cut through this slightly softer version of Stilton. Simply delicious!
No 2: Winchester – A cross between Mature Gouda, Parmesan and a Mature Cheddar
Which wine does it pair with: A lovely Chenin Blanc from the Loire Valley would be perfect with this wine. The acidity of the Chenin will pair really well with the saltiness of the Winchester. This is without any doubt, one of the most loved pairings on your cheese and wine pairing menu.
No 3: Chablis – A delicate creamy mild soft cow's milk cheese
Which wine does it pair with: Chablis of course! We paired with a beautiful Domaine Pinson. It's zesty character, with plenty of freshness and slight saltiness on the finish is perfect for this cheese.
No 4: Appenzeller – Swiss, nutty, slightly sweet and delicious
Which wine does it pair with: This cheese pairs beautifully with a dry Riesling like the Baron Knyphausen HOHENRAIN Riesling.
No 5: Ossau Iraty – delicate sheep's milk
Which wine does it pair with: We loved this wine with a great representation of red Bordeaux from Chateau Calon Segur.
No 6: Cave Matured Cheddar – Earthy and unpasteurised
Which wine does it pair with: LBV Port. Always. Many see this as a rather boring choice, but this is a pairing that will always work! We chose the 2014 LBV from Taylor's for this pairing. But you can go for pretty much any variation and it will be a success!
No 7: Bosworth Ash – British tangy goat's cheese
Which wine does it pair with: We paired this with a lychee-scented Gewurtztraminer because it is a slightly funkier cheese and so can really take the depth and oiliness of this grape. Try this great example from Domaine Zind Humbrecht.
No 8: Tomme de Savoie – Earthy mountain cheese
Which wine does it pair with: This cheese goes really well with a Cabernet Sauvignon or a Grenache-Syrah blend, so we paired it with one of our favourites from Chateauneuf du Pape – and it worked perfectly!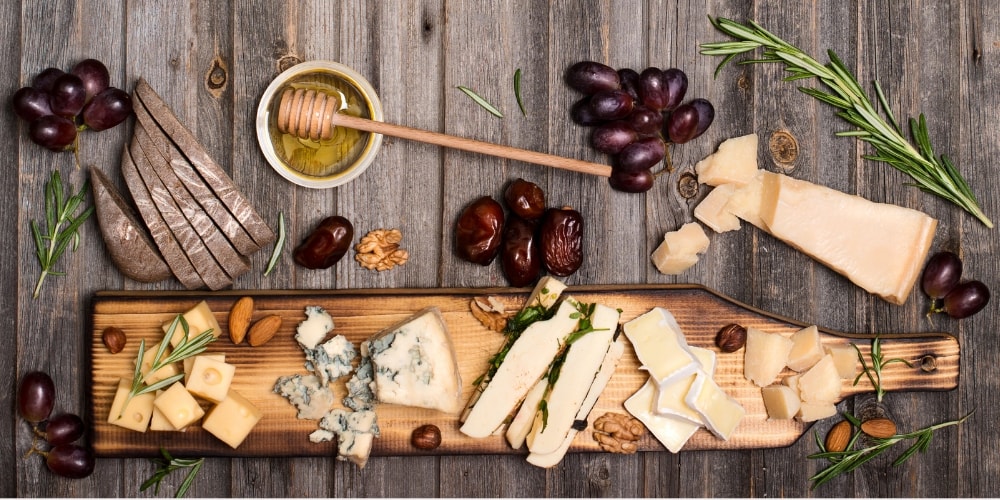 No 9: Pecorino with truffle – Well flavoured and delicious
Which wine does it pair with: One for the wow factor. This cheese has layers and layers of delicious truffles running through it! For something this extravagant, we had to go for this Pinot Noir from Burgundy.
No 10: Stilton – Because no cheeseboard is complete without it!
Which wine does it pair with: It has to be Sauternes. And what a finish to this tasting this was! No better way to cut through Stilton, than an exciting Sauternes like Rieussec Carmes de Rieussec.
Looking for more ideas on cheese and wine pairings? Click here to find out if you were doing it wrong all along! Read this article and see if cheese sweats are a thing! Or maybe you want to know more about the wines we listed in this article? Here you can find some more information on what Tokaji wine is.