The wine! The wine! I used to hear this cry every Christmas as once again, my parents had spent so much time thinking about the menu, they'd forgotten all about buying the drinks. I had to get a job in wine just to sort them out.
Specific recommendations can sometimes be tricky to find, so here are some go-to wine styles for all your traditional Christmas meal wine matching needs. Just in case you happen to be in the right place however, you'll find some of our top choices below…
Christmas day food and wine matching
My not-so-secret tip for fighting the Christmas day fluster is to keep the wines classic. Hosting starts early and goes on all day, so stamina is needed in every sense. During this time, you'll most likely take in one main meal and usually a lighter meal of leftovers served later that you'll inexplicably find room for. First stop, a sparkling toast to whet their appetites.
A sparkling toast
Kick off your festivities with a sparkling wine toast (what else?). Maybe this is the time for you to bring out the big guns or maybe you're considering more entry level bubbles given how much Auntie Agnes is going to be slurping. Whatever your budget, here are some tips and recommendations:
Tip: Go for a 'crémant'. Seeing this on the label means the wine is made in the traditional method like champagne, often from the same grapes and comes from France… but not the Champagne region. There are proper bargain styles to be had here. If budgets are higher, now is the time to try English Sparkling wine if you haven't already. England is doing incredible things in this space with some of the finest sparkling wines in the world already starting to come out of this country, according to wine guru Oz Clarke.
Bargain try: Exquisite Crémant de Jura, NV, £7.99 from ALDI. Seriously decent, easy-drinking classy, French bubbles. The bottle looks really great too and for the price, this is insanely good.
Trading up: Hattingley Valley 'Classic Reserve' Non Vintage is a truly elegant, gorgeously complex and balanced fizz with great drinkability. This one smashed it in a tasting on live radio recently… £30 www.hattingleyvalley.co.uk, Harvey Nichols, The Naked Grape (Hampshire), Wine Utopia (Winchester), Some Majestic Wines.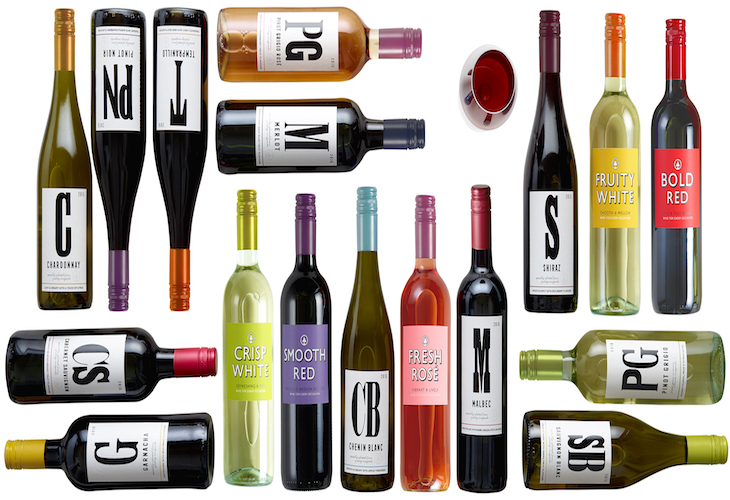 The main event: Christmas lunch or dinner
Find one good red and one good white wine; they'll cover all bases and see you through to the cheese. A full-bodied, flavoursome white wine will stand up to the rich, complex flavours of the turkey, goose or pork and all the trimmings. A Chardonnay or a Chenin Blanc will do you well here. We love:
Bargain try: 'C' Chardonnay, 2016 and the 'CB' Chenin Blanc 2017, both £6 in store only from SPAR. SPAR have just launched a great range of fantastic looking wines by grape variety. Both these wines have tonnes of fruit and are crisp and refreshing with it. The Chenin has a lovely, waxy mouthfeel and the Chardonnay is pure melon fruit!
Trading up: La Fleur Jaune Pouilly Fuissé 2014, Marks & Spencer £27 If you're felling the love, a rich, white Burgundy (made from Chardonnay) is what a turkey loves. This one is as complex as it is fruity with a lovely christmassy spice note. Worth trading up for.
With red wine choices, you don't want to go too heavy, unless you're serving beef of course. For turkey and its accoutrements, a New World Pinot Noir is always a crowd-pleaser as its plummy and soft, but not heavy in tannin. Likewise, a good Italian Barbera won't drown out the food and will offer a refreshing acidity.
Bargain try: Taste the Difference Barbera D'Asti 2015, £8.50, Sainsburys (on offer now at £6.50!) Juicy, with blueberry and blackberry fruit and a touch of ozone freshness.
Trading up: Chianti Classico La Tradizione, Poggiopiano 2013, £16, The Wine Society. Classic style, light on its feet with marzipan, sour cherry and spice.
Cheese course
Believe it or not, white wine is actually a better match for most cheese than red and sweet wine and cheese is a knockout combination! Finish off your meal with a cheeky little Sauternes-style wine and let that honeyed glory remind you how good dessert wine can really be. With a salty stilton it's an absolute winner.
We love: Chateau La Caussade, Saint-Croix-du-Mont 2014, £12.95, The Wine Society. Made with Semillon grapes right next to the Sauternes appellation, but not in it, this wine has a gorgeous, spiced marmalade quality and is a fraction of the price of many Sauternes.
If you're looking for more sweet wine suggestions for puddings and mince pies, check back on Thursday, when we'll be posting a feature about more sweet wines for Christmas.
Clinkies!