Not only is Argentina one of the most beautiful and diverse nations in South America, it's also the fifth-largest wine-producing country in the world and becoming increasingly well-known for the outstanding quality – and incredible affordability – of its premium wines. This is largely thanks to some big changes in the industry (perhaps the most important of which is a renewed focus on quality over quantity!) and an influx of creative, passionate producers such as Familia Zuccardi and Catena Zapata, who have elevated Argentina from the domestic stage to the truly worldwide. With all this excitement going on, the Winerist team simply couldn't resist a visit to taste the wines in situ! We truly were blown away by how far Argentine wine has come in the last ten years. They really were too good not to share, so we've shortlisted Winerist's Top 10 Argentine Wines to give you a flavour of just how fabulous this region can be.
Wonderful Whites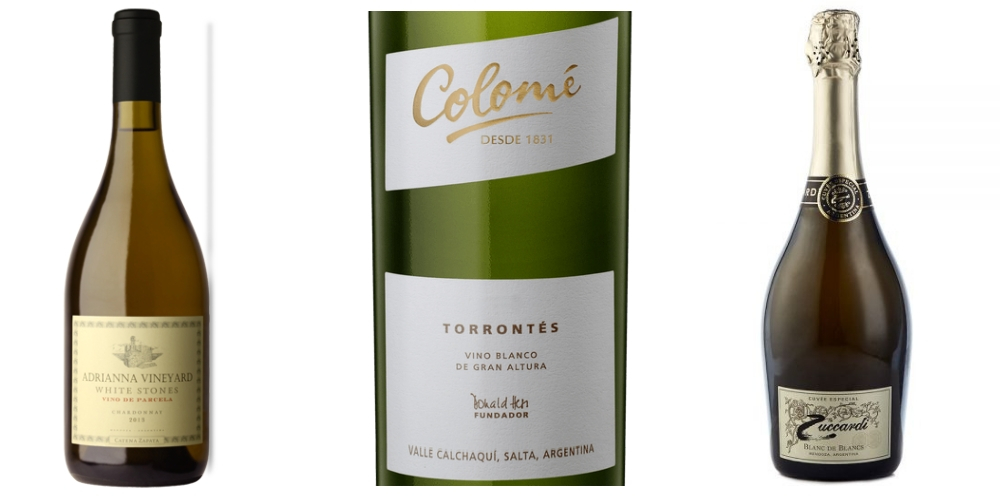 Zuccardi Blanc de Blancs NV
This 100% Chardonnay sparkling wine from one of Argentina's most well-respected winemaking families is a real treat. Hailing from Tupungato in the Uco Valley, one of the most remote winemaking regions in all Argentina, this fizz has spent substantial time aging on the lees. This creates a distinctly toasty, Champagne-like palate but with a characteristic Uco Valley brightness of fruit thanks to the area's dizzying altitude and crisp, cool evenings, which help to maintain fabulous acidity and freshness. See more here.
Bodega Colomé, Salta Torrontés
Bodega Colomé proudly boast some of the highest vineyards in the world at their sites in Salta, Argentina – some soar up to 3,000 metres above sea level! The intense solar radiation at these altitudes give the wines here a very particular style – the grape skins tend to be thicker to act as sunscreen to the fruit, which contributes more aroma, colour and texture to the finished wines. Bodega Colomé are one of the most lauded producers in Argentina, with Tim Atkin MW classifying them as a 'First Growth' in his 2019 Report; and whilst all their wines were delectable, we were particularly struck by their classic Salta Torrontés from Calchaquí Valley. Another of Argentina's traditional grape varieties, this Torrontés stood out for its lemon drizzle cake aromatics, a crisp, dry palate and surprisingly creamy weight. A beautifully made white wine that sets the benchmark for Argentinian Torrontés.
Catena Zapata, Adrianna Vineyards 'White Stones' Chardonnay & 'White Bones' Chardonnay
We just couldn't decide which we liked best, so we are sneakily counting these two Chardonnays from the Catena Zapata winery as one! Both simply extraordinary, yet subtly different; the 'White Stones' is complex, bright and minerally, with a distinct note of thyme, whilst the 'White Bones' has a touch more butter and brioche. What unites them is incredibly ripe peach and stone fruit flavours which make themselves very much known without feeling remotely overblown or sickly. Pure, elegant and completely unique thanks to the luminosity and the lofty altitude, great for Chardonnay grapes.
These top Argentine wines aren't cheap, but they are a must-taste for any Chardonnay lover – pick them both up from Selfridges. For more inspiration, watch our short video with Catena's fabulous winemaker, Estela Ines Perinetti, to find out more about the Catena way of life … and if you're feeling inspired, book an exclusive visit to Catena with Winerist on our Premium Mendoza Wine Tour (luxury gourmet lunch included!)
Silky, Gorgeous Reds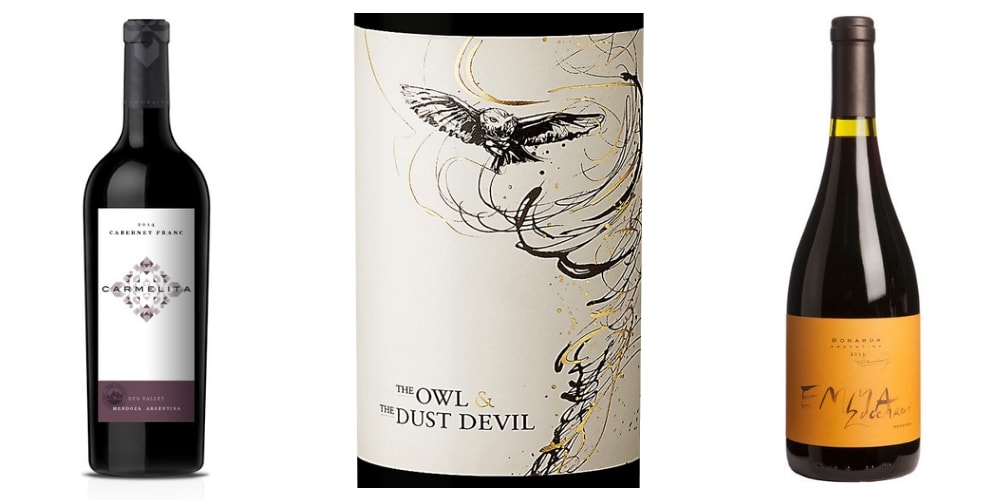 Sticking to Catena Zapata for a moment as we move into red wines, their 2017 Malbec is probably THE benchmark for great, affordable Argentinian Malbec and another one of our top Argentine wines. It's our ultimate go-to red wine for parties where one or two bottles won't suffice … with a precise balance of ripe black fruit and sophisticated structure, this wine displays all those delicious, classic Malbec notes of blackberry, black cherry and chocolate with silky smooth tannins. Available from Majestic Wines for the bargain price of £10.99!
Finca Decero, The Owl & The Dust Devil 2015
We loved this fabulously-titled wine thanks to its moreish, velvety drinkability. A perfectly balanced Bordeaux-style blend of Cabernet Sauvignon, Malbec, Petit Verdot and Tannat from a single vineyard displays the best qualities of all four grapes: elevated violet and blueberry notes on the nose are complemented by richer, dark red fruits on the palate, all backed up by Cabernet's beefy tannin structure and full body. There's certainly a lot going on in the bottle, but Finca Decora have the balance just right, avoiding overworking and over-extraction to achieve a beautiful, boisterous blend. Drinking beautifully now, and at an incredibly competitive price – find it here.
One grape to look out for from Argentina right now is Cabernet Franc. Cab Franc's spiritual home is France's Loire Valley, where it produces fragrant, light-bodied reds; but here in Argentina, just like Malbec before it, Cab Franc eschews its Gallic origins and does something very different. Here in the foothills of the Andes Mountains, it becomes bolder, brimming with bright red, fruit, vine tomato and a soft juiciness you just don't get in the Loire. Throw in a little oak aging for good measure and you get some serious, savoury wines. Not only does Carmelita do Cabernet Franc brilliantly, their Malbecs are also a force to be reckoned with!
Top Level Reds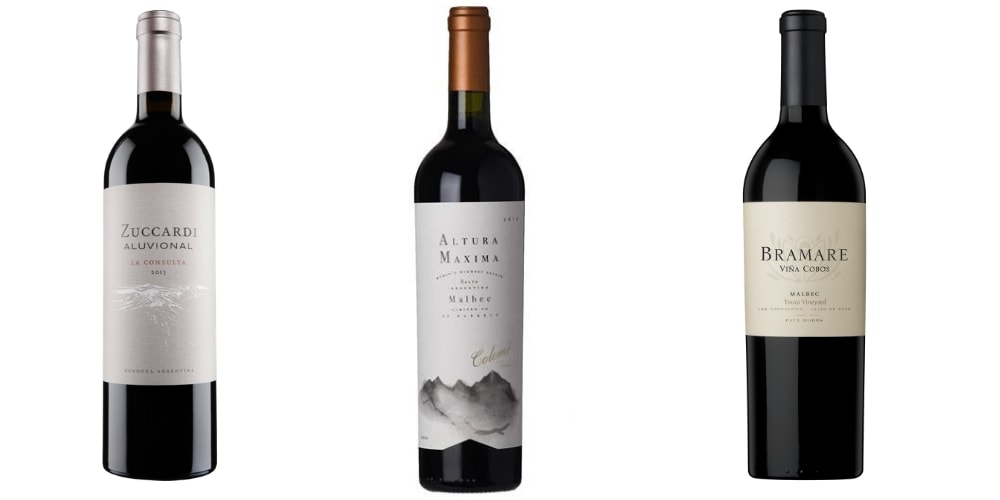 Viña Cobos Bramare Malbec, Touza Vineyard 2016
This single vineyard Malbec by renowned bodega Viña Cobos is a real powerhouse and amongst the top Argentine wines! Grapes are hand-harvested from the Tousa vineyard, which sits at a rather respectable 3,444 feet above sea level (!) and aged for 18 months in French oak. Bold, dark and concentrated, this wine has incredible herbaceous notes of thyme and black pepper, bright bramble fruit and a dark chocolate finish. It's beautiful now but will go on and on – a fantastic example of what Argentina can do with super-premium wines and a relative steal at £64.95.
Innovative winemaker Sebastian Zuccardi is on a mission to promote terroir-driven wines in Argentina, showcasing the dizzy heights his grapes can achieve when allowed to express the land on which they were grown – no heavy oak or high intervention here! The result is an entire portfolio of fabulous wine, but this 'La Consulta' Malbec struck us with its class, elegance and concentration, showing a seamless, cool mineral silkiness with subtle floral notes and a touch of mocha. Fabulous proof that Malbec is so much more than a hefty beast … great now but will keep for several years. £70.00 at Virgin Wines.
Remember earlier when we talked about the highest vineyards in the world and the effect of altitude on the grape and the wine? Well, this wine is the ultimate demonstration of what altitude and careful growing can achieve. The thicker grape skins from Bodega Colomé's Altura Máxima vineyard in Salta give the wine dark, sumptuous colour and an incredibly striking concentration of flavour and aroma. Think you know Malbec? Think again. This wine is lean and minerally, with more sophisticated black chocolate, salt and mint flavours which will surprise and amaze. Quite simply a stunning wine, which will appreciate a little more time to develop.
If this countdown of Winerist's Top Argentine wines has whetted your appetite, Winerist are proud to partner with many of these fabulous producers to offer you some of the best wine tours in Argentina! Whether you'd like to spend a day with the Familia Zuccardi or immerse yourself in life at Catena Zapata, we can make your wine holiday dreams come true – visit our travel guide for more information!