As sake continues to enjoy the spotlight as one of the hottest new drinking trends,

Winerist

travels to Peckham to meet the husband and wife team behind

Kanpai

, the UK's first and only sake brewery.
An industrial park in Peckham probably isn't the first place you'd expect to find a sake brewery, but there it is, tucked inside a communal warehouse space, Kanpai is the UK's very first sake brewery. The brainchild of Tom and Lucy Wilson, this small but mighty brewery produces a range of inventive bottled sakes (Japanese rice wine) that are stocked in Selfridges and other specialist wine shops in the capital and beyond.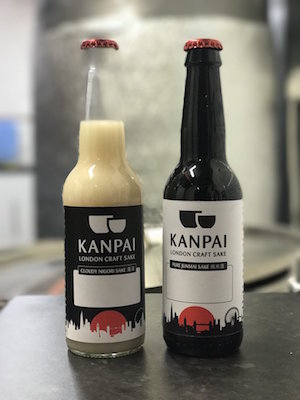 Photo credit: kanpai.london
Bringing Sake to London
Inside, amongst the stainless steel vats and the palettes of bottles waiting to be filled, Tom and Lucy enthusiastically take us through their brewing process. From the starter mixture (bubbling away noisily in a corner), to the process of 'drip pressing' the rice by hanging it up in large cotton sacks and allowing gravity to – ever so slowly – do its work, the process can take up to 12 weeks from start to finish. With the aim of bringing sake to a much wider audience, the pair are often up at all hours of the night, making sure that timings and temperatures are exactly right for the long, slow ferment they have chosen in order to produce a fine, dry sake suited to the British palette.
As labour intensive as it can be (both Tom and Lucy have day jobs in the city, and spend long evenings and weekends in the brewery), the benefits of this small-batch system are clear – more traditional methods such as the 'drip pressing' of the rice produce a much cleaner, higher quality sake, and allow Kanpai to contend with industry giants, who usually reserve these time consuming methods for their very best competition-grade sake.
English Sake: The Verdict
The end result is certainly impressive – a crystal clear Junmai (meaning 'pure rice') sake and a nuanced, full-bodied Nigori (a cloudy, unfiltered sake). Junmai sakes contain only rice, water, yeast and koji, they are considered to be of the highest quality, and are never charcoal filtered, giving Kanpai's Junmai a delicate lemon hue. Following a 'craft beer approach', the pair are constantly experimenting with different varieties of rice, koji and yeast, so each batch produces different, exciting flavour notes like honeydew lemon and lychee or green apple and cinnamon.
Food and Sake Pairings
As we taste the sakes, I'm surprised not to hear more about sushi and sashimi flavour pairings. Tom explains that while softer, fruitier Japanese sakes pair well with sushi and ramen, Kanpai's dry, smooth sakes are made for a huge variety of food, including the kind you'd be likely to find on the dinner table in the average British household. The Junmai compliments the bold, smoky flavours of barbecued food, cheese or cured meats, while the cloudy Nigori sits well with spicy meat dishes and broths. With more ways to drink sake than ever (Lucy recommends trying a sake tonic, or mixing up a sake cocktail), Kanpai is offering a versatile, drinkable alternative to wine and beer. Best of all, it's preservative and sulphite free, meaning you won't get the awful hangover you might get from drinking wine (depending on what else is in that cocktail, of course…).
Following Sake Traditions
They may be the first of their kind in the UK, but the pair have built connections with other sake brewers in the States, and have played host to many Japanese sake makers, who, for the most part, seem to be really impressed with their efforts. 'Making sake is really hard', explains Lucy, 'so I think they're excited, and even flattered, that we're doing it here'. The Wilsons will travel to Japan themselves in a few weeks time, to return some brewery visits and to experience some famous Japanese hospitality. Although many Japanese people now drink sake out of wine glasses in order to properly appreciate the aroma, their drinking habits remain steeped in tradition. Employees must turn away from their managers, or hide their mouths, before they drink, and you should think carefully before you clink glasses – as the point that one glass meets another is indicative of status. Oh , and if you're wondering what it's really like to have a group of Japanese sake makers together in one bar at the end of a long work day, Tom has one word for you: 'mayhem'.