The Winerist team has just come back from a visit into the English countryside where we visited one of our Boutique Hotels and Vineyards. Here are our most favourite moments and the reasons why this is a place you should put on your list of places to visit this spring.
The Hotel
The recently-opened family-run Rooms at the Winery is a beautiful countryside retreat for wine tourists looking to discover English wines. Close to the coast in Kent and surrounded by luscious hills the hotel is only a short taxi drive from Folkestone Central station and easily accessible from London.
Driving through winding lanes to get to the property you realise just how perfect it is as an escape from city living. As you enter the drive the homeliness of the place is evident and we were greeted warmly upon arrival from the winery's owners, Lorna and Graham Wilkes. They are keen to create a personalised stay for all of their guests and with just three rooms the hotel offers an intimate stay that can be tailored perfectly to your needs.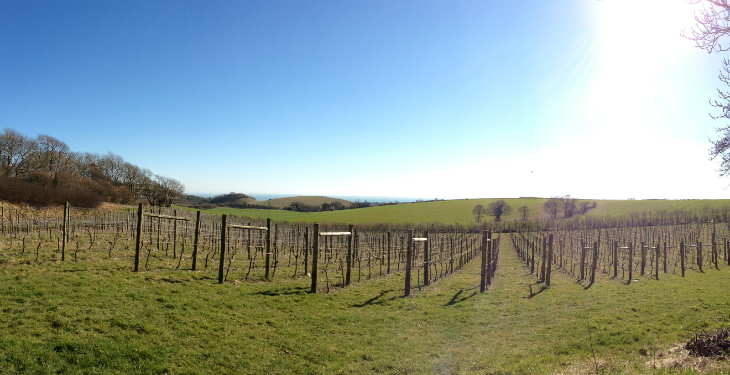 We stayed in the Caesar's Camp Room located on the ground floor which was complete with all the mod cons you would expect of any larger hotel, but with far more personality, a super-sized and super-snuggly bed and a cute patio perfect for enjoying a good book in the afternoon sun.
The Saxon Shore room is the smaller of the three rooms, but offers the same warmth and cosiness while the largest room, the Manor Rose is found on the first floor and is perfect for a special occasion. All rooms come with fluffy bathrobes, complimentary toiletries and a tea and coffee machine as well as a complimentary bottle of sparkling wine – we enjoyed our tasty sparkling rosé from the comfort of our patio while getting ready for dinner.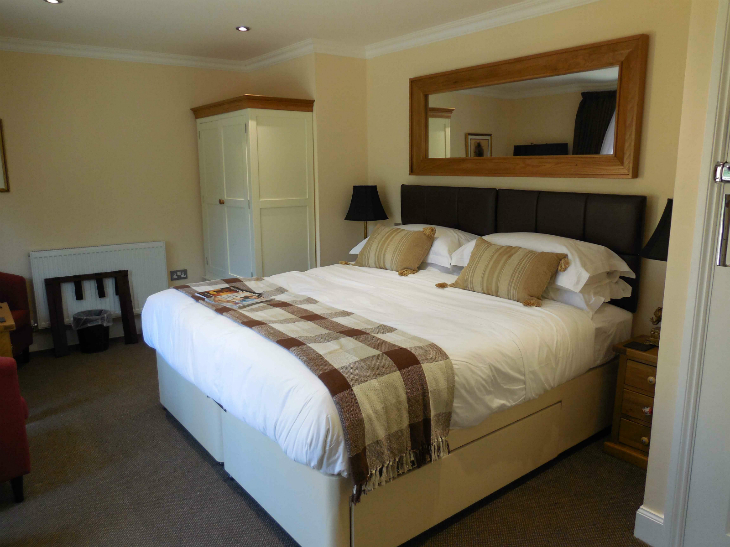 The thing I always notice when I stay at larger hotels or chains is that the layout feels as though it were decorated hurriedly and not properly thought out. It's the little things, like the towel rail being close enough to the shower, that make all the difference, but are so often overlooked. At Rooms at the Winery it's clear that a lot of time and care has gone into making these rooms perfect for their guests, so that life is as easy and as comfortable as it can be.
My favourite aspect of the room was the under-floor heating in the bathroom – there's no waking up in the morning and squealing as you step onto freezing bathroom tiles – and it's elements like this that set the hotel apart as a luxury hotel.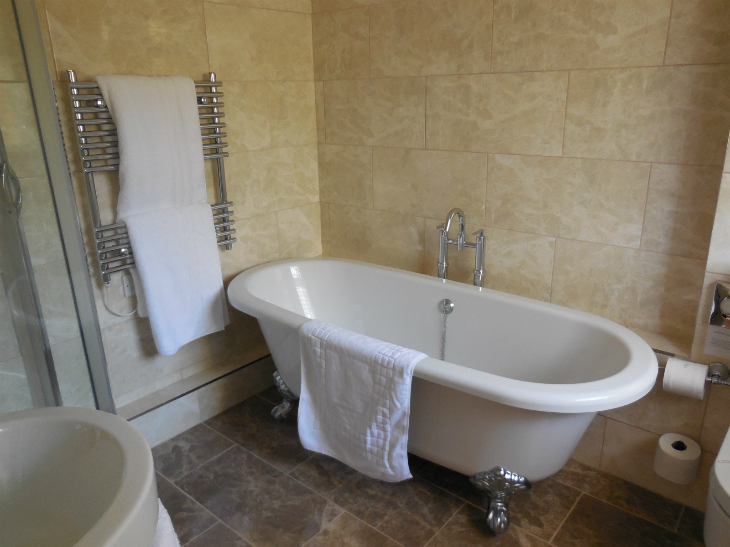 Breakfast is provided and consists of a delicious platter of the freshest fruit and tastiest cold meats – a great start to any morning. Breakfast is left for you to enjoy at your leisure, and Lorna encourages guests to pack a picnic and enjoy it either in the vineyard or along the way on one of the country walks.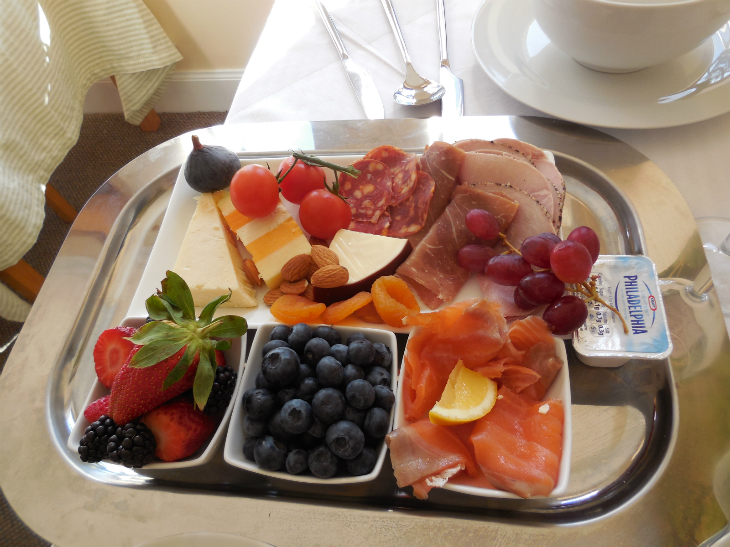 Another nice touch is the late checkout; it's such a simple idea, but makes all the difference. Most hotels will have you out of the room before midday, but at Rooms at the Winery you're encouraged to make use of your room up until 4pm. Whilst checkout is officially 11am – meaning that after this time Lorna and Graham will leave you to your own devices – the room is there for you until much later. There's no need to cart your luggage around before making your way home – you can enjoy an afternoon in the vineyard and even freshen up before heading off.
This is the place for people who want a quiet and relaxing holiday, particularly Londoners looking for a short escape from city living – it's only 55 minutes from St. Pancras to Folkestone Central. Enjoy long walks through luscious fields and across the green hills with views to die for (if you're lucky enough, you might even see France across the Channel on a clear day!). And there's no need to bring wellies – the hotel will provide you with them.
The surrounding areas of Folkestone, Canterbury and Dover are easily accessible by car or taxi and offer so many historical and cultural sights. Graham and Lorna will happily direct you to the best of these, so be sure to ask for their recommendations. On top of this, Folkestone offers a wide range of restaurants and bars. Enjoying freshly caught seafood by the seafront is something you must do, and if you would like to know the best placed to dine, then Lorna and Graham are full of local knowledge. Foodies will be happy to hear how much choice there is ranging from gourmet restaurants to cosy local pubs. Whatever your preference, there's something for everyone.
We would recommend 2-3 nights. 2 nights are perfect if you want to fully relax, discover the wines and explore the vineyards while a third night will allow you to explore the surrounding towns.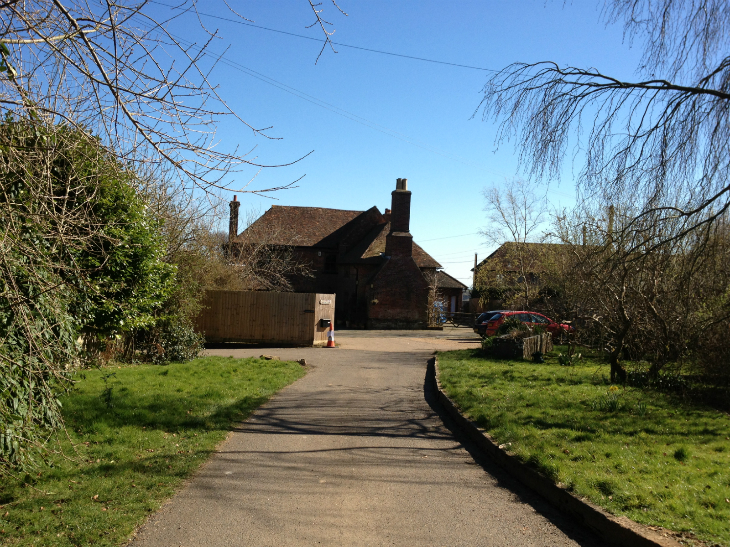 The Winery, Tour and Tasting
Included in the price of the room is a wine tasting and tour of the hotel's vineyard and winery, Terlingham. Lead by Graham, you will discover the wealth of history that surrounds the property and the nearby areas as well as learning more about winemaking and the up-and-coming English wines produced here.
If the weather permits, you can enjoy a tasting in the vineyard before heading back to the winery to sample the full list of Terlingham's products. Graham will share his knowledge about wine tasting techniques and share anecdotes about the vines and the wine production.
Terlingham Vineyard offers a great taste of English wines, and Lorna and Graham are keen to pass their passion and knowledge of wine onto their guests So feel free to ask questions during the tour.
Highs
Amazingly attentive hosts – very accommodating, friendly and passionate about their wines
The perfect destination to relax and unwind in the peace and quiet of the English countryside, but also close enough to Folkestone, Dover and Canterbury to discover the local history and culture
Fantastic countryside walks with breath-taking views
Luxury rooms with all the mod cons
Easily accessible from London
Lows
Cabbies seem unaware of the vineyard, so be ready to explain where you're going – directions are available on the hotel's website however, so have them to hand
No wifi and bad phone signal – good if you want to switch off, but not so good if you're waiting for an important call
Special Offers
Exclusively for Winerists – enjoy a wine-filled Easter break at Rooms at the Winery. Find out more here.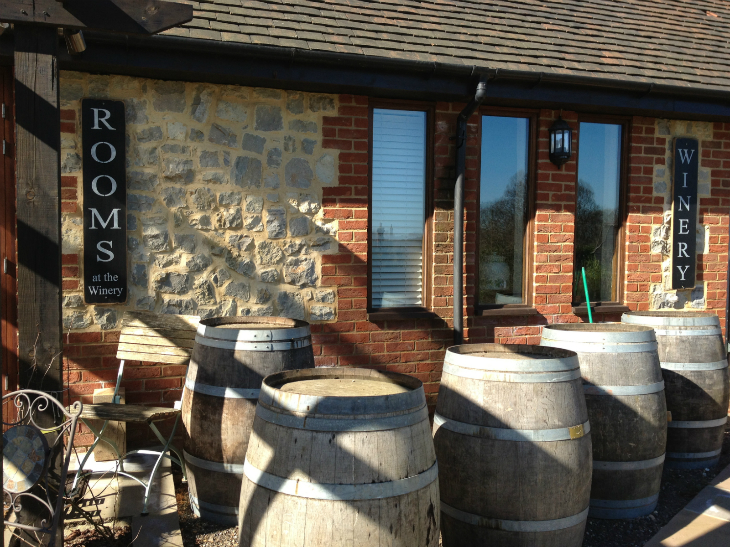 Article written by Louise Jones