Sven-Hanson Britt was crowned winner of Masterchef: The Professionals Rematch in December 2019
Chef Sven-Hanson Britt is a busy man. To put it lightly. In the last few months, Sven has gone up against a host of the country's best young chefs (for the second time) to be crowned winner of Masterchef: The Professionals Rematch; launched an ambitious and extremely successful Kickstarter campaign to raise £30,000 for the launch of his restaurant concept Oxeye in central London; begun renovations on a listed building in rural Derbyshire, destined one day to become Oxeye's permanent residence; and become a proud father to baby Rex, his first son with partner and fellow chef Kae Shibata. Winerist's Content Editor Jess Lamb caught up with Sven for coffee and culinary conversation.
From Sunday carveries to the Ritz Hotel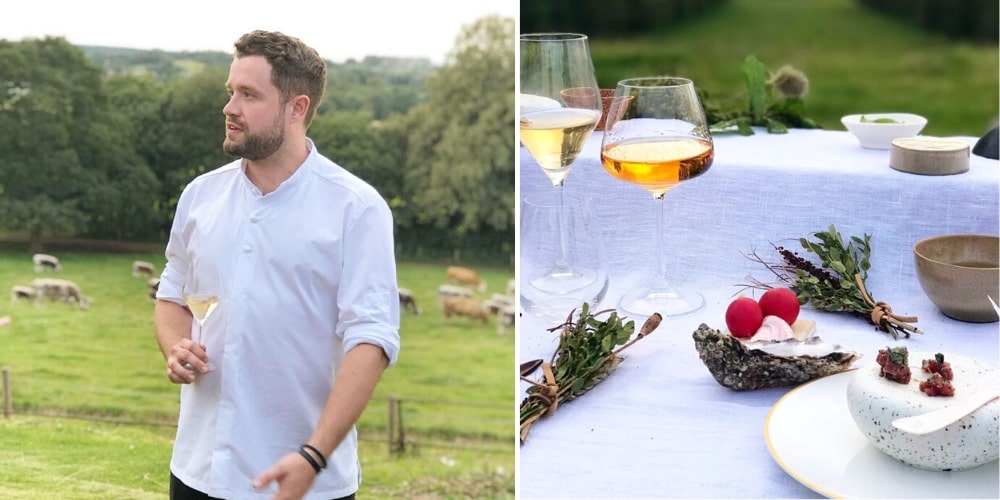 Growing up in Southampton, it was always very clear that Sven was comfortable in the kitchen. 'I've always cooked, from a very young age' Sven tells me, 'and although my family enjoyed food, we weren't foodie as such. We didn't go to restaurants and a Sunday lunch at the local carvery was as good as it got! It was purely that my sister and I loved eating, and by the time I was 14 I had my first job in a kitchen.' Sven stayed in this job throughout school and A-Levels (which he admits he only pursued because his mum made him) becoming ever-more determined to pursue a career in food. 'I sacrificed my homework for the kitchen but did manage to work my way up from pot wash to the very important microwaving vegetables section!'
Luckily, Sven was destined for more than microwaving frozen broccoli and was accepted onto an apprenticeship course run by the Royal Academy of Culinary Arts. After spending three months in Bournemouth 'learning how to dress and behave as a chef', Sven was given a prestigious work placement at The Ritz. Here, he learnt his trade and honed his skills for five years before leaving to further his passion for food by driving around France.
Sven's time in France was a formative experience. 'The whole reason I went to France was because I wanted to find out about their food passions and why they varied so much in different regions' he tells me, 'I wanted to understand why they were so fiercely passionate about the food that grows in their local region – for example dairy, cream and cider in the north or olive oil in the south – and why we are so different here in the UK. I found it so inspiring and exciting to see so many different styles of cooking within one country and how it ultimately boils down to families, communities and chefs having a relationship with their food. For me, seeing that everyday life and everyday passion for food was what it was all about.'
Exploring French cuisine led him to question the nature of some restaurant culture in the UK. 'I couldn't work out why chefs are happy to ring up and order from a supplier they've never even met before. Chefs have so little time to get out there and so you have to believe suppliers when they say the produce comes from a certain place … you have no way of controlling or picking anything yourself'. Although Sven returned to the Ritz for a short time, these experiences, beliefs, and the desire to create memorable food with a memorable story combined to form Oxeye, the restaurant concept with which Sven is now making his name.
Masterchef: The Professionals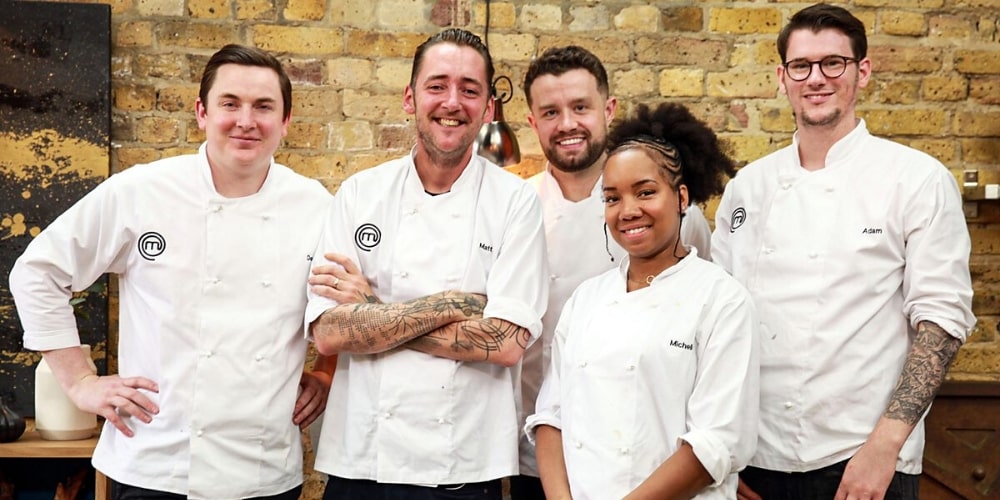 Photo credit: BBC
Sven first appeared on our screens in 2014 as a competitor on the BBC series Masterchef: The Professionals, shortly after his return to the Ritz. 'It was an amazing experience' says Sven 'a lot of people asked me if it was stressful cooking in front of the cameras, but honestly, I loved it. It was definitely no more stressful than my day job at the time, so it just felt a bit like a holiday!' Sven reached the finals, but narrowly lost out on the Masterchef title to Scottish chef Jamie Scott. However, this wasn't the end of the story.
In December 2019, Sven went back up against some of the UK's most exciting chefs, including Adam Handling and Michelle Trusselle, in Masterchef: The Professionals Rematch, and we were introduced to Oxeye for the first time. It was this idea and his innovative cooking style that saw him crowned the winner of the competition. 'It was really quick … they (Masterchef) rang me up and I had to pull something together – everyone else had a restaurant and I was cooking in a field occasionally!' Cue Oxeye; an immersive dining experience at the Melbourne Estate in the heart of rural Derbyshire, which saw Sven cooking a unique and ultimately winning menu for guests including Masterchef judge Monica Galetti.
The Oxeye Experience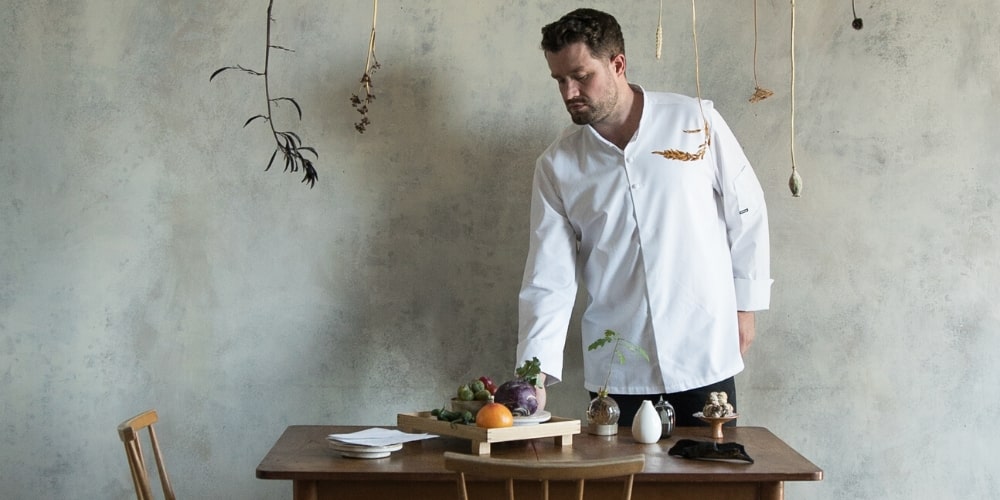 The ethos behind Oxeye is a simple one – to bring the pastures, hedgerows, fields and gardens of the English countryside into the kitchen to create unique dining experiences for each and every visitor. 'People don't want to just go and eat out any more … they want to experience something and be part of something. We want to allow something of our lives to filter into our food and have people come and enjoy being a part of that, even just for a few hours,' says Sven. 'Our aim is to limit covers and focus on an outstanding hospitality experience that our guests will remember forever as a once-in-a-lifetime experience'.
Ultimately, Oxeye will make its home on the Melbourne Estate in Derbyshire but in the interim will bring something unique and exciting to the London food scene, with a temporary location set to open in Central London later in 2020. However, Sven stresses that he is no one-man band. He and his partner, fellow chef Kae Shibata, are equally involved in bringing Oxeye to life. 'We've worked together for years and this is very much a family project … I couldn't have got where I am now without Kae's support and I can't see either one of us doing something amazing without the other'. This team approach is applied to all areas of their lives, not least to their latest exciting challenge. Four-month old son Rex has recently joined the family and seems to be embracing the family ethos with relish. 'Rex has been to more Michelin-star restaurants in his first few months than my parents have in their entire lives!' laughs Sven.
Baby Rex is also the namesake for Sven's other ambitious venture, Bar Rex. Designed to run in parallel with Oxeye, Bar Rex will offer a chilled-out setting for customers to enjoy delicious food … and the largest collection of English wines ever assembled (around 200 labels, to be precise!) 'It blew my mind that nobody had done it up to this point, so I found the place with the most English wines on the list and set myself the challenge of offering ten times that!' Sven tells me. 'It's an incredibly welcoming industry with so many cool people and is also a great story for English agriculture. People are moving into the industry from all kinds of diverse worlds and putting their experience and passion into winemaking, and we are in an amazing transition period. It will be a really cool thing to celebrate the wines and all these brilliant winemakers at Bar Rex – you can come either to drink and relax or learn a hell of a lot about English wine depending on what mood you're in!'
And what is Sven's English wine of choice? 'I'm a Hampshire boy – I've worked a lot with Hambledon Vineyard and a lot of what I know about winemaking comes from them, so I love their wines. I also think Gusbourne wines have an exceptionally strong identity, and I'm a huge fan of Rathfinny, who we will be doing an Oxeye event with down in the vineyard very soon!'
Michelin Stars and Chilled Out Vibes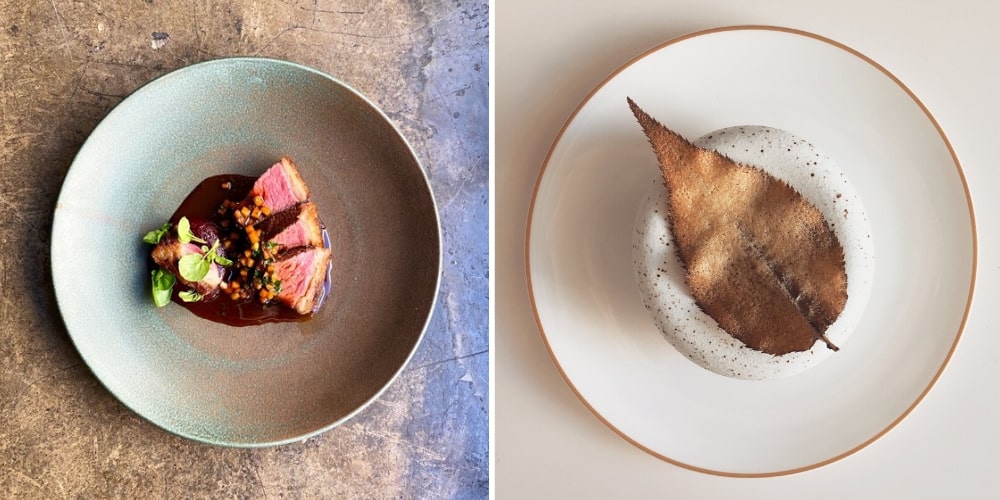 It's clear that Sven's ambition, passion and support network are making great things happen. Alongside the ongoing development of Oxeye, he's recently taken part in a Masterchef collaboration with fellow Masterchef alumni Adam Handling and Michelle Trusselle at Frog by Adam Handling (met with rave reviews by all who attended) and completed a residency at London's Carousel (similarly rave reviews). His beautifully delicate plum-leaf biscuits are fast becoming the stuff of legend amongst food writers, bloggers and Instagrammers, and his regular pop-up events are becoming some of London's most sought-after foodie experiences.
This understandably leaves little time for eating out – but when they do manage to catch a break, what are Sven, Kae and Rex's restaurants of choice? 'Well, we definitely go out for a dinner or supper … I have an irrational hatred of the word 'meal'!' laughs Sven, 'when I was a bit younger I wanted to experience more formal Michelin-star style dining, because I felt like I was learning whilst I was eating. Some of the best meals of my life have been at places like the Ledbury and Fäviken (the iconic Swedish eatery which sadly closed its doors for the last time in 2019) and I think that Ynyshir House in Wales is just one of the best places to eat in the world right now.'
'However, now I've mellowed with age, I want to eat delicious food in relaxed settings – which more often than not means simple cuisine and chilled vibes. Some of my favourite places in London are St. John, Sabor and the Laughing Heart, where you can enjoy great ingredients and relax without having to put a tie on!'
For all the most up-to-date news on Oxeye and Sven's other exciting projects, follow him on Instagram at @svenhansonchef and @oxeyerestaurant
If you want to experience his culinary skills first-hand, Sven will be in the kitchen for one night only at London's TRADE on Thursday February 27th. Pick up your tickets here!