At Winerist, we've been asking ourselves what it takes to create and engaging wine blog, so we got in touch with Eleonora Galimberti from Enozioni and Enogallery to find out how her story started, where it's taken her and some advice for getting more women into the wine industry…
Tell us about the face behind Enozioni!
My name is Eleonora Galimberti and I was born in Italy in Milan, the city of fashion and design made in Italy. At the beginning of my career, after graduating in communication, I was lucky to work in Giorgio Armani company and it was a dream. My passions have always been fashion, writing and – growing up – I learned to love wine (my mother comes from the land of Brunello di Montalcino!). I left the fashion system and went back to university for a Master in Food & Beverage Management, at the same time I studied and became a Sommelier and then I joined a famous Champagne House as their Marketing & Communication Manager, until I founded Enogallery and Enozioni. Today I am happy to work with winemakers, hospitality companies and lifestyle magazines to promote the culture of wine in the world.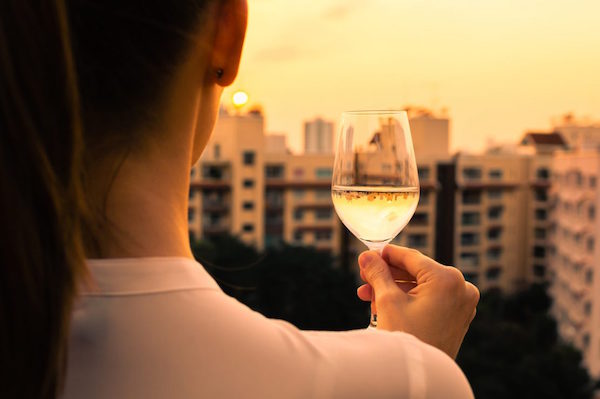 Photo credit: Eleonora Galimberti
How did you get started in the wine industry?
I discovered the wine gradually, thanks to my mother who was born in Tuscany, land of great red wines. With my family I have always traveled a lot since I was young, and explored the pleasures of good food and wines in different countries and cultures. Curiosity turned into passion and passion made it into a job. As Confucius said, "choose a job you love, and you will never have to work a day in your life." The passion for wine, great food and the desire to know how to combine them and enhance each other has always been within me, in my DNA: my mother was born in Tuscany and I have Brunello in my veins. Perhaps I was predestined to all this but I discovered it little by little!
What made you start up your very successful, fun Instagram account?
I have a degree in Communication and after the F&B Management specialization, I had the opportunity to work in the Italian branch of a famous Champagne House as marketing and communication manager. Among the tasks I was involved with, I had to develop social media, brand promotion and online communication. I really liked it and I started to get excited about these activities so much that, when the contract ended, I decided to dedicate all myself to a new professional project, Enogallery. My core commitment is to communicate the culture and excellence of wine in the world as an "expression of art" (this is why -gallery) with an innovative style open to young generations, social media and digital marketing.
What advice do you have for other women wanting to get into the wine world?
The woman is emerging more and more in the world of wine, which until a few years ago was the prerogative of purely male elite. This is fantastic! Like many other women of wine, I support the importance of a female share in this world. To those who like me want to turn their passion into a profession I recommend to always be curious, eager to learn new things every day, read, experiment, innovate to refine their skills, and especially travel everywhere: to get the most authentic and genuine knowledge you have to meet the people who made history, interact and deeply dive into culture.
What is the most interesting wine region you have visited and the one on top of your wish list?
The region that has touched me so far has been Burgundy, which I visited a summer a few years ago. It was exciting to cross the terroirs from where the famous grand cru are born. The villages are delightful and fascinating to visit, and each wine tasting was an intense sensory experience. I am obviously in love with my Italy, in particular of Montalcino to which I am linked, with its beautiful landscapes and the great red wines that I adore. I love traveling and I was lucky enough to visit many wine regions in the world. Outside Italy I visited some interesting wineries in California (Napa, Sonoma, Santa Barbara), France (Alsace, Champagne, Burgundy), and South Australia. In the future I would like to discover wine in Chile, Argentina, New Zealand and certainly also Canada for its excellent "ice wines".
What is the most memorable wine experience you have had so far?
There are some tastings so intense that left me with indelible memories. I always remember with pleasure a fantastic Brunello at Gianfranco Soldera's house: it was lunchtime and a hot day in Montalcino – not really ideal for enjoying full-bodied reds – but I can still feel the seduction of that velvety juice like it was yesterday. Another beautiful moment was in Bordeaux at Chateau Margaux where we tasted different vintages of premier grand cru in the exclusive wine cellar. Both experiences I will never forget.
What's your favourite wine to drink right now?
It would be easy to say Champagne: it is beautiful with everything! As you have read, I love experimenting because not a whole life is enough to try all the wines, but obviously, I have my own preferences. In this hot season (summer is approaching in Italy) I enjoy semi-aromatic whites like New Zealand Sauvignon Blanc (there is much more variety than ever before and quality seems on an unstoppable upward curve), German kabinett Riesling and lightly oaked Chardonnays like Chablis. On cooler evenings, I open a good medium-bodied red. To stay in Italy, I recommend to try some styles less famous than others: Pinot Noir (Alto Adige), Lacrima di Morro d'Alba (Marche), Cannonau (Sardinia), Valpolicella Ripasso (Veneto), Primitivo aka Zinfandel (Apulia). I could really write a book about my favourite wines!
Check out Eleonora's website here for new, views and wine stories: https://www.enogallery.eu/