Recently at Winerist, we've been getting into a region that is not nearly as well known as it should be for making outstanding wines: Washington State. Here's why you need to start paying attention to this classy, modern wine region.
In a Nutshell:
Although it might not be the first thing that comes to mind when you think of U.S wines, Washington State actually ranks second (just behind California) in the production of premium wine in the United States. The state has over 50,000 acres of vineyards, and more than 900 wineries which consistently produce world class wines. Benefitting from the long sunlight hours (during the growing season, the eastern half of the state, where the majority of wine production occurs, enjoys one more hour of sunlight per day than California), and consistent temperatures, Washington State has been producing quality wine since the first wineries were established by Italian immigrants in the Walla Walla region in the 1950s. With 14 federally defined AVAs (American Viticultural Areas), and boasting some pioneering and innovative winemakers, Washington State is certainly a destination that wine lovers won't want to miss.
Key Grapes:
The early Washington wine industry was predominantly focused on white wines, and Chardonnay and Riesling are still among the most widely planted grape varieties. Washington State is celebrated by experts for consistently producing white wines of exceptional quality, but in recent years, following the 1990s 'Merlot-craze', the focus has shifted to the state's red wines, which now account for 58% of wine production in the area. Merlot was one of the first major varieties to garner international attention, but after frost damage to the sensitive Merlot vines, many winemakers in the state have turned their attention to the hardier Cabernet Sauvignon and Cabernet Franc varieties, and more recently Syrah has emerged as a really key variety for the state's wine production. There are now nearly 70 grape varieties grown in Washington, and the region is continuing to diversify, gaining international acclaim for both white and red wines.
Producers to look out for:
Charles Smith
In 2006, Californian born 'wine rebel' Charles Smith, whose vibrant career has included managing rock bands and travelling the world, created "The Modernist Project", a wine label 'focused on the way that people generally consume wine today: immediately.' His mission is to create excellent wines that can be enjoyed 'now', with true typicality of both the varietal and the vineyard.
Charles is a great example of the pioneering work being done in Washington, and the winery has been recognised with several international awards including being named Wine & Spirits magazine's 'Winery of the Year' in 2008. Charles himself has been named 'Winemaker of the Year' by Wine & Spirits magazine (2009), Seattle Magazine (2010) and Wine Enthusiast (2014)
Charles Smith is working with Morrisons to launch his award-winning Wines of Substance range in the UK. From this month, wine lovers will be able to buy three wines from the range in Morrisons stores: Vino PG, Cabernet Sauvignon and Vino Rosé.
Smith says: "Morrisons is the perfect partner to bring our wines to the UK.  With almost 500 stores, we're excited that UK wine lovers will finally have easy access to our wines from Washington State.  We want to make sure everyone has access to great quality and great value wines and Morrisons definitely share that passion."
Tasting notes from Charles Smith:
Wines of Substance Vino Pinot Grigio – £15
Few producers take Pinot Grigio very seriously and as a result there aren't many PG wines for customers who like the the crisp Pinot Grigio style but who want a more sophisticated wine.
The Charles Smith approach is different. It guarantees to be unlike any Pinot Grigio you've had before, with notes of orange zest, honeysuckle and ripe apple and pear.
Pair with – oriental food such as Thai and Chinese dishes.
Wines of Substance Vino Rosé – £15
It might be light in colour but its flavours don't mess around. This Vino Rosé profiles red cherry fruit, herbaceous notes and has a fresh, crisp finish. Like the Pinot Grigio, it's a serious wine with a savoury edge. Pair with grilled chorizo or a lamb moussaka.
Wines of Substance Cabernet Sauvignon – £15
This wine showcases everything that's great about Cabernet Sauvignon: it's deep, dark and punchy with flavours of sweet plum and spice. Pair with red meats like grilled steak or venison.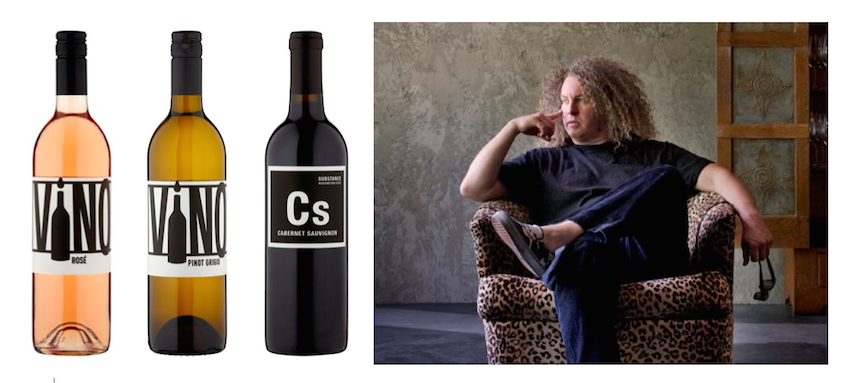 Gramercy Cellars
Founded in 2005 by Master Sommelier Greg Harrington and his wife, Pam, Gramercy Cellars produce Rhône and Bordeaux based wines using minimal intervention methods. Based in Walla Walla, Gramercy Cellars strive to partner with the best vineyards, harvest ripe (not overripe) grapes, and use as little new oak as possible. The result is a series of balanced, elegant and intensely fruity wines which take time to develop.
Gramercy wines are consistently praised within the community, particularly the Syrah expressions, such as the now iconic Lagniappe, which has been described as 'absolutely unforgettable' and 'brilliantly focused'. It is no wonder that the vineyard was named 'Best New Winery' by Seattle magazine (2008) and by Food & Wine magazine (2010), and has consistently featured in Wine & Spirits magazine's 'Top 100 Wineries in the World'.
Try: Gramercy Cellars Lower East, honestgrapes.co.uk, £34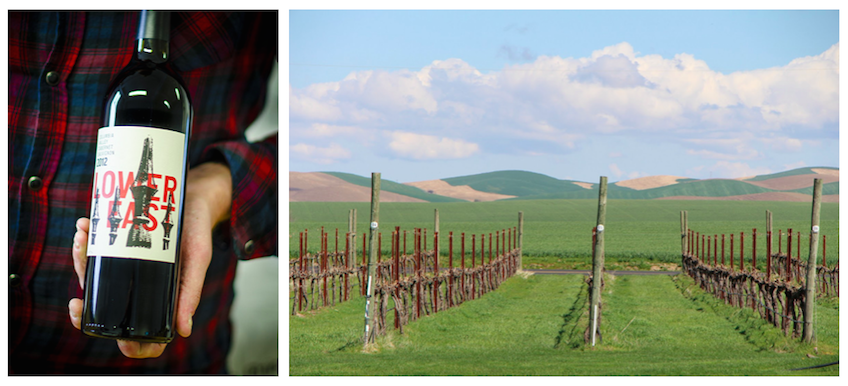 Two Vintners
Founded in 2007, Two Vintners Winery recognised that Merlot and Syrah, grapes that had often been overlooked by Washington State winemakers, were actually two of the best varietals that the state had to offer. Two Vintners took these 'outcast varietals' and sought to create delicious wines that can't be found anywhere else.
Two Vintners Winery love to innovate, to buck trends and to try new things, and to demonstrate just how varied and unique Washington wines can be. Their mission is simple – to create a high quality, accessible wine that can be shared and enjoyed by all.
Try: 2016 OG, twovinters.com, $28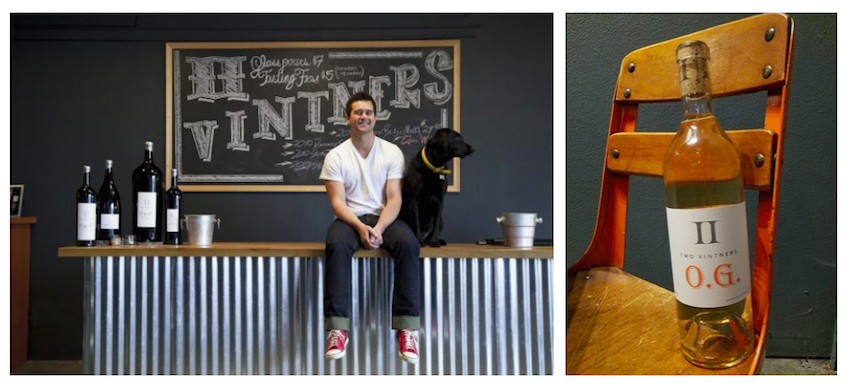 Cave B Estate
In 1980, after searching for years to find land in Washington State which was similar in latitude to the great wine growing regions of France, Vincent and Carol Bryan purchased several hundred acres of land high on the cliffs above the Columbia river. The soil and microclimate was ideal for growing premium grapes, and the breathtaking natural beauty of the land, with stunning panoramic views, made the vineyards truly unique. A naturally formed 'bowl' in the cliffside was found to have excellent acoustics, and over the years many musicians, including Chuck Berry and Bob Dylan, took to the stage in the 'Gorge Amphitheatre'
After years of careful development, Cave B winery was opened in 2000 as a boutique winery where excellent wine and good food can be brought together and enjoyed in the company of friends and family. The property may be in the middle of nowhere (although Carol and Vincent prefer to call it 'the middle of everywhere'), but it is well worth the trip, and an excellent destination to be enjoyed by wine lovers year round.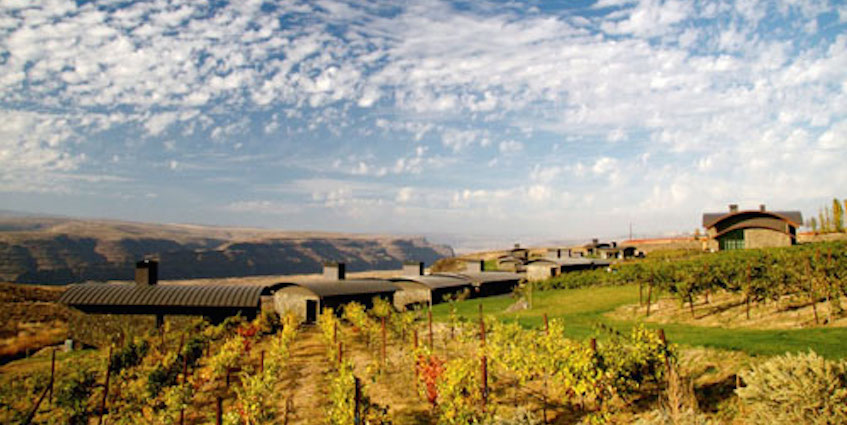 The Washington State AVAs: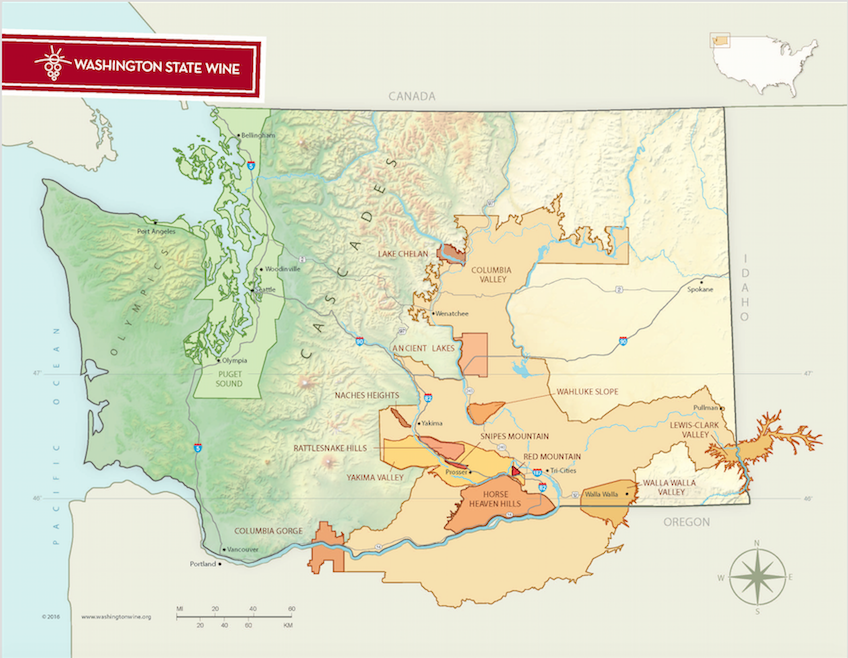 c/o www.washingtonwine.org