Ruth and Kelvyn are a husband and wife team living in the North East of England and are authors of Guest Wines.  Turning their backs on their old careers, they decided to take themselves on an adventure in wine. Their ventures led them to embark on fascinating wine tours in England, enabling them to discover some of the best wineries in Sussex and Kent. Ruth and Kevlyn are exploring their potential in the world of wine, and taking us along for the ride as they discover English vineyards!
Bolney Estate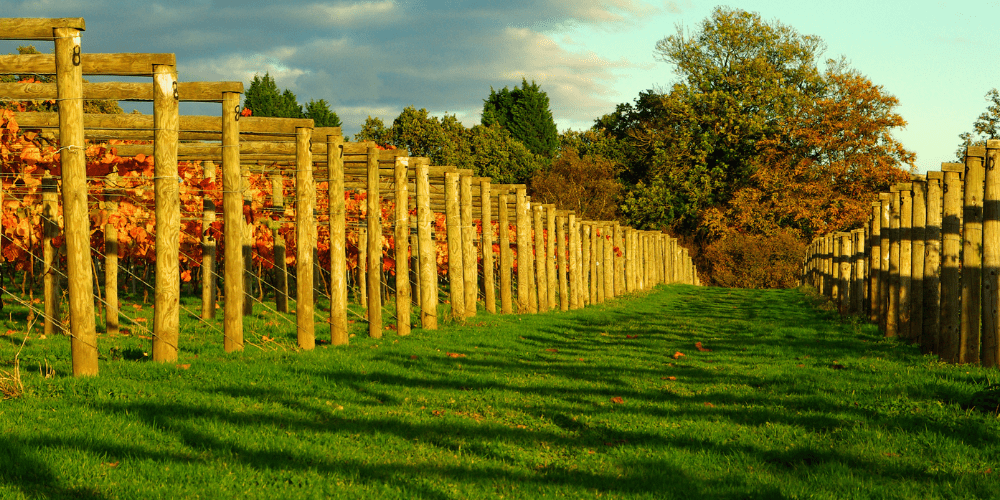 The Bolney Estate which started out as Bookers vineyard in 1972, is situated in the village of Bolney and has grown from three acres to 39 acres today. Janet and Rodney Pratt have created a wonderful place to visit for those searching for wine tours in England. Guests can experience a true English vineyard tour or relax in the cafe with a glass or two of their wine.
We first discovered Bolney Estate in 2012 and if we were to judge them on just their Pinot Noir alone, it easily cements its place as one of the best wineries in Sussex and Kent. Unfortunately for us (though fortunate for Bolney) they had completely sold out and would not have any more in stock until the next vintage is released in 2014. Nevertheless, we weren't going to go away empty-handed, so we purchased a bottle of The Bolney Estate Classic Cuvée 2007 (Pinot Noir, Pinot Meunier and Chardonnay).
Just 30 minutes drive from Bolney Estate, Pulborough has several vineyards in close proximity to one another, including the infamous Nyetimber. All share similar soil types (loam on greensand) although there is some cross-over with some of the grape varieties used, the wines that each produce are distinctive to the individual estates.
Nyetimber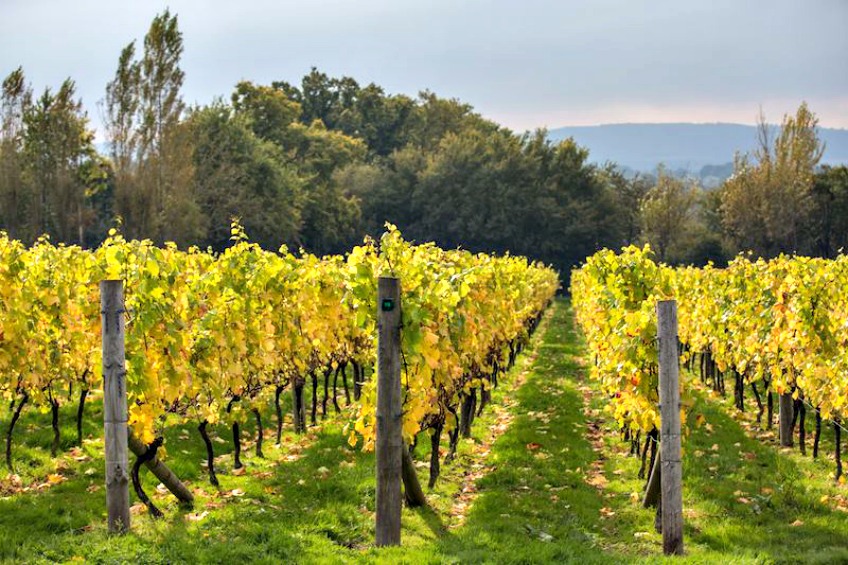 Nyetimber has a long history stretching back to records in the Domesday Book in 1086. It produces all of its wines from its own 152 hectares, growing Chardonnay, Pinot Noir and Pinot Meunier. They most notably hit the news in 2012 when declaring they would not bottle a vintage as the quality of the grapes was not up to scratch. It turns out many producers did the same, it was such a dire year for production. So much hope is hanging on the 2013 vintage to bring in a good crop and with the fantastic weather so far this summer, many a vineyard owner is smiling widely!
Unfortunately, Nyetimber is not open to the public (although we did try asking!) so a quick photo shoot outside the property is as far as we got but we do have a bottle of their fizz at home in our "put away and to be drunk at a later date hideaway cupboard/cellar".
Nutbourne Vineyards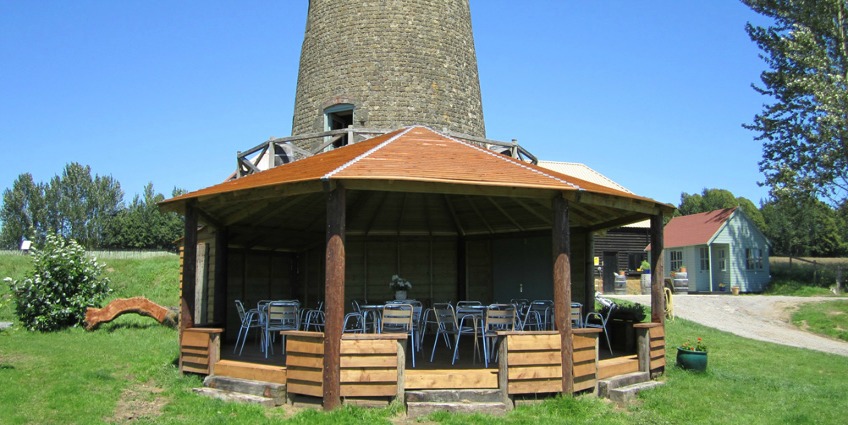 We had read about and were intrigued by a wine estate that was minutes up the road from Nyetimber, which has an old windmill as part of its tasting room. From the pictures it looked an idyllic place and we certainly weren't disappointed.
Nutbourne is very picturesque. It was first planted in 1980 and now has 26 acres of vines plus its own winery, which was built in 2010. Six different types of grapes grown go into making a Sparkling Blend, Rosé and White wine.
Upon entering the windmill, the ground floor has been nicely done out with a welcoming and tastefully seated area, a flight of stairs leads you up to what is the tasting room and shop where a balcony overlooks the vineyard and surrounding area.
Here, we met the very friendly Irene, who was most helpful with describing the estate, its history, vines and grape varieties. We were also offered a tasting of all the still plus one of the sparkling wines. The well tendered paths allow you to walk amongst the vines and enjoy the surrounding views, whilst information posts tell you about the different grape varieties being grown. You can arrange a guided tour of the estate and minimum group numbers apply.
The estate also hosts different events throughout the year, so it is worth keeping an eye on their website for details.
Want to tour the Sussex vineyards? Contact Us and we can put together the perfect itinerary for you! 
---
Davenport Vineyards
We toured Kent and Sussex in 2012, visiting vineyards and local sights along the way, and came across Will Davenport's wine by accident when we happened to call into the local shop at Horsmonden. They had a good selection of English wines under £10 on their shelves, including the one that caught our eye, Limney White 2011 (Ortega, Faber, Siegerrebe, Bacchus & Huxelrebe: Dry crisp with citrus, orange peel and floral aromas).
We thought that it was such a good example of an English white that we ordered more to give out to friends last Christmas and we wrote to Will to let him know.
This time, we made a prior arrangement to visit one of his vineyards, at Limney Farm in Rotherfield. He generously took time out of his busy morning to meet us and give us a personal tour of his vineyard and winery.
One thing we picked up straight away is Will's passion for his craft, in particular doing things organically. This seems to have been a labour of love that is now getting the respect that it deserves. It was interesting to hear that some of the vines are now reaching the ripe old age of 20 or so years.
Will concentrates his efforts on a small range of dry still and sparkling wines and has in the past released a limited quantity of Pinot Noir, which he might do again in the future after a bit more experimentation in order to get it to be exactly as he intends.
Will is very enthusiastic and knowledgable, utilising his degree in Chemistry to good effect alongside his winemaking portfolio. Discussions about organic practices, chemicals, soils and of course the wine itself, made for a fascinating morning, but we are a bit geeky about that these days.
The English Wine Centre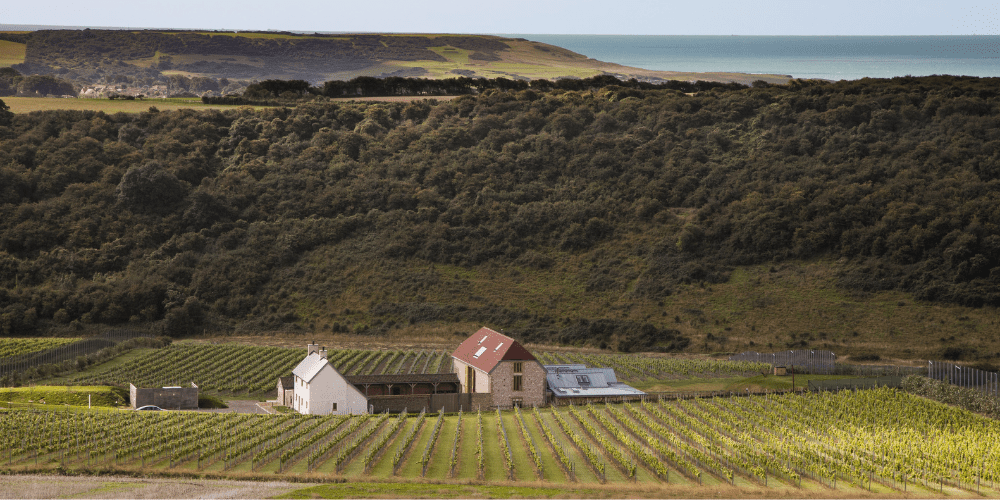 The English Wine Centre stands proudly by the roadside just outside the picturesque village of Alfriston.
As well as having a well stocked shop, with over 140 English wines to choose from, the centre also boasts a small hotel and a restaurant with outside seating area and separate space for functions such as weddings, of which, one was taking place at the time of our arrival.
We were greeted by owner Colin Munday, who was happy to talk about his range of wines and his take on the English wine scene and invited us to taste a Cornish wine, which at only 9.5% abv seemed a nice summer quaffer: Polgoon 2012 – Orion & Bacchus: Crisp, fresh with some aromatic and floral aromas.
Alfriston is soon to become even more rooted on the wine map of England when the nearby Rathfinny, heralded by Mark and Sarah Driver with French Winemaker, Jonathan Medard, and Cameron Roucher as Vineyard Manager, together plan to become one of the country's biggest producers of sparkling and still wine. Bought in 2010, the first 50 acres were planted in March 2012. The Driver's have a clear vision – in their words to "produce great English sparkling wines".
When viewed close to the English Channel, the large area that the fledgling estate covers can be seen, it's an impressively large site and its development is coming on.
Herbert Hall
Much like Davenport wines, we came across Herbert Hall for the first time in 2012 too. There were a couple of vineyards close to the village of Marden, where we were visiting friends, one being Hush Heath Estate, and another simply titled "Marden vineyard". Intrigued, we got in touch and discovered this to be what we now know as, Herbert Hall, whose proprietor, Nick Hall, kindly agreed for us to visit and take a tour of his vineyard and winery.
A relative newcomer to the English wine scene, Herbert Hall was set up in 2007 with the first vintage released in 2009. As a small producer, all attention is focused on making high quality, traditional method Sparkling Wine, a Brut White and Rosé, made from Pinot Noir, Pinot Meunier and Chardonnay. These wines can now be found in some of the country's most prestigious retail outlets and restaurants.
We did a bit of work here too and one day, we had the opportunity to meet Peter Morgan, Head of Winemaking at Plumpton College and co-wine maker at Herbert Hall who invited us to visit the College so we could see the facilities for ourselves.
About 30 minutes drive North of Brighton, Plumpton College, deemed the UK's Centre of Excellence in wine education, offers courses from one day up to full degree length. Plumpton has recently heavily invested in its wine education facility, we witnessed new buildings being constructed including class rooms, laboratories and additions to the winery.
The college also makes its own range of wines and we had the opportunity to try their fizz at a local English Wine festival in Northumberland in 2012.
We really enjoyed our English wine tour experience, including being able to have the chance to gain some work experience with both Eastcott and Herbert Hall wine estates and would encourage others to do the same.
English wine has come such a long way in such a short time and we feel very confident about its future, no doubt we shall be back amongst the vines once again in the not so distant future.
Written by: Ruth and Kelvyn Guest, you can follow Ruth and Kelvyn's tastings and travel on their Guest Wines website.
---
Discover more about British wines or contact us if you would like to arrange a winery visit, day tour, or all-inclusive experience in Sussex and Kent.