The now 7th edition of the International Wine Tourism Conference (IWINETC) took place in Reims, the city for kings, and the heart of Champagne region. More than 350 delegates came from 35 countries to discuss the latest industry topics and network.
Champagne is one of the most visited wine regions in the world, receiving millions of tourists each year. Tourism to the region could explode further if Champagne gets the UNESCO World Heritage thumbs up this July.
This year at IWINETC there were over 20 talks with 4 main themes dominating the conference: the importance of the experience aspect of today's discerning traveller, the growing effect of Social Media and Digital Marketing tools to attract customers, the importance of being present online and the up and coming wine destinations of the world.
1. Experience, experience, experience
This was probably the most used word at the conference and many speakers focuses on this topic – for a reason. Globalisation and technology innovation has led to the homogenisation of urban areas, creating the desire to escape the city and immerse yourself into a local culture. They are no longer interested in the 'bucket list' or pre-packaged brochure holidays. The traveller nowadays wants to be inspired, whether that's meeting a winemaker, eating with a local or sleeping among the vines.
Winerist presented its results of a recent survey with over 500 participants, showing that 79% list wine & food as their major motive to travel, making this the fastest growing trend in the travel sector. This confirms Condé Nast's prediction that we will travel to eat and drink even more, seeking those off-the-beaten-track, authentic experiences.
Research by the Ontario Culinary Tourism Alliance, presented by Rebecca LeHeup, showed similar results including that the wine & food tourist is more loyal, adventurous and spending more on average in their search of the VIP treatment.
Susan Lanier-Graham of Wonder with Wonder Blog, focused on creating luxury experiences for today's high-end traveller. 'Creating luxury is tapping into one's dreams' – our most cherished moments come from experiences. This can be achieved in your own way, from meeting the winemaker, to differentiating your tasting room with personalised touches, offering exclusive perks – that 'je ne sais quoi' that is going to make you stand out.
A study on Australian Wine Tourism presented by Robin Shaw found that seated tastings generate at least a 21.8% greater average purchase per visitor. This is due to several things – comfort, spending expectation and the overall feeling of a better experience when seated. Similarly a study in the USA presented by Miguel Lecuona showed that wine club memberships offer the highest customer retention and word of mouth effect. Wine club members feel valued through exclusive winery events such as dinners, or, by taking part at harvest, their experience gets better and better to the point when it's irreplaceable.
Finally, Hilarie Larson, CSW writer and winery consultant, pointed out that to create an amazing service, wineries need to invest in their human resources. They need to find people with the 'hospitality gene' – with a smile on their face, ability to listen, to be curious, emphatic and be ready to go the extra mile. Think about when you hire the face of the business, will they be able to tell your winery's story as passionately?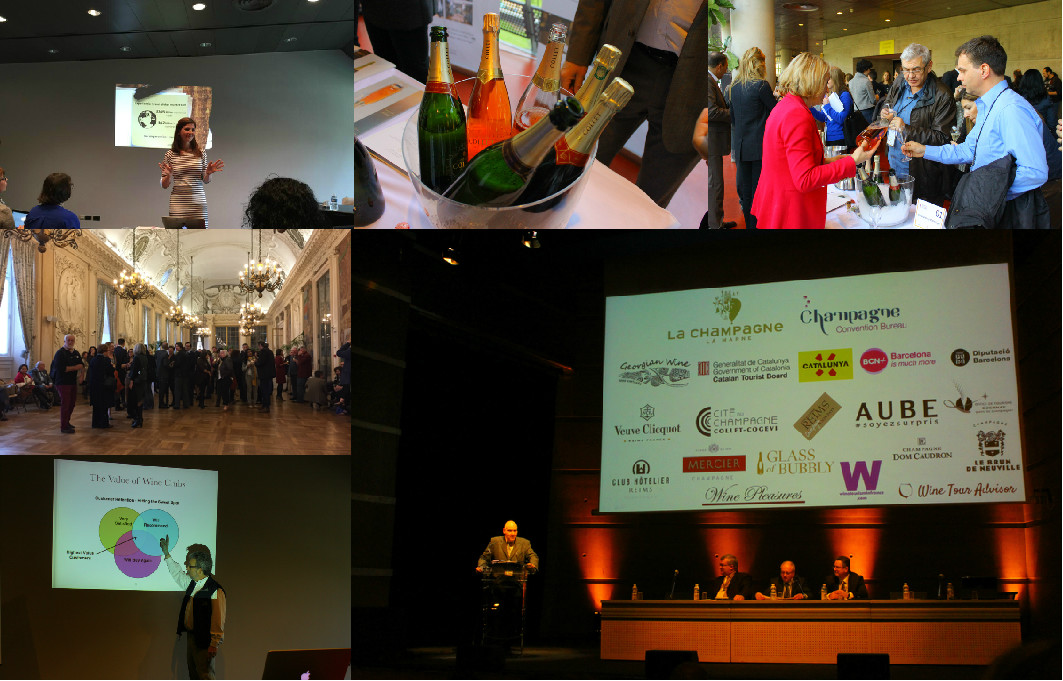 2. Social Media – You must do it well!
Social Media is extremely important to the experiential traveller. They want to stay connected and share their stories with others – communication is key, before and after a trip. For example the 'Instagram effect' creates a feeling of positive envy from getting inspired by beautiful pictures of travel, food and people having fun.
Social Media is an effective and relatively cheap way to promote your business online. It is in fact more than a marketing tool – it is an integrated part of the whole travel experience. It's a powerful tool to engage in a conversation with your existing fans but also attract new ones and get their feedback. But use it wisely! At Winerist we found that while 98% of suppliers think Social media is an important tool – 73% had no blog and 43% posted only 2-3 a week.
Christopher Walkely of Glass of Bubbly, gave an overview of popular Social Media tool and best practices to use them. Traditional channels are Twitter (more powerful nowadays), Facebook (although becoming a less relevant channel for millenials), Pinterest (targeted more at women) and Instagram for example (visual story telling via pictures). One piece of advice was: to be successful on Social Media you need to do it daily, so tweeting 2-3 times a week is not going to get you noticed.
Ashika Matthews of London Love Wine School gave the example of a winemaker from a small region in England, Bob Lindo (@camelvalleybob on Twitter) uses storytelling and witty humour successfully on a daily basis on Social Media. He tweets to his fans about what is happening in the vineyard for example and how his wife Annie is getting on with pruning. Annie on the other hand keeps a blog which is also a great tool to communicate with your fans.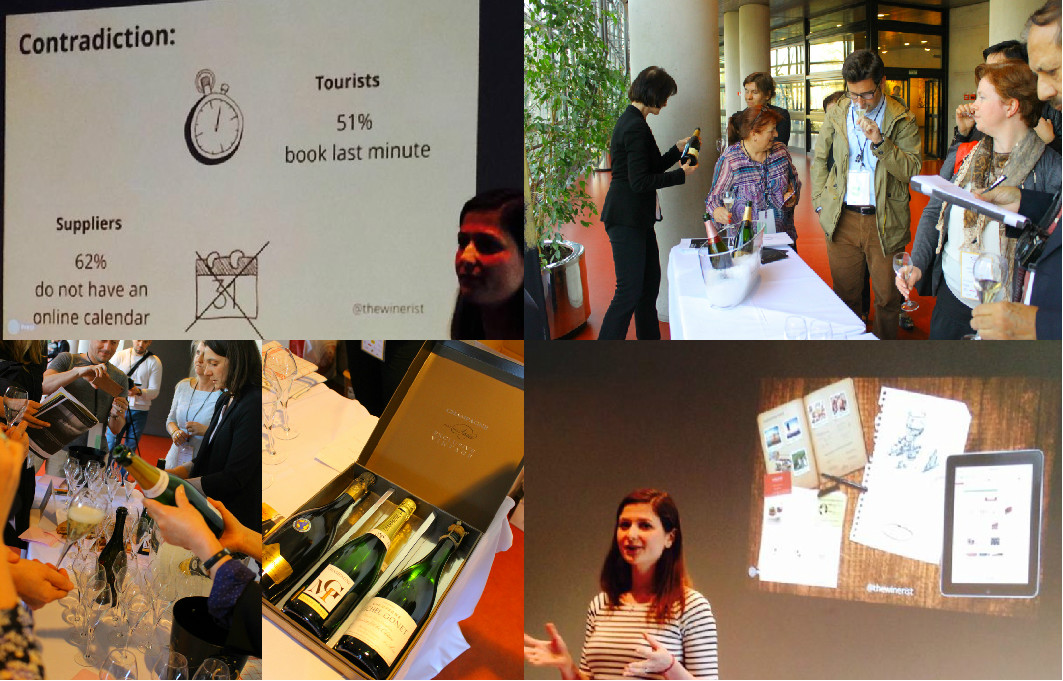 3. Online – be there or be square!
Experiential travellers and especially tech-savvy millennials are adept at researching destinations and experiences online. As discussed above, they are looking for something out of the ordinary, something that can impress them.
Nic Meyers of Wine Tour Advisors presented on the topic on how to find and monetise those online travellers. As a supplier, you need to find what people are searching for when landing for on the website and tailor the experience for them. Try to capture the user with great photography that speaks for itself. And finally, provide useful information about how people can get in touch with you, your opening hours etc.
Winerist's research into how people book holidays online and how suppliers sell their experiences has shown some surprising contradictions! 76% of people book their holidays online and half book last minute tours and things to do at the destination. On the other hand, 62% of suppliers had no online booking tools, with majority still using the email and the phone to make appointments.
The takeaway is clear – to monetise your consumer, first find out who they are and then provide them with the online tools to get in touch with you and make an instant reservation.
Please see my full presentation on Wine & Food Tourism is Most in Demand below:
4. Up and coming wine destinations
Wine & food tourism with an estimated $42bn market size, is now a global phenomenon and no longer a niche. There are more than 3,600 wine regions worldwide and over 1,000,000 wineries!
It was refreshing to have such a global presence at the conference and learn about wine tourism in England, Georgia, Hungary, Croatia, Slovenia, Chile, British Columbia, Ontario, Argentina and Australia.
Last Word & Personal Highlights
The Champagne edition of IWINETC was a triumph for all the participants and people working in this industry. I enjoyed seeing old faces and meeting new people and I look forward to join again next year in Catalunya. My personal highlights were the visits to the Perching Bar where we enjoyed the sunset and Champagne up in the trees and to Taittinger, and their spectacular, centuries-old underground cellars.
If you would like to download Winerist's presentation on Wine & Food Tourism is Most in Demand please see it above in Prezi format or follow this link for a pdf. If you have any questions or want to collaborate please email me at tatiana@winerist.com