The Languedoc is well known as one of the most expansive and prolific wine regions in the entire world, both in terms of wine production and square miles. It boasts a staggering 223,000 hectares of vines – to put this into context, famous French region Bordeaux has 120,000 hectares, whilst there are approximately 150,000 hectares of vines in the whole of Australia. Stretching from Montpellier in the east to Carcassonne in the west, the Languedoc is a vibrant land of colours and contrasts; medieval cities, Mediterranean beaches and dramatic mountain ranges all sit alongside each other, everywhere framed by acre upon acre of grapevines.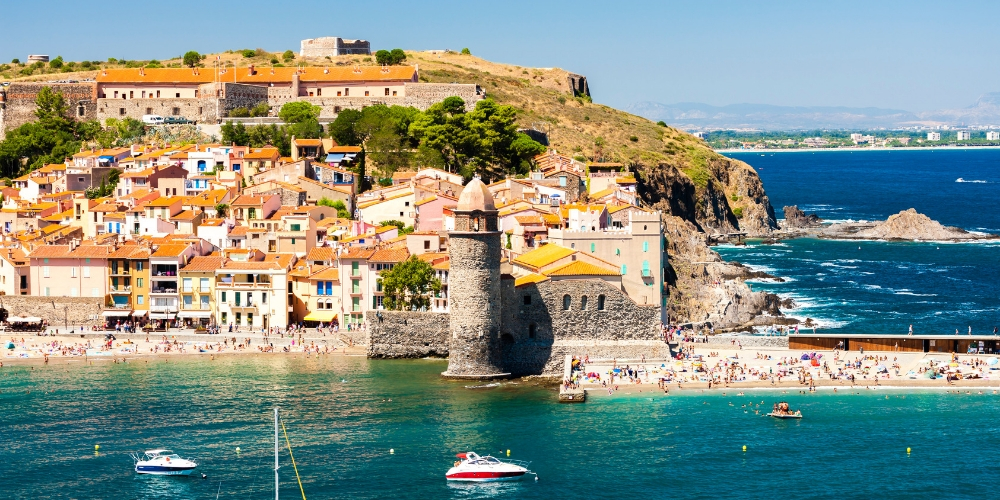 It will come as no surprise that this gorgeous region is a firm favourite with wine lovers and tourists alike, who journey in their thousands each year to experience the breath-taking landscapes, ancient culture and excellent gastronomy on offer. The only challenge is knowing where to start! In order to give you a helping hand, we've chosen some of our very favourite wine destinations in the Languedoc for you to enjoy on your next voyage to the South of France.
Limoux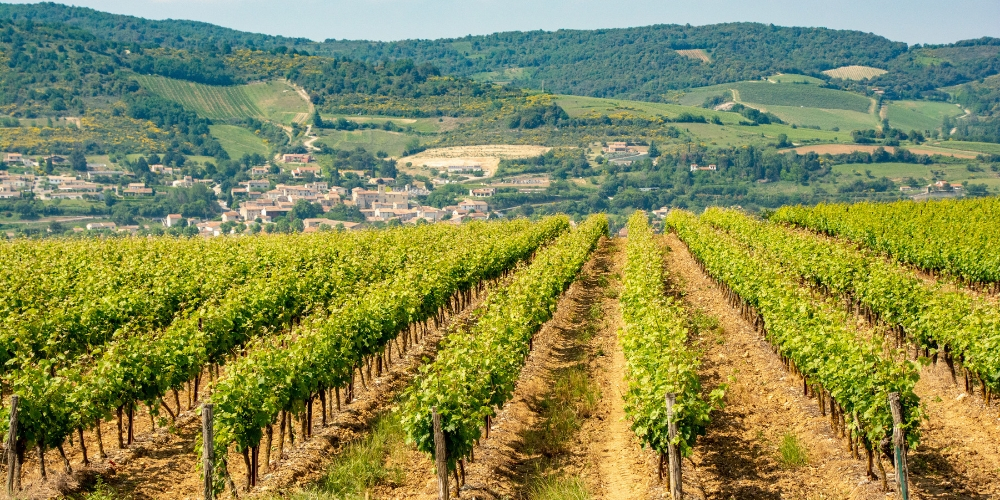 Limoux, at the furthest western tip of the Languedoc, is a spectacular land of history and culture, full of medieval châteaux and ancient architecture. It's no surprise that the sparkling wines of this region, the crémant and blanquette de Limoux, can trace their origins back to the 14th century! The region is of course overflowing with wineries to visit, so take your pick of the many family-run domaines dotted throughout the Limoux landscape and experience first-hand the fascinating production methods which date back hundreds of years. Once you've had your fill (or perhaps not!) seek out a traditional restaurant to enjoy some of the local delicacies such as pébradous biscuits alongside more of the region's wonderful wines. To work some of that indulgence off, end your time in Limoux with a hike through the hills or a stroll around a historic chateau – the Chateau d'Arques dates back to 1310 and abounds with fascinating stories of bygone ages.
Don't miss: a self-guided tour around L'Abbaye Saint Hilaire, the historic 13th century Carmelite convent which is famed for being the birthplace of the region's iconic sparkling wine, blanquette de Limoux!
Montpellier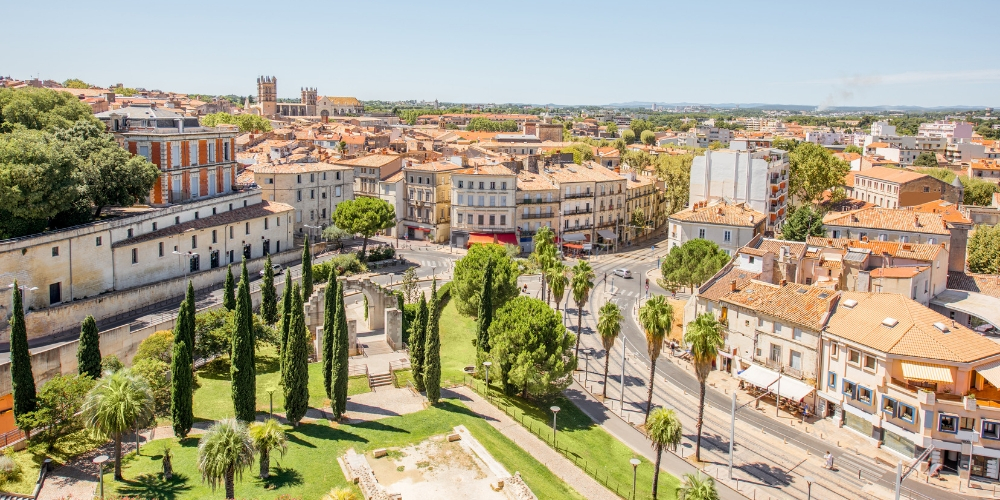 No visit to the Languedoc would be complete without a visit to the region's vibrant capital, Montpellier. This is truly a city where past meets present, with winding medieval streets set alongside cutting-edge new architecture and an haute couture tram system designed by Christian Lacroix! You will never be stuck for something to do in this most energetic and exciting of French cities, whether it's food, wine, shopping or entertainment – the city boasts three Michelin-starred restaurants, numerous theatres and opera houses, museums, a zoo, world-class shopping and fabulous wine bars … and that's just for starters. Begin your day by taking a guided tour out to local wine area Pic St Loup AOC, linger over a long lunch in one of the city's magnificent squares, soak up the atmosphere with stroll through a fragrant food market and complete the evening with a glass of something delicious at one of the many intimate wine bars and a spot of culture at the opera!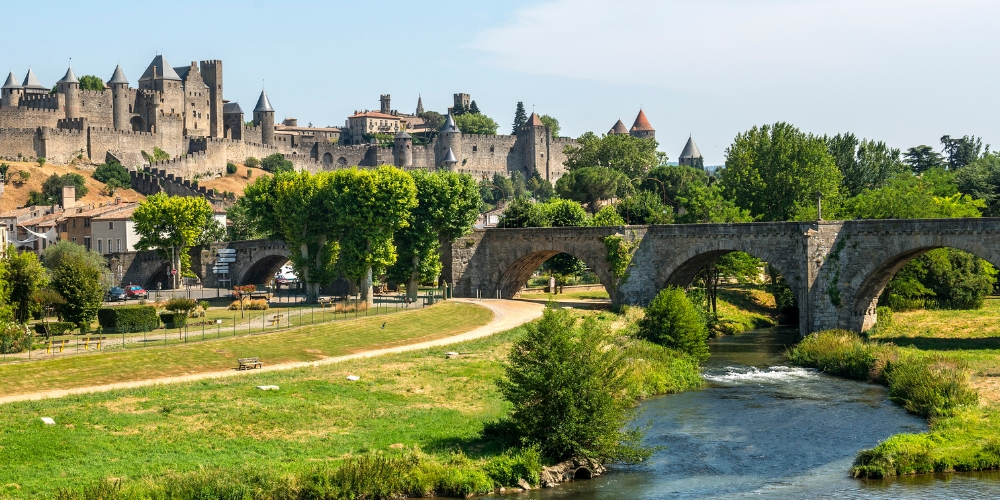 The westernmost boundary of the Languedoc is marked out in grand style by the awe-inspiring walled city of Carcassonne. A UNESCO World Heritage site, Carcassonne is the largest medieval fortress in Europe and has played host to princes, conquerors, troubadours and crusaders since 122BC. What's more, the city also sits at the heart of a number of the Languedoc's most prized wine appellations, including AOC Corbières, AOC Minervois and AOC Cabardès. As you might expect, wine experiences are plentiful, with hundreds of historic estates offering tastings and tours just a stone's throw from the city centre. It's possible to spend days on end wandering the beautiful vineyards of the region (and we thoroughly recommend that you do!) but for a change of pace, head back to Carcassonne to wander the lively medieval streets, soak up some history and enjoy the region's famous cassoulet dishes – accompanied by a glass of the region's finest red, of course!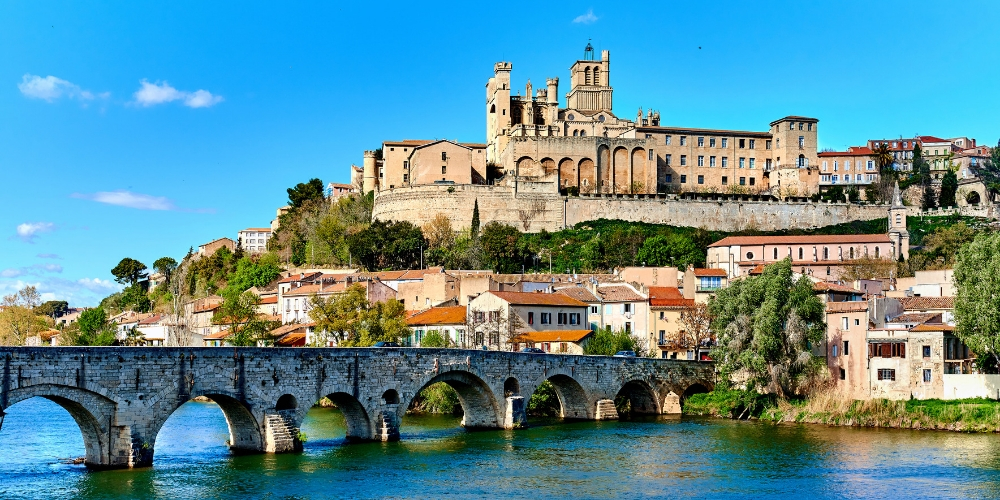 It's important not to forget that alongside bustling cities and rolling countryside, the Languedoc is also home to some of the most beautiful stretches of Mediterranean coast to be found anywhere in Europe. It is possible to reach Béziers by way of the idyllic locks of the Canal du Midi, an impressive feat of engineering that linked the Atlantic to the Mediterranean in order to avoid sea pirates!
The city itself is an important centre of wine in the Languedoc region with a rich winemaking heritage, surrounded by three appellations; Côtes de Thongue, Coteaux du Libron, and AOP Terrasses de Béziers. The vineyards are located between the Libron, a river flowing from the foothills of the Cévennes to Mediterranean, and the river Orb. Their wines are enjoyed, amongst others, by enthusiastic aficionados who gather every summer for the Feria, one of the most popular events in the South of France. It's also a beautiful town, with an impressive cathedral and an amazing collection of opulent 19th century town houses which hearken back to the wealth and prosperity generated by the town's rich wine growing past.
Just a stone's throw from the coast, Béziers is ideal for lovers of the great outdoors, with water sports and adventures aplenty on offer, from jet skis to windsurfing. Hire a bike and spend the day cycling from vineyard to vineyard (be careful if you're tasting, though!) and in the evening, head up the coast to pretty Sète, one of the region's major trading ports which also happens to be home to some spectacular beaches and the best oysters in France!
Want to know more about Languedoc? Read the Guide for the Wines of Languedoc to understand more Languedoc wines and find out which are the best Languedoc wines for summer. And this article will help you find the best food pairing for Languedoc wines! Enjoy!