Why does wine taste so much better abroad? Hint: it's not the cabin pressure on the plane ride home that's messing with that prized Riesling. A multisensory wine tasting experiment may be able to shed light on this problem and offer some easy solutions.
Post-Vacation Blues
After returning from a getaway to France or the Tuscan countryside, we often hope to capture the essence of that holiday one last time with a bottle of wine bought on the trip. Tragically, we find that the wine just doesn't taste the same. What is it about travel that turns wine from sweet to sour on your taste buds?
You're not crazy to think your wine tastes different at home versus on holiday. Taste is both a science and an art, and our ability to taste changes with environment. A vacation offers rest and relaxation, creating the optimal environment for trying and enjoying new food and drink. To further this theory, recent studies have shown that color and sound have an acute effect on the way we taste wine.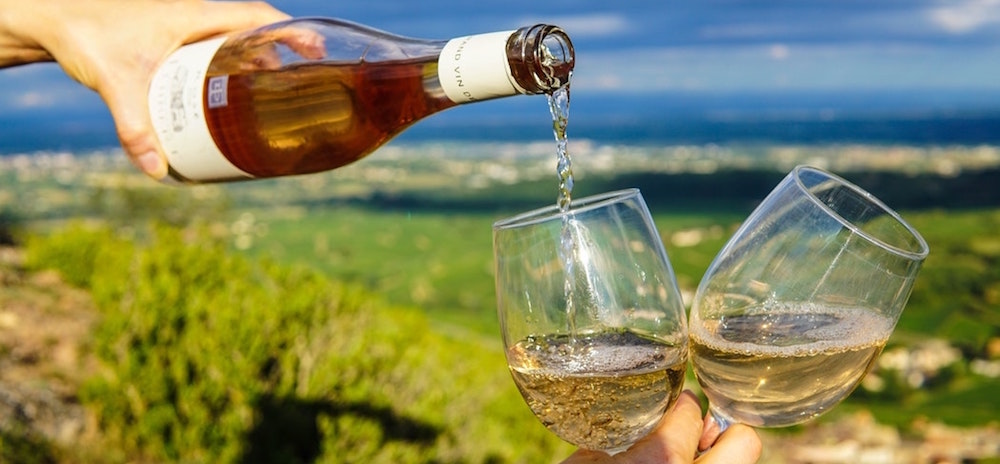 The 'Colour Lab'
While on vacation, we are surrounded by different lights and noises. Results from a massive experiment conducted by Professor Charles Spence show that the colors and sounds we experience on holiday have a profound effect on our wine-tasting abilities. Called the 'Colour Lab', this study puts to rest the question of why, upon returning home, your wine may taste flat or bland. Just how significant was the effect? The experiment was tested on Roberto Vicente, a winemaker at the Juan Alcorta winery. Throughout the course of the test, Vicente went from recognizing the typical taste and aroma of his wine, to thinking, "this is not my wine!"
Color Associations
Spence plays with wine drinkers' perception of color to eke out incredible tasting notes from participants. Results show that green light, all on its own, brought out the wine's freshness, but also generated more sour notes. In contrast, red light brought out the fruiter notes of the wine and created an overall feeling of warmth. So, if you are gazing out at, say, the sprawling landscape of a vineyard while you sip, you may taste something entirely differently to when at home in your own kitchen.
Music and Taste
Vacation and music go together like, well, vacation and drinking, and those trilling notes can influence taste as well. Spence mixed different music and light pairings to demonstrate how the taste of wine alters with each change in ambience. It's an odd observation, but one that makes sense when you think about how much music affects our moods on a day-to-day basis. And Spence is not the only one to dig into the nuances of music and taste; Clark Smith, a Winesmith winemaker, swears that a Cabernet tastes undoubtedly better with the Doors's "People Are Strange" in the background, compared to when "California Girls" by the Beach Boys is playing.

The Ideal Combination
Red light and sweet music was found to be the best combination of music and light for wine, increasing overall enjoyment by as much as 9%. This may be because red is often associated with passion and vibrancy, while sweet music brings out the more luscious aromas in a wine, creating a more pleasurable experience for wine drinkers.
A Change of Ambience
The results of this test could have profound implications for restaurant and winery interiors, not to mention the design of your own dining room or kitchen. Spence has already worked with restaurants and cocktail makers to help them get the most out of the eatery environment. The simple action of painting your dining room red can bring out more rich and fruity flavors in a bold red or crisp white. Perhaps it's time to redecorate?
Conclusion: Look around your kitchen and dining room. Is there a lot of green, or a lot of red? By injecting the right colors into your home, you may never again wonder why your wine tasted so much better while on holiday. Post-vacation blues, be gone!
Want to test this theory out for yourself? We have plenty of wine tours all around the world – search your dream destination here! And if you're looking for inspiration, don't miss our guides to which wineries you need to visit in Umbria and Provence.