Summer is here and everyone's reaching for the Pimm's, Aperol or gin for a light sparkling drink to greet the sun.  Probably the same one they reached for last summer and the summer before that.  Traditionally at this time of year, the brown spirits are left in the cupboard waiting for the leaves to fall and for thoughts to turn to the wing-backed armchair by the fire rather than the outdoor sofa or the deck chair. But what if there were another way?
Thankfully there is.  Whisky is for everyone – you only need to take a look at #ourwhisky on Instagram to see its reach – and fortunately, whisky is for every season as well. While the Mint Julep might steal the headlines as the quintessential bourbon drink of the summer – not least because almost 120,000 of these sweet, mint coolers are sold on Kentucky Derby weekend every year – scotch whisky is more than capable of holding its own on the summer drinks trolley.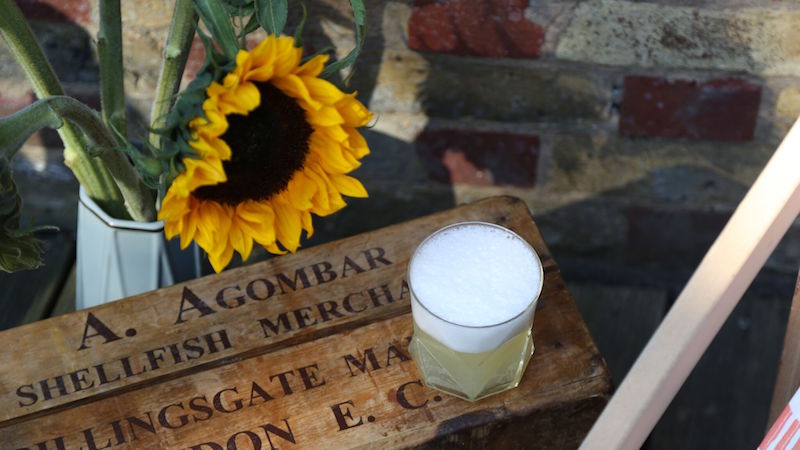 Chamomile Sour. Credit: Sarah Mennie
Of course, you could start with a neat whisky, and at this time of year, most bartenders would point you towards a lighter floral scotch – perhaps the freshly cut grass of a Speyside single malt, or the peach and summer fruits of a delicate Japanese whisky.  From here, if you wanted to mix or lengthen your options, the scotch would go well in a classic highball.  Done properly though.  Keep all your ingredients (yes even the whisky) ice cold, add three large ice cubes to a chilled highball glass and then pour one-part whisky, stir gently and add three parts chilled soda or ginger ale.   
If you're mixing with a Japanese whisky, however, there's a lot to be said for the relaxed approach of the mizuwari method.  While the word itself just means 'mixed with water' the method goes so much deeper – think mindfulness with whisky.  My favourite is the risshu style – a generous measure of Japanese whisky topped with soda, lemon and orange peel.  Take your time over it.  Build anticipation, and stir slowly throughout.
Not exciting enough for you?  Philistine!  Just kidding.  Here are a few of our favourite whisky cocktails to brighten up your summer.
Summer Scotch Whisky Cocktails
Chamomile Sour
A beautiful floral mixture of chamomile and lemon will lift and enhance any blended scotch whisky.  This drink can be made with a bottle of infused whisky (18g dried camomile flowers in 700ml for 24hours) in which case swap out the camomile syrup for simple syrup; or with a homemade chamomile syrup if you can't find dried flowers.
Shake 50ml whisky, 25ml lemon juice, 12.5ml chamomile syrup and one egg white (optional) with cubed ice.  If using egg white, strain the drink back into the shaker and dry shake (no ice) to aerate. Serve in a rocks glass over ice and garnish with a cherry and lemon slice.
Chamomile syrup: Brew 200ml of chamomile tea according to instructions, remove the tea bags (or loose leaves) and add 200g of sugar.  Stir until the sugar has dissolved and allow to cool before transferring to a sterile bottle.  Will keep refrigerated for up to a month. 
Of course, while the refreshing benefits of a floral Speyside or a fruity Japanese whisky were expounded above, if you're looking to mix your whisky, you should be aware that the lighter styles may not stand up to the strong flavours of your other ingredients.
As well as this, many of your culinary options at this time of year will be a little on the charred side – perhaps you want something smoky to accompany your barbecue?  What could fit the bill better than a recipe based on a peat-rich Scotch whisky?
The next two recipes feature the rich smoked kipper taste of Talisker and make the perfect accompaniment to grilled meat or seafood.
Peach Smash
A finely balanced combination of sweet citrus and smoky whisky, the peach smash is a great serve for your barbecue.
Muddle ½ peach with 15ml fresh lemon juice and 25ml sugar syrup in the bottom of a cocktail shaker.  Add 50ml Talisker 10, 15ml triple sec and shake well with cubed ice.  Strain into a chilled rocks glass over fresh ice.
West Coast Highball
Beautifully evocative of the sights and smells of western Scotland this refreshing highball features a homemade heather and lavender syrup which provides a sweet and floral edge to a base of honey and whisky:
Build 40ml blended Scotch whisky, 10ml Talisker 10, 15ml Drambuie, 10ml honey syrup, 25ml fresh lemon juice and 50ml heather and lavender syrup in a chilled Collins glass over ice.  Top with soda water and stir to combine.
Heather and lavender syrup: Combine 350ml water, 100ml mild honey and 10g dried heather flowers in a saucepan.  Bring to boil for five minutes.  Remove from the heat and add 4.5g dried lavender flowers.  Cover and allow to cool before straining into a sterile bottle.  Will keep refrigerated for up to a month.
Slàinte mhath and enjoy the sunshine!