What will you be drinking and what will THEY be drinking? The latter is a very good question and one that has been speculated about in the English wine trade ever since Harry popped the question and Meghan Markle said yes. Will it be the Queen's own wine from Windsor Vineyard? Possibly too young yet to be delicious. Will it be Camel Valley with its shiny new royal warrant? Perhaps. The truth is, as I write, we don't know yet, but here are three wines that we at Winerist think should be some of the top contenders…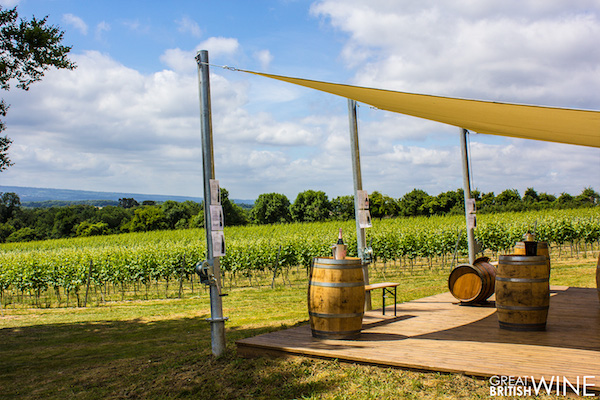 Photo credit: John Mobbs at greatbritishwines.com
Diana's Choice
Greyfriars 'Cuvée Royale' 2015.
Those zipping down the Hogs Back on the M3 may have heard the siren song from Greyfriars Vineyard, which lies nearby on the sunny, chalky slopes, just outside Guildford in Surrey. Concentrating largely on the three champagne grape varieties: Chardonnay, Pinot Noir and Pinot Meunier, the sparkling wines from Greyfriars have won several gold awards at international wine competitions. Not officially created to celebrate the Royal Wedding but beautifully timed, the Greyfriars team have released a limited edition, single vineyard bottling called the 'Cuvée Royale'. Just 2400 bottles of the exquisite wine were made and each are individually numbered. It's made with from the best parcels of Chardonnay and Pinot Noir (in equal parts) from their Monkshatch vineyard which were fermented in old oak barrels to impart a creamy texture and richness. We'd describe it as zesty and refreshing with a lemon cream coolness and perfectly judged amount of brioche and weight. Gorgeous now but will keep for several years. For £30, it's a bargain, quite frankly. If you can get your hands on it, that is!
You can buy Greyfriars 'Cuvée Royale' 2015 here RRP £30.
Helena's Choice
Hambledon Vineyard, Classic Cuvée Rosé NV
Hambledon Vineyard in Hampshire will always hold a special place in our hearts for the warm welcome it gives visitors and their stonking braai barbecues! Their three vineyards only grow Chardonnay, Pinot Noir and Pinot Meunier and sparkling wine is their raison d'etre. Their white blends are rich and brioche in style – more so than most other English wines we've tasted, which may be why they can be found increasingly in restaurants across the country and their their pinks are just beautiful. The Classic Cuvée rosé is a non vintage blend of 90% Chardonnay with just 10% Pinot Noir to give it that classic English rosé colour. As you would expect from a Chardonnay driven wine, this is a generous wine packed with aromas and flavours of strawberry, orchard fruit and white blossom. It's a wine that tastes of summer in the most elegant of ways.
You can buy Hambledon Classic Cuvée Rosé NV from BBR, Virgin Wines and other independent wine merchants RRP circa £36
Catherine's Choice
Langham Wine Estate, Classic Cuvée 2014
Who doesn't love the West Country, with its characterful old buildings,rolling hills and fresh air? Langham Wine Estate in Dorchester, Dorset is all about the nurturing of their vineyard and low intervention winemaking. They only uses grapes from their own vineyard and pride themselves on the journey from vineyard to winery being a matter of steps, thus maintaining as much quality as possible. The Classic Cuvée is a seductive, vintage wine that picked up a gold medal at the Sommelier Wine Awards just last week! Quintessentially English with its nutty, floral notes, it has all the elements you would want from a sparkling wine from other more – ahem – famous regions. There's a lot going on, but it's not shouty. We love its subtle fleshiness, which makes it particularly moreish.
Aidy's Choice
Greyfriars Non Vintage Sparkling Rosé
Ok, so it's another shout for Greyfriars, but rightly so! Made with 100% Pinot Noir this is a very different style of sparkling pink wine from Hambledon's above. Deeper in colour, with more grip from that red skin, this is all about summer red berry pudding and a crunchy, raspberry tang. We've just taken the last case but it will be back in stock soon and here's where you can get it, RRP £18.50
Not sure how you feel about English Sparkling wine? Why not do a blind taste test on yourself with some friends this weekend? That's what I'll be doing for my neighbours at our London street party! Follow the stories on Instagram during the wedding for all the details @Winerist.
See more top English Sparkling Wine choices from the recent wineGB tasting here. If you want to get out into the countryt to taste them too (and eat amazing food), here are our pick of 8 Best British country pubs with great food!