If the word 'mead' has you thinking of medieval characters playing the lute and dancing around a maypole, then you're thinking of the right stuff. Who knew that the world's oldest alcoholic beverage would be back with a bang? But what is mead anyway and how is it made? It's time to get your mead on and party like it's 1399…
The oldest alcohol on record
Believe it or not, mead is the oldest alcohol on record. In fact, it's likely to have existed even way before records began as honey from beehives and rainwater mixed and fermented, then was drunk by our hunting ancestors who discovered its 'magical' effects – although no one would have known what fermentation was for another few centuries. It was drunk not just in England, but all around the world and while production declined in Europe literally for centuries, it was probably always made somewhere. References to mythical and magical mead can be found all over history and in literature. And then we found out that the magic ingredient was booze. Awesome.
What is mead and how is it made?
In its simplest form, mead is honey blended with water and fermented to between 3.5% and 10% abv. That's it. It is not wine sweetened with honey. It is not a cider or a style of craft beer; it is mead and it sits in its very own category, which is a blessing, but could also be a curse as it's hard to know where to put it on a drinks list.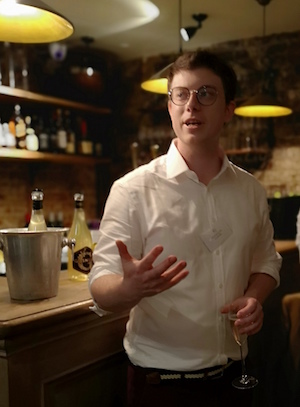 Meet Gosnells of London: "a thoroughly modern mead"
There's an interesting revival of small batch, classic styles of drinks in the UK at the moment and at Winerist, we are loving it. From craft beer to boutique gins, London sake to 'drappa' (grappa from Devon. Who knew?) and now mead. YES, MEAD. And we're really enjoying it. The Gosnell meadery is in the now, rather chi chi part of Peckham Rye, off Bellenden Road, right next to Kanpai London Sake Brewery, actually. The idea was conceived by Tom Gosnell who has brought a simple recipe to life using Spanish Orange Blossom honey, fermented with water to 5.5%. While the drink used to sit near the craft beer section, looking a little bit like cloudy lemonade, they've now seem to find their stride with striking new packaging and, quite frankly, a way of serving the drink that makes a lot more sense than it did before.
How do you drink mead?
Now sold in 750ml bottles rather than the 330ml 'beer' bottles, Gosnells mead at the launch event today was served slightly chilled and in small wine glasses. With its orange blossom and honey nose and the sweetness on the palate, this seems absolutely right as a pint glass of it would overwhelm (even though at 5.5% and an incredibly well balanced sugar levels, you could drink pints of the stuff!) Dubbed the 'Peckham Prosecco' for its spritzy drinkability, this mead works very well as an aperitif, as a lunchtime quaffer with a plate for cheese or a postprandial palate cleanser. It's a bit of an acquired taste, but one that's worth acquiring.
Mead in cocktails?
With its cloudy nature and slight pétillance, we wondered whether this would make a good mixer in a cocktail. Karl, the barman at The Orange in Pimlico where the launch was held, kindly obliged and after blending mead with raspberry Chambord and bourbon with a twist of orange peel, the 'Karlmead' was born! (You heard it here first). We thought we were terribly clever, but it turns out that at Gosnells, they knew this anyway, often mixing it with fresh lime and dark rum or as a twist on a gin fizz. We'll bring you those recipes another time but for now, here is The Karl Mead Cocktail recipe:
3 dashes of Orange Bitters,
You can find Gosnells mead currently at the Gosnells shop for £12.50 for 75cl, at Whole Foods and some independant bottle shops.
Gosnells also now offer tours of their tap room on Friday afternoons (4pm-10pm) and Saturdays (12pm-10pm) and are also running brewery courses. See more on their website at www.gosnells.co.uk
Address: Unit 2, Print Village, Chadwick Road, London, SE15 4PU
Social: @GosnellsMead (Twitter) @gosnellsmead (Instagram)
TOM GOSNELL DOING HIS MEAD THING