On a recent trip to Italy, Jess Lamb got under the skin of prosecco to find out how to make sure you pick the right bottle for you next occasion. Here's what she found out about Conegliano Valdobbiadene…
The word 'prosecco' has in recent years become synonymous with inexpensive, fun-loving sparkling wine that's equally at home on a celebratory night out or a quiet evening on the sofa. We've bought it, drunk it, written about it and Instagrammed it with a level of enthusiasm which has propelled the UK to the top spot as one of the biggest importers and consumers of this fabulous Italian fizz in the entire world.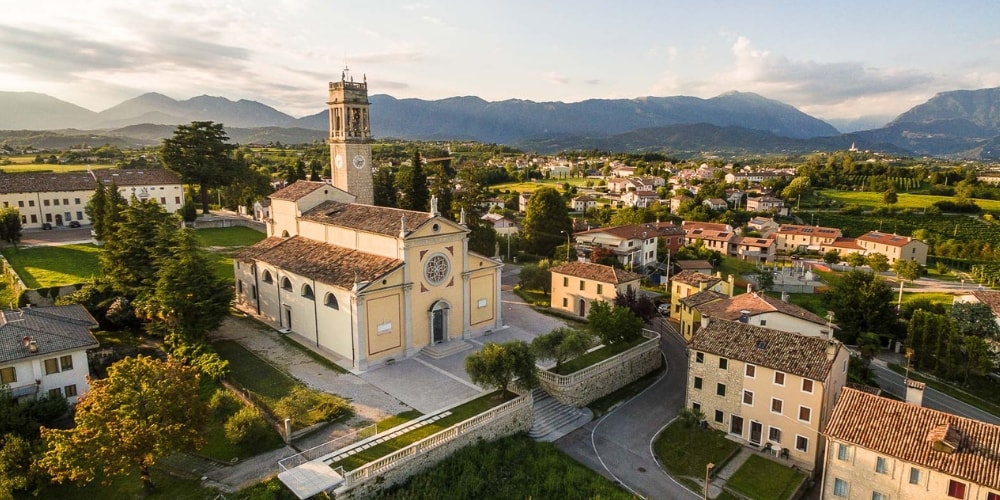 Photo Credit: posthellocity .com
The majority of the prosecco we are most familiar with in the UK, USA and other parts of the world is DOC prosecco. The Italian term 'DOC' stands for Denominazione di Origine Controllata and is used to indicate wines which have been grown and produced within certain geographical boundaries. The purpose of DOC classifications is to guarantee a certain level of quality for all you enthusiastic drinkers, with all DOC wine growers subject to specific regional limitations on both production methods and varieties of grapes permitted. Wherever you see the DOC mark, you can expect a certain level of quality from your prosecco … essentially, you've got a strong chance of it being reassuringly drinkable, with medium acidity and some refreshing, uncomplicated apple and pear aromas. Simple, yes?
There's more to this story, however.
A premium region for prosecco: Conegliano Valdobbiadene Prosecco Superiore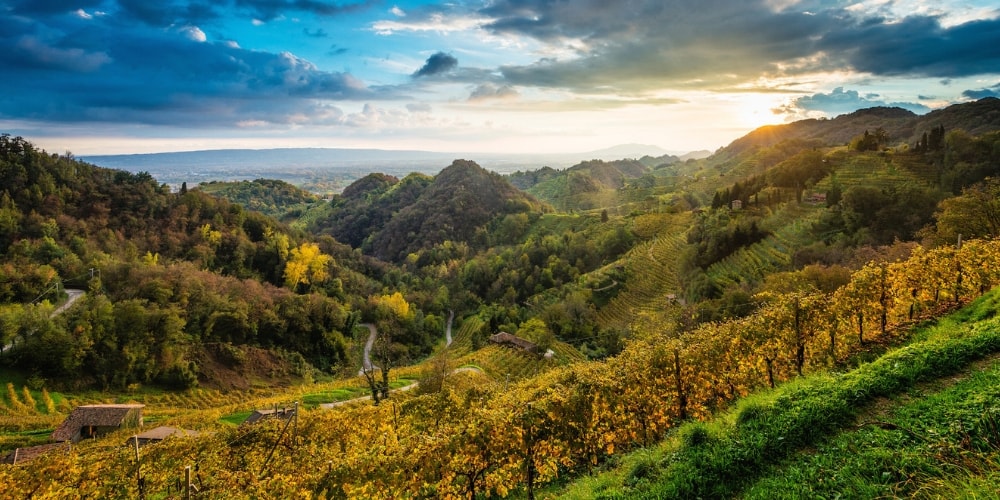 Photo Credit: prosecco .it
Just a short journey north of Venice, in the heart of the Veneto region (also famous for Soave and Valpolicella, but that's another story) lies the premium prosecco appellation of Conegliano Valdobbiadene (No, it's not a tongue twister). This tiny area of Northern Italy nestling in the foothills of the Dolomites is dedicated to the production of prosecco … but not as we know it! 'ConVal' is the home of Prosecco Superiore DOCG. DOCG is the big brother of DOC, with all Italian DOCG wines subject to stringent tastings and demanding regulations in order to qualify for this ultimate hallmark of taste and quality. Now we're getting serious, sparkling wine fans.
The ConVal region itself boasts some serious vinous credentials – Italy's first school of viticulture was opened in Conegliano on July 9th 1876, and remains a centre for learning and the promotion of wine to this day. Conegliano is also an integral part of the European Wine City network and the cultural capital of the appellation, where wine is studied and celebrated with just as much enthusiasm and passion as you'd hope for from our Italian friends. Meanwhile, Valdobbiadene in the west is the beating heart of Prosecco Superiore production, with a significant proportion of the region's wineries based in and around this area. Prosecco manufacture is a truly ancient pursuit here, with the earliest recorded references to the sparkling stuff dating back to around 1772.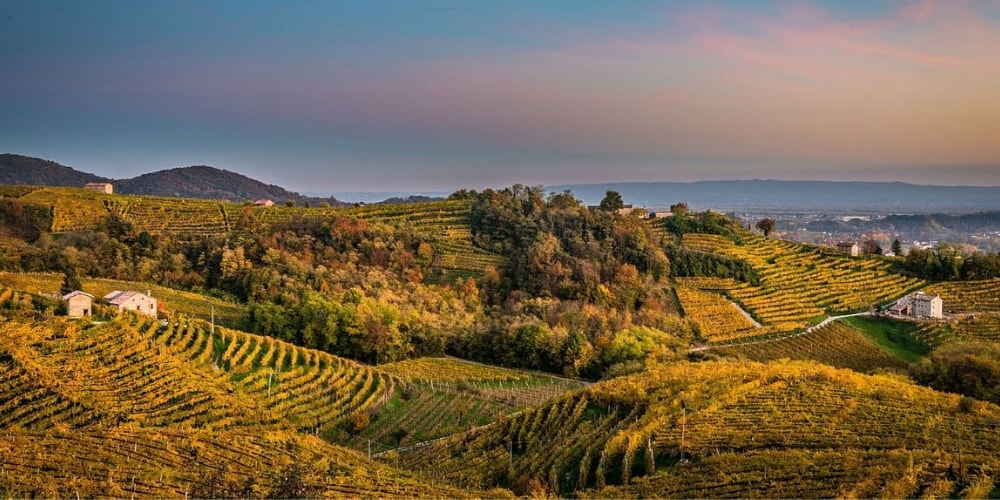 Photo Credit: valdobbiadene .com
As you might expect from such a venerable area, the region is home to some of the most valuable land in the world. It's hard to estimate the true worth due to the fact that land hardly ever comes on the market (much of the appellation is home to family wineries and estates which have occupied parcels of land for generations and are therefore understandably reluctant to part with their ancestral homes!) but estimates range as high as 1 million Euro per hectare. When you consider that a similar hectare of prime vineyard in the Champagne region of France would set you back approximately 1.1 million Euros (£950,000) you start to get the picture. Conegliano Valdobbiadene Prosecco Superiore is no bargain bin, eight-quid-in-the-supermarket sparkling wine. These are serious, sophisticated, sumptuous bottles guaranteed to make drinkers question everything they thought they knew about prosecco.
A True Expression of the Terroir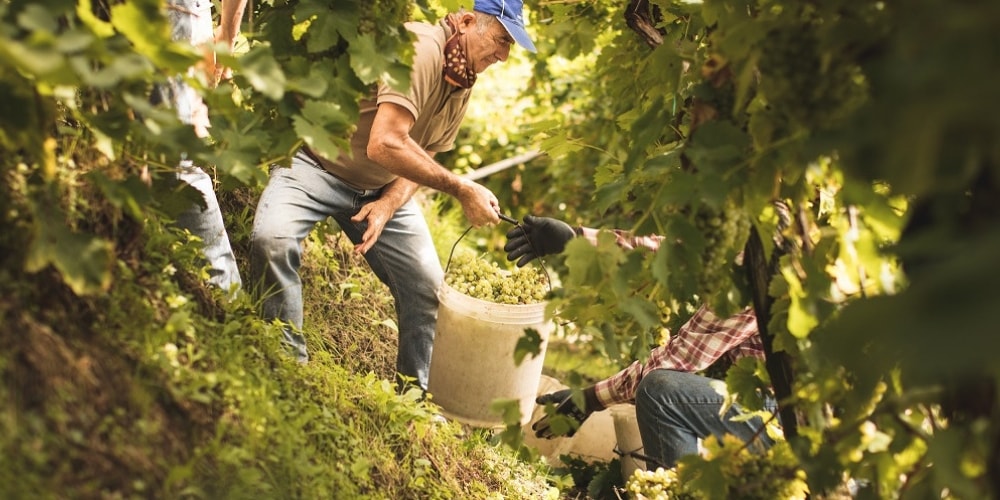 Photo Credit: prosecco. it
Talk to any of the many proud ConVal winemakers who have dedicated their lives to Prosecco Superiore about what makes their wines special, and you will receive the same answer: The ultimate aim of producers here is to create a sparkling wine full of identity and individuality which truly expresses the unique terroir of the region, enhancing the natural characteristics of the Glera grape.
The terroir of Conegliano Valdobbiadene (terroir, by the way, is quite literally the French for earth, and is used in winemaking to describe the unique environmental characteristics of a growing region) is just as intriguing as you'd expect. The area sits upon a combination of marine and glacial soils, which sit side-by-side thanks to the ancient coming-together of the rising sea bed and the descending glaciers of the Dolomite mountains. The resulting landscape is undulating and dramatic, with the steep foothills of the Dolomites erupting magnificently out of the pancake-flat plains below.

Many of these precarious inclines are can only be tended by hand – but any producer here will grandly inform you that 'no great wine of the world is grown on flat land' and it is these often-extreme gradients and unusual soil types which make the wines here what they are. Not to mention the fact that winemakers put anywhere from 600 to 800 hours of intense manual work into cultivating each and every one of ConVal's 6,700 hectares of vineyards … now, my maths is predictably appalling, but my trusty calculator reliably informs me that this equates to somewhere in the region of 5,360,000 hours in total every single year. (That's the equivalent of 223,333 days).
But wait! What about the wine!?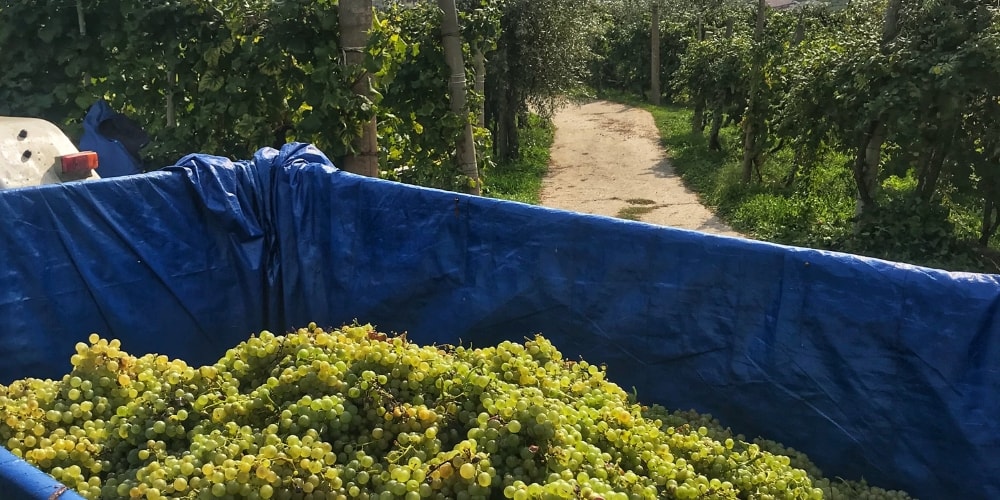 Now, before I get too carried away with Brontë-esque descriptions of breath-taking landscapes, let's return to the subject at hand. The immense beauty and complexity of the Conegliano Valdobbiadene terroir, the centuries of viticultural learning and the passion of the Veneto winemakers all ultimately contribute to one thing … the production of top-quality Prosecco Superiore.
Does it taste different?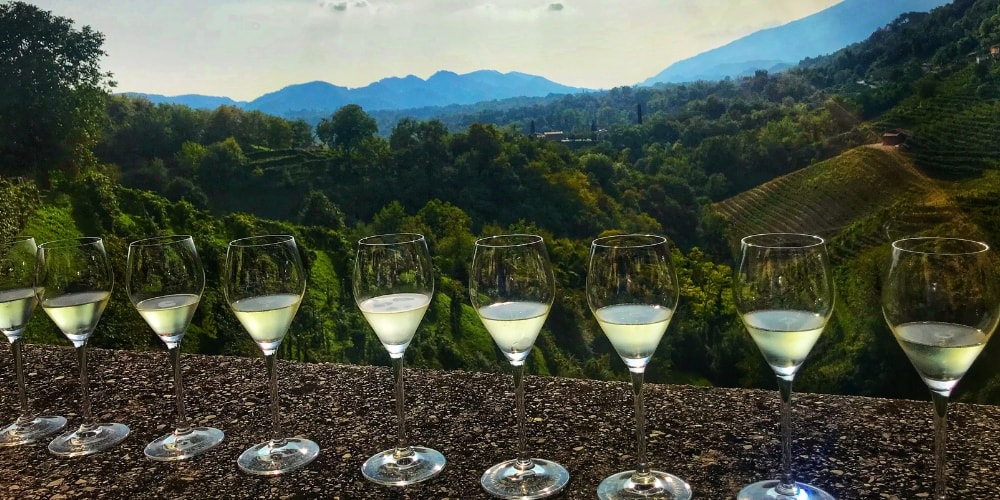 ConVal's wines take the main elements we have come to recognise in our prosecco – young fizzy wines with simple, sweet fruity flavours – and elevate this basic formula into something much more special. Each has its own unique identity, whether it be due to the technique of an individual winemaker or the particular soil type of a certain vineyard. These wines offer a level of depth and sophistication that DOC prosecco just cannot rival. Think everything from steely, flinty minerality to those delectable autolytic notes of butter, brioche and toast which we usually associate with champagne. There is truly a Prosecco Superiore for every palate (although you may have to work a little harder to find it!)
If you're seeking something sumptuous from your next glass of fizz, then as a general rule you can't go far wrong with anything labelled 'Conegliano Valdobbiadene DOCG'. However, if you're taking this über seriously, a good place to start is undoubtedly with the best of the best – that is, the two exceptional subzones of Rive and Cartizze.
Rive and Cartizze: the 'Grand Cru' of Prosecco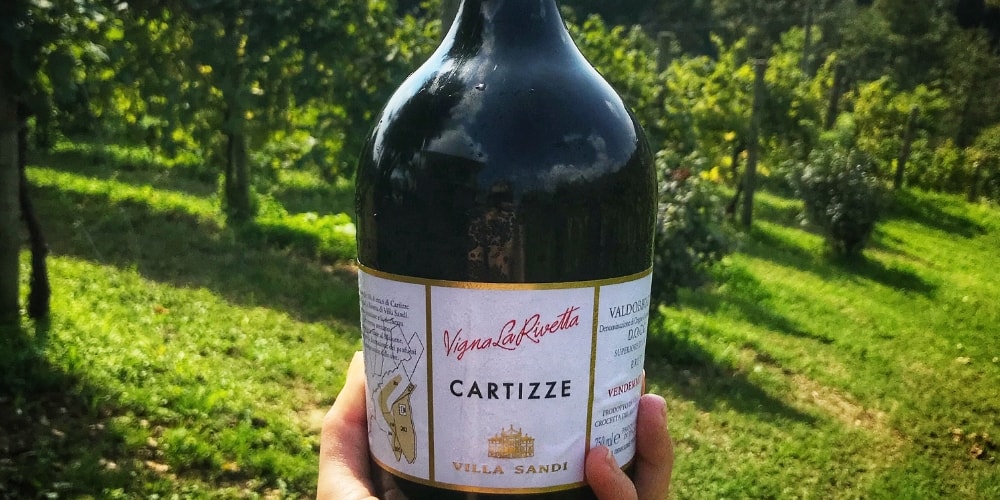 'Cartizze' is a tiny area of vineyards that occupy a mere 108 pentagon-shaped hectares just outside Valdobbiadene and the complex, elegant prosecco created here is considered the ultimate in quality. This is thanks to an unusual microclimate which combines the very steepest south-facing hillsides with an interesting blend of ancient clay and sandstone soils which create unexpected notes of steel and almonds alongside powerful floral notes and deep fruitiness – apple and pear flavours are usurped in these wines by deeper, richer notes of anything from apricot and rose to passion fruit. Delicious.
Prosecco Rive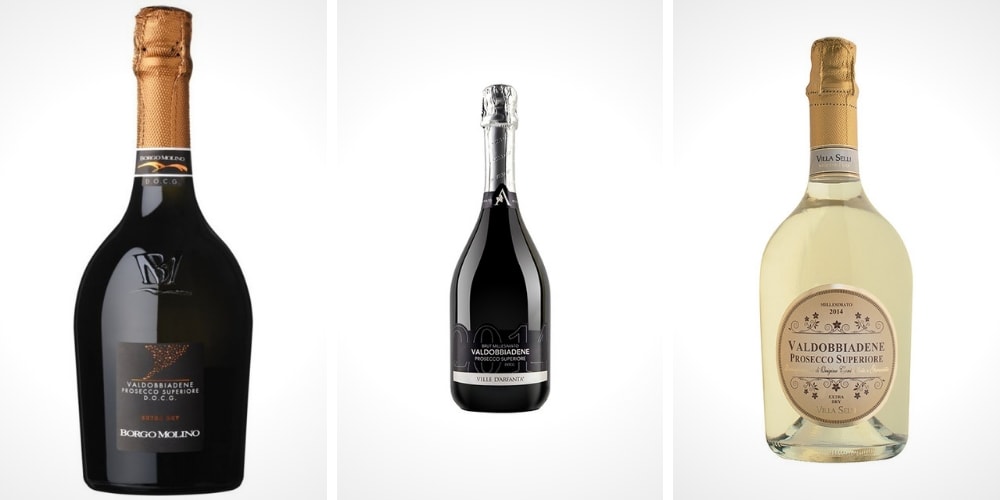 Photo Credit: sangishop .it; divinodistribution .ro; isolaservice .it
The Rive area is slightly larger, covering 43 designated communes. Each one has its own particular set of special characteristics, although most generally tend towards dizzyingly steep slopes (again, remember no great wine ever grew on flat land!) and something unusual or unique in the soil or climate. Grape yields in the Rive are strictly limited to just 13 tonnes per hectare and each and every grape which ends up in your glass has been lovingly hand-picked.
Ruffiano … my new favourite word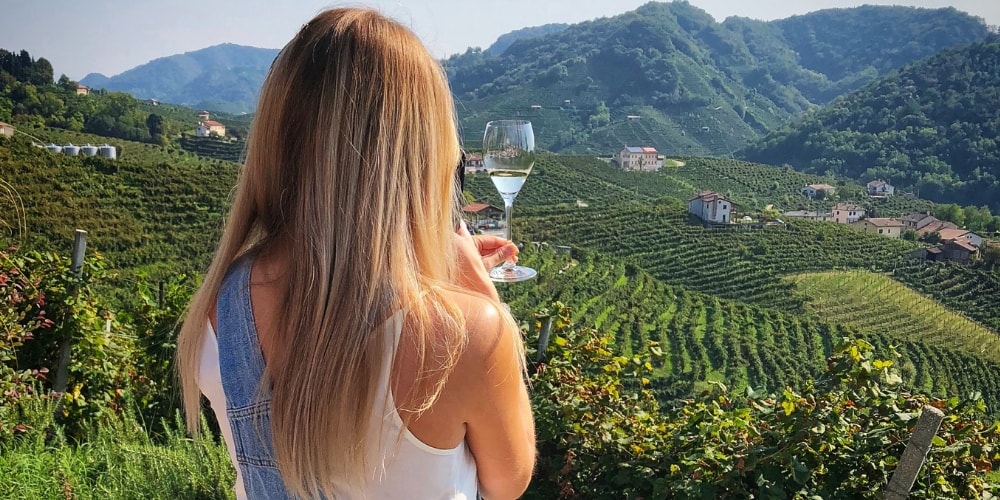 You will often hear winemakers here refer to their wines as 'ruffiano' … Google is unhelpful when it comes to translating this but ask an Italian what this colloquialism means and they're likely to mimic the purring, sinuous motions of a cat. Intriguing, no? Ruffiano as I have come to understand it essentially means something sleek and sensual, velvety and seductive, and is the single best word for describing the impact that a great wine has on your tastebuds that I have ever heard.

Whether you are a lover of prosecco or not, the sparkling wines of Conegliano Valdobbiadene, with their surprising flavours and unique identity, are the very definition of ruffiano: playful, seductive, surprising, and unquestionably delicious! It is the aim of premium wine makers all around the world to produce startling, stunning wines which truly reflect the unique conditions that the grapes have grown in and the passion which goes into every single step of the winemaking process. It's a shame that thanks to mass production and low prices, many of us don't comprehend that a prosecco can be produced with the same love and care as a fine red Bordeaux or white Burgundy … but I assure you, it can and is!
So, next time you are browsing the supermarket shelves, think twice about that two-for-ten-quid deal for a couple of bottles of sticky fizzy sweetness, and look out for Conegliano Valdobbiadene on the label instead. You might just be surprised.
Want to know more about prosecco? Check out this article on the key styles and sweetness levels. Perhaps you want to go there yourself? Here are our fabulous food and wine tours around the Veneto. If you've had enough reading about Italian wines and can't wait to taste them already, click here to find the best wineries to visit in Veneto where you can have an amazing experience in wine-tasting!