Though Umbria has a wine-making tradition that began with the Etruscans over 2000 years ago, the Umbrians spent most of the past two millenia brewing up tiny batches of wine for use by family and friends, and never made the name for themselves to rival that of their Tuscan neighbors.
That said, over the past twenty years the culture surrounding wine in this region has moved out of the private sphere and into the public eye. Commercial cantinas have begun to make themselves an international reputation by both refining the traditional varietals and by pushing the envelope with new products and blends.
The principal wines produced in Umbria are:
Montefalco Sagrantino DOCG from the area surrounding Montefalco. This tannic, full-bodied red made from the Sagrantino grape is aged a minimum of 30 months (the final 12 in wood barrels), has spice, berry, and earth flavors, and is best paired with roasts, lamb, game, and aged cheeses. The Passito dessert version–made with grapes which have been dried at least two months–goes well with biscotti or berry jam tarts. Blended with Sangiovese, the Sagrantino grape is also used to make a Montefalco Rosso DOC.
Colli Martani DOC is produced in much of the same area as Sagrantino and includes a Trebbiano (made primarily with Trebbiano Spoletino) and a Grechetto–two light, clean whites and a Sangiovese which, if aged for a minimum of two years the latter of which in oak barrels, carries the name Sangiovese Riserva. The Riserva is more complex and structured than the easy-going Sangiovese and can even get Chianti-esque, pairing well with grilled meat and aged cheese.
There are a plethora of excellent wineries in the area surrounding Montefalco where passers-by (I'm always impressed with myself when I remember how to make that plural) can stop in for a tasting. Arnaldo Caprai is, perhaps, the best known, and for good reason. The Caprai family almost single-handedly resurrected the largely-forgotten Sagrantino grape in the 1970s and has been one of the most active wineries in refining and marketing the wine. Their tasting room is sleek and modern and their wines the same. I also love the equally historic yet more rustic Scacciadiavoli winery, and the venerable winery Paolo Bea is making some excellent award-winning Sagrantino. Also rans are di Filippo, both for their wines and for their vibe, and Colpetrone, one of the few wineries in the area that's not a family business.
Torgiano Rosso Riserva DOCG is produced in the area surrounding Torgiano and made from Sangiovese, Canaiolo, Trebbiano, Ciliegiolo, and Montepulciano grapes. This complex wine must be aged at least three years and its bold yet balanced flavor is best enjoyed with roasts and fowl, game, and hard cheeses. Torgiano also produces a number of DOC wines, both white (with Trebbiano and Grechetto grapes) and red (with Sangiovese and Canaiolo). It is also one of the few areas in Umbria which produces spumante.
There are only two wineries in Torgiano proper: Lungarotti, the Grande Dame of Umbrian wineries and recommended by Winerist, began selling their wine in the 1960s and continue to be one of Umbria's most well-known names in wine; and, just down the road, the upstart Terre Margaritelli, which is just six years in the biz but already making some of the most interesting wines in the area and is one of my favorite wineries right now.
Orvieto DOC Perhaps one of Umbria's best-known wines is the crisp white made with Trebbiano, Grechetto, Verdello and Canaiolo grapes from the hills surrounding Orvieto, which makes up 75% of Umbria's total wine production. The mineral and delicate fruit flavors in the dry white come from the particular volcanic rock in the area; these wines are best with fish, vegetables, or strong cheeses. A sweet version is produced by letting the grapes stay until late into the fall on the vine, where they produce a high level of sugar. Sip them with cookies or creamy cheeses like gorgonzola.
Lago di Corbara DOC The microclimate around Lake Corbara between Todi and Orvieto is such that producers there have been experimenting with innovative blends of Cabernet Sauvignon, Merlot and Pinot Nero–not widely found in other areas of Umbria–along with the classic Sangiovese. The full-bodied reds coming out of these wineries are intense, dry, and slightly tannic.
My favorite vineyard near Orvieto (overlooking Lake Corbara) is Barberani, but I openly admit that this is largely because I have a huge crush on the cutie-pie brothers who run the winery. My friend and guide Alessandra Mallozzi from Discovering Umbria, who, as a sommelier, is probably more objective, suggests the award-winning Palazzone and the small, family-run Custodi.
Assisi DOC hails from the vineyards of Assisi and Spello and comes in a white version (with Trebbiano and Grechetto grapes), light, dry, and best used as an aperitif wine or paired with fish, and an intense and persistent red–Rosso, Rosato, and Novello–(with Sangiovese and Merlot grapes), best served with pasta dishes.
The place I head to first when I want to pick up some local swill is the charming Saio winery just outside of Assisi. Lovely wine, and the family has organized some pretty walking trails and picnic spots in the surrounding vineyards with some great views towards Assisi and Mount Subasio.
Colli Perugini DOC This is a large area, extending from Perugia through Marsciano and Monte Castello di Vibio (including one of our favorite wineries). The wines produced in this area (primarily Trebbiano and Grechetto whites and a Sangiovese red) are friendly quaffing table wines, but there are also a few heirloom native varietals worth searching out, including Mostiola, il Tintarolo, la Pecorina e il Lupeccio.
The Goretti winery near Perugia has one of the niftiest stores around: there are retrofitted gas pumps in the shop, and locals come with their own containers to fill up. It's pretty cool, as is the medieval castle where the winery is located.
Colli del Trasimeno DOC wines hail from the area ringing Lake Trasimeno with its unique microclimate allowing for the cultivation of a number of grapes not found elsewhere in Umbria: a white with Trebbiano, Verdello, and Grechetto and red with Sangiovese, Ciliegiolo, Gamay, Malvasia, and Trebbiano grapes. The light white is perfect for aperitifs or with fish and the bright, smooth red with roasts, game, and cheese.
Colli Amerini DOC is produces in the area including Amelia and Narni. The red varieties blend Sangiovese, Merlot, Montepulciano, Canaiolo, Ciliegiolo, and Barbera grapes. The Rosso can be opened young or aged and is served with pasta in meat sauce, grilled meats, or semi-aged cheese. The fruity Novello pairs well with traditional Umbrian dishes, charcuterie, or fresh water fish. Rosato, with its delicate fruit flavors, goes well with truffles, spelt soup, or pasta with pork ragù. The prestigious Rosso Superiore, aged a minimum of two years (at least seven months in oak barrels) has a bold flavor best served with braised meat, boar, and game. The whites include Trebbiano, Malvasia, Drupeggio – a variety of Canaiolo, and Grechetto grapes and are known for being dry yet smooth, with a delicate fruit undertone that pairs well with vegetarian pasta dishes or fried seafood.
Colli Altotiberini DOC is produced in the Upper Tiber Valley. The delicate white – best paired with fresh water fish or young cheeses–is made from Trebbiano and Malvasia varietals, while the well-rounded red (Rosso and Rosato) includes Sangiovese and Merlot and should be served with legumes, risotto, or roasted chicken.
The best place to sample these lesser-known wines is at the fantastic Enoteca Regionale in Orvieto.
If you plan on visiting Umbria, please read our expert's Umbria wine travel guide for insider tips and get inspired by our special wine tours and hand-picked wine hotels.
Credits: Rebecca Winke. In 2003 Rebecca began writing a series of essays for the Slow Travel website, documenting her experiences as a transplanted American city girl to the Umbrian countryside. Her musings are reproduced on her blog.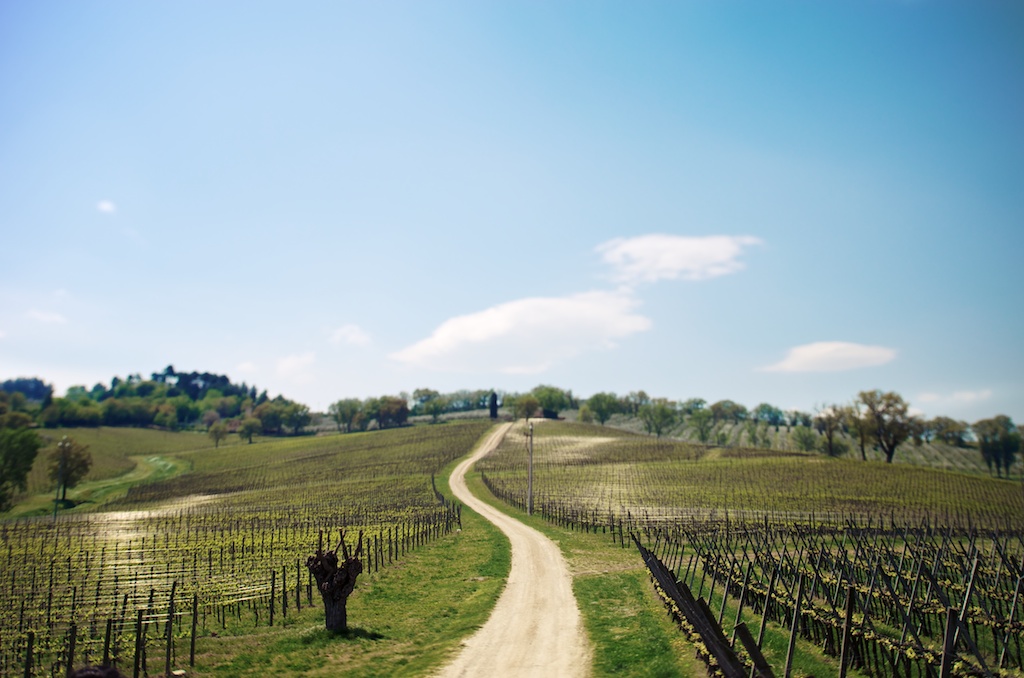 Touring the Umbrian wine country