Introducing TruffleHunter…
TruffleHunter are a UK-based, family-run food business, sourcing Truffles from our Sibillini Mountain location in Central Italy.
Our business initially started in Italy when we began sourcing the freshest, high-quality Italian truffles and shipping them direct to retail and restaurant customers in the UK.
In 2010 we migrated our business to the UK and set up our UK truffle distribution and manufacturing operation. Our first products were our Black and White Chefs Truffle Oils which were developed with the help of a very fine chef. These products were designed to be the best truffle oils around at an affordable price, and were targeted primarily at the UK's fine-dining restaurants.
Sales of these products picked up strongly within a few months of launch, so encouraged by this success we started to develop and launch a number of other great truffle products.
Our next launch was a range of pure truffle products in jars; we developed a Minced Black Truffle in both 50 and 80 gram jars, and a sliced Black Truffle Carpaccio also in 50 and 80 gram jars. These products use the finest truffles either minced or shaved and cooked in Extra Virgin Olive Oil. The great flavour of these products and their versatility has again resulted in them being widely used in many top restaurants.
Since these early days we have gone on to produce a number of new and innovative truffle products, many of which are absolutely unique. We make a range of English Truffle Oils, using truffles hunted locally to our offices, combined with a top quality Extra Virgin Rapeseed Oil pressed by Stainswick Farm. This product has been awarded a gold star in the Guild of Fine Foods Great Taste Awards.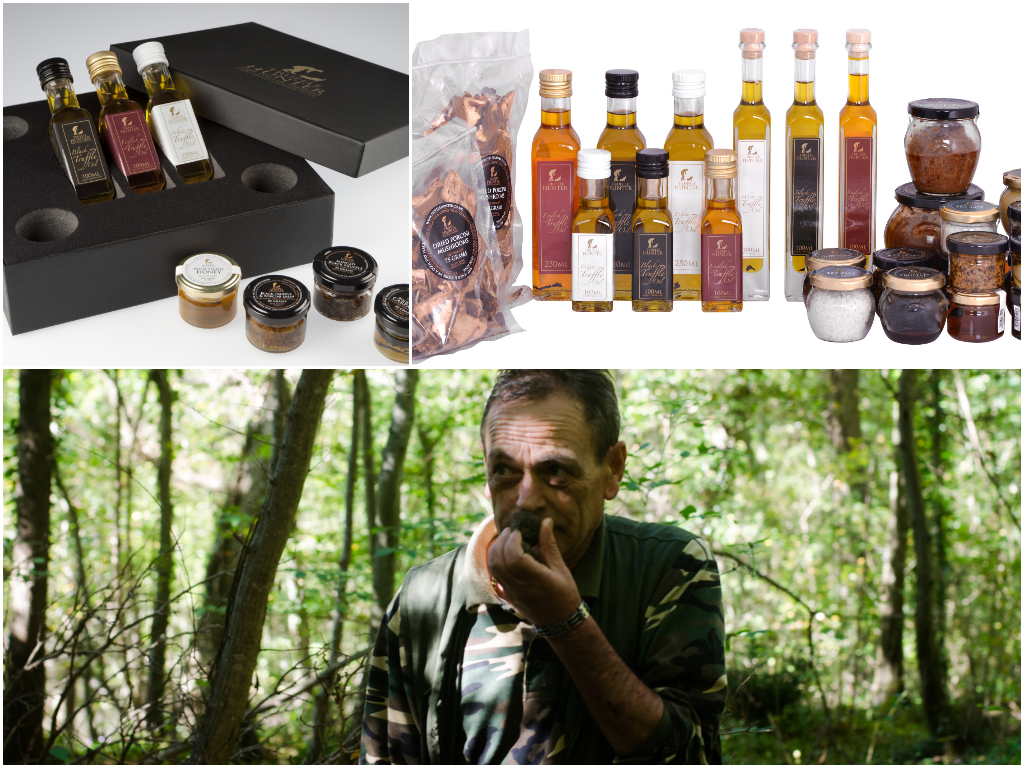 ---
We make a black and white truffle butter, using an award-winning Gloucestershire butter, Netherend Farm. The butter is beaten at our premises, mixed with cooked black and white truffles, and then pressed into 100 gram butter blocks. The flavour is amazing and this product has also been awarded a gold star in the Guild of Fine Foods Great Taste Awards.
Other products in our ever-expanding range include a Truffle Tagliatelle, a Black Truffle Sea Salt (also a Gold Star winner), a White Truffle Honey, a Black Truffle Mustard, a Black Truffle & Porcini Salsa, and our latest product, a Black Truffle Duxelle.
And we have some very exciting products in our development pipeline; including a Porcini Oil, and a White Truffle Mayonnaise.
We still stay firmly connected to our roots; we have partnered with a restaurant local to our Italian office and with the help of top Chef, Monica Santoleri, we offer all inclusive truffle hunting gourmet weekends. These weekends are great fun, primarily revolving around some serious truffle hunting they also include truffle cookery lessons, a tutored wine tasting, accommodation and all meals, drinks and transport included. The weekends take place in the unspoiled beautiful medieval village of San Ginesio in Le Marche central Italy.
Our Truffle hunters are based in and around Central and Northern Italy and come from families who have been involved in Truffle hunting for generations.
---
Discover our selection of truffle tours in Italy