You've bought the plane ticket, booked accommodation, Spanish dictionary is on hand and you're all set to go, so it's time to start the fun stuff: planning what to do in to Buenos Aires. Come rain or shine this city has a plethora of sights, activities and sexy porteños (people from Buenos Aires) to keep you on your toes for months on end, or if you're not the trailblazer type you'll be pleased to hear there are enough cafés and parks to while away the rest of the year, if you so choose.
The capital of Argentina is fondly known as the Paris of the South owing to its grand architectural structures lining wide avenues such as 9 de Julio, harking back to ye olde worlde of times gone by, but don't let that fool you. This city is raving hot pot of cosmopolitan lifestyle, booming gourmet scene and cultural exploration all mixed in with tradition and national pride (and did I mention sexy porteños?).
COME RAIN
Luckily Buenos Aires enjoys temperate, sun-filled days, but let it be known, when it rains, it pours. Best have a back-up plan for those soggy moments and no better place to start than… a wine tasting! Holidays are made for enjoying wine, right?!
We at Anuva Wines offer the perfect dry setting in a modern loft in the heart of Palermo, showcasing 5 wines from boutique Argentine wineries, including aromatic Torrontes and the rock star, Malbec. From wine novices to expert, our hosts will match your interest and tastes with their wicked sense of humour and fact o'full knowledge about the world of wines. Generous refills of delicious wines, meeting people and plenty of laughs makes it the perfect way to pass the day, even when it's sunny out!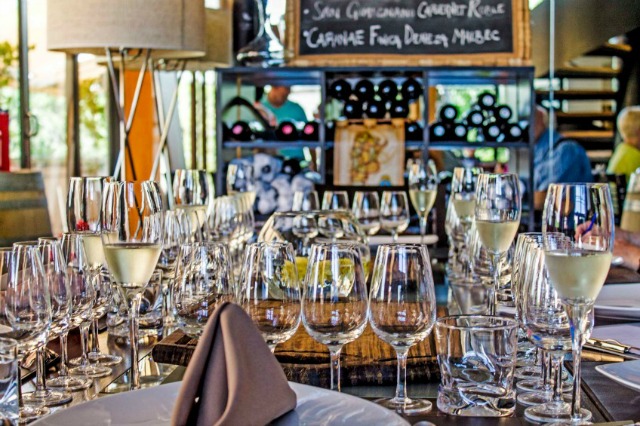 Fancy getting your culture on during the drizzly days? Let me count the ways: there is the Teatro Colon, Argentina's stunning Opera house, considered to be one of the five best concert venues in the world today with its amazing, natural acoustics and glamorous interior. Daily tours are available, or grab tickets to the ballet, opera or concert for the full grandeur experience.
For a bit of peace and quiet, try one of Buenos Aires' many museums; my personal favorite is the MALBA, The Latin American Art Museum of Buenos Aires in Palermo, with its extensive permanent collection of modern art from Latin America that gives a fascinating artistic insight to life and history of South America.
For a touch of architecture and history head to the Casa Rosada, Argentina's answer to the White House. Free tours are run daily, giving you an understanding about this beloved aspect of Argentine life: politics! Just around the corner is Palacio Barolo, an historic landmark built and decorated to represent Dante's' Divine comedy with the basement as the bowels of hell, the center is purgatory and the top as heaven with a lighthouse shining at its peak. In Recoleta El Ateneo Grand Splendid is as its name sounds; this unusual bookshop is a huge theatre from 1919, retaining original features stalls and galleries all filled with books as well as a café on the stage.
If traipsing through the rain doesn't inspire, no problem, one of the most important parts of Buenos Aires life is café culture. At 5 o'clock in the afternoon you'll find cafés bulging at the seams as the locals scoff mountains of medialunas (croissants) and café con leche (white coffee) for their merienda (tea time). Do a double whammy and head to a bar notable to enjoy tea time at historic bar, the most famous among these are Café Tortoni, La Biela and 36 Billares.
COME SHINE
Luckily the sunshine comes in bucket loads so bring your sunscreen and head out to the parks which are important social hubs for the locals who will gather in the afternoon to share the famous mate (an herbal tea like beverage) amongst groups of friends. Top green spaces are Bosques de Palermo, Parque Centenario, and Parque de los Niño's, which has a man-made beach to give that holiday feel to the Rio del Plata.
You might have heard something about the famous street fairs in the neighborhood San Telmo held every Sunday but for a more unique experience, I recommend heading to the outskirts of the city to the Feria Mataderos. There you will find real life gauchos (cowboys!) dancing to traditional folk music or playing games on horseback, artisanal food, antiques and crafts.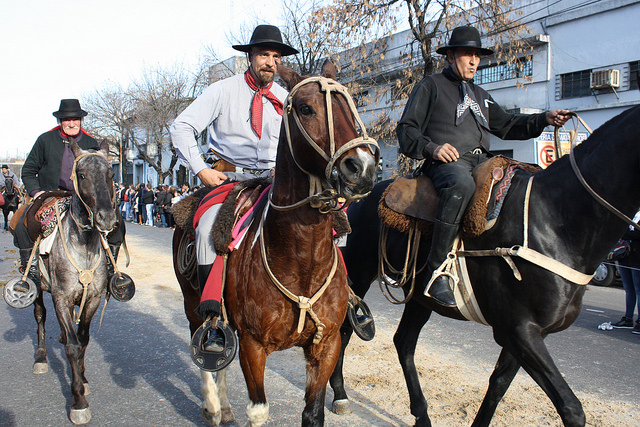 Photo: Bridget Gleeson
Speaking of horses, time your trip right and watch a polo game at the Campo Argentino de Palermo. It's a taste of the rich and the famous life in Argentina, where they boast the best players in the world. A fast-paced match with cracking sticks and the muscular… horses will certainly get your pulse racing.
You want to see it all but don't want to be stuck on a bus? Rent a bicycle or book yourself on a bike tour. The city has recently opened up an extensive bike path for cyclist to get from A to B without having to deal with the hectic traffic. While you're at it, cycle to the Recoleta Cemetery followed by the Costanera River and the ecological gardens, most importantly make sure stop off to get Choripan (a traditional chorizo sausage sandwich) from food carts along the way.
COME SUNSET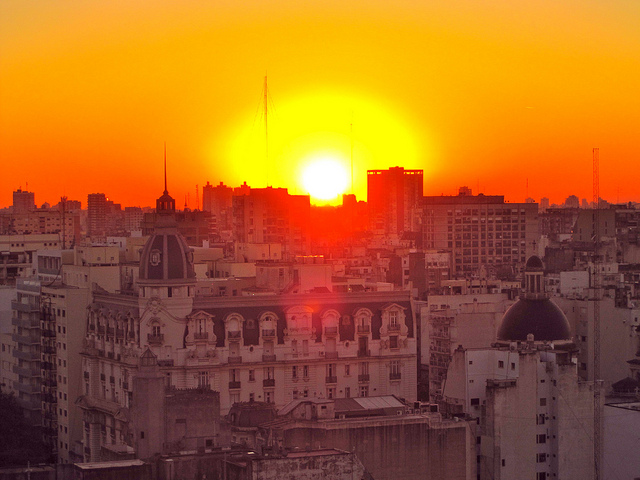 Photo: Bridget Gleeson
Here is the key; it's all about the power nap! Don't even bothering heading to a boliche (nightclub) before 3am; the dance floor will be empty. Costanera is famous for some of the 'flashy' nightclubs including Jet, Pacha, Mandarin and Terrazas del Este. If you are like me and barely keep your eyes open until midnight there is a great cocktail scene popping up all over the place, with speakeasy style bars leading the way. Floreria Atlantico in Recoleta is a must do, while Frank's, the Harrison Speakeasy, Victoria Brown, 878 and Verne Club all in Palermo close behind. More of a beer guzzler? You are in luck; no longer must you suffer the average beer swell Quilmes, artisanal beer has been popping up all over the city with places like NOLA and Shanghai Dragon leading the way.
But what about the food?? THE STEAK…you all need to pack the stretchy pants to indulge yourself whilst in Buenos Aires. Top steak houses or Parillas as they are called here are dotted all over the city. Steaks by Luis is an excellent option for those looking for the authentic asado experience; the asado is THE most Argentine thing you can do. Every Sunday, Argentine will light the coals and start grilling the meat, the whole process of the meal is known as the asado: picada (tapas), achuras (the scary stuff, try it!), salads, tender beef and finally desert. It's got it all.
There is more to the gourmet scene than just steak; look into the explosion of close-door restaurants for an idea of what is out there. Cocina Sunae, Max's Supper Club and Paraje Arevalo to name a few.
And finally the shows; something different, exciting and utterly original to Argentina, a performance troupe called Fuerza Bruta. You thought I was going to say tango right? Fuerza Bruta is an energetic ride, where the world as we know it becomes a surreal parallel universe as acrobatic performers act, dance, fly and literally fall from the sky in time to the powerful music score and strobe lights, special effects, nudity (moderate), water (lots) creating scenes of a poetic, violent and beautiful nature with a lot of mess and YOU!
Okay, okay; I can't leave out tango. The country of the passionate dance as options for every taste and budget going from the ultra-glamorous Rojo Tango at Faena hotel, to the small scale authentic show at Los 36 Billares; both of which are my top choices for their individuality.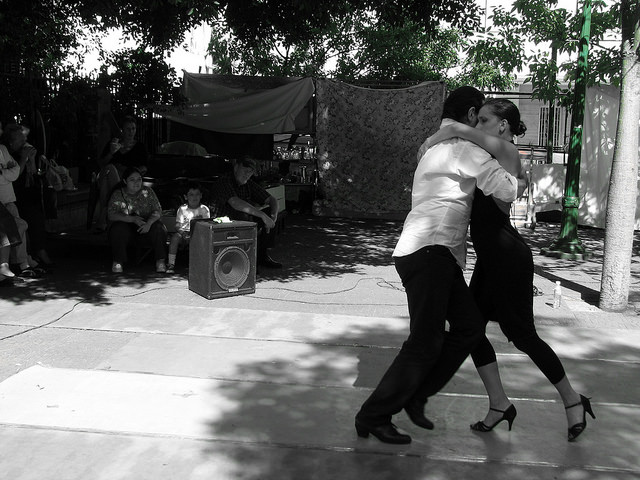 Photo: Bridget Gleeson
Oh Buenos Aires, how will they ever leave you? 4 years later….I still can't bring myself to do it!
---
Find the best tours in Argentina…