Some like it hot, some like it greasy, and some like an eclectic mix of cultures. Whilst the idea of British food may conjure up images of tasteless pub food, the East End of London offers much more in its diversity and creativity. So, from my decadent suite at the St. Pancras Renaissance Hotel London, I head east to explore the culinary scene and discover its humble beginnings.
Following the 1666 great fire of London, Old Spitalfields, namesake to the 12th century priory of St. Mary Spital, began as the first wholesale fruit and vegetable market in the East End of London. Three hundred years later, the covered market is home to Café Caribbean, Kota Satay and Keke Oriental Food, all setting up for market day.
This is the spot where a dozen tourists arrived on a Saturday morning to meet Hannah, our Eating London Tours guide. Our group is an eclectic mix from Australia, Hong Kong, and the U.S. For those of us who enjoyed breakfast before the tour – it would have been best to unbuckle our belts because we were about to embark on a foodie ride of our lives.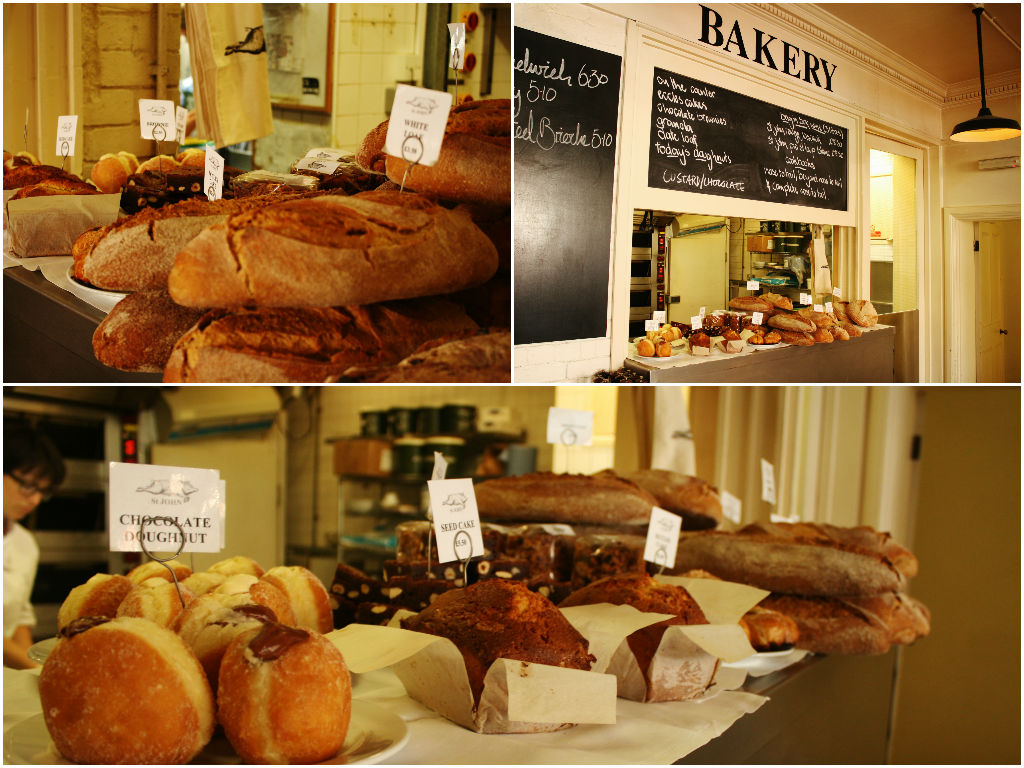 ---
Like side dishes to a Michelin-starred meal, we stroll along each stop, with elements of history served in discourse, beginning with the fact that the East End of London may not show on some maps of London, as this area was separate 2,000 years ago. In fact, the sidewalks we walk along were once Roman burial grounds. Since then, Irish and Jewish populations took over the community, and beginning in the 19th century, the Bangladesh settled in. Today, the East End of London's population includes a diverse mix of cultures, as well as artists and students. A result of this gentrification is the offering of an international cuisine quite fitting for a foodie tour.
Stop #1 – St. John Bread and Wine, 94-96 Commercial Street, E1 6LZ
Fergus Henderson's St. John Bread and Wine is known for its "nose-to-tail eating" menu, and we begin to realize why when we bite into its legendary Old Spot Bacon Sandwich. This dense slab of bacon was brined and smoked with salt and sugar to create an unexpected tenderness and full-on flavor. It's served in fours to be distributed along our long, narrow table where we are seated, and where we happily munch on this thick and meaty toasted bread sandwich, served with a side of barbeque sauce for those who prefer to dip the delightful breakfast of champions.
Stop #2 – The English Restaurant, 50/52 Brushfield Street, E1 6AG
Our foodie safari continues at The English Restaurant, a family-owned establishment in a building whose history includes time spent as a former fruit and vegetable warehouse before it became a nut house and subsequent Jewish bakery. Three of the oldest rooms in London are rented upstairs, but the place we want to be is downstairs, where the menu includes game dishes, seafood and oyster fritters. Dessert is our course at this stop, and we indulge in a late morning bread and butter pudding recipe from the 13th century. These pudding cups runneth over in richness within its hot-served rum custard soaked bread with raisins, and topping of orange juice. A side of sauce in a creamer is an option for those who want full on flavor. Referred to as the poor man's wedding cake, the taste begs to differ.
Bellies full, a brisk walk helps burn some calories. As we pass a white painted iron gated parking garage, Hannah stops to introduce us to the site of Jack the Ripper's last murder scene. We observe a moment of silence in honor of the fifth and final victim, Mary Jane Kelly, before we move along to pass a former Jewish food bank. The history behind this former soup kitchen began in 1902, when the Jews fled Eastern Europe and Russia, only to become a financial drain on Britain's purse. By 1992, there were still 100 elderly Jews who continued to visit the venue for tea until it closed.
At a nearby corner, signage indicates former Women's and Men's homeless shelters, which have been closed since 1999 to become, ironically, LSE (London School of Economics). We peek around the corner, down Artillery Passage off Artillery Lane, where King's Stores formerly sold artillery. We move along to notice bricked up windows indicative of the social, cultural and architectural force in England, France and Scotland during the 18th and 19th centuries. In response to taxes paid for the amount of windows a home had, as well as fireplaces, the best way to save money was to reduce the count.
Stop #3 – The House of Androuet, 107b Commercial Street, Old Spitalfield Market, E1 6BG
The majority of the English population prefers cheddar cheese. Since 1909, The House of Androuet's cheese mongers have been sharing their love of this and other cheeses, including European cheeses – direct from an English farm – no middleman. The samples are delightful, and we indulge in a semi-hard cow's pasteurized cheese from Somerset that proves creamy and delicious, as well as an unpasteurized cheddar cow's cheese made by a young cheese maker from Westcombe. The preferred tasting within our group's majority went against the grain of the British; we chose a Nottinghamshire Blue Stilton.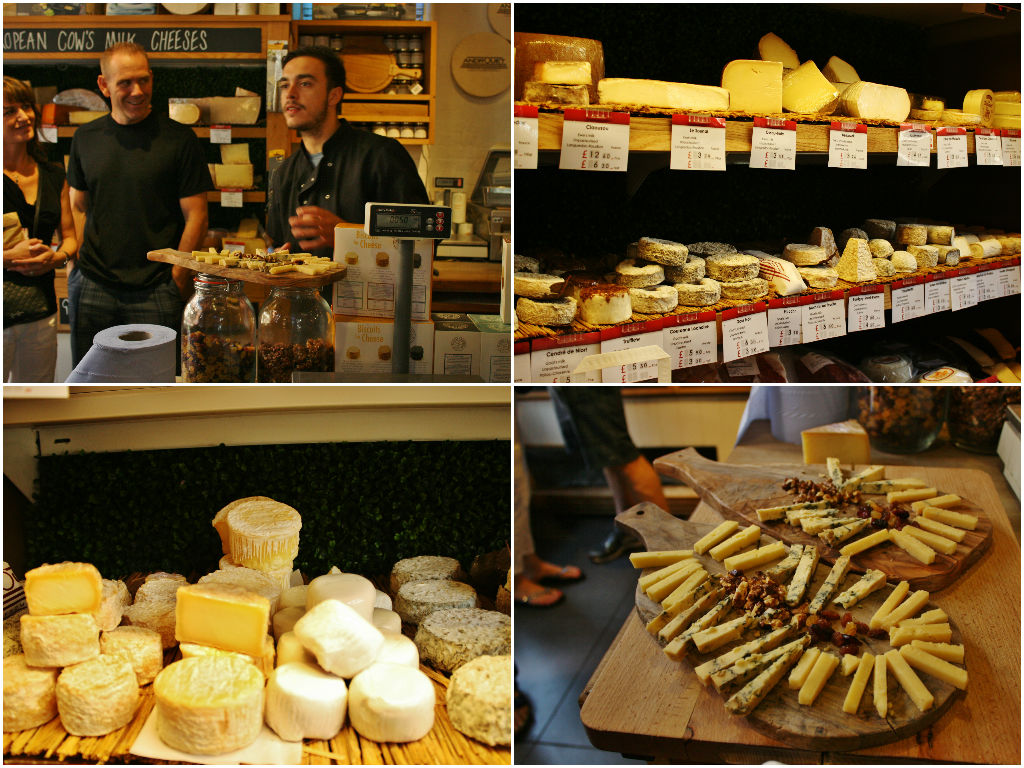 Stop #4 – Poppies Fish and Chips, 6-8 Hanbury Street, E1 6QR
The real chippie refers to the first fish 'n' chips shop, and the name of the place is Poppie's. Serving oysters to eels, this retro-designed establishment of nostalgia is most known for its award-winning fish 'n' chips, best served with mashy peas. The past four years have proved Poppie's the true East End winner for this recipe of cod/haddock cooked in peanut oil to give it a lighter coating. It works.
As we plow ahead on our tour, nearly bursting at the seams from the samplings so far, we stop to acknowledge Benjamin Truman's brewery building across the way. This landmark was open for 300 years (1666-1989). We also pass by the second oldest synagogue in the U.K.
Stop #5 – Pride of Spitalfields, 3 Heneage Street, E1 5LJ
Lenny the pub cat blogs about his experiences at Pride of Spitalfields, where Benjamin Truman's ale recipe is resurrected in Hackney Wick, labeled "Bold as Brass" – and actually is. On first sip, it's a bit warm, but that's because it's served at room temperature, which could be cold on winter days. A taste of cider proves akin to straight alcohol, but sweeter than ale.
Feeling lighter, or a bit light-headed from the alcohol, we continue our culinary marathon and head to what is affectionately termed "Banglatown" on Brick Lane. This area was named after the Bangladeshi-Sylheti community and is home to the best curry house in London.
Stop #6 – Aladin, 132 Brick Lane, E1 6RU
Listed as the one of the top 10 Indian restaurants in London, the ambiance is what strikes me most within its galley-style walls. Colorful and intricate Indian artwork is showcased in this curry house, but what impresses me most is the fact that London has more curry houses than India. Factual tidbit: Chicken Tiki Masala was actually created in Birmingham, England. And about that curry: there wasn't enough water to douse the flames I imagined on my palate from one of three curry dishes we sampled.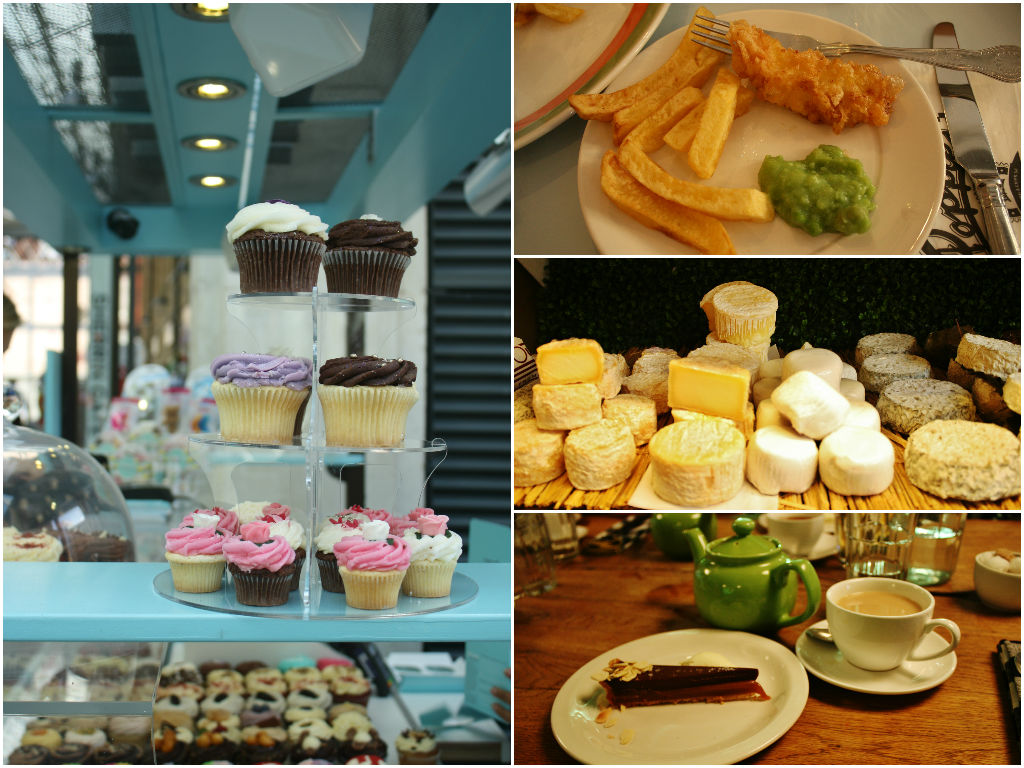 Stop #7 – Beigel Bake, 159 Brick Lane, E1 65B
I don't know how we devoured one, but we did. Perhaps it was due to window watching the making of that soft bagel slathered with hot English mustard and stuffed with salted beef.
Stop #8 – Pizza East, 56 Shoreditch High Street, E1 6JJ
Walking into a pizza parlor and not ordering pizza might warrant constraint for many, but since our group was busting at the seams from over three hours of hefty tasting portions, the desire to order a pizza pie was non-existent. We did have one last taste – a slice of salted caramel tart, which we somehow made room for within our full stomachs. Pizza East's dessert was quite a find within this pizza parlor.
---
Charlene Peters is an award-winning journalist and international travel writer from the U.S., currently living in Paris. She especially loves writing about her experiences visiting food, wine and spa destinations. Follow her blog here.
---
Have your own East End food adventure!