The focus for inland Italian wine is most commonly on Tuscany, with the more familiar names of Chianti and Montalcino or grape varieties such as Sangiovese. Head a little south, however, and you will find yourself embraced in Umbria; discover the lesser known region and its flare for local varieties as you lay back in the sun sipping Sagrantino. Landlocked in the heart of Italy, steeped in history and culture, this region produces only a third of the volume of wine made in Tuscany, but is becoming increasingly recognised for the beauty, quality and value that it offers.
Antonelli San Marco
When discussing red wine, any oenophiles who catch mention of Umbria will think immediately of Montefalco. Located in the DOCG area (the highest classification that can be awarded to Italian wines as a guarantee of quality) of Montefalco, Antonelli San Marco nurture local red and white grape varieties and ferment them into a range of dry and sweet wines and also into grappa.  Offering a series a experiences that vary in duration, you can opt for a simple tour and tasting, or indulge in local cuisine with a wine paired meal.
Want to visit? Enquire here to make a reservation!
Arnaldo Caprai
As one of the most respected producers of Sagrantino di Montefalco, Arnaldo Caprai strive for quality in their wines produced from the grape variety that they have been growing in Montefalco for more than 400 years. With a wealth of knowledge and experience in their arsenal, this estate crafts the small-berried, thick-skinned grapes into full-bodied red wines that display a floral elegance with bramble fruit characteristics and the potential to age, in a good year, for decades. If you're after a true taste of the land and enjoy character in your wine, this is the destination for you.
Want to visit? Enquire here to make a reservation!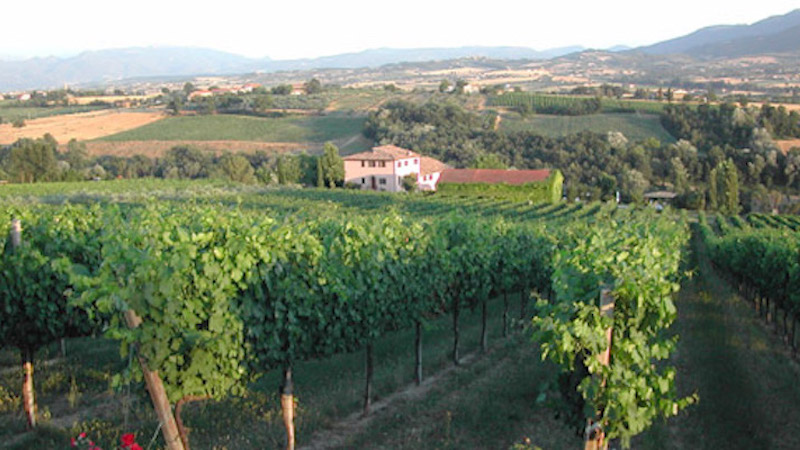 Antonelli San Marco
Castello della Sala
As one of the estates owned by Marchesi Antinori, Castella della Sala is the fine wine stop on your tour of Umbria. Responsible for the production of world-revered wines, including Tignanello from Tuscany, and with estates scattered across central Italy, their Umbrian winery is based 18 kilometres from the historic city of Orvieto. Clamber up into the Umbrian Apennines and find yourself in an old medieval fortress where you will discover the delights of the region with the opportunity to buy directly from the source. The blend of Chardonnay and Grechetto in their Cervaro della Sala is an unmissable expression of Orvieto.
Want to visit? Find out more here!
Terre Margaritelli
East of Orvieto and slightly north of Montefalco, Terre Margaritelli is a winery nestled in Torgiano where the fourth generation of the Margaritelli family are at work on their 60 hectares of vines that are certified 100% organic. This estate is all about nature and innovation, honouring the land on which they work to craft both traditional and experimental wines. Take a tour of the winery and vineyard, explore the range of wines through a guided tasting and even get hands on with a cookery class! To discover the culture of Umbria with an authentic, welcoming family, this is the place to go.
Enquire here to arrange your visit!
Tili Vini
Barely 10 kilometres from the winding, picturesque town of Assisi, the Tili family have been cultivating wine and olive oil for many years. The tranquil, sun-soaked vineyards see minimal intervention with nature as organic practices are followed in the viticulture and vinification of their wines. With a rich heritage and deep-rooted history, the family are proud of the land to which they tend and have a profound respect for the natural environment. Whether you would prefer to learn about the vinification with a glass in hand or get involved and prune the vines yourself, Tili Vini offers a range of experiences that will cater to your desires.