Whether on the rocks or mixed into a margarita, tequila is a liquor made for celebrating, and more honored occasions call for the best in luxury tequila to make an appearance. Just be sure to sip on these picks—their aging (and price) are made for savoring.
While the 1942 label is the most celebrated of the Don Julio portfolio, splurge on the Real Tequila, which is not only one of the best Extra-Añejo iterations on the market, but also the first of its kind. Housing that sweet smell that only cooked agave can adorn, the mature aroma of this tequila gives way to complex vanilla flavors with caramel, chocolate and almond undertones. What's left on the palette is a classic warm finish that any great tequila should have, and with the hefty price tag, don't mess with a good thing—drink it neat.
Cost: $412
More information: donjulio.com
Jose Cuervo Tequila Extra Añejo Reserva de la Familia 
Jose Cuervo quickly joined in on the Extra-Añejo game with a hand-selected choice from the Cuervo family's private collection. Each bottle features blue agave harvested at peak maturity after seven to twelve years of growing, and the final blend includes tequila from reserves as old as 30 years. On the nose, expect oak, almonds, apples, olives and cinnamon. On the palette, those oak, almond and cinnamon flavors take the helm, and on the bottle, artwork from Mexican artists graces the label in a nod to its local roots.
Cost: $205
More information: reservadelafamilia.com
To highlight an obvious crowd favorite in the luxury tequila realm—and for a much-needed break from Extra-Añejo tequilas—Patrón graces this list in its blanco form. But don't be fooled by the need for variation, this choice deserves its spot as the best premium blanco tequila on the market today. The "dangerously" smooth taste highlights lime and citrus notes achieved by the brand's infamous multiple distillation process (triple in this case) and should be enjoyed on the rocks to capitalize on its crisp agave flavors and black pepper finish.
Cost: $199
More information: patrontequila.com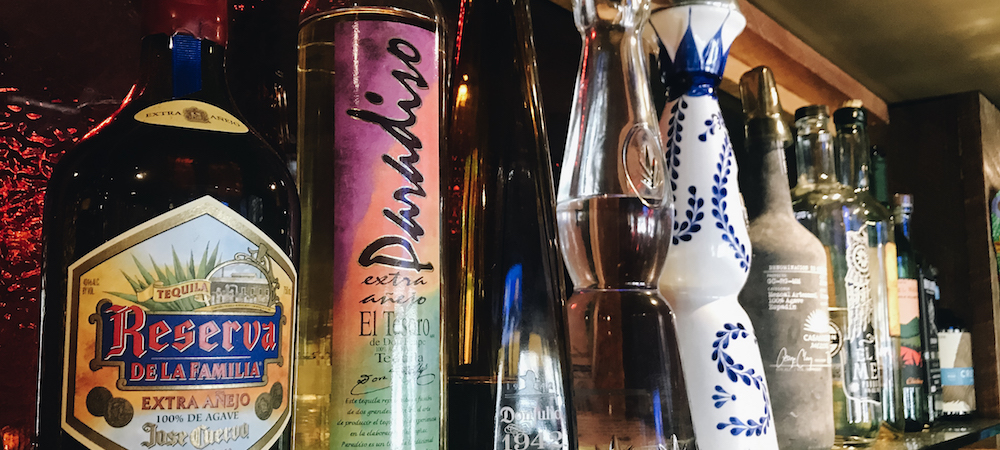 For a luxury tequila with a bit of gumption, Partida's Elegante Extra Añejo delivers with an exciting and unexpected flavor profile.  An earthy, oaky, yet sweet vanilla scent one expects from an Extra-Añejo blend dominates the nose, which transforms into a honeyed, slightly toasted flavor upon taking a sip, but the real kick comes with its long, spicy finish. Needless to say, this tequila is not for the faint of heart—or palette.
Cost: $360
More information: partidatequila.com
Tequila aficionados fawn over this last pick, and not simply because of its exquisite pure platinum, sterling silver and 24-carat gold decanter. The Clase Azul Ultra's smooth and elegant taste has all the complexity of its Extra-Añejo counterpart but stands apart with its complex aroma, pointed by intense sherry notes attributed to its five-year aging process in Spanish sherry wood casks. But this tequila, striking in both its sophisticated taste and luxurious presentation, will cost a pretty penny to have it housed on your top shelf.
Cost: $1700
More information: claseazul.com
Thinking of branching out from your usual spirits? Try some of Empirical Spirits's Bonkers options, or get ready for fall with our selection of the top maple whiskies!