If you want to experience the real France I would recommend not Paris, not Nice, not Cannes…but Lyon! Why Lyon? Because Lyon is a big French city yet it preserves its charm, its authentic feel, its real French atmosphere. Lyon will give you the best French experience: rich history, best food and best people. You should not wait too long to visit Lyon. And if you have already been to Lyon, I am sure you would like to come back. While searching for an excuse to visit or revisit Lyon, have a look at this Top 10 Things To Do In Lyon list. Use it when visiting Lyon or even before when you are rationalising your choice for the next holiday in France or just a short city break, long weekend trip i hope to make it easier for you to choose Lyon!
1. Parc de la Tête d'Or – the 'green lungs' of Lyon, the impressive and huge park loved by everyone! It is a place that cannot be missed in Lyon. It will surprise you with the unlimited opportunities it offers: a lake, bikes, a little train, the Botanic Garden and ZOO (free entrances). Enjoy a walk, a picnic, or get a boat or bike.  The park also offers a beautiful rosary and even a theatre for kids, many small cafes for parents, ice cream shops and spots to sit down and relax.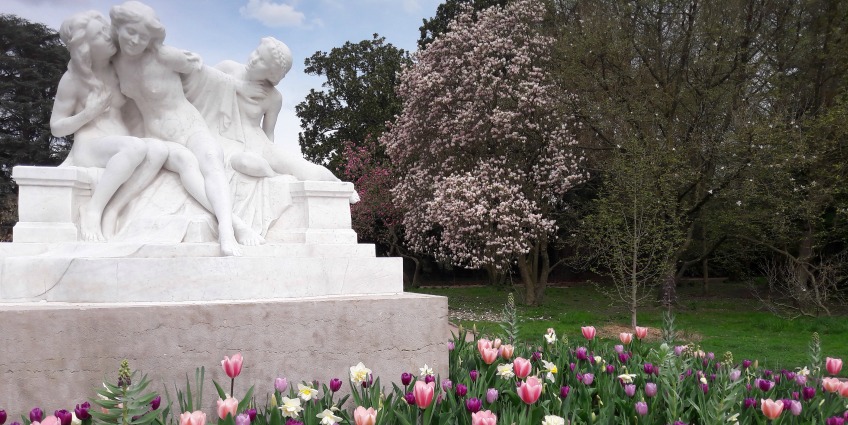 2. Vieux Lyon – the unmissable place you have to visit in Lyon! It is a charming area full of small streets, typical Lyonnais bouchons, boulangeries. It has an authentic French atmosphere where you can learn a bit about the silk history of Lyon by visiting 'traboules' (covered passageways that function as public hallways through the quarters of private houses which were used by silk workers to transport their fabrics). The things I would recommend doing here is to get lunch at the Lyonnais bouchon, visit the little yet charming Musee Miniature et Cinema; get an ice cream treat as the choice of ice creams is impressive. Try the typical Lyonnais ice cream Nardons and the brioche pralines, a true Lyonnais specialty.
3. Croix Rousse – a hidden area of Lyon, only recently started to be appreciated by tourists. It has a unique atmosphere and the opportunity to have a proper tour of the silk history of Lyon by visiting more traboules. Colline de la Croix-Rousse was an important centre of weaving in the early 19th century. It is worth doing as it's unusual and fun to visit random flats and wander around to explore the architectural curiosities of the hidden streets. There are a lot of very particular bars, cafes, restaurants and places to eat. I would also recommend finding a place there for a light lunch.

4. Confluence district – something so modern you cannot believe it can exist in Lyon after visiting the old part. It is located where Saône and Rhône merge together. It is a place where the new and modern Confluence Museum is located and the new and posh Confluence shopping centre is nearby. There are new and modern buildings which are worth seeing.
5. Musée des Confluences – this is a must if you're looking for the top things to do in Lyon. It is the latest and newest and the most modern museum and its spaceship shape is impressive. There are permanent expositions presenting the origins of human beings, as well as many interesting temporary ones. The best thing to do is to buy a ticket and visit all the expos. While in the museum, don't miss out on the amazing view of Lyon city and the two rivers: Saône and Rhône. Don't forget that behind the museum there is a small garden where you can rest, have a picnic or just admire the rivers.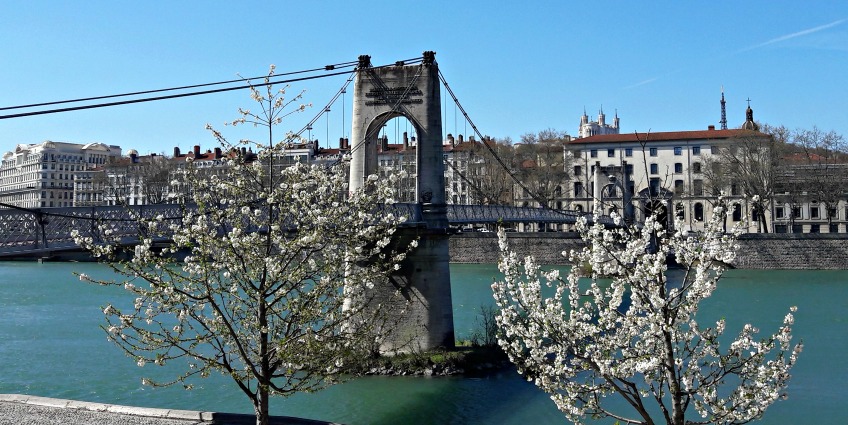 6. Musée des Beaux-Arts – the Fine Arts Museum is a true feast for art lovers but not only. It is considered the next-best fine arts museum in France after the Louvre. It is nicely located and easy to find at the Place des Terreaux, the place in Lyon which displays the amazing fountain by F.A. Bartholdi. Worth mentioning is the fact that the Musée des Beaux Arts has a small yet charming garden. It presents impressive antique sarcophagus and a small statue of Apollo and truly beautiful Rodin. Don't miss it. Even if you decide not to go to the museum, have a rest on a bench in the garden, it is calming and relaxing, hidden from the very busy center.
7. Fourvière Hill – this is my favourite place in Lyon. Why? Because it has one of the most beautiful churches I have seen in my life – the Basilique Notre Dame de Fourviere. The view of Lyon from the hill is stunning and the best in the city. I also totally love the Gallo-Roman amphitheatre – a place to explore the origins of Lyon and have a picnic with a wonderful view! There is a beautiful park on the Fourviere Hill worth wandering around. You can get to the Fourviere Hill either by walking or taking the funicular Lyon. It's a great and fun ride up! Walking is also rewarding yet tiring and longer.
8. Rue de la République – the most famous shopping street in Lyon. Whether you like shopping or not, this is a place you cannot miss in Lyon (and you probably will not). If you like shopping, here you will find all the big high street brands. If you don't wanna do any shopping, Rue de la République offers a nice walk with the main points of interest in Lyon. You will pass the impressive building of the Palais de la Bourse et du Commerce in the renaissance architectural style and the Eglise Saint-Bonaventure which is the former Franciscan church built in the 14th-15th centuries. The Place des Jacobins has an impressive fountain in the centre created by Gaspard André in 1885.
9. The big square of Place Bellecour – located in the so-called Presqu'ile district between the Rhône and Saône Rivers. You will get there an impressive view of the hill and you will see the statue of Louis XIV. Look for Hôtel-Dieu de Lyon building, nowadays the Musée des Hospices Civils. There is no need to visit, just admiring the architecture is a great experience!
10. Marche de Creation  – this is like an outdoor 'Art Gallery'. It is very popular and it represents the Lyonnais artists. It is free and highly recommended to visit, but it is only open on Sunday mornings. But don't worry, if you miss it, there are a lot of famous and typical Lyonnais markets! Les Halles de Lyon Paul Bocuse is an impressive, old style covered marketplace with over 50 different shops and restaurants, ideal to discover the best quality regional food products, and the Marche Alimentaire Saint Antoine Celestins is an open food market. Both are open almost daily except – Marche Alimentaire Saint Antoine Celestins is closed of Mondays and Les Halles de Lyon Paul Bocuse on Sundays.
Are you ready for Lyon? book your Lyon wine and food tours with us today. If you are an adventurous traveller, you might like to check out the top 5 activities around Lyon too. To find out more about the wines of Lyon, we have plenty of information on that too!