Alsace is one of France's most beautiful and unique regions, thanks to both its Germanic and French influences. One of the best times to go is in the winter, where the Alsatians host beautifully rustic, traditional Christmas markets. Each year, the arrival of the little wooden huts in the town squares of Alsace is a major event. The Christmas markets mark the return of time-honoured festivities and a world of delicious fragrances, delightful crafts and lights quickly takes form along the cobbled streets. Go to see them yourself and breathe it all in. Mouthwatering and occasionally surprising discoveries await you.
Regional Food Culture
Alsatian food is synonymous with conviviality, and with flavoursome, substantial dishes served in large portions, Alsace definitely isn't a place to visit if you're on a diet. Due to its proximity to Germany, the region's gastronomy reflects Germanic culinary influences, with traditional dishes such as Baeckeoffe (a casserole dish of sorts), Flammenkueche (a French flatbread with cheese or crème fraîche, onions and diced pork) and Choucroute (also known as dressed sauerkraut) to name a few. You will find that a lot of the dishes in the French region incorporate pork in various different ways, whether it be in the form of sausages, diced bacon, ham or any other way the Alsatians can think of. One thing is certain; you won't go hungry in Alsace!
Alsace Wine
Alsace has a substantial reputation in the wine industry, with some even calling it the 'Coco Chanel' of wine regions. It produces mostly whites, amongst which are some of the most highly-esteemed dry Rieslings in the world. Once again, just like Alsace's food, the wine produced there is influenced by its Germanic neighbour, and it's the only A.O.C. region in France to use similar grape varieties to those used in Germany (although the Alsatian wines tend to be a lot drier). The region also produces a tiny amount of rosé, made with the Pinot Noir grape, as well as a small amount of red wine (such as Rouge D'Ottrott). Most of the white wines in Alsace are made with aromatic grapes, making for floral and spicy whites, which are often unoaked and much fuller in body than many of their German or French neighbours. This is thanks to a slightly warmer, drier climate than its immediate neighbours, as the Alsace wine region is sheltered by the Vosges mountains.
Interestingly, there is a law in the region that specifies that Alsatian wines should be bottled in tall bottles commonly referred to as Flûtes d'Alsace which have become a trademark of the region.
Recipe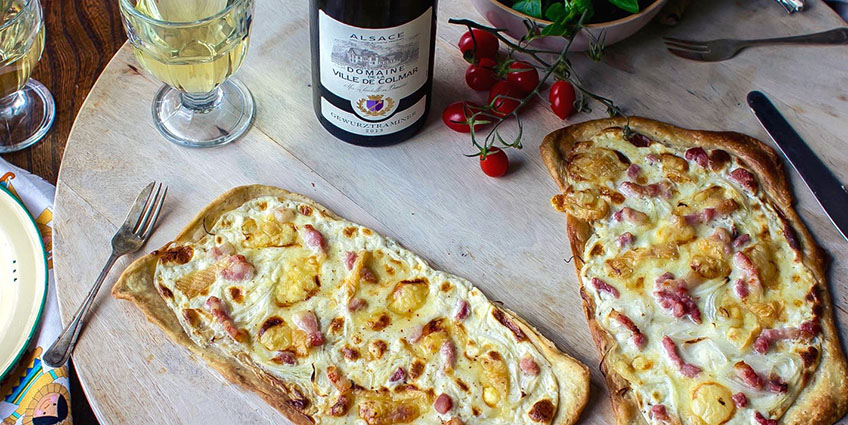 Photo Credit: Great British Chefs
A twist on one of Alsace's most famous recipes (Tarte Flambée a.k.a. Flammenkueche), this recipe for Tarte Flambée au Munster is definitely going to satisfy your appetite. Devised by food blogger Rosana McPhee, this French flatbread topped with Munster cheese (another specialty of the French region) serves 4 people and is very easy to make. Try it with our recommended wine to bring out the most in the dish.
You can find the recipe here: [Tarte Flambée au Munster from Great British Chefs. Visit their website for more Alsatian recipes]
Tarte Flambée au Munster wine match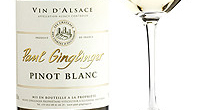 This filling recipe with its strong cheese cries out for a full-bodied flavoursome white to cleanse the palate and stand up to the Munster. We love the Domaine Ginglinger Pinot Blanc for its fruit and its minerally freshness.
Domaine Ginglinger, Pinot Blanc 2015 £10.95 from The Wine Society