As much as we at Winerist love talking about, writing about, and especially drinking wine, we also have a special place in our hearts for Uisge Beatha, the water of life… more commonly known as whisky! This distinguished spirit has been around since at least 800AD, originating with the Scots and the Irish (both claim to have invented whisky – or whiskey, if you're Irish – but neither has definitive proof, so for the purposes of this article we'll call it a draw) and has been enjoyed by millions around the globe ever since.
There's a plethora of household names out there which we all know and love, from Glenlivet Scotch to Bushmills from Ireland and, of course, Maker's Mark Kentucky Bourbon. However, make no mistake – if you venture a little off the beaten track, you'll soon discover that the world of whisky, and indeed the whiskies of the world, can be both weird and wonderful in equal measure. We've been on the hunt for the weirdest whiskies around and have compiled a shortlist of the best and most bizarre bottles out there for a more unusual drinking experience. Slàinte!

Credit: rogue.com and dramming.co.uk
Fishky
Sounds appetising, no!? Fishky is the brainchild of independent bottler, Stupid Cask, who took a (perfectly good) single cask Bruichladdich whisky from the Scottish Isle of Islay and finished it in a barrel which previously contained… herring. Yes, herring. Stupid Cask were inspired in this unusual endeavour by Scottish history, which shows that distillers may have used fish casks for the same purpose in the dim and distant past.
There's probably a reason why this particular method of production didn't stick around into the present day, though. If you peruse the reviews of Fishky on the Stupid Cask website, you'll notice that drinking Fishky is likened to 'chewing on rotten wood that was previously salted', and WhiskyCask unequivocally labels Fishky as 'the worst whisky I've ever tasted'.
Chipotle Whiskey
Rogue Ales and Spirits is a distillery and brewery based in Oregon, USA. Rogue brew and distil a whole lotta fun stuff (beverages on offer include Combat Wombat beer and Old Crustacean Barleywine) but perhaps their most intriguing creation is Chipotle Whiskey.
The process is actually pretty cool… spicy chipotle chillies are grown on Rogue's own farms in Independence, Oregon. Once harvested, they are dry-smoked for 24 hours over cherry and alder wood before being placed into the oak barrels with the whiskey itself and aged for several months. It's an intriguing and certainly a very creative addition to the usual whiskey-making process.
The result? Well, it's a controversial one. Rogue themselves describe their whiskey as 'smoky and spicy… unlike anything you've ever tasted', whilst the Whiskey Wash website laments Chipotle Whiskey as a 'distressing cacophony of a spirit… I honestly can't fathom why it got made'. Ouch.
Snake Whiskey
Because who wouldn't want a whiskey with an entire cobra in the bottle? Snake whiskey traces its origins back to traditional Chinese medicine, where it was considered to have important curative and reinvigorating properties. The principle is simple: the entire snake is placed into a bottle of whiskey, which neutralises its venom and absorbs the 'essence' of the snake before being drunk. Lovely.
Fun Fact Alert: bottles in which the snake is coiled as if to strike are particularly prized as the snake's position suggests it was fierce in spirit and will make the drinker fierce in turn!
If this sounds like your cup of tea (or dram of whiskey) snake whiskey can be found across South-East Asia from Vietnam to China, with the Huaxi night market in Taipei particularly renowned for the wide selection of snake spirits on offer.
Ardbeg Space Whisky
Nestled on the remote Scottish island of Islay is the Ardbeg distillery, which has been manufacturing world-famous Scotch for over 200 years. In 2011, Ardbeg decided to do something a tiny bit different and create the world's first ever space whisky, to find out what effect (if any) a sojourn in outer space had on an unmatured Ardbeg single malt.
Actually, this one is really quite fascinating. A vial of whiskey was sent up to the International Space Station, where it orbited the earth 15 times a day travelling at a mind-boggling 17,277 miles per hour. Meanwhile, an identical vial was kept safely in Scotland at the Ardbeg distillery. The space whisky touched down on earth in Kazakhstan in April 2014 and the two samples were compared. There were very clear differences between the two, with the space sample revealing a unique profile of subtle, smoky flavours never found before in an Ardbeg whisky.
Sadly, just one small vial of Ardbeg whisky made its way into space so there's currently no way of trying it for yourself… but who knows what the future holds?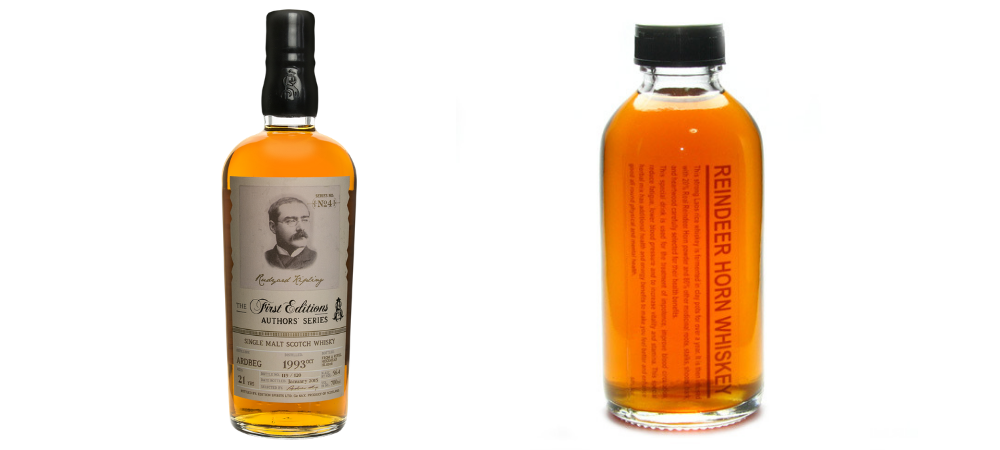 Credit: hunterlaing.com and thedrinksbusiness.com
Hunter Laing Authors' Series
This one is definitely for all you book lovers out there. Prestigious blender and bottler Hunter Laing carefully paired four exclusive single malt whiskies with a famous author, matching the character of the whisky to the author's life and work. The range began with four expressions (Charles Dickens, Rudyard Kipling, Edgar Allen Poe and Robert Louis Stevenson) and has since expanded to include a whole plethora of wonderful writers including Tolstoy, Dumas and one of my own personal favourites, Thomas Hardy.
Each whisky is just as world-class as its literary namesake – the Charles Dickens is a Macallan 1993 which imitates Dickens's sumptuous, comforting prose style in its warm notes of dried fruit and treacle, whilst Rudyard Kipling is paired with a 21-year-old Ardbeg which matches all the intensity and complexity of this wonderful author's works.
Be warned, though – as fabulous as these expressions are, they don't come cheap. Each bottling was strictly limited, with less than 300 bottles of each, and the price tags are equally as impressive. Expect a bottle of the Rudyard Kipling to set you back a cool £900!
Reindeer Antler Whiskey
Although the name may conjure up images of ice, snow and freezing tundra, reindeer horn whiskey is in fact another product of South-East Asia. It's a traditional Thai rice grain whiskey which is infused with reindeer antlers for several months before consumption. The horns are believed to have a whole host of health benefits, including increased vitality and virility (there's a great 'horny' joke in there somewhere…) whilst some even believe that drinking this particularly whiskey can improve your social status!
If these don't quite tickle your fancy (fishky, we're looking at you…) then how about some maple whiskies? And for all things whisky, women and film, don't miss our recent Q&A with Alwynne Gwilt, ambassador for The Balvenie!