At Winerist, our team has a passion for uncovering the hidden gems of the wine world and there's nothing quite as thrilling as the annual revelation of the World's Best Vineyards' Top 50 list. This curated collection of the most incredible vineyard experiences is a celebration of all things wine – from the art of winemaking to the sheer pleasure of savouring a glass of this liquid poetry we've all come to adore.
What makes this list so coveted is the authentic creativity that lies behind each entry. It's not just about the wines; it's about the stories, the people, and the places that bring the vineyards to life. The Top 50 is a testament to the dedication and passion of winemakers and the magic they weave into every drop.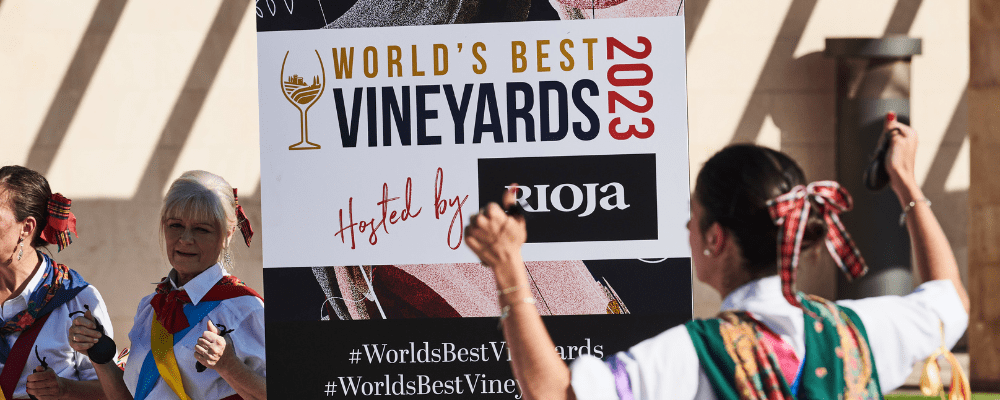 Spanning five continents, these wineries are more than just tasting rooms; they are havens of discovery, where visitors can immerse themselves in the beauty of the grape and the art of transformation. From the moment you step foot on these hallowed grounds, you know you're in for an extraordinary journey.
The diversity of the list is staggering. You'll find modern architectural wonders that blend seamlessly with their surroundings, offering a glimpse into the future of wine culture. UNESCO-protected ancient cellars transport you to eras long past, where the very essence of history is aged to perfection.
WORLD'S BEST VINEYARDS 2023: UNRAVELING THE ESSENCE OF RIOJA'S FINEST
As the sun-drenched landscape of Rioja embraced us, the Winerist team embarked on a journey to discover the world's best vineyards of 2023. With each venue we visited, we not only experienced exquisite wines but also unearthed the stories that made these wineries unique. From breathtaking architecture to blindfolded lunches, this journey through Rioja was nothing short of extraordinary. What awaited us was not just exceptional wines but genuine experiences that left us captivated and connected to the heart and soul of Rioja.
DAY 1:  RIOJA VEGA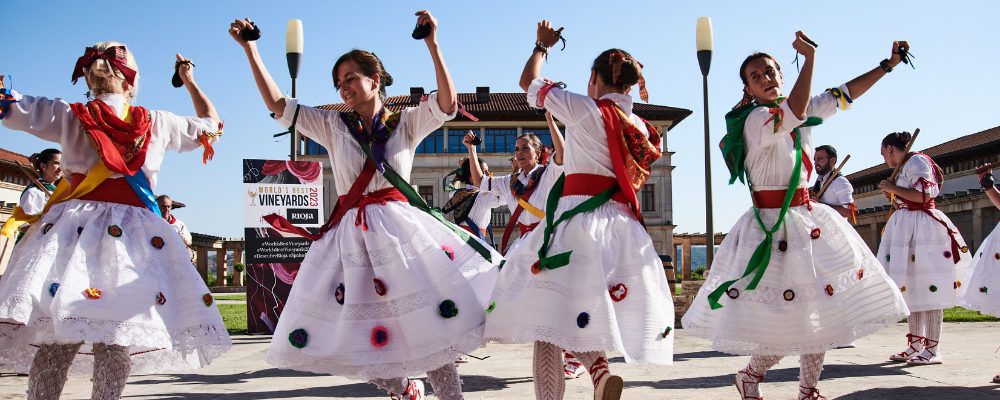 Our journey commenced on day 1 at Rioja Vega, where traditional dances started off the evening with infectious energy and was nothing short of magical. The scorching heat of 35 degrees at 7 p.m. was no match for the warmth of the welcome we received. The evening breeze left us in awe as we sat on the terrace, overlooking the picturesque valley draped in vine rows. The dinner was a culinary delight, with flavours that perfectly complemented the incredible wines of the evening. The Tempranillo Blanco and Rioja Vega con Gracia, a remarkable Graciano, stood out with their distinct characters, leaving an unforgettable impression on our first night in Rioja.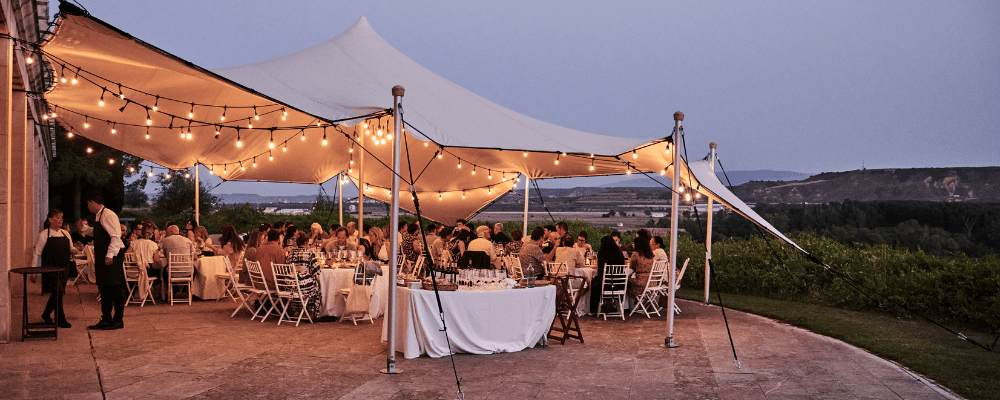 DAY 2: BODEGAS FRANCO-ESPAÑOLAS
Day 2 of our journey kicked off with a visit to Bodegas Franco-Españolas, a prominent member of the esteemed Rioja Bordón Group.
Situated in the heart of Logroño, the winery's location may lack the traditional vineyard experience, but it compensates with a unique blend of art and wine culture. Bodegas Franco-Españolas cleverly utilises its vast cellars to host captivating art exhibitions and engaging interactive events. This innovative approach to wine tourism adds a refreshing dimension to the visit. There is a standout gem in their collection – the Diamante wine. This particular vintage boasts a remarkable history, reportedly once enjoyed by none other than Queen Elizabeth herself.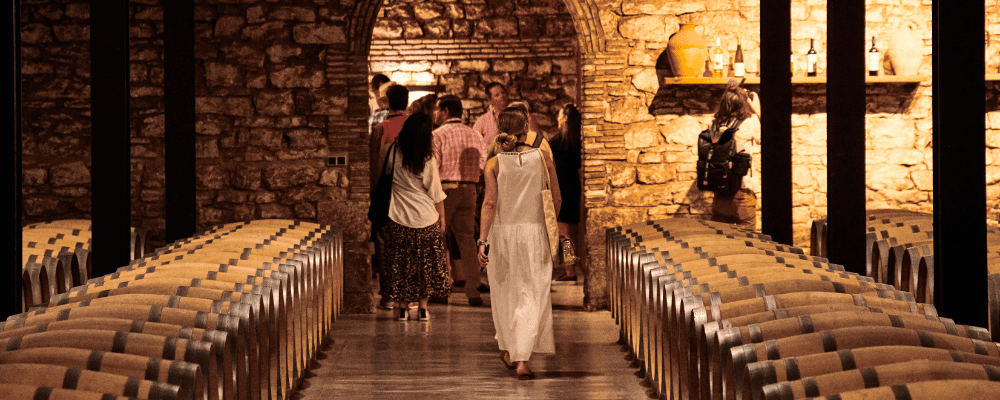 DAY 2: EGUREN UGARTE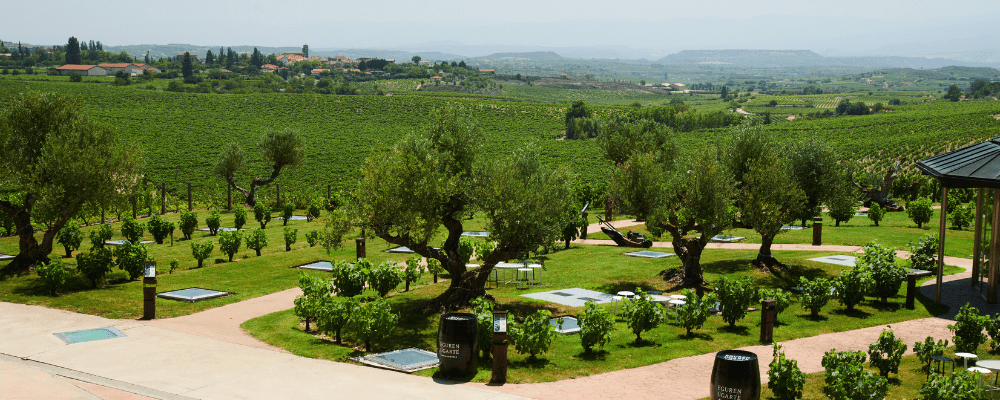 On the second day in the afternoon, our adventure continued with a captivating visit to Eguren Ugarte, an estate built in 1989 by the 5th generation of the Eguren wine-making family. What sets this winery apart is its unique offering of wine storage in various niches within its 2,000 metres of ancient caves, which patrons can rent on an annual basis to store their cherished wines.
Eguren Ugarte is nestled in a breathtaking landscape, surrounded by majestic mountains and seemingly endless vineyards. Here, we were treated to an exceptional and truly one-of-a-kind experience: a blindfolded lunch. The dedicated staff at the winery were incredibly gracious and attentive, guiding us through this sensory adventure. They assisted us in locating the wines and selecting the appropriate utensils for each dish, creating a culinary journey that relied solely on our sense of taste and smell. This unique wine and food pairing experience pushed us to fully immerse ourselves in the flavours and aromas, making it an unforgettable part of our visit.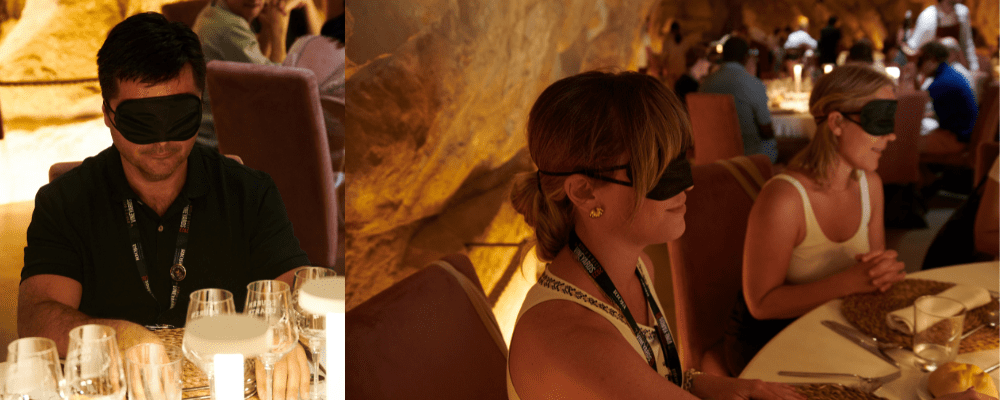 DAY 2: MARQUES DE RISCAL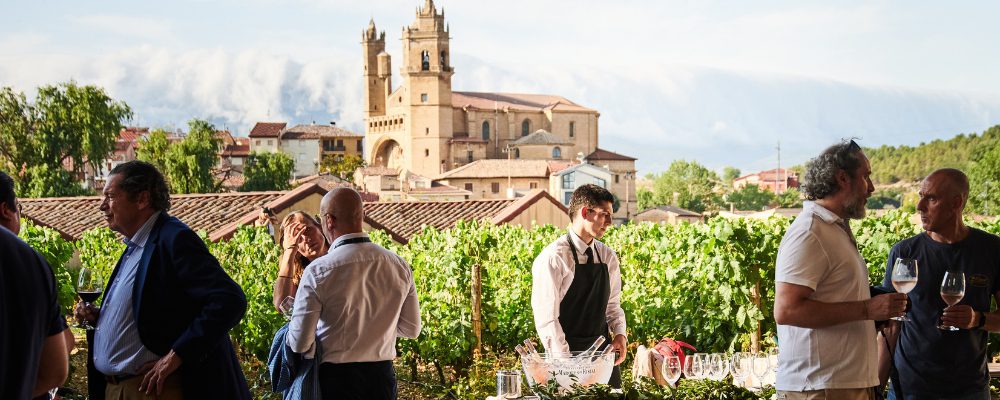 Day 2 concluded with a visit to Marques de Riscal, an experience that left us in awe. The architecture of the estate, bathed in the soft, enchanting light of the setting sun, transported us to a realm of unparalleled beauty. It was a mesmerising dance of design and nature.
The culinary delights provided at Marques de Riscal were nothing short of exceptional, making it the gastronomic highlight of our entire journey. Every dish exuded exquisite craftsmanship, but the Jamón station stole the show, with a perpetual queue of eager patrons waiting to taste more. After all, when in Rioja, one can never have enough of the sublime Jamón Ibérico.
The wines were, without a doubt, outstanding. To add to the sense of privilege, we were graced with the opportunity to taste a vintage from 1959, a gesture that reflected the honour bestowed upon us as guests of WBV 2023. It was an unforgettable experience that truly elevated our visit.
DAY 3: BARRIO DE LA ESTACIÓN
On Day 3, our journey commenced with a visit to Barrio de La Estación, an assemblage of five wineries conveniently situated within walking distance of one another in the charming town of Haro. The wineries we had the pleasure of exploring included CVNE, Bodegas Gómez Cruzado, Bodegas La Rioja Alta, S.A, Bodegas Muga, and Bodegas Roda.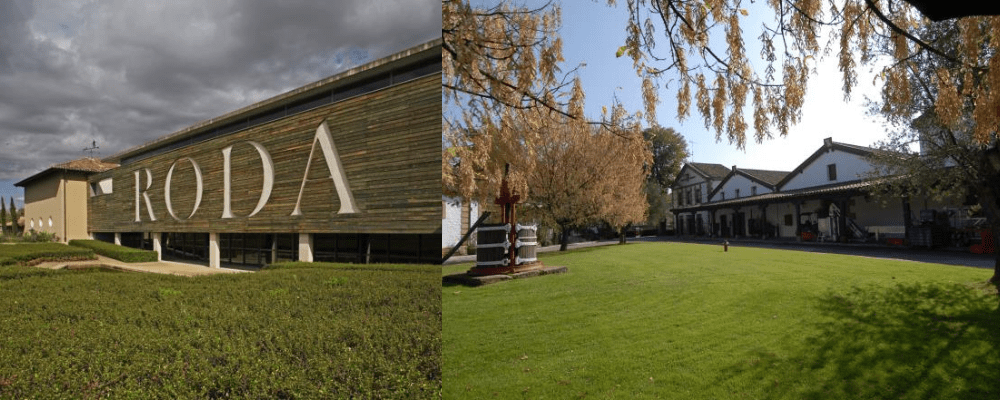 DAY 3: VIVANCO
At Bodegas Vivanco, founded in 1915, the rich world of vinous culture finds its celebration in myriad forms. This historic establishment, nestled in the medieval town of Briones, boasts a remarkable Museum of Wine Culture, spanning an impressive 4,000 square meters of permanent exhibition space. Visitors, ranging from local children to oenotourists, are not only welcomed but actively encouraged to delve into the artistry of winemaking.
Before immersing themselves in the world of wine, guests can wander through the enchanting Garden of Bacchus, a sanctuary housing an astonishing array of 220 grape varieties, both international and indigenous.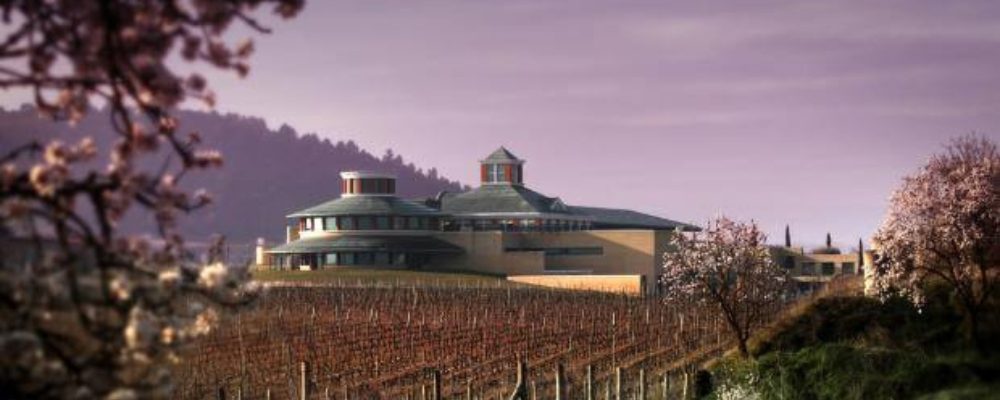 Within the confines of the futuristic winery, constructed in 1990, a Gastrobar awaits, where an exquisite selection of wines is thoughtfully paired with tapas-style dishes. For those seeking a more comprehensive dining experience, a restaurant caters to a diverse range of occasions and palates.
The Vivanco family's dedication to sharing their extensive knowledge and passion for wine is evident. Don't hesitate to ask them your most burning questions, as they are eager to impart the wisdom they've accrued over the years.
DAY 3: BERONIA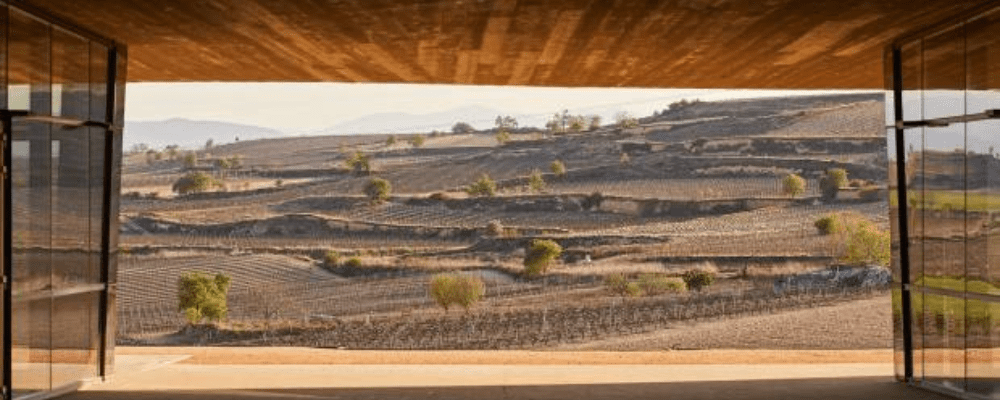 Sustainability is at the core of Bodegas Beronia's winemaking ethos. Its new winery folds into the sweep of the Rioja landscape, expertly designed to minimise its impact on the environment in more ways than one. Using rainwater, natural light and geo-thermal energy, the winery produces its award-winning range of traditional wines in the most modern way possible. Celebrating its 50th anniversary in 2023, the winery will soon welcome visitors to enjoy food and wine in an authentic 'txoko' – a uniquely Basque gastronomic experience.
DAY 4: BODEGAS LA EMPERATRIZ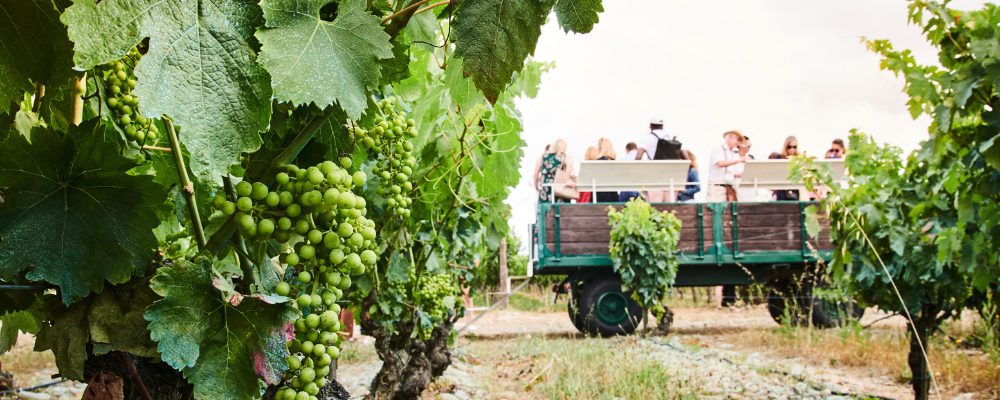 In the morning of Day 4, we ventured to Bodegas La Emperatriz, a delightful family-owned winery that exudes an intimate ambience. Nestled on the estate are three cozy guest houses, surrounded by a picturesque garden nestled among the vine rows. Here, you can immerse yourself in the tranquil beauty of their farm, where you'll encounter chickens and horses roaming the property. It was a truly serene and heartwarming experience.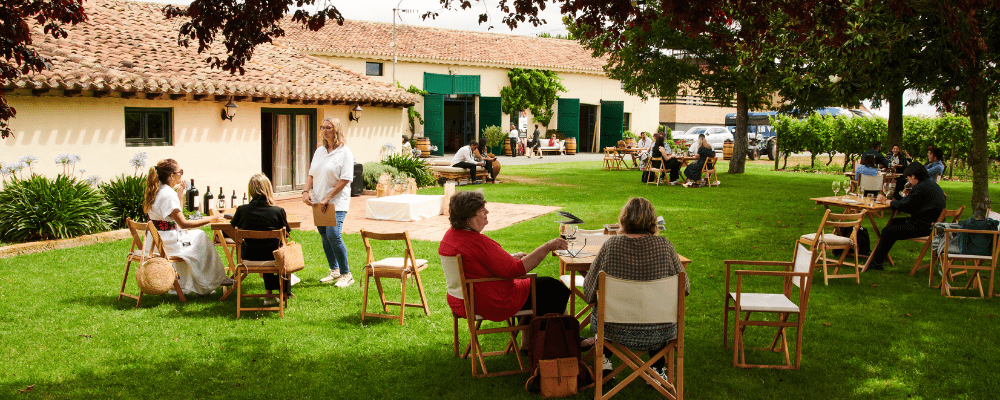 DAY 4: BODEGA YSIOS
In the afternoon of Day 4, we reached the pinnacle of our Rioja journey with a visit to Bodega Ysios, a truly remarkable winery that left us utterly speechless. Upon our arrival, the warm and hospitable staff greeted us with hats, a thoughtful gesture given the scorching heat outside.
As we approached the awe-inspiring building, a delightful surprise awaited us: a delectable spread of oysters perfectly complemented by the Ysios Blanco 2021, a 100% Viura wine. This exceptional pairing set the tone for our visit, offering a taste of the extraordinary experiences to come.
Our exploration continued as we delved into the cellars and explored the architectural marvel. The journey led us to the Ysios Finca Lagunazuri 2018, a 100% Tempranillo, which was thoughtfully paired with a tantalizing beef tartare served on a bed of ripe tomatoes.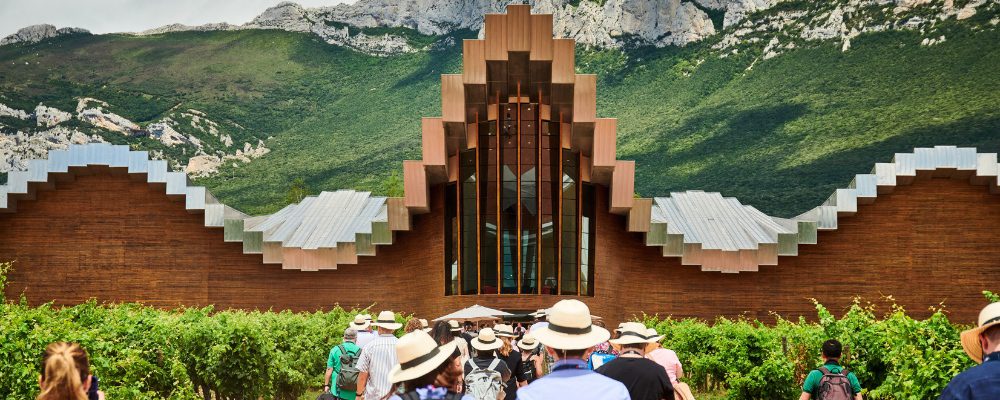 Next, we had the pleasure of experiencing "Ysios Colección Avant-Garde," a truly exceptional wine that is limited to a mere 300 bottles. This extraordinary wine, known as Blanco Ánfora, undergoes a unique process involving spontaneous fermentation with its skins within a clay amphora. It represents an authentic revival of traditional winemaking in its purest form, as eloquently described by Ysios.
Our wine tasting journey continued with yet another outstanding offering, "Ysios Finca El Nogal." This remarkable wine is crafted from a 1.3-hectare vineyard located in Elvillar, planted all the way back in 1960. Situated between 570 and 580 meters above sea level, with an east-west orientation and a south-west exposure, this vineyard boasts exceptionally poor yet deep soil. Coupled with its westward exposure, this results in a relatively short vegetative cycle, low yields, and grapes rich in concentration. "Ysios Finca El Nogal" is exclusively composed of 100% Tempranillo grapes.
To conclude our tasting adventure, we savoured "Ysios Rosé Garnacha," a blend sourced from two distinct and unique terroirs in Rioja: the Rincón de Olivedo area and La Pedriza in Tudelilla. This exquisite blend is augmented with a touch of Viura and Tempranillo from Rioja Alavesa. It was a perfect pairing with a delightful strawberry sorbet, culminating our visit to Ysios on a memorable note.
THE WORLD'S BEST VINEYARDS AWARDS TOP 50 LIST
Held at Beronia winery on the evening of the third day, the awards ceremony was hosted by renowned English wine commentator Tim Atkins. With winemakers, vineyard owners, press and members of the wine industry from across the globe, the ceremony was an incredible celebration of wine tourism by the world's best.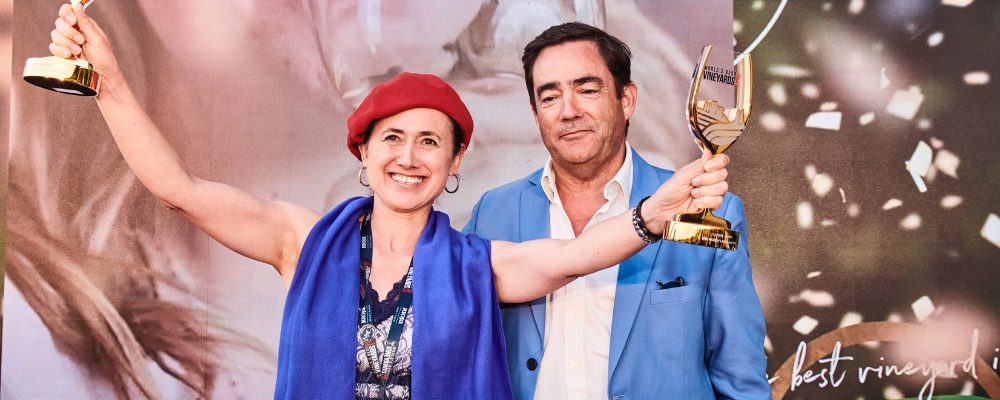 #1 Catena Zapata
Mendoza, Argentina.
They say you don't know Malbec, until you've tasted Catena Zapata. Thought by many as the forefather of Argentina's international success and recognition in wine production, Catena Zapata is a wine experience to behold. Inspired by Mayan temples, the pyramid-shaped winery welcomes visitors with an array of unique experiences including the 'Blending Games' experience which turns you into a winemaker for a day, and the 'Wine and Music' multi-sensory session which brings the wines to life in novel ways.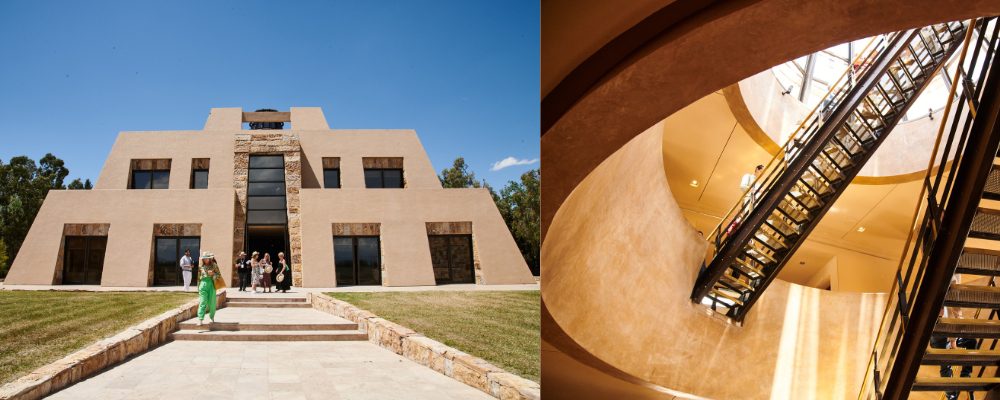 #2 Marqués de Riscal Rioja, Spain.
Founded in 1858, this is where the first ever Rioja wines were bottled. This iconic winery boasts recognisable architecture, renowned Michelin-starred dining, and a rich history of producing extraordinary wines. The architectural masterpiece is now a familiar sight on the Rioja landscape, a futuristic aesthetic belying the history it encases. With 61 rooms, visitors can immerse themselves in the vineyards, and explore by foot, bike or horse, or relax within the Vinothérapie spa.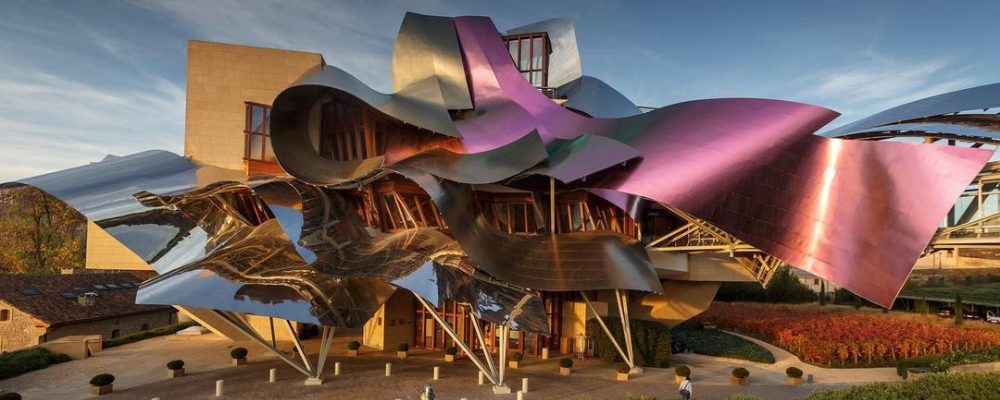 #3 VIK
Cachapoal Valley, Chile.
A visionary blend of wine, architecture, landscape and luxury, the winery is set among the vines with the mighty Andes providing a stunning backdrop. The stunning hilltop retreat offers superb dining experiences and an array of activities including horseriding or biking around the vines, cooking and yoga classes, a wine spa and infinity pool. For supporters of sustainability, this is THE wine destination for you. Everything about this estate is a result of a deep commitment to sustainability and their ethos of 'Holism'.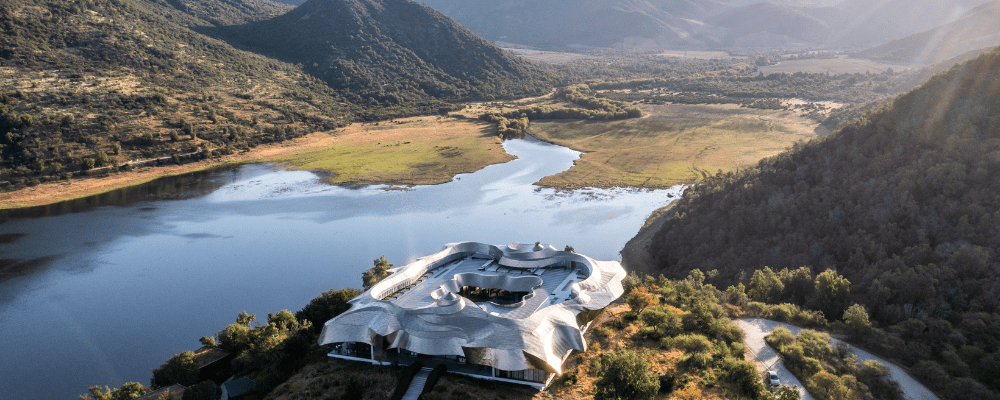 #4 Creation (South Africa)
#5 Château Smith Haut Lafitte (Bordeaux, France)
#6 Bodega Garzón (Uruguay)
#7 Montes (Chile)
#8 Schloss Johannisberg (Germany)
#9 Bodegas Salentein, (Mendoza, Argentina)
#10 El Enemigo Wines, (Mendoza, Argentina)
#11 Rippon (New Zealand)
12. Weingut Dr. Loosen (Germany)
13. Finca Victoria – Durigutti Family Winemakers (Argentina)
14. Domäne Wachau (Austria)
15. Quinta do Crasto (Portugal)
16. Quinta do Noval (Portugal)
17. d'Arenberg (Australia)
18. Château d'Yquem (France)
19. Château Pape Clément (France)
20. Jordan Vineyard & Winery (USA)
21. González Byass – Bodegas Tio Pepe (Spain)
22 Maison Ruinart (France)
23. Champagne Bollinger (France)
24 Bodega Colomé (Argentina)
25. Viñedos de Alcohuaz (Chile)
26. Henschke (Australia)
27. Abadía Retuerta (Spain)
28. Brooks Wine (USA)
29. Ceretto (Italy)
30. Bodega Bouza (Uruguay)
31. Champagne Billecart-Salmon (France)
32. Klein Constantia Winery (South Africa)
33. Château Pichon Baron (France)
34. Château de Beaucastel (France)
35. Szepsy Winery (Hungary)
36. Delaire Graff Estate (South Africa)
37. Viña Casas del Bosque (Chile)
38. Château Mercian Mariko Winery (Japan)
39. Clos Apalta (Chile)
40. Graham's Port Lodge (Portugal)
41. Château Kefraya (Lebanon)
42. Quinta do Seixo (Sandeman) (Portugal)
43. Viu Manent (Chile)
44. Penfolds Magill Estate (Australia)
45. Disznoko (Hungary)
46. Veuve Cliquot (France)
47. Chateau Mukhrani (Georgia)
48. Bodega Diamandes (Argentina)
49. Bodegas Muga (Spain)
50. Vina Errazuriz (Argentina)
It's a wrap! We hope you enjoyed following our exploration of Rioja and the World's Best Vineyards in 2023. Watch this space for 2024!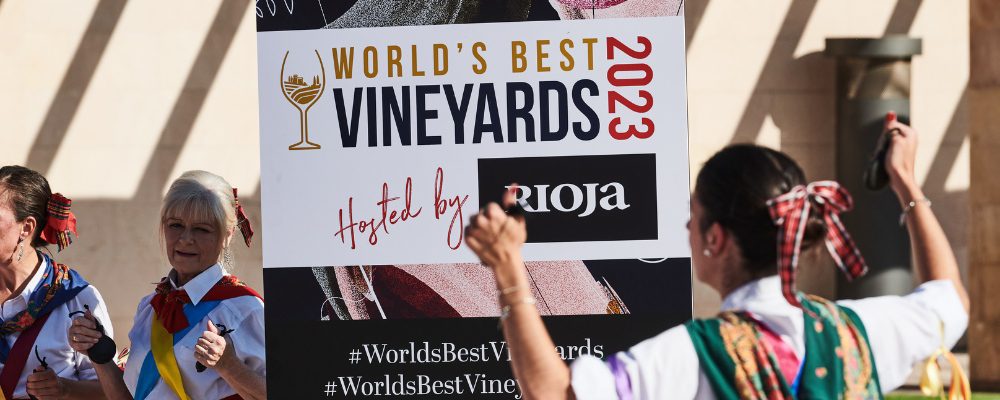 To read more about the World's Best Vineyards, please visit https://www.worldsbestvineyards.com/