In the 'Iliad', Homer mentions the tribes of Central Greece, praising their extensive sun-kissed vineyards. The wine culture of Central Greece is among the most historically influential centres of viticulture in existence, and today produces over a fourth of all Greek wine. Comprising the southern section of the Greek mainland and the island of Evia, visitors will enjoy a picturesque coastline, verdant mountain ranges, rivers, lakes, rich flora and fauna, remarkable archaeological sites and vineyard-topped hillsides. The nine Protected Geographical Indication (PGI) wine zones of Central Greece are: PGI Atalanti Valley, PGI Slopes of Knimida, PGI Opountia Locris, PGI Phthiotis, PGI Parnassos, PGI Thiva, PGI Lilantio Pedio, PGI Evia and PGI Ritsona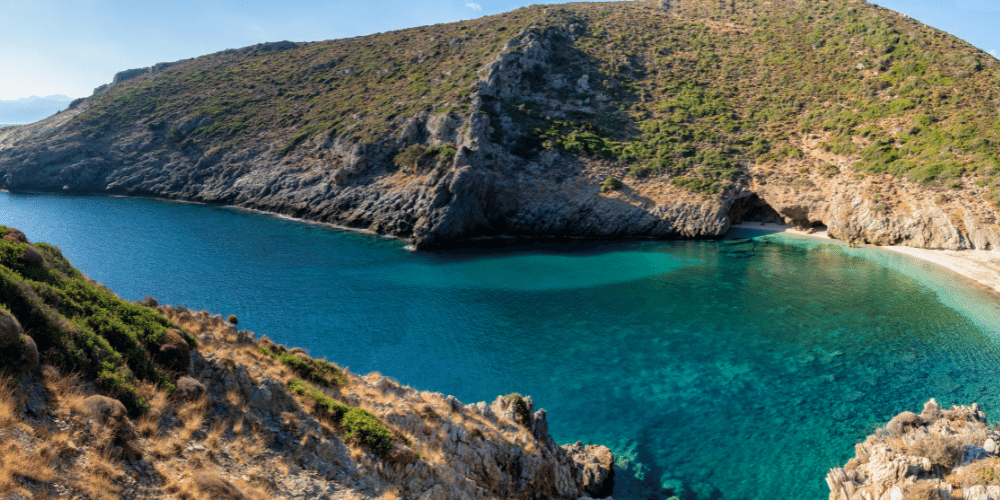 Evia Island
The ancient Greek architecture of columns and oracles intertwines with nature amid the varied landscape. One of the region's main attractions is the imposing Mount Parnassos, scaling 2,457 meters above the scenic countryside. The mountain's mythological history references Dionysus, Apollo and Corycian nymphs, while excellent hiking guarantees incredible views of nature and ancient ruins. Mt Parnassos is home to thick forests of black pine and Kefalonian fir and dozens of trails, as well as the famous Corycian Cave, where the Nymphs and the Greek god Pan were worshipped during antiquity.
The PGI Parnassos wine zone varieties of wine are produced on the northern and eastern slopes of the mountain. Located in the southwestern foothills, the archaeological site of Delphi, home to the mythic oracle, is known worldwide. Considered the most important oracle of Greece, the ruins at the archeological site were revered for generations and are well worth a visit today.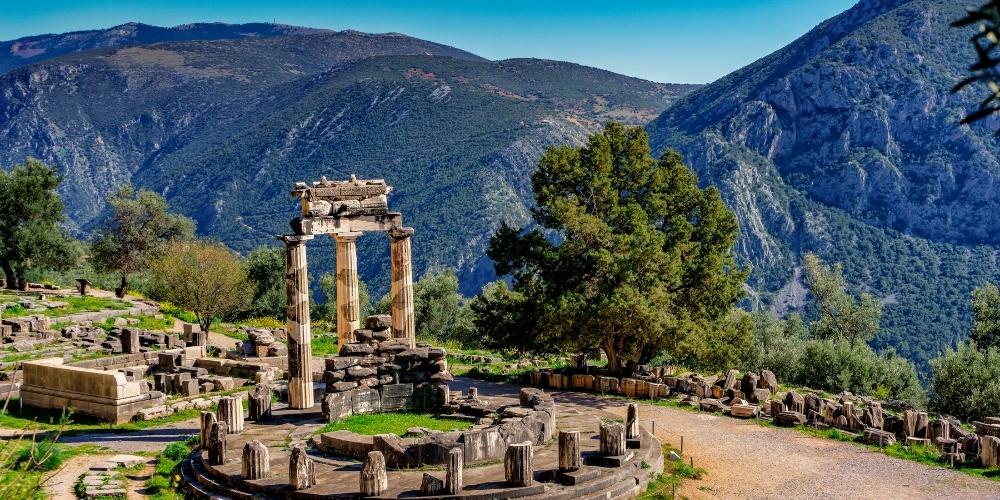 Delphi
In the northeastern section of the mainland, the wine region of Phthiotida is being developed on the slopes of the Othrys, Oiti, Kallidromo and Knimida mountains and produces the PGI Phthiotis, the PGI Slopes of Knimida,  PGI Atalanti Valley and PGI Opountia Locris wines. Sample excellent wines while visiting the famed archaeological sites of Thermopylae, ancient Elateia, the ancient cities of Ales, Echinos and Kynos and the castles of Lamia and Mendenitsa.
In the south, the wine region of Viotia is home to its own scattering of ancient sites. Visitors here can also see the medieval castle in Livadia, the monastery of Hosios Loukas, the Thebes Archaeological Museum, the Schimatari Archaeological Museum and the Cheronia Archaeological Museum. The mountain town of Arachova is a renowned winter tourism destination and visitors to the region can enjoy the local PGI Thiva wines.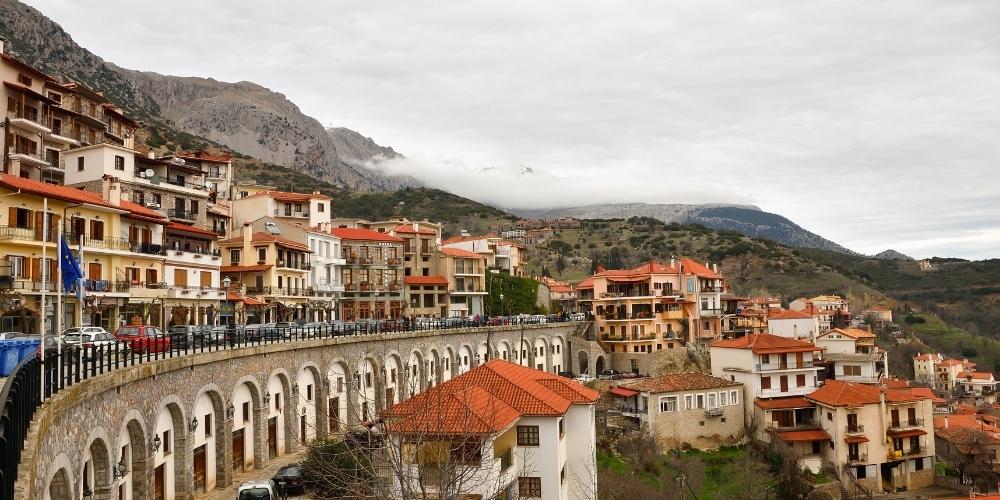 Arachova
The island of Evia (PGI Evia, PGI Ritsona and PGI Lilantio Pedio wine zones), the second largest in Greece, is an island of outstanding beauty with forests, waterfalls and stunning beaches connected to the mainland by the bridge of Chalkida. The prehistoric settlement of Manika, the fortress of Karababa and the archaeological museum in Chalkida, ancient Lefkanti to the south and ancient Eretria even further south are just some of the sites at which visitors to Central Evia can stop. Southern Evia features excellent vineyards amongst a Southern scattering of ancient sites. There is significant vine cultivation in Northern Evia, where the archaeological site of Artemissio is worth visiting. The Drimona Waterfalls of Evia are set amid breathtaking greenery and epic mountains, while the famous hot waters of Edipsos have been credited by ancient emperors and modern visitors alike for their healing power.
From the spectacle of Delphi to the winter wonderland of Arahova and Karpenisi and the island charms of Evia, Central Greece is a region full of diversity and wonder. Whether you're seeking culture, outdoor adventure or the excellent food and wine, discover it all in the historic heart of Greece.