At the Taittinger UK event, Romain participated in live tasks to secure first place
The Taittinger UK Sommelier of the Year competition recognises the very finest talent in wine service and The Vineyard Hotel's Romain Bourger has been awarded 'UK Sommelier of the Year 2019' at a live event which took place at The Savoy on Monday 8th July 2019.
Widely regarded as the premier accolade in UK wine service, past winners include some of the industry's leading lights when it comes to wine knowledge. Candidates are judged in front of an audience of wine industry leaders on their wine and drink expertise, as well as their ability to deal efficiently and knowledgeably with customers by demonstrating exemplary front of house skills.
When presented with his award, Romain said "I've competed six times, so patience is a virtue. I had a great time on stage today. I stressed quite a bit but kept it inside. I thought I was consistent throughout the day and am delighted to have come out on top".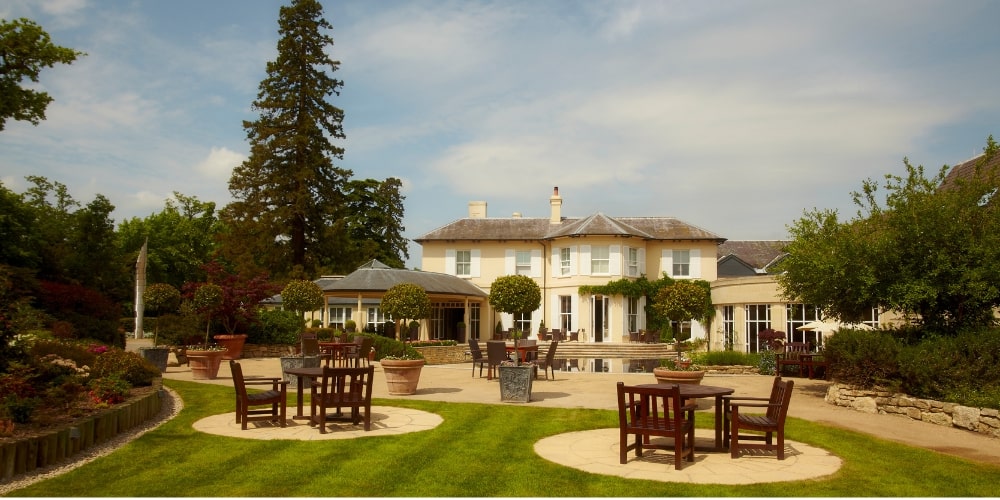 The Vineyard Hotel is home to six sommeliers from around the world, including the current Spanish Sommelier of the Year, Diego Gonzalez. The team is led by Romain, who has previously won Young Sommelier of the Year 2016 and Moet UK Sommelier of the Year 2017. All guests interact with a sommelier during their time dining at the UK's wine hotel which enhances the overall experience.
Andrew McKenzie, Managing Director of The Vineyard exclaimed "I think I was more nervous than Romain. Underneath that happy, relaxed exterior he must have nerves of steel. Since starting as a young assistant seven years ago, it has been a joy seeing Romain develop and grow into the rounded and talented individual he is today. It proves that humility and dedication to your craft can take you wherever you want to go in the world of sommeliers".
Romain knows his wines and with 30,000 bottles at the Berkshire hotel he needs to! A Short List and a Long List showcase some of the world's best wines. The Long List features 3,000 bins while the Short List offers 100 wines by the glass.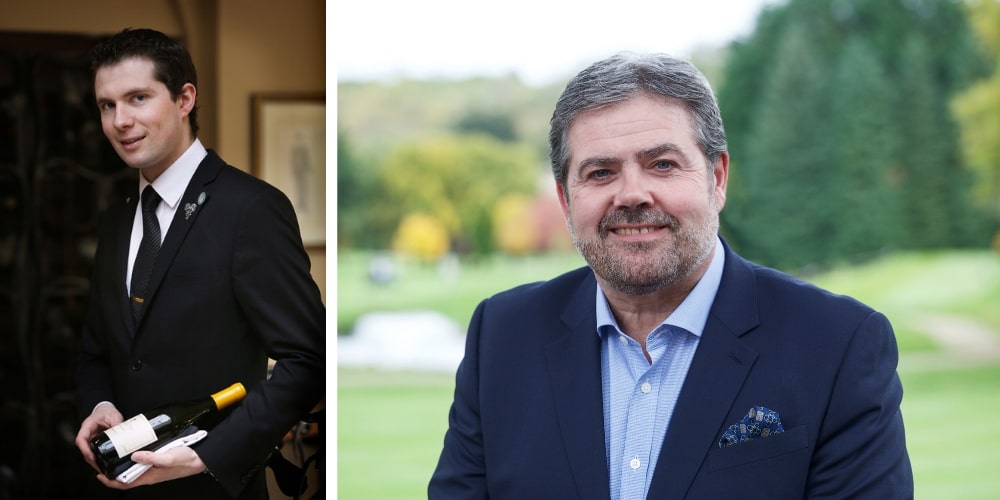 Romain Bourger on the left and Andrew McKenzie on the right
The journey to arrive at Romain's award has been a long one and he has competed in these awards six times. The 'Sommelier of the Year Award' process starts early each year with several regional finals to attend. The 12 successful candidates from the regional finals are later invited to attend the semi-finals and finals day in London. Candidates were judged on a written questionnaire, a blind tasting and a practical skill. The top six were asked to compete for a place in the final. The top three then competed in the final in the afternoon where, in front of a live audience, candidates were tested both practically and orally on errors on a wine list, food and wine matching, service skills and a blind tasting. Romain Bourger was awarded the top prize.

The Vineyard Hotel also offers wine qualifications and has the highest pass rate for WSET. Those interested in furthering their knowledge in wine can attend WSET courses at the hotel. Both levels 1 and 2 runs throughout the year. Founded in 1969 to help educate wine and spirit professionals, the WSET specialise in courses for wine enthusiasts. The course lasts a whole day and ends with an examination. Once wine lovers have already successfully passed Level 1, they can raise a glass in celebration and consider furthering their wine education with Level 2 which runs over two days.
The five-star Vineyard Hotel in Berkshire is home to 49 suites & bedrooms, an award-winning restaurant and bar and a 5 Bubble Luxury rated Spa from the Good Spa Guide.
The Vineyard Hotel is now home to the UK Sommelier of the Year 2019.
Romain's summer wine recommendations:

Bernhard Ott, Grüner Veltliner, Fass 4, Wagram, Austria, 2017 at
£47
Made from a local Austrian varietal from the Wagram region just north-west of Vienna. This example of Grűner Veltliner as subtle aromas of ripe green apple and pear, lemon and a touch of white pepper. It is made from a selection of the best small parcels of the estate and thus has a round texture and lively minerality. An excellent (and seasonal) matching it to say a poached egg with green asparagus and Hollandaise sauce.
Alsace Pinot Blanc, Josemeyer, Mise de Printemps, France, 2017 at £49
A very exciting grape at the moment, this particular Pinot Blanc mixes freshness, fruit and great texture. The wine is slowly fermented after a gentle pressing of 5-8 hours just to have a bit of skin contact to extract more aromas. It has a gentle, round texture on the palate and shows aromas of ripe pear, juicy red apple and peach. A delicious wine to have with a salad of cold salmon and a light orange and chili dressing.
Atelier Kramar, Bohem, Friulano, Brda, Slovenia, 2016 at £64
Made from the Friulano grape that has been kept with the skin for 4 days givong a creamy texture and delicate notes of acacia honey. The wine is made from a 65 years old vine and shows a great complexity. The cooler temperatures of 2016 gives it a vibrant freshness. The palate develops flavours of ripe orange, dry apricot and light bee wax. A great wine to have with white meat including chicken with a slight sweet and sour twist.

Joiseph, Roter Faden, Zweigelt/ Pinot Noir/ Bläufrankisch, Burgenland, Austria, 2017 at £54
This wine is a perfect example of an easy drinking red. It is made from local Austrian varietals and Pinot Noir vinified separately and then blended and has a low 11.5% ABV. It has a bright acidity and very low tannins. To me, it is the perfect red wine as it can be served chilled. It is also very versatile and can go with different food. I'd suggest it with some smoked duck breast with cranberry and a light balsamic dressing.
Te Mata, Gamay Noir, Hawkes Bay, New Zealand, 2018 at £41
Another light red wine made from the Gamay grape (also found in the Beaujolais region in France). This wine shows ripe summer fruit tones and well as a very juicy and crunchy palate. It can be served slightly chilled to lift its fruitiness. Amazing with roasted chicken and mixed vegetables (lightly caramelised in the pan).
Melville, Pinot Noir, Estate, Santa Rita Hills, CA, 2013 at £80
One of my favourite Californian Pinot Noir to date due to its freshness and juicy character. It comes from a cooler part and is made only using native yeast and old oak barrels and therefore isn't over-extracted. It has delicate cranberry, raspberry and red cherry notes as well as a light spiciness. The first thing that comes to mind with this lovely wine is barbecued pulled pork to match the intensity of flavour, but the great acidity would also cut through the richness of the pork.
Photo courtesy of The Vineyard Hotel
Did you enjoy reading this article? Leave us your feedback in the box below. And we would like to recommend you reading these interesting articles on English Sparkling Wines and what is The New Release from the Surrey Hills.