We at Winerist love August for many reasons (glorious sunshine, summer holidays and delicious fresh produce out of the garden, to name but a few) but the thing we are most looking forward to in the upcoming weeks is the chance to talk about one of our favourite red grape varieties … Pinot Noir! Pinot Noir Day takes place each year one August 18th, we and all our Pinot-loving friends around the world will be uniting to celebrate one of the most legendary grapes of all time.
We love Pinots from all around the world, from ethereal red Burgundy to cool climate Chilean, but one of our favourites is undoubtedly New Zealand with its bright, bold, energetic reds. New Zealand Pinot Noir has a personality and character all its own, with high acidity, silky tannin structure and a wide array of buoyant, bright fruit flavours. Not only do these characteristics make Kiwi Pinot a fantastic drinking red in its own right, but they also mean that these wines make the perfect pairing partner for a wide variety of delicious dishes.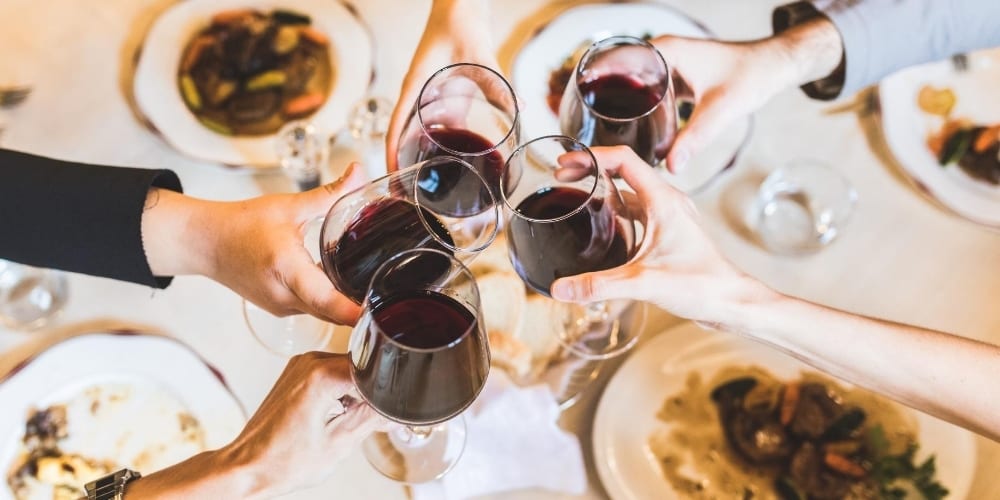 New Zealand is just as well-known for the outstanding quality of its cuisine and exceptional local produce as it is for winemaking, and no Pinot Noir Day celebration would be complete without talking about some of New Zealand's best food and wine combinations. In true Winerist style, we've done the hard work so you don't have to and put together our ultimate guide to New Zealand Pinot Noir food and wine pairing. All you need to do is choose your favourites and indulge!
Greenshell Mussels & Wooing Tree 'Blondie'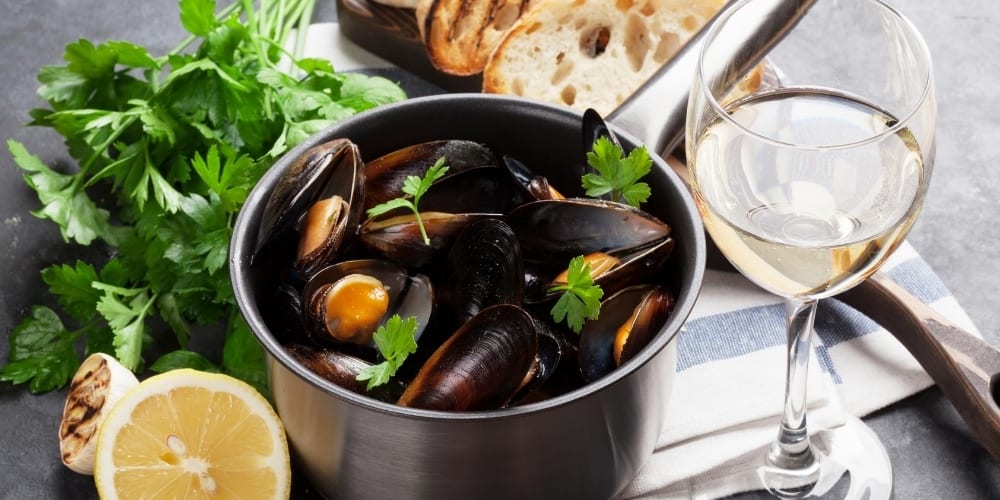 Our first fantastic pairing takes us both to the beautiful Marlborough Sounds and the dramatic scenery of Central Otago. The Marlborough Sounds is an ancient network of submerged river valleys forming a sprawling expanse of coastal bays, islands and inlets which not only offer one of Marlborough's best tourist spots but also produce some world-beating seafood! One of the Sounds' most famous offerings is the iconic greenshell mussel; these enormous, deliciously sweet and fleshy molluscs are sustainably farmed all around the region and offer the ultimate taste sensation for seafood lovers.
Mussels and seafood in general are normally best paired with a light, fresh white or rosé wine, and the unique Wooing Tree 'Blondie' Blanc de Noir ticks all our boxes. This perfectly pale pink wine is in fact made from 100% Pinot Noir grapes, handled very delicately during production to ensure a light, bright wine. With its high acidity, zesty aromas of nectarine, apricot and peach and a deliciously full finish, the Blondie is the perfect accompaniment to fresh Marlborough oysters enjoyed straight from the shell. (Just in case you needed any more convincing, the Blondie's has an A-list claim to fame … it is widely reported to be actress Reese Witherspoon's favourite New Zealand wine!)
Buy the Wooing Tree 'Blondie' here
King Salmon & Saint Clair 'Origin' Rosé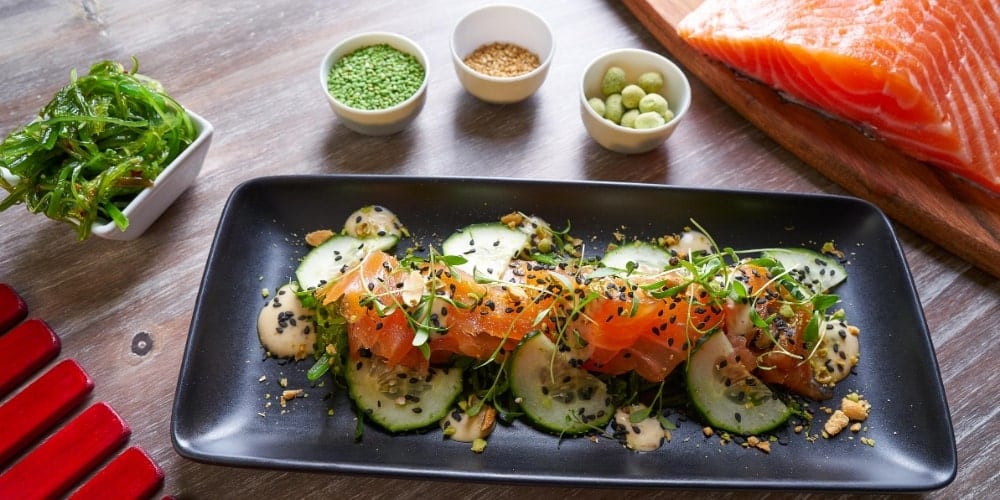 It's not only mussels that the Marlborough Sounds are famous for – this seafood mecca is also home to several marine salmon farms, where gorgeous King salmon are raised responsibly in the calm, clear waters. These fish are prized for their depth and richness of flavour and vivid orange/pink colour which makes them prized by many of New Zealand's best chefs for anything from sashimi dishes to hot and cold smoking. Some of our favourite ways to enjoy salmon include simply smoked with a light salad or grilled on the barbecue on warm summer evenings.
Regardless of how you prefer to enjoy your salmon dishes, the perfect bottle of wine will always elevate your dinner from a delight to a dream. We've kept our pairing local with a delicious number from Marlborough legends Saint Clair. This blend of Pinot Noir and local favourite Pinot Gris is a vibrant rose pink colour and offers a fabulously fun and full-bodied companion to salmon. Ripe aromas of watermelon, strawberry and cranberry are complemented by a creamy finish which is assertive enough to stand up to even the strongest smoked salmon, but yet will not overwhelm fish that is cooked more delicately.
Buy the Saint Clair 'Origin' Rosé here
Charcuterie Platters & Yealands Estate Single Vineyard Pinot Noir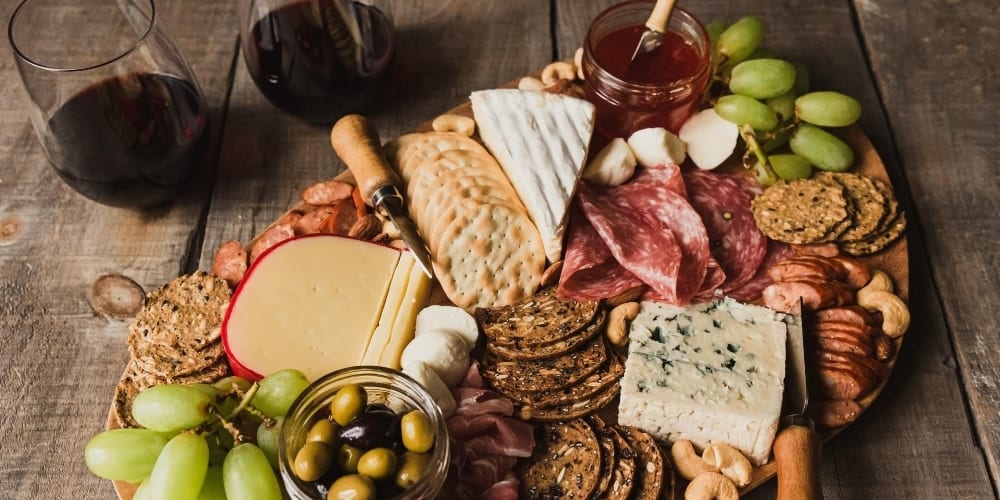 If you ever go on an adventure around the wine tasting rooms of New Zealand, you are certain to encounter excellent food at every turn – the wineries here are home to some of the best gastronomy that the country has to offer, from Three Hat fine dining to relaxed nibbles. For those seeking a laid back lunch, a staple of the Kiwi tasting room are the fabulous charcuterie platters that you are likely to find in most places you visit. Succulent local meats and cheeses are paired with home-grown olives and olive oil, delicious dips and freshly baked bread.
For all kinds of charcuterie meat from salami to prosciutto, we recommend the Yealands Estate Single Vineyard Pinot Noir. This elegant, structured wine from one of Marlborough's most famous producers is made using grapes from Yealands' striking Seaview Vineyard, which overlooks the Cook Strait and produces some of the estate's best fruit. Deep, seductive dark cherry, plum and violet petal notes on the nose give way to a beautifully spicy palate imbued with clove and vanilla flavours from time spent in French oak barriques – the perfect pairing for rich, earthy charcuterie meat! This wine is also vegan, vegetarian and gluten-free and works perfectly with hearty vegetable dishes such as butternut squash risotto and nut roasts.
Buy the Yealands Estate Single Vineyard Pinot Noir here
Lamb Shoulder & Palliser Estate Pinot Noir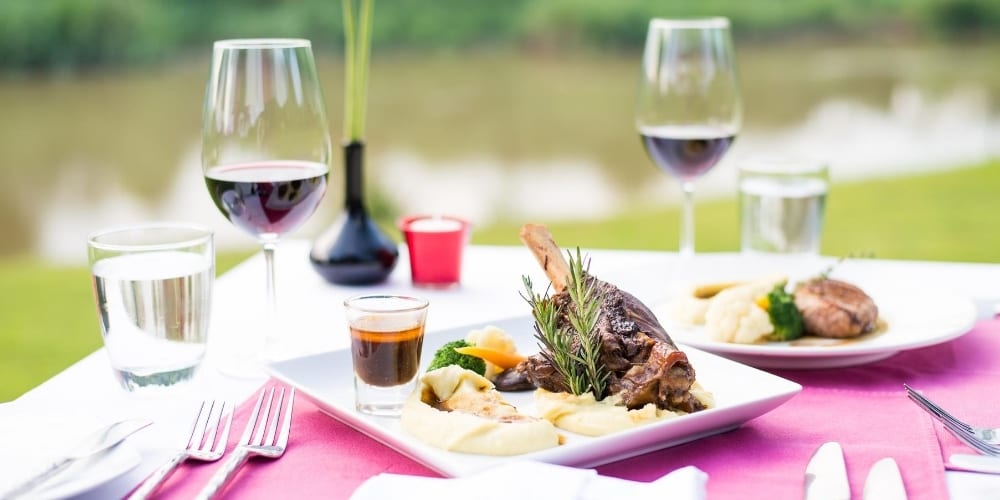 Perhaps New Zealand's most iconic gastronomic export, NZ lamb is enjoyed all over the world and widely renowned as offering some of the best quality to be found anywhere. In fact, the United Kingdom has been importing lamb from New Zealand since 1870! It is rare to peruse a menu in New Zealand and not find at least one lamb dish made from the freshest, locally sourced meat, and lamb and Pinot Noir very often come hand in hand as one of New Zealand's most legendary culinary combinations.
Fire up the barbecue and marinade a whole shoulder of lamb in lashings of olive oil, rosemary and garlic before slow cooking over a gentle heat for at least 4 hours … then pair with a bottle of Martinborough's finest Pinot Noir from Palliser Estate. This luscious Pinot delivers ripe, juicy red fruit by the bucketload (think cranberry and wild strawberries) along with herbal hints of sage and rosemary which sing in perfect harmony with a beautifully tender piece of lamb. A balanced finish with a touch of rose petal, velvety well-integrated tannins and a long finish make this a fantastic pairing that you'll want to savour all summer long.
Buy the Palliser Estate Pinot Noir here
Beef Tartare & Saint Clair Pioneer Block 'Tutu Block'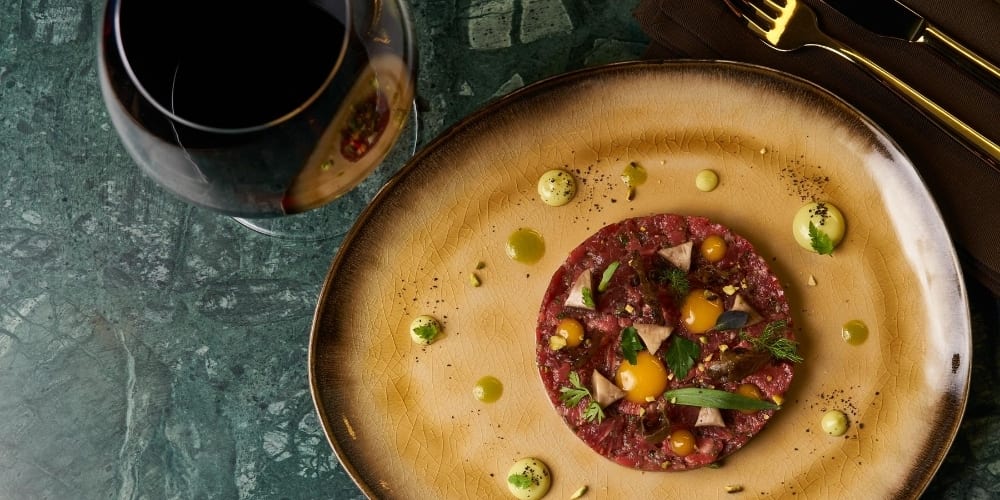 When the Winerist team visited New Zealand earlier in 2020 (remember life before lockdown, when we could travel to amazing places at the drop of a hat!?) we enjoyed amazing food all around the country – but one thing that we are still dreaming of is the several amazing beef tartare dishes that we sampled everywhere from Hawke's Bay to Marlborough and Central Otago! New Zealand beef is just as fresh and delicious as its lamb, and when combined with a just-laid egg and a sprinkling of seasoning, we think there's nothing better for an indulgent meaty treat.
The beauty of beef tartare is its simplicity; simply finely chop a gorgeous cut of premium beef, combine with diced shallots and season with sea salt, freshly ground pepper and a handful of fresh parsley, before gently cracking a fresh raw egg yolk on top. If you can resist long enough to open a bottle of wine before eating, the Saint Clair Pioneer Block 'Tutu Block' Pinot Noir is just the thing to make your tartare sing. This single vineyard Pinot is deftly balanced with aromatic floral and fruit aromas of rose petal, plum and mulberry alongside a substantial, savoury palate showing notes of coffee, freshly turned earth and a touch of cocoa. This wine is a dream companion for any red meat, and perfectly matches the richness of the egg yolk and raw beef.
Buy the Saint Clair Pioneer Block 'Tutu Block' here
Venison Haunch & Rippon Mature Vine Pinot Noir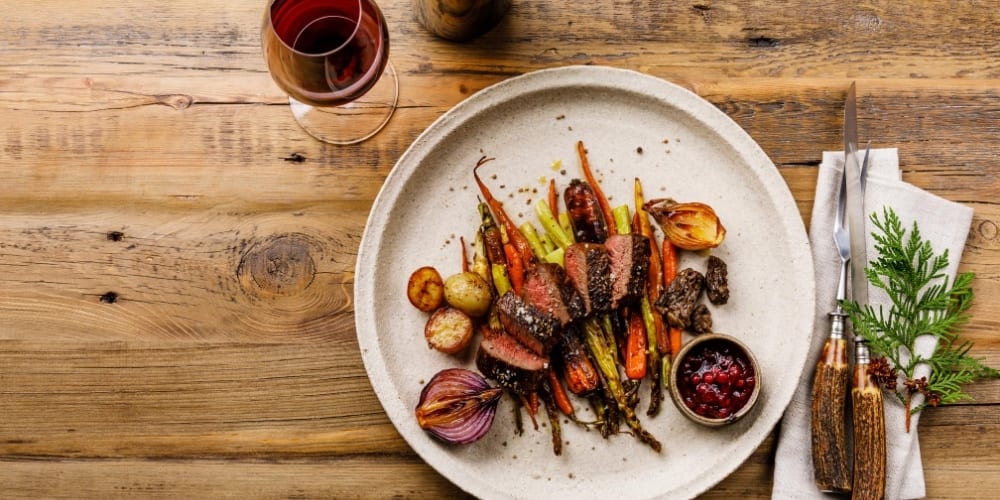 New Zealand excels in producing all kinds of grass-fed meat such as lamb and beef – but did you know that one of the best meats to enjoy here is in fact venison! Deer were originally introduced to New Zealand in the 1800s to provide hunting sport for European settlers, but it soon became clear that the species was thriving in the fertile grassland and deer farming is today a major agricultural industry in New Zealand. Fresh venison is a thing of beauty, and one of the best ways to enjoy it is a simple roast on the bone. This lean, flavourful red meat is succulent and tender, and will reward the patient chef after a long, slow, luxurious few hours in the oven, served with seasonal vegetables, potatoes dauphinoise and a glossy rosemary gravy.
A great meal requires a great wine, which is why we've chosen the Mature Vine Pinot Noir from iconic Central Otago producer Rippon. Not only are Rippon one of the most beautiful vineyards in the world, they are also one of the most sensitive and environmentally focused; the Mills family are famed for their commitment to biodynamic viticulture and preserving their breath-taking parcel of land in the Wanaka sub-region for generations to come.
Rippon's Mature Vine Pinot is referred to by the winemakers as 'the voice of Rippon', a nuanced and expressive Pinot which tells the story of some of the region's oldest Pinot Noir plantings. This is a complex, ethereal wine which evolves from dark, ripe cherry and plum to a twist of pepper, a sprinkle of dried wild herbs and finishing with a gorgeous earthy charred wood character on the palate. This is a wine that seems to enjoy being drunk, caressing the palate with the silkiest tannins and lingering on your taste-buds for as long as it possibly can. A real Pinot treat and a wine that deserves to be enjoyed with a knockout meal to experience it at its full potential.
Buy the Rippon Mature Vine Pinot Noir here
---
If you enjoyed this article make sure to check out our recommendations for the Best Pinot Noirs from New Zealand to try this summer and find out all about Pinot Noir in our article dedicated to this delicious grape variety.