We're a classy bunch in the UK, turns out. Forget French perfume, Belgian chocolates and silky Italian Lingerie; the way to a British heart is through our stomachs with grrrilled meat or steak as our top food choice to get us in the mood for love, so say the UK's no.1 home delivery recipe box, HelloFresh.
Smelling like a barbecue is the bigggest foodie turn-on
According to sensory scientist Marcia Pelchat, it's all about channeling our inner caveman. The smell of grilling meat does things to us that makes our DNA go nuts. Pelchat says "this is because of all the three elements of flavour, it's smell that rocks our dawn-of-man world. The sense of smell is lodged in an ancient part of the brain called the limbic system, which houses emotion and long-term memory. Smells trigger personal memories as well as atavistic, or ancestral, ones." Put like that and thinking about how it was cooking meat that changed us from apes to humans as it helped us grow our brains, this makes perfect sense.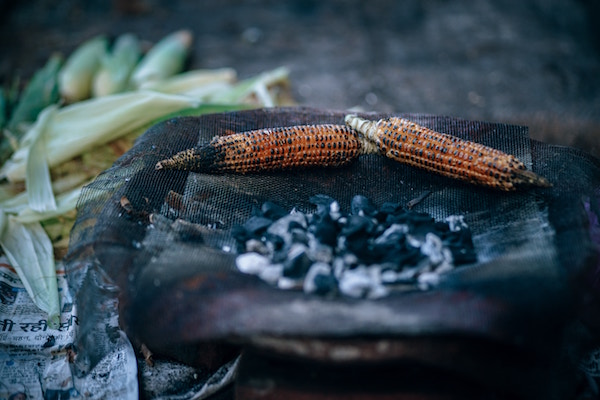 Steak and wine matches
To help seal the deal and lubricate (sorry) the dinner conversation, you'll need some delicious vino. Here are two beefy reds that each provide a perfect wine match with steak:
Cabernet Sauvignon: Let the meat protein soften those big Cabernet Sauvignon tannins, juicy blackcurrant flavours and cedary, mint leaf notes.
We love: Sussex Vale, Margaret River, Cabernet Sauvignon, Australia £13 on offer at M&S.
Malbec: Malbec and steak go together like ramalamalama gadingy, gadingy dong. It's the luscious blueberry, damson notes and full body that do it.
We love: Sainsbury's Morador Malbec, Argentina, £8.50. Also in Magnum for a bargainous £17!
As couples increasingly shun restaurants in favour of intimate nights at home on Valentine's day, a steak dinner accounts for 35% of menu choices, according to the recent study by HelloFresh, with a full roast dinner second choice at 22% and a spicy curry coming in third place with 17% of the vote. For the full survey, see here: https://blog.hellofresh.co.uk/valentines-day
"When it comes to food to get you in the mood, forget fancy delicacies – it's the good old British classics that are the clear winners," says Patrick Drake, Co-founder and Head Chef at HelloFresh.
On this note, I asked some friends whether they thought it really was true in this day and age that the way to a man's heart is through the stomach. One respondent is an award-winning, Oxford-educated linguist and writer. "Women love a man who can eat tonnes," she said.
Oh, how far we have come…