Argentina; the land of tango, red meat, gauchos and, of course, red wine! Wine lovers from China to the UK are filling up their glasses with Argentina's national grape, Malbec, leading Mendoza, Argentina's wine capital, to become a hot spot for tourism. Everyone wants to know more about the terroir and the wineries behind these deep, velvety, fruit-forward Malbec which is why we've put together all you need to know about the top Argentine wineries to visit.
Being the 6th largest wine producer in the world (China recently took 5th place!), there is so much more to Argentine wine than just Malbec and Mendoza. The wine route runs along the Andes foothills stretching an almighty 2400km and covering an extensive range of altitudes, not to mention thousands of wineries producing hundreds of exceptional wines that are also great value for money.
After four years of hosting wine tasting in Buenos Aires and visiting Mendoza on work-related trips (poor me) I have barely scratched the surface still, so I can only imagine how a wine lover who is visiting Argentina for a couple of weeks might feel. Overwhelmed? Where can you start? Let me see if I can help – here are what I consider the top Argentine wineries to visit.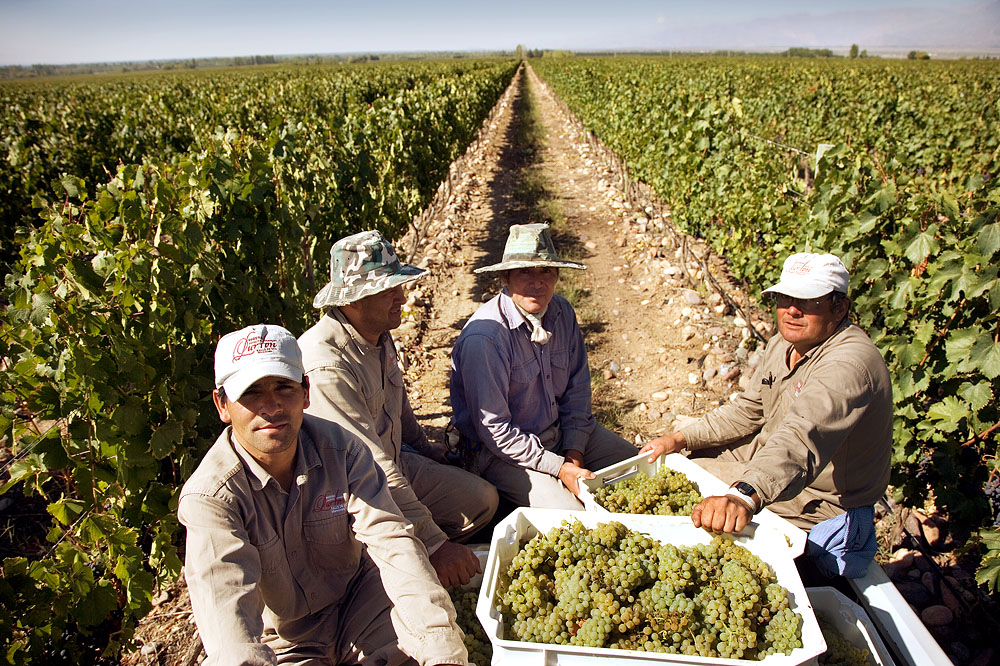 Photo: Fabio Ingrosso
One must start with the Mecca, Mendoza. Mendoza city is easily accessible from Buenos Aires by plane, taking approximately two hours (or 20 hours on an overnight bus…um, no thank you). Organising a tour from Mendoza city is easy, but I would highly recommend hiring a driver for a couple of days or even renting a car if you are not planning on drinking, but let's face it, that defies the object! This will give you the freedom to travel to those unique boutique wineries who focus on small production, away from the crowds of buzzing tourists. There you will find not only beautiful wines, but a rich fabric of stories and personalised attention.
Where do you go? There are three major sub-regions of Mendoza: Maipu, Lujan de Cuyo and Uco Valley.
Maipu, closest to Mendoza city, takes twenty minutes by car. If you feel a little car sick you can stretch your legs by renting bicycles to wobble along the wine route. Gems like Carinae are along the way, a boutique winery owned by French couple, Philips and Brigitte Subra, who started their dream winery in 2003 with the help of the iconic wine consultant, Michel Rolland. They will often be the guides, walking you through their vineyards, winery and cavas. The tasting room offers the whole range of their wines available to be tasted for a nominal fee of 40 pesos. Try the Finca Deneza Malbec, and you'll discover the intensity of a Malbec made entirely from 90-year-old vines, while the Hommage Syrah might blow your head off; the perfect example of 'Argentina has more to offer than just Malbec'. Warm, inviting and bursting with fascinating information, you will feel like they have really your soul as well as your thirst for an excellent wine.
Their neighbour, Bodega Mevi Boutique, is also high on my list to visit. The modern retreat sits in the middle of acres of impeccable vines, offering one of the most spectacular views of the Andes Mountains while to sip on their boutique selection. Try the San Gimignano Malbec Roble and be surprised at Malbec's diversity.
Moving on to Lujan de Cuyo, famous for being awarded the first DOC in Latin America, here you can find some of the biggest and the best, but let's go with the latter. Vina Cobos, owed by California winemaker and all-round Superman, Paul Hobbs, is high on my list to visit. This man is commonly recognised as one of the figures who transformed the wine industry in Argentina during the '90s, so you definitely want to check out what he is up to in his winery. Wine tours and tasting are reservation only and punctual (a word not commonly uttered in the siesta capital Mendoza), but well worth it. Try telling me you don't fall in love with the Bramare line…the word literally means 'to yearn for' in Italian!

For you sparkling wine lovers, head down a dirt track opposite Vina Cobos and you'll come out at Bodega Cruzat, run by Mr. Argentine Sparkling Wine himself, Pedro Rosell who is responsible for the highest quality sparkling wines in Argentina today. Again this is reserve-only tour ending in a sparkling wine tasting AND a gift for the designated drivers. You need some sort of compensation I suppose! Try the Cuvee Reserve Rose Extra Brut. I hear birds singing.
Casarena is one to add to the boutique winery list and the perfect spot for lunch. Their restaurant has a panoramic view of their carefully tended vines, while the award-winning chef cooks up delights to be paired with their wines. Ramanegra Pinot Noir Reserve is a great lunch wine, you can't go wrong.
For winery tours and wine tastings at any of the wineries mentioned – get in touch to book your visit!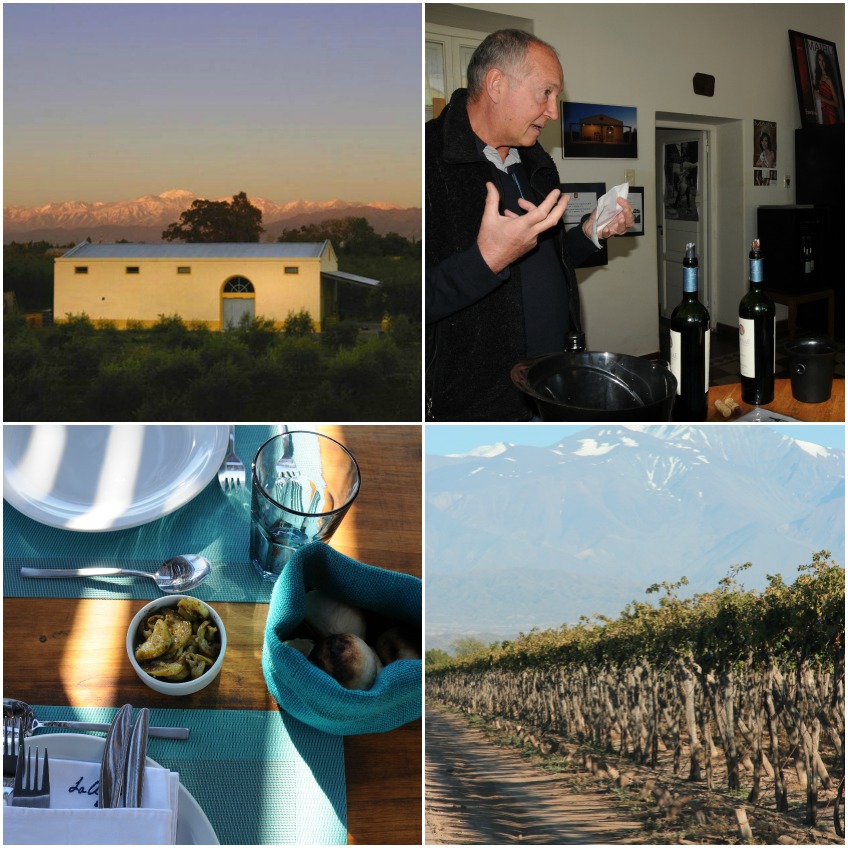 Finally, Uco Valley, another one of the top Argentine wineries to visit, sits pretty at 1,700m and 2 hours from Mendoza city but well worth the journey for some of the youngest and most exciting wine production in Argentina. Along Ruta 40 (route 40) you'll find the traditional giants like Rutini as well as a tiny family-run Argentine winery, Bodega La Azul. Book in for La Azul's 4-course lunch with wine pairings where you'll be sat outside, to enjoy the pure beauty of the Andes foothills while soaking up the sun and silence. A little drop of heaven.
If you are looking to visit some of the larger wineries you can take this opportunity to visit Bodega Salentein which is found on the same route. They not only have a great selection of high-end wines but also the winery itself is something to behold.

If you have travelled all the way to Uco Valley and find you can't face the journey back to Mendoza city why not stay there? Bodega Antucura have their own a luxury hotel, Casa Antucura right in the middle of their vineyards. With their own elegant wines on offer you won't be sorry you stayed.
Off the beaten path; there is so much more to choose from! In the north of Argentina, Salta is the home of the flagship white wine, Torrontes. Head straight to the quaint town of Cafayate and there you can walk (stumble) from winery to winery. My top pick is El Porvenir de Cafayate, whose award-winning wines include one of the highest rated Torrontes in Argentina, Laborum Torrontes. Also try the reds, in particular the Amauta Blends. Cabernet Franc, Malbec, Petit Verdot, Cabernet Sauvignon! YES!
You might be surprised to find wine production down in the cold climate Patagonia but it is thriving in provinces Rio Negro and Neuquen with cool loving grapes like Pinot Noir and Chardonnay leading the way. Bodega Patritti have excellent wines showcasing what this region can do. Brush off your 'Sideways' prejudice and try the Primogenito Merlot and you will be converted.
Wineries also exist in the south of Buenos Aires province, Medanos and La Pampas province in the centre of Argentina but only for the very adventurous of you out there. Argentina certainly has something for everyone!
For winery tours and wine tastings at any of the wineries mentioned – get in touch to book your visit!
Honourable mentions (if you have more time!):
Bodega Pulenta in Lujan de Cuyo
---
 Travelling to Argentina? Check out our Top 10 Things to do in Mendoza guide! Tickle your taste buds with the best food and wine tours in Mendoza – and if you're still hungry for more, check out Mendoza's best restaurants too!
Title photo: Rod Waddington