1. Cabin Fever Maple Flavored Whiskey
Cabin Fever maple-flavoured whiskey may not have the big name of Jim Beam or Crown Royal, but this humble bottle holds sheer greatness. The flavour of maple is strong from nose to finish and is sure to satisfy even the most snobby of maple enthusiasts. The whiskey itself is incredibly smooth and the maple accentuates all of the excellent qualities in the whiskey.  Some infusions can be a bit cloying, but Cabin Fever is the perfect sweetness.  You need to try this whiskey now.
Price: $21.99 ||  Cabin Fever Spirits


Would you like to visit the estates where maple whisky is made? Get in touch with our dedicated team of travel experts and we'll organise the perfect maple whiskey experience for you!
Enquire with our Tailor-made Team
2. Bird Dog Maple Flavored Whiskey
This inexpensive entry into the world of maple-flavoured whiskey packs a strong maple punch. While Bird Dog may be a little sweet for some, and the burn a little strong for others, this whiskey is a good introduction into the flavour profile of maple whiskey and will leave you eager to try more.
Price: $17.99 || Bird Dog Whiskey

3. Buckshot Peppered Maple Bourbon Whiskey
Buskshot offers a twist on the fad of maple whiskey: a fiery pepper finish. The burn from the pepper balances out the sweetness from the maple which leads to a well-balanced whiskey. While not the smoothest bourbon out there, it isn't supposed to be. This rustic offering won't disappoint anyone interested in a little pepper to finish off their maple.
Price: $16.99 || Buckshot Bourbon

4. Crown Royal Maple
From the great Canadian north comes a Crown Royal offering you won't want to miss. The maple notes compliment the sweet burn of the rye and create a well-balanced and surprisingly smooth sipper. This is one maple-flavoured whiskey you won't want to miss.
Price: $24.99 || Crown Royal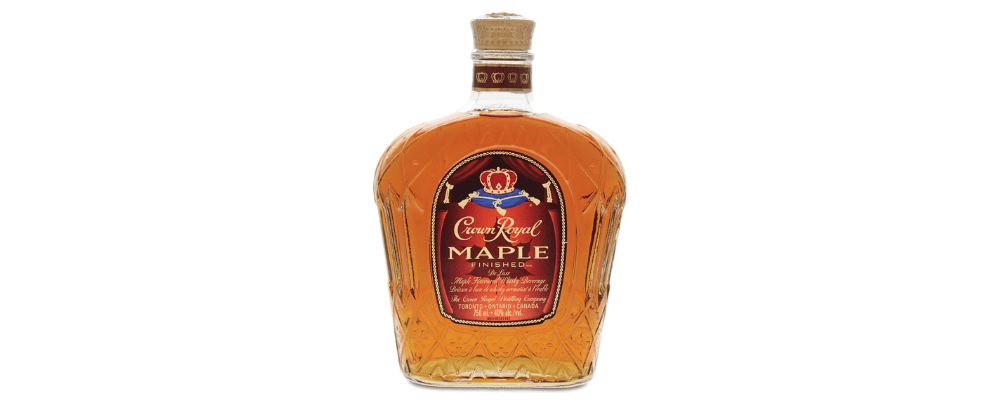 5. Knob Creek Smoked Maple Bourbon
This bourbon is awesome. To avoid the risk of an overly sweet product, Knob Creek cleverly combined their already fantastic bourbon with maple and just a little bit of smoke. The smoke smooths over all the rough edges and makes for an unforgettably nuanced experience.
Price: $32.99 || Knob Creek

6. Sapling Bourbon Whiskey Vermont Maple
This premium craft bourbon is made using old world techniques and new world flavors. Though they also make lighter liqueurs which are great for cocktails, this dark maple bourbon is an amazing after dinner sipper. The Vermont maple compliments the natural sweetness of the bourbon that is best enjoyed a couple fingers deep on the rocks.
Price: $45.99 || Sapling Liqueur

7. Cleveland Underground Sugar Maple Finished Bourbon
This bourbon offers a twist on the idea of a maple flavored bourbon. In this case, instead of infusing the bourbon with maple syrup, the barrels themselves were made from sugar maple. The result is a uniquely complex offering which loses some of the caramel normally present in bourbon from the oak in the barrels. However, the caramel surprisingly isn't missed as the maple imparts its own subtle sweetness to the bourbon. Hard to describe, this is a bourbon best experienced first-hand.
Price: $45.95 || Cleveland Whiskey