There are few things in the world that beat putting your feet up with a nice glass of wine and settling down to watch a film. But for the oenophiles out there, how about the film actually being about wine?! Or, at the very least, a genius little wine reference you can really appreciate? We love a sneaky little wine reference and we know you do too, so here is our list of the top 10 wine films that any wine fanatic needs to see, from oldest to newest
Goldfinger (1964)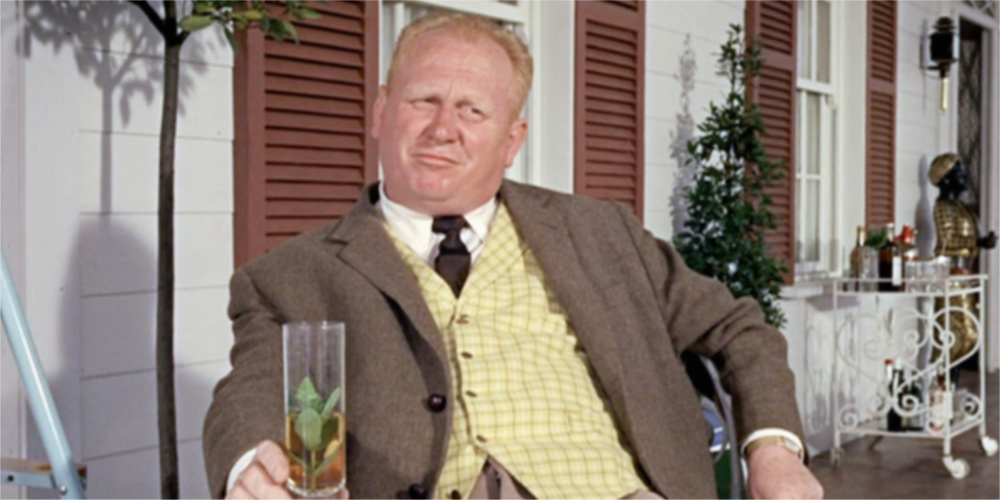 Although better-known for his gin cocktails, James Bond also enjoys a drop of vino now and again. In Sean Connery's third outing as the gentleman assassin, he makes what can only be described as a fantastic wine reference during the most typical of 007 seduction scenes:
"My dear girl, there are some things that just aren't done, such as drinking Dom Pérignon '53 above the temperature of 38 degrees Fahrenheit. That's just as bad as listening to the Beatles without earmuffs!"
Not sure I would risk arguing with him, either…
It is also worth noting that this isn't the only time wine features in a Bond film; another strong quote came a year earlier when, in From Russia With Love, the same Scottish lothario jokes: "Red wine with fish. Well, that should have told me something…"
The Secret of Santa Vittoria (1969)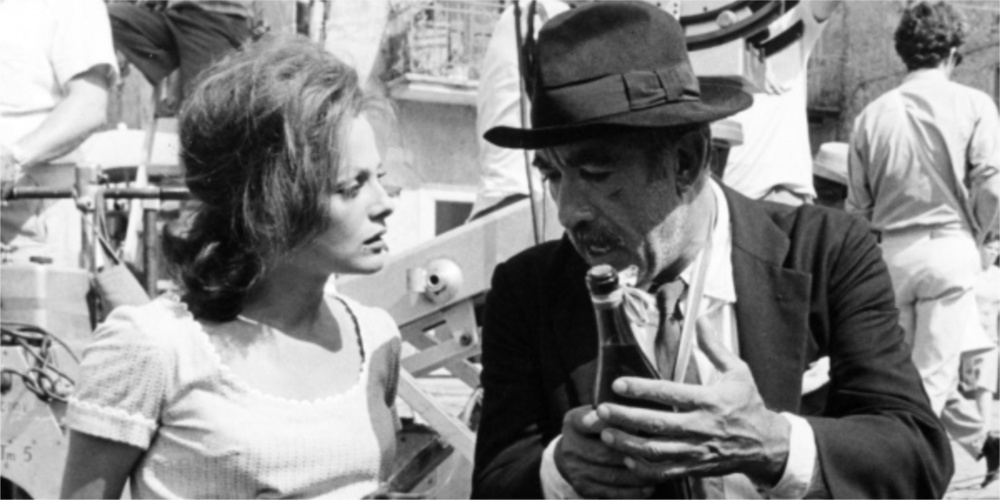 Now we move onto a truly wine-themed corker from the late-60s that went on to win the 1970 Golden Globe for Best Motion Picture Comedy. Set during the Second World War, once Mussolini's government had fallen and with Germans occupying most of Italy. But this film isn't all about gunfights and bloodshed. Intriguingly, the main focus is the produce of the winemaking hill town of Santa Vittoria.
On learning that the Germans want to steal the town's wine to take back to Germany, the locals hatch a plan to hide a million – yes, a MILLION – bottles of wine in an ancient Roman cave. Without giving too much of the storyline away, the film sees the town's mayor pitched against a German army commander in a battle of wits, culminating in a rather tense showdown.
If you want to know what happens to Santa Vittoria's hidden stash, crack open a bottle yourself and get watching!

Dirty Rotten Scoundrels (1988)
This American comedy is better-known for pitting British gentility against American bullishness, in pursuit of the riches of an American heiress, than for its wine credentials. There is a rather delightful reference to wine however, that any wine collector can relate to. In this exchange of words, Steve Martin's character seems intrigued by Michael Caine's stance:
Martin: "You've got a lot of wine to drink."
Caine: "You can't drink them, Freddy. They're far too valuable."
Martin: "So you sell them?"
Caine: "I'd never sell them, they mean too much to me."
Was it this attitude that secured Caine's nomination for a Golden Globe for Best Actor? We'd like to think so…!
The Silence of the Lambs (1991)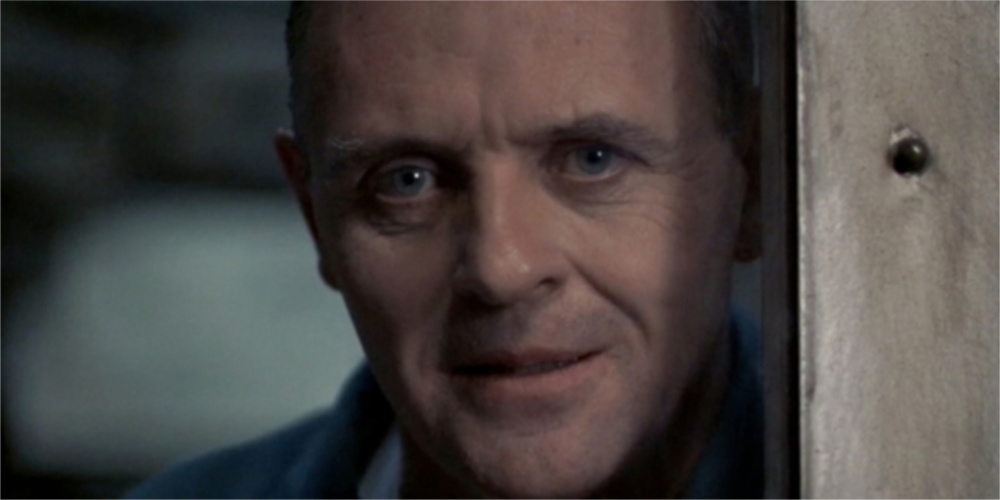 This is another film that doesn't jump out as particularly wine-related, but Anthony Hopkins' Hannibal Lecter is well-known as a connoisseur of the finer things in life, including a grapey tipple! Often considered among the greatest film quotes of all time, Hannibal recalls a rather gruesome encounter:
"A census taker once tried to test me. I ate his liver with some fava beans
and a nice Chianti."
Whilst we aren't sure about how good this food and wine pairing actually is, we are not really in a position to argue against it – after all, don't knock it 'til you've tried it!

Wayne's World (1992)
The final film to make our list that isn't intrinsically wine-themed is Wayne's World, the comedy-come-90s cult classic.
Cassandra Wong, a somewhat ill-informed character shall we say, gets some important schooling from Rob Lowe's Benjamin Kane on sparkling wine in quite wonderful fashion:
Cassandra Wong: "I don't believe I've ever had French Champagne before…"
Benjamin Kane: "Oh, actually all Champagne is French; it's named after the region. Otherwise it's sparkling white wine. Americans of course don't recognise the convention, so it becomes that thing of calling all of their sparkling white "champagne", even though by definition they're not."
We don't think we could've put it any better ourselves!
A Walk in the Clouds (1995)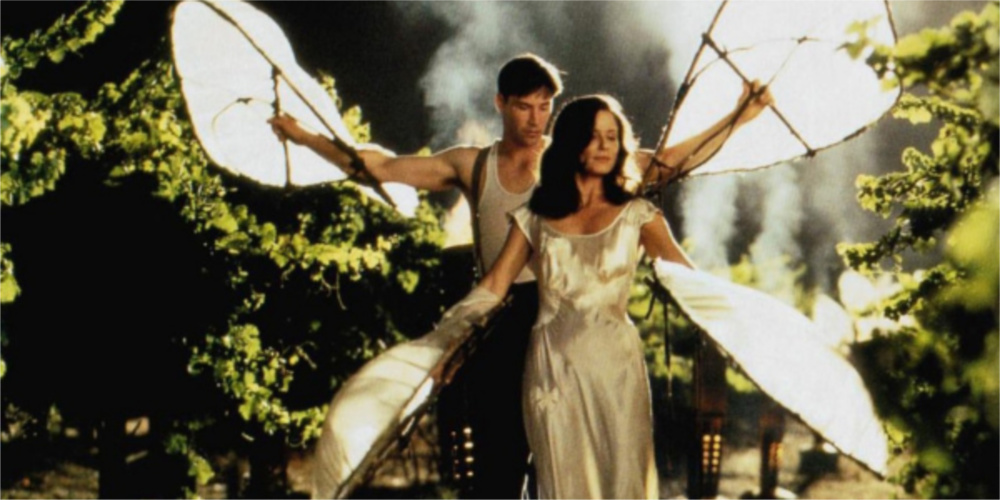 Drama, romance, a fresh-faced Keanu Reeves – perfect cold weather entertainment? Oh yes, and there's wine! A Walk in the Clouds centres around a soldier (Reeves) returning from World War II and, because of a little trouble at home, heading into Californian wine country.
In this tale of love and hardship, the vineyard comes to embody the cinematic themes and the characters' evolving relationships brilliantly. As they tend to the vines, relationships are also nurtured and grow. Destruction befalls both simultaneously. And, as with all good romantic films, we are delivered a happy ending, which is symbolised by some apt replanting. This film doesn't just make our list because of its vineyard backdrop, but because it demonstrates a true principle that wine has the power to bring people together.
A Tale of Autumn (1998)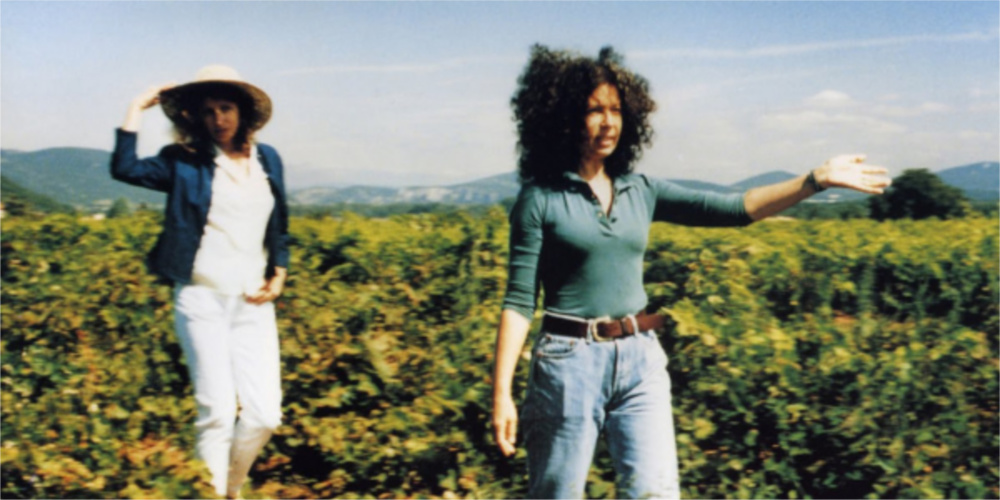 Conte d'automne, or A Tale of Autumn, is the final film of director Éric Rohmer's Tales of the Four Seasons and a light-hearted romantic comedy that focuses on a widowed winemaker.
As any sensible winemaker of the southern Rhônein early autumn would be, Magali is in the midst of preparing for the grape harvest. In love with her work but feeling lonely, she confides in two of her friends. Taking it upon themselves to play matchmaker, each pursues a different way to find a potential suitor – secretly, of course. You can probably guess what happens next: two potential suitors, one unknowing maiden. One location for them all to meet…
But this isn't just a foreign language chick-flick. Talented screenwriting, directing and acting alongside beautiful scenery makes for a charming film. Perfect film fodder for any autumnal evening.
Sideways (2004)
Arguably the most famous film with a wine theme to be made, the multi-award winning Sideways follows two middle-aged men on their road trip through Santa Barbara wine country. This black comedy turned The Hitching Post from a restaurant into a destination, raised the profile of Pinot Noir and brought Merlot to its knees, all in 2 hours and 7 minutes – quite a feat!
The film is also littered with brilliant lines, including the now synonymous "if anyone orders Merlot, I'm leaving. I am NOT drinking any fucking Merlot", as well as entertaining scenes of wine tasting. This is a must-see film for any wine fanatic and, purely based on entertainment factor, surely worth a watch even if you prefer beer…!
A Good Year (2006)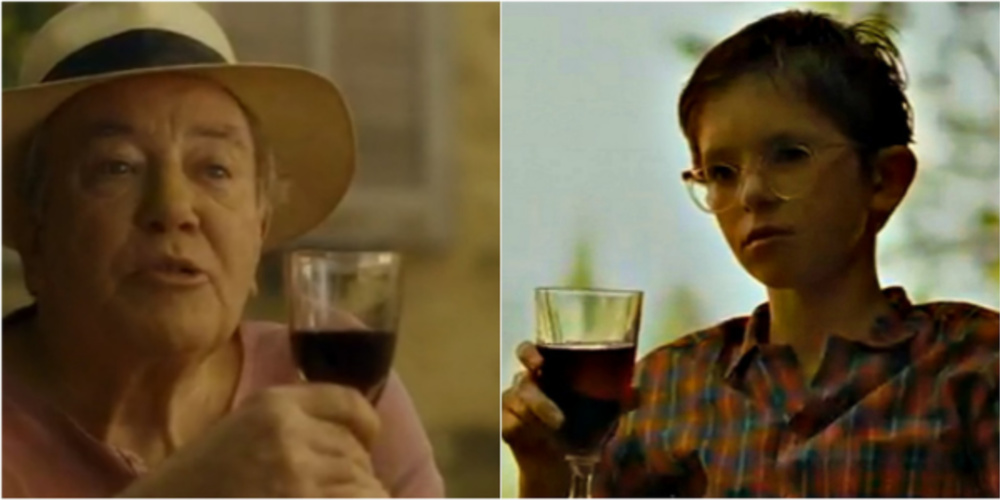 A Good Year takes us back to the genre of romantic comedy. This Ridley Scott production is set on a vineyard estate in pretty Provence, where Russell Crowe's character spent his childhood summers. Following the passing of his uncle, Crowe inherits his chateau. Being a money-driven investment banker, he seeks a quick sale. Needless to say, things don't quite go to plan. Problems at the office back in London, delays and minor disasters at the estate, and the characters he meets along the way see Crowe realise that life should be savoured, not rushed.
This is a feel-good film that will be sure to leave you smiling and full of contentment. You'll also probably end up a little jealous of the lifestyle in the South of France…

Bottle Shock (2008)
The final film on our list draws its inspiration from a real bit of wine history. In 1976, a competition dubbed the "Judgement of Paris" took place, where Californian wines beat their French counterparts in a blind tasting. The result of this competition helped open up people's eyes to the quality of New World wines.
Bottle Shock brings together the acting class of Alan Rickman, Chris Pine and Bill Pullman to tell this tale of Franco-arrogance and New World pluck. Entertaining and historical, all in the context of wine – what's not to like?!
Want some more wine inspiration? Check out our funniest wine quotes article and our inspirational wine quotes piece! Cheers!