Barcelona is truly a gourmet city, and many renowned chefs from Catalunya and the whole of Spain have a restaurant in the city. Many of the restaurants on our list feature world-class food, but some will set you back around €150 per person. There is a lot more to the gastronomic scene in Barcelona than Michelin starred restaurants so we have shared these with you too!
1. Roca Moo and the Roca Bar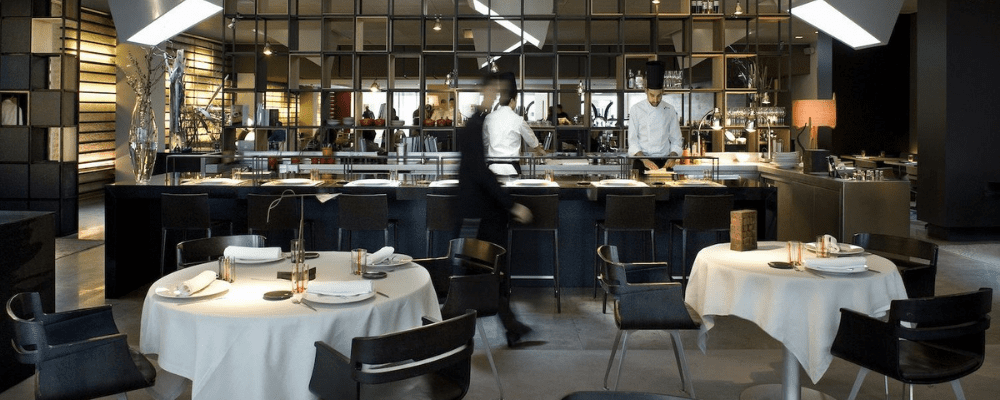 Photo credit: hotelomm.com
The Roca brothers are located in Girona and recently won Best Restaurant in the World in 2015 with 3 Michelin stars. Roca Moo and the Roca bar are located inside the Omm Hotel in Barcelona, with 1 Michelin Star. The restaurant offers signature dishes on the tasting menu which is matched with top wines.
Carrer del Rosselló, 265, 08008 Barcelona, +34 934 45 40 00
---
2. Gresca
Gresca is a 10 table restaurant located in the Eixample quarter. Rafa Peña, the owner is also a wine enthusiast, so you will find a very interesting wine list. With a short list of dishes that changes constantly every season, it's a great spot to find excellent local produce.
Calle Provença, 230, 08036 Barcelona, +34 934 51 61 93
---
3. Lasarte Restaurant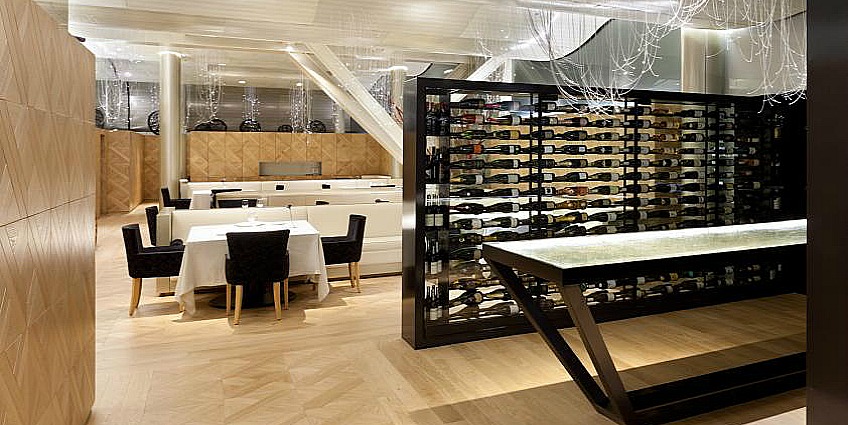 Photo credit: lasarterestaurant.com
The chef, Martín Berasategui, from the Vasque country, has 2* michelin stars. The Lasarte restaurant offers typical basque and catalan cuisine with an emphasis on nature and the sea.
Carrer de Mallorca, 259, 08008 Barcelona, +34 934 45 32 42
---
4. Enoteca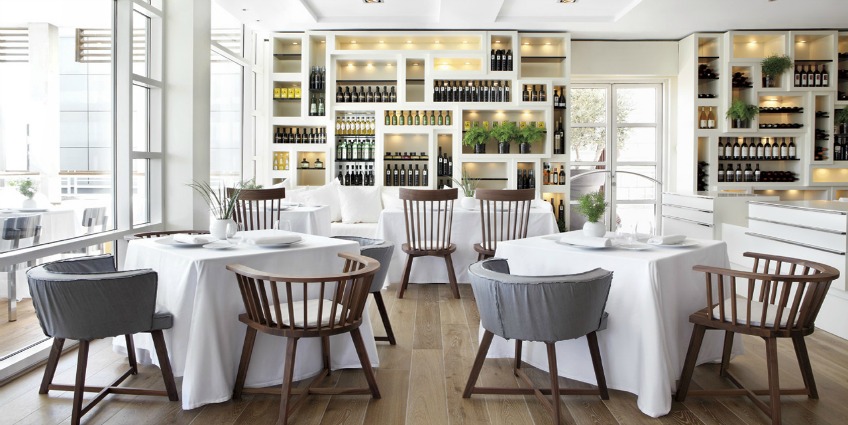 Photo credit: hotelartsbarcelona.com
Paco Pérez of the Miramar restaurant in Llançà. His restaurant Enoteca is a contemporary mediterranean affair inside the Arts Hotel on the marina and has been awarded 2* Michelin stars.
Calle Marina 19-21, 08005 Barcelona, Spain, +34 932 21 10 00
---
5. Tickets Bar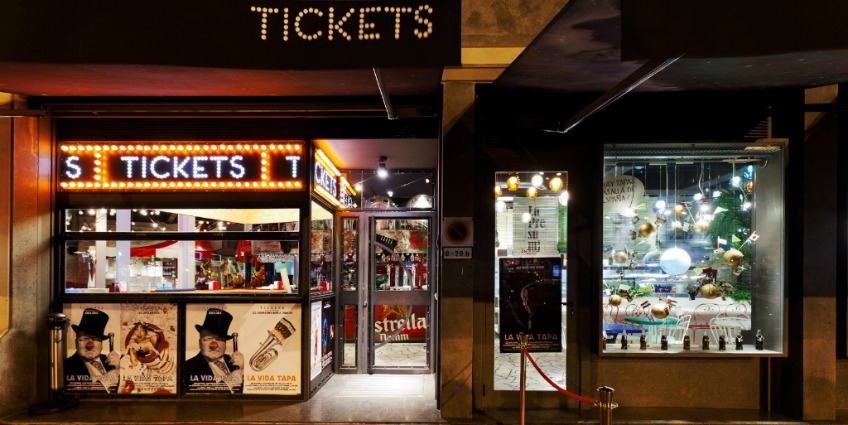 Photo credit: es.bcn50.org
Ferrán & Albert Adrià have many restaurants in the Paral.lel quarter, but the most popular by far is the Tickets Bar, an incredible tapas place with a 2 month waiting list. The only way to book a table is with an internet reservation.
Av. del Paraŀlel, 164, 08015 Barcelona, +34 932 92 42 54
---
6. Lluerna Restaurant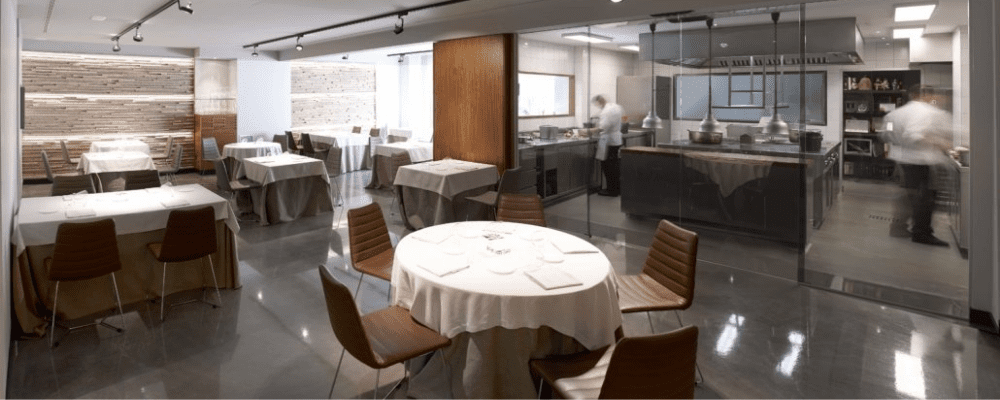 Photo credit: lluernarestaurant.com
Even though it's not actually in Barcelona, (it's in Santa Coloma de Gramenet) it can be reached by subway. It's a really interesting concept with 1* Michelin from the chef Victor Quintillà. The twist is that they offer menus from 36€… don't miss it!
Carrer de Rafael Casanova, 31 – Santa Coloma de Gramenet, +34 933 91 08 20
---
7. Martinez 
If you are a paella lover, this restaurant, located in front of the Miramar Hotel, is the place for you! They offer a €40 tapas menu with a Vermouth aperitif, iberian ham croquetas etc. and then you can to choose your favourite paella: seafood, meat or veggie.
Ctra. de Miramar, 38, 08038 Barcelona, +34 931 06 60 52
---
8. Bodega 1900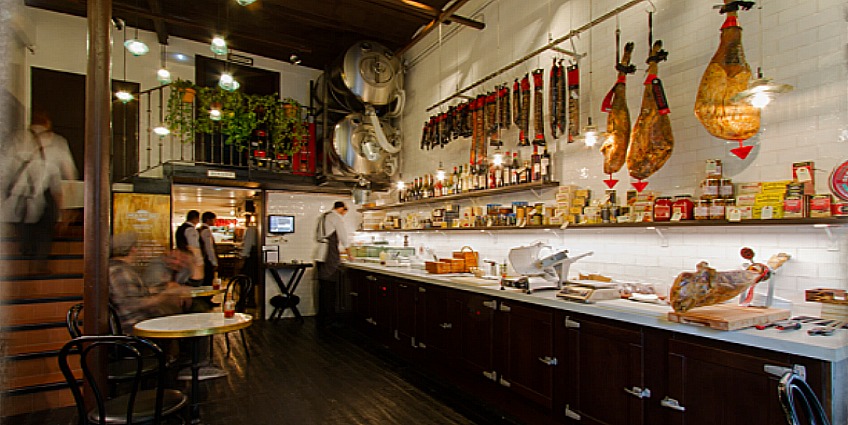 Photo credit: facebook.com/bodega1900
Located in front of the Tickets restaurant and also owned by Albert Adrià, this vermuteria is also a restaurant and offer some of the dishes from Tickets such as the spherical olives and tomato biscuits. Angel, the maître d', will explain all the dishes to you and you are guaranteed a gastronomic delight.
Carrer de Tamarit, 91, 08015 Barcelona, +34 933 25 26 59
---
9. Dos Palillos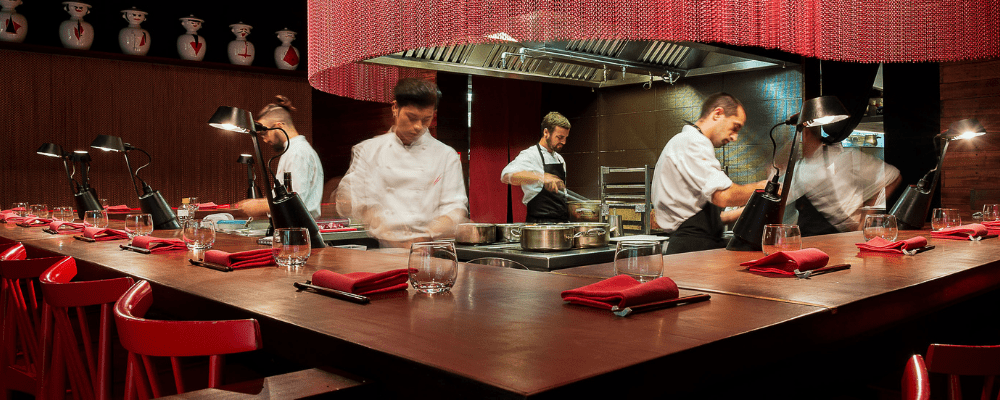 Photo credit: dospalillos.com
Dos Palillos is for lovers of asian food, with a mix of Japanese, Chinese and Vietnamese cuisine. Tamae & Albert, the owners. both worked in El Bulli so expect elaborate dishes, high quality produce and a very interesting wine list. Also has a Michelin star!
Carrer d'Elisabets, 9, 08001 Barcelona, +34 933 04 05 13
---
10. Espai Sucre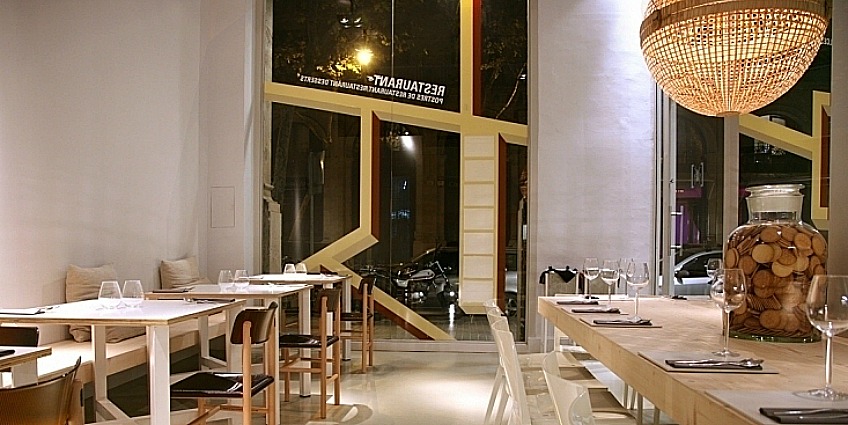 Photo credit: espaisucre.com
If you have a sweet tooth, stop by Espai Sucre for dessert. It's a Pastry Chef School as well as a restaurant. You can do a tasting menu of desserts, and they also offer savoury dishes. If you love the last part of the meal, they have a Dessert Bar and you can choose from many different elaborate dishes.
Carrer de la Princesa, 53, 08003 Barcelona, +34 932 68 16 30
---
This article was written by Barcelona tour guide, Mireia. As a local, Mireia knows all the best spots to visit in her native Barcelona, so why not enjoy discovering the city with her? Mireia has a range of food and wine tours including a La Boqueria Market Tour, where you'll discover the biggest and most famous gourmet market in Barcelona, and a 3-Hour Wine Tour to get you passionate about Barcelona's exciting wine scene.
title image: www.flickr.com/photos/aigle_dore