Sassicaia: The Italian wine that broke all the rules and then became the toast, literally, of Italy. Helena Nicklin paid a visit to understand more about how this incredible wine came to be and how it earned its legendary status.
Running parallel to the Tuscan coast in the Maremma and beginning just below Livorno, you'll find Bolgheri D.O.C: one of the newest – and arguably most exciting – appellations in the whole of Italy. Though formed as recently as 1994, Bolgheri D.O.C has already achieved legendary status in the world of fine wine and it's all because of one curious, fearless man and a particular wine he created that broke all the rules: Sassicaia.
Would you like to visit Sassicaia? Get in touch with our team of wine travel experts and we'll start planning the perfect trip for you.
Enquire with our Tailor-made Team
A love story that started it all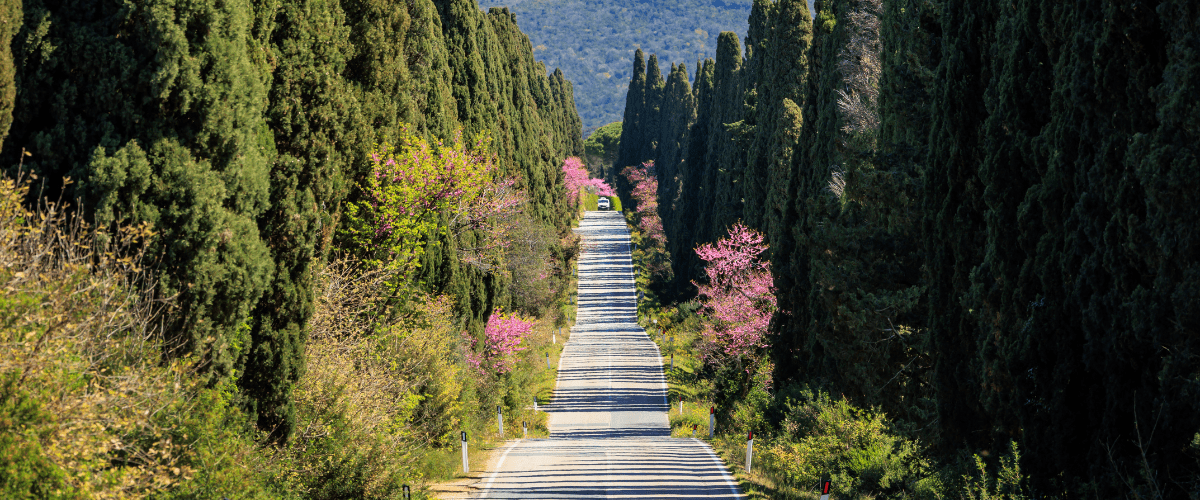 The story truly began after World War One, when Mario Incisa della Rocchetta, a Piedmontese agronomist who'd fought as part of the cavalry, enrolled in the faculty of Agriculture in Pisa. He brought with him to Tuscany his beloved horse and it was through his involvement with the local thoroughbred community that he met Clarice della Gherardesca, whom he married in 1930. The two moved to Rome to breed race horses, but returned to her home town of Bolgheri after the second World War. Mario busied himself helping to reorganise the property his wife had inherited, which had become neglected during the war. The name of the property was Tenuta San Guido.
From grain to grapes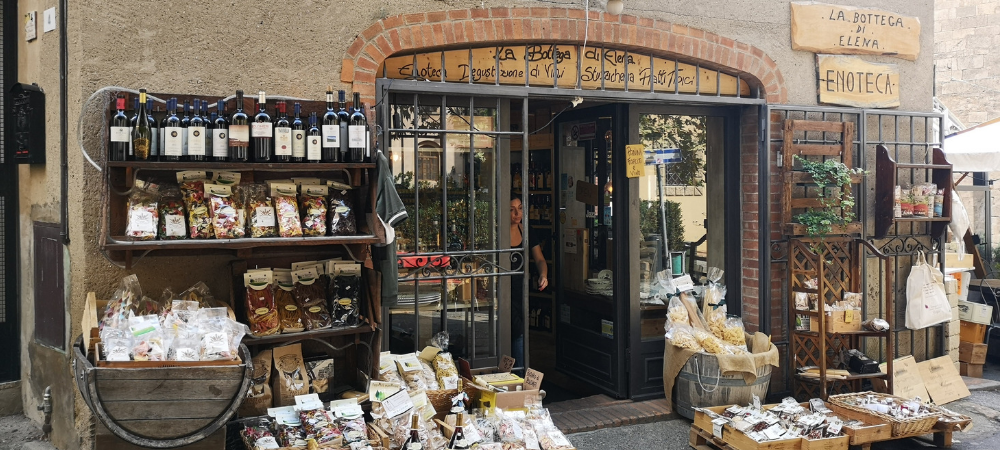 Enoteca Elena in Bolgheri. Credit: Helena Nicklin
As an agronomist, Mario Incisa helped the property thrive with fruit, vegetables and other agricultural products including incredible tulips that even turned the heads of the Dutch. Eventually, it was the turn of grapes. Now, growing up in a noble family, Mario Incisa had tasted a lot of wine from Bordeaux, which he loved. It was therefore only a matter of time before he turned his attentions to winemaking. Wine was already being made in the region with the local Sangiovese grapes, mostly down in the drained marshlands by the sea, but it wasn't producing fine quality or enough quantity – a key factor in production at the time. This was not the wine Mario Incisa wanted to make; he wanted to create a fine Bordeaux – only at home, in Tuscany and to hell with what teh rules said in the D.O.C. wine guidelines for the area. He set about studying what made the wines of Bordeaux so good. Was it the grapes? The soil? The climate? Or was it something else entirely? So, off he went to stay with family friends at Mouton Rothschild (as you do when you're a nobleman) to find his magic formula.
Friends in high places
Back in Italy after studying Bordeaux in depth, he realised that the position of his vineyards needed to be more inland, slightly higher up and on stony soil, like much of the left bank of Bordeaux. He found the perfect spot in the hills of Castiglioncello di Bolgheri: a family lookout, surrounded by forest and with a stunning view over area. He planted his first vines here at 400m above sea level, facing east and 15km away from the sandy soils by the Tyrrhenian sea. More interested in creating his own 'Bordeaux' than playing by the rules, Mario Incisa planted Cabernet Sauvignon and Cabernet Franc and named his vineyard 'Sassicaia', meaning 'area of many stones'.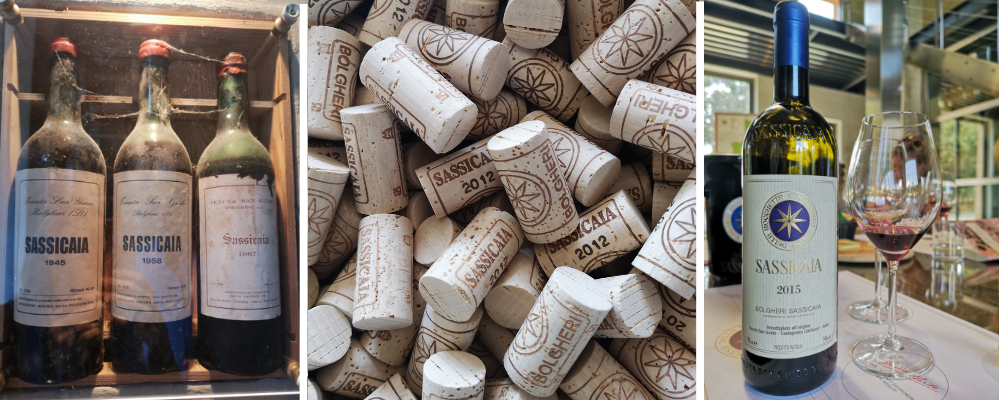 Kick-starting the Italian wine renaissance
The first vintage of Sassicaia was officially bottled in 1945, but it was not much like how it tastes today. Mario Incisa experimented for a few more years before deciding he needed help from a proper oenologist, so he looked to their cousins, the Antinori family, and spoke to their oenologist Giacomo Tachis. Together, Mario Incisa and Giacomo agreed they should make fine wines from Bordelais red grapes on this terroir and Giacomo helped to introduce modern processes he'd learned on Bordeaux to fine tune the winemaking. The rest happened impressively quickly. 1968 was Giacomo's first vintage – and Sassicaia's first commercial vintage – was 1968. Ten years later, Decanter Magazine held a blind tasting competition for 'Great Clarets' where the 1972 Sassicaia beat 33 wines from 11 countries to win its first international award. Heads were starting to turn towards this 'table wine' from Tuscany. Sassicaia's fate was sealed with the 1985 vintage (85% Cabernet Sauvignon, 15% Cabernet Franc), thanks to a stunning 100 point review from Robert Parker, who said of the wine that it frequently reminded him of a 1986 Mouton Rothschild, of all wines. Giacomo continued to work with Sassicaia, completing his final vintage in 2007. He died in 2016 and will forever be known as the man who kick started the Italian wine renaissance. Bolgheri got its own DOC status in 1983 but more recently in 2013, Sassicaia was awarded its own: DOC Bolgheri Sassicaia.
Tenuta San Guido and Sassicaia today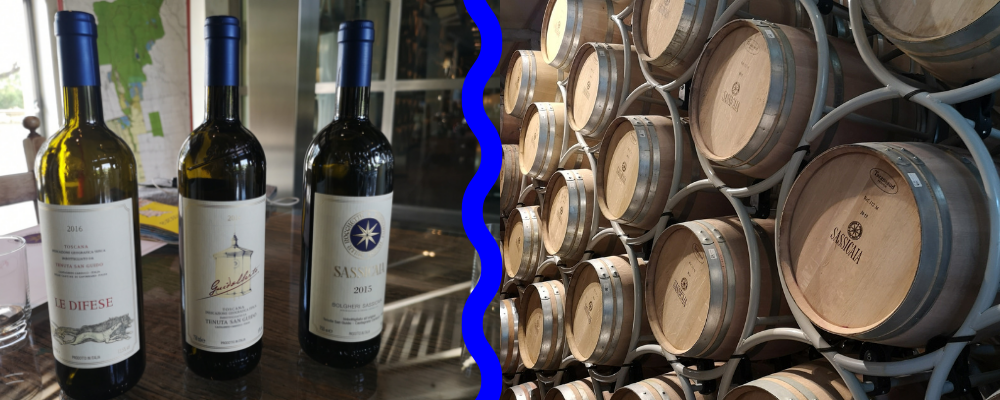 Today, Tenuta San Guido is run by Mario's son, Marchese Nicoló Incisa della Rocchetta. Sassicaia is still their flagship wine, but the family wanted to produce something to that could be drunk while they waited for it to mature. Two more wines were born: Le Difese and Guidalberto.
Wines
Le Difese
'Le difese' are the tusks of the wild boar. This wine is their entry level label, made for immediate drinking within two or three years. The 2019 (100% Cabernet Sauvignon) is fragrant with aromas of ripe raspberries and black olives. The palate is tense and fresh, light and easy.
Guidalberto
Named after the Clarice's father, Guidalberto was produced after the amazing 1985 vintage to cover market demand. Not a second wine, Guidalberto has its own identity and style, using some Merlot in the blend. The 2018 (60% Cabernet Sauvignon 40% Merlot) has notes of blackcurrant and black cherries on the nose.
Sassicaia
We tasted the 2015 vintage (85% Cabernet Sauvignon, 15% Cabernet Franc), which had an intense, cedar and spice nose with generous blackcurrant and bramble fruit on the palate. While this wine is so you, it has an incredible drinkability already thank to is cool minearlity and super fine tannic structure.
Enquire with our Tailor-made Team
---
Want to go to Tuscany and see the legendary places for yourself? Email concierge@winerist.com for your own tailor-made, exclusive tour of Bolgheri and beyond!