If – like me – you live in the cooler realms of the Northern hemisphere then you'll currently be making good use of your window scraper and bobbing away to the archetypal Christmas beats that swamp the FM channels during the winter months. You may choose to ignore the increasing need for a hot water bottle late at night, or opt to sidle past the newly erected tower of chocolate advent calendars that block your way to the fresh fruit isle of your local supermarket, but Christmas is most definitely on its way!
December is certainly one of the busiest months of the year for many of us; what with cards to scribe, gifts to wrap, office deadlines to meet and countless friends and family to catch up with. I personally am busy selecting bottles from the hotel cellar to pair with those essential dishes that are due to feature on our festive menu. Hard-knock life I hear you say?
In stark contrast to the quintessential line-up of plates that we serve up year-in, year-out, I have picked out some unusual pairings to lend a little inspiration and aid you in stocking up your Christmas wine rack.
STARTER: Garlic and sage chicken liver parfait with jumbo raisins and sweet toasted brioche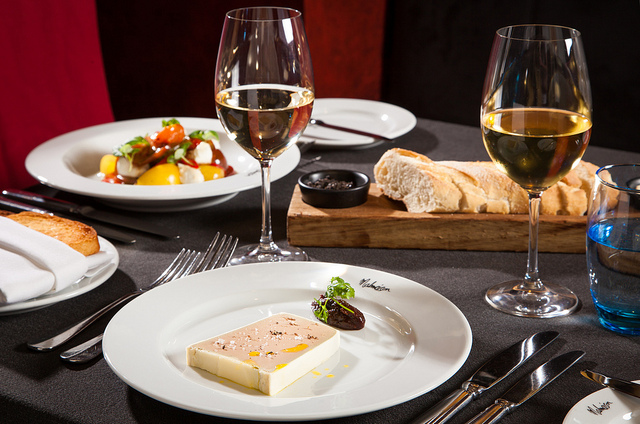 Photo: flickr.com/Malmaison Hotels
As far as my dining table is concerned, where there is pâté on offer there is always a little something slightly sweet to chaperon also. I have long been an ambassador for wines from Washington State in the United States, notably the likes of Chateau Ste Michelle and L'Ecole N°41. This cool vine-growing region is renowned for its food-friendly, high-quality expressions of Pinot Gris, Chardonnay and Merlot which have always taken pride of place of my wine lists.
Chateau Ste Michelle have teamed up with the eccentric yet highly talented Dr Ernst Loosen from the Mosel Valley in Germany to produce one of the country's most exquisite styles of Riesling, which happens to be the namesake of Beethoven's third symphony Eroica. This Riesling counts only a few grams of sugar more than your favourite everyday dry white wines, meaning it isn't offensively sweet and boasts an alluring profile of ripe melon, candied citrus and star fruit flavours. Eroica packs plenty of vibrant acidity which will cut through any fattiness in the parfait and the sweetness of the brioche.
You can buy this wine online at Wine Direct, or can substitute with an off-dry Riesling or Gewürztraminer from Alsace or South Germany.
MAIN COURSE: Mustard butter-basted free-range turkey, roasted with bacon and a bread & shallot sauce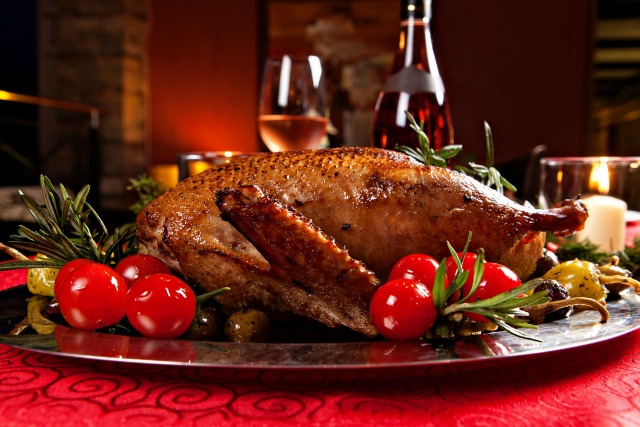 It could be argued that Christmas just wouldn't be same without a fat bird baking away in the AGA. On that basis I have picked the perfect red wine to accompany this ultimate festive recipe. I was lucky enough to become well-acquainted with the wines of Austria during a tour of some of the country's top wineries last summer, during which I sampled some beautifully soft and elegant red wines. Austria doesn't boast the best reputation for quality winemaking and I feel its whites, reds and sweet wines are still grossly underrepresented in the UK consumer's repertoire. Notable red wine grapes include the gutsy Zweigelt and the Pinot Noir-impersonator St Laurent – but it is the indigenous Blaufränkisch that I have chosen to vouch for our European friends; selected for its soft texture, gentle forest fruit flavours and versatility when pairing with food.
In my opinion some of the very best Blaufränkisch stems from Gernot Heinrich's vineyards in Burgenland, overlooking Lake Neusiedler See and the Hungarian border. Gernot uses both organic and biodynamic principles; hand-harvesting his top-quality fruit in an entirely sustainable manner to produce a beautifully perfumed, rounded red wine that has soft tannins and vibrant acidity.
Heinrich's wines are imported by Liberty Wines and are distributed to independent wine shops all over the United Kingdom – also his 2012 Blaufränkisch is available to buy online at The Drink Shop. Alternatively you might like to consider Pinot Noirs from the Loire Valley in France, Central Otago in New Zealand and Yarra Valley, Australia. Sangiovese-based wines such as Rosso di Montepulciano or Morrelino di Scansano in Tuscany, Italy would work superbly well also.
DESSERT: Classic Christmas pudding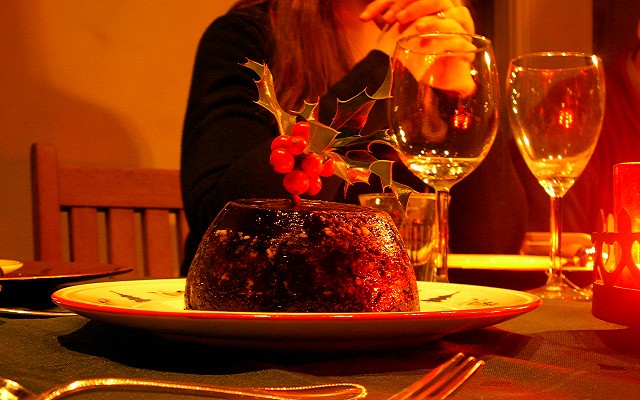 Photo: flickr.com/Peter Hilton
I often marvel at how well we-Brits uphold the age-old tradition of sipping Sherry in the run-up to Christmas Day. I feel I must warn my fellow merry-makers that most Sherries should be treated just like other wines and that they simply do not stay fresh and fruity for as long as you might expect. In fact I find myself cringing somewhat at the thought of that estranged bottle of Bristol Cream that has been sat, half-imbibed, in the cupboard for the past twelve months since it last paid tribute to the celebration of Yuletide.
However I can appreciate that Sherry wine can seem like hard work in the best of spirits, with it's pungent oxidised, bacterial and nutty aromas of the flor yeast that is used to instil it's unmistakable profile. I can certainly see why you wouldn't necessarily feel compelled to drain an entire bottle, even with the support of friends and family. Moreover you pinch your nose and sip your way through a tiny stemmed goblet, at the same time bequeathing a dram for Santa to enjoy as he flings the carefully selected items from your wish list down the chimney, only to collide hard with the imitation fire, before stashing the bottle away ready for next December.
It's true that you can't have a proper Christmas without indulging in this small ritual – however I would like to propose a compromise by selecting a particular style of Sherry that matches beautifully with our much-loved Christmas pudding! The Pedro Ximénez grape variety is grown all around Jerez in the South of Spain, where by law Sherry must be produced. Pedro Ximénez – or PX for short – yields plenty more sugar than it's bedfellow Palomino and is typically blended with the latter to sweeten up the blend for the purpose of making Oloroso or Cream Sherries. However single varietal PX is a joy to sip, as it is succulently sweet and shouts out outrageous treacle, dried fruit and natural coffee and toffee flavours. Often called 'Christmas pudding in a glass', what better wine is there to match with our favourite Christmas dessert?
Waitrose are proud to sell the Gonzalez Byass Noe Pedro Ximénez, which you can also buy online via Waitrose Cellar. It's even available in a half-sized bottle meaning that you needn't keep any locked away in the cupboard, only to spoil for yet another twelve months.
If Sherry is really not your cup of tea then I highly recommend the artery popping Tokaji wines from North-Eastern Hungary or the red sweet Banyuls and Maury wines from the South of France.
Lastly, should you come to propose a toast on Christmas Day – I'd like to recommend my English Sparkling wine of the moment, which is the Nyetimber Blanc de Blancs 2007, a stunning fizz made solely from Chardonnay grapes in West Sussex and occasionally served to Queen Elizabeth no less! This is also available at Waitrose and various high-end wine boutiques across England.
Happy drinking!
Oscar J. Malek
---
Oscar is the Director of Wine for Chewton Glen & Cliveden House Hotels, having also worked as Head Sommelier at the Michelin-starred Three Chimneys on Isle of Skye, and in the Wines & Spirits department at Selfridges. He is a part-time wine writer and runs a consultancy business. Be sure to catch him on Twitter.