Whether you love to be in love on Valentine's Day or hate the hype of this day of romance, one thing that we can all agree on is that it's a wonderful thing to treat the person that you love, whatever the occasion! Regardless of your personal feelings on the subject, it's undeniable that February  14th brings with it a whole host of options for making your loved one feel special – whether it's a romantic weekend away, a cosy night in or an intimate meal at that restaurant they've been dying to try, the opportunities for earning serious Brownie points are endless! However, if you're (understandably) feeling slightly stumped by the plethora of Valentine's gift options that pop up around this time of year, never fear. Winerist have shortlisted our perfect Valentine's Day gifts for wine lovers to help your February 14th go with a bang. Maximum Brownie points guaranteed!
Let your love take flight … with Riedel Winewings!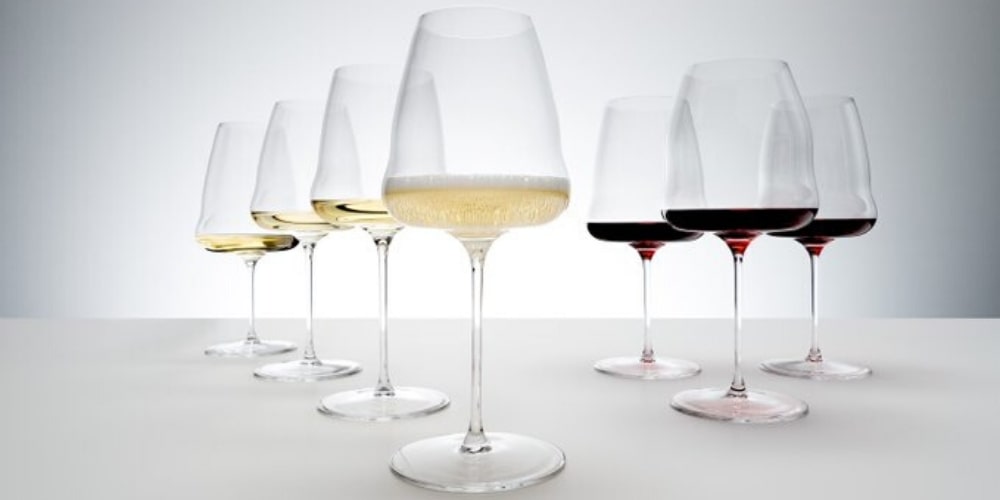 Picture credit: Riedel 
If you are looking to seriously spoil your beloved wine lover this V-Day, there really is only one option for injecting maximum wow factor into your gift … gorgeous Riedel Glassware. Riedel are renowned for excellent quality and innovative design, with an impressive portfolio of super-sexy handmade glassware giving numerous options to beguile your beloved. The brand new Winewings range is carefully created to get the best out of your favourite grape varietals, from Chardonnay and Riesling to Pinot Noir and Cabernet Sauvignon. The inviting curves of these innovative shapes emphasise and enhance the particular qualities of your favourite grapes and are a seductively smooth way to share that special bottle of wine with your loved one on February 14th.
If you want to sex up your Valentine's wine before it even reaches the glass, we absolutely love the brand new Riedel Cornetto Decanter. Inspired by vibrant pop art design, these eye-catching decanters come in 5 different confetti shades, including red, yellow and green, and are not only an exquisite wine accessory but an awesome design piece in their own right!
What's more, all Riedel glassware is fully machine washable, making sure that filth stays where it belongs … in the bedroom!
Find out more and shop the full Riedel range here!
Don't go hungry (for food, anyway!) on your Valentine's Date with a Flint Vineyard Hamper
Picture credit: Flint Vineyard
All the best things come from Norfolk (or so our Norfolk-born Editor tells us!) and that includes wine. A great way to treat your favourite foodie and sample the best of this loveliest of counties is with Flint Vineyard's gorgeous Valentine's Hamper. Featuring a full sized bottle of the vineyard's sparkling Charmat Rosé alongside delicious local cheese and meats, this is a sure fire way to tickle the fancy of any wine or food lover, especially those who love nothing more than discovering exciting new wines. Flint Vineyard, in fact, are the producers of the only still English wines to be stocked by famous wine merchant Berry Bros & Rudd … so you know it's got to be good!  Order your Flint Vineyard Valentine's hamper here!
Get their heart racing with a Personalised Wine Carafe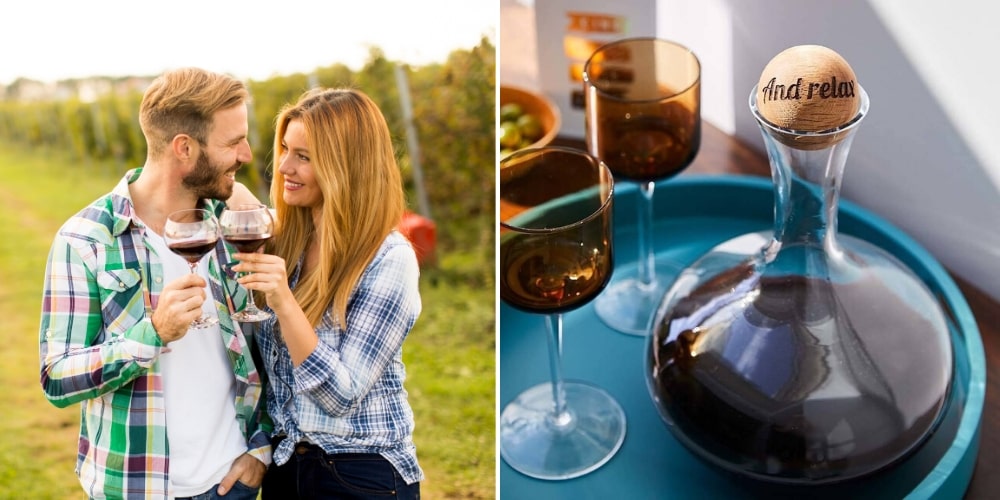 Picture credit: Not on the High Street
We've said it before, and we'll say it again … nothing says love like a personalised wine carafe! This is a great gift for the wine lover who has everything, with an elegant glass carafe (choose from either a slim or wide design) made special thanks to a personalised, hand-engraved solid oak stopper. Choose your own romantic message to create the most unique and thoughtful of gifts – and perhaps even gift alongside a bottle of wine if you want to get seriously impressive (or indeed get lucky. Or both!!) Order your personalised wine carafe here.
… P.S. I Love You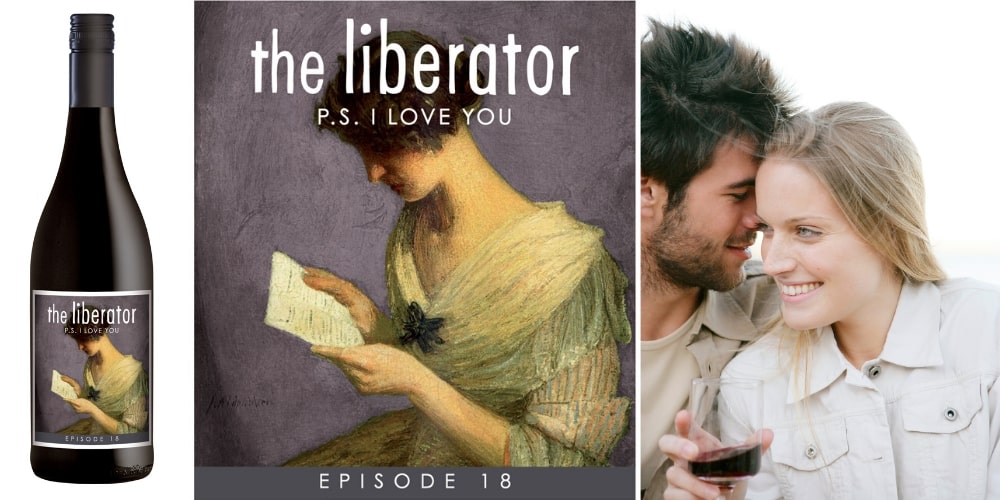 Picture credit: The Old Bridge Wine Shop
What do you gift the wine connoisseur who has everything? We've found the answer, in the form of the ultimate wine for lovers … P.S I Love You. This is the 18th episode from renowned wine label The Liberator. Owner Rick, the 'Cape Crusader' travels South Africa searching high and low for hidden vinous treasures, giving his discoveries a new lease of life in the form of one of his unique, evocative 'Episodes'. These exclusive, exciting wines are all limited edition issues – so move quickly, because once they're gone, they're gone! P.S. I Love You is 100% Petite Sirah from Stellenbosch, a hearty, spicy red perfect for snuggling up with in front of a romantic roaring fire. Just 650 cases of this wine exist, so this is a particularly special Valentine's Day treat for your favourite wine lover. Pick up a bottle or two here!
Preserve your wine (and your relationship) with a selection of our Sexiest Wine Accessories!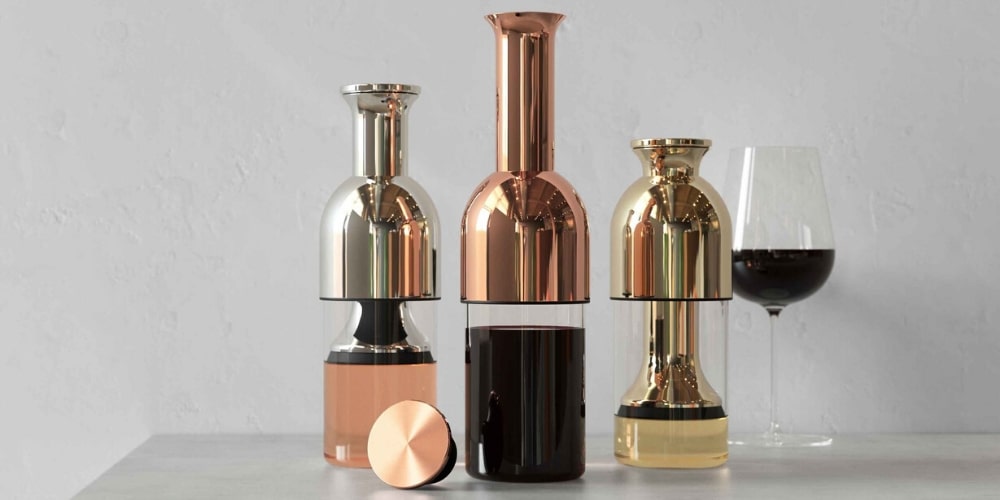 Picture credit: Eto Wine
The eto system is quite simply the most drop-dead gorgeous wine accessory around. This sexy bit of kit has both brains and beauty, designed as a combined decanter and wine preservation system that's good-looking enough to take centre stage on your Valentine's dinner table (just make sure your beloved doesn't catch your eyes wandering!) Available in a sublime selection of sensual metallic shades that are guaranteed to start your evening with a bang … shop eto here.
No love without a glove, meanwhile, is not only great Valentine's Day advice for amorous couples but also applies to your wine! Wine Condoms offer great protection for wine lovers wanting keep the spice in their wine and their relationships, wrapping tightly around the neck of the bottle to preserve all those lovely flavours should your wine drinking be distracted by … other evening activities! Pick up a pack or two on Amazon.
Got your Valentine's Day gifts sorted but still wondering how to wine and dine your beloved on February 14th? Check out Winerist's recommendations for 7 Romantic Venues for Valentine's Day for some inspiration!
Start the seduction with the Sexiest of Champagne Sets!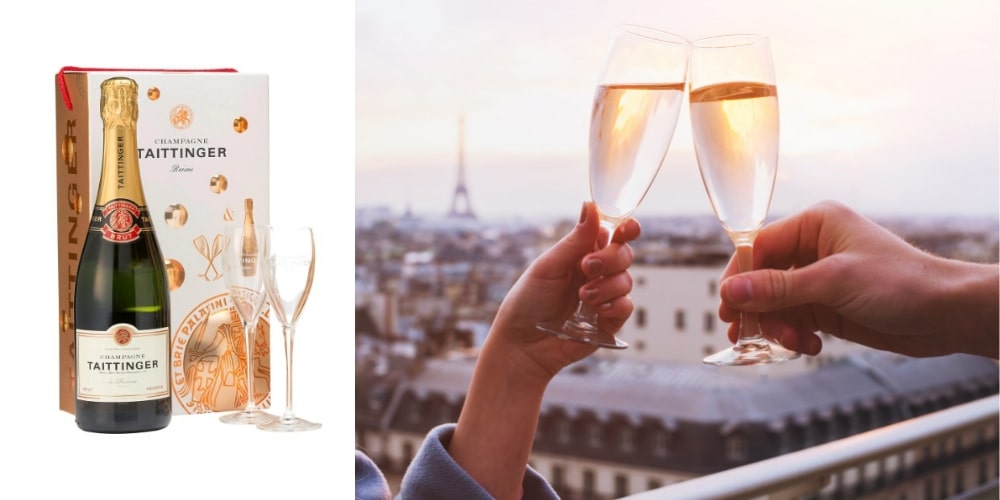 Picture credit: John Lewis
As the famously alluring Coco Chanel once said, 'I only drink Champagne on two occasions … when I am in love and when I am not'. Hopefully this Valentine's Day you will be drinking for the former reason rather than the latter, but regardless of the context we can all agree that there's no drink that speaks the language of love better than our favourite French fizz. To make your Valentine's champagne even more memorable, select a special boxed gift set – from limited-edition glasses to delicious truffles (to be eaten off the body part of your choice!) the options are endless. Two of our favourites are the Taittinger Brut NV Champagne and Glasses Set and the Laurent-Perrier Brut Champagne and Montezuma's Truffle Set!
Whisk your beloved away on a romantic break with a Winerist Gift Card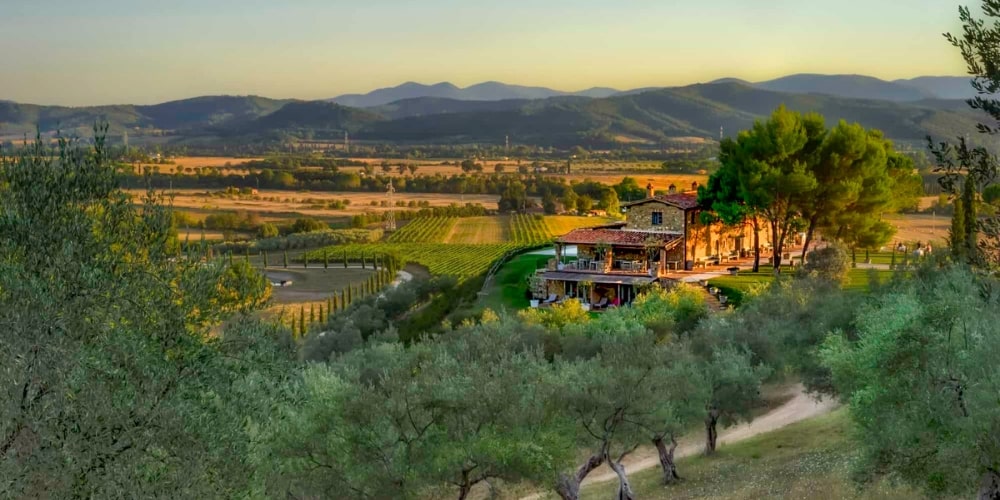 Picture credit: Conti di San Bonifacio
Nothing screams romance more than an impromptu getaway to a land of love! If you are one of the many people who prefers intimate experiences to unwrapping gifts, then Winerist has just the thing for you. The Winerist Gift Card can be preloaded with an amount of your choice (minimum spend £30) to be put towards any of the incredible wine travel experiences available on the Winerist website. Whether you dream of an amazing picnic at an award winning English winery or soaking up the Italian sun on your very own luxury Tuscan wine escape, the Winerist Gift Card is ready to lend a helping hand and whisk you and your loved one off on the wine trip of a lifetime!
Does the Winerist Gift Card sound like the answer to all your Valentine's Day prayers? Get some inspiration for your amazing Valentine's wine trip with our recommendations for the most Romantic Wine Destinations for Valentine's Day!
And if you want an absolutely memorable V-Day, check out these sexy wine destinations: