The Garsington Opera is somewhat of an institution in England. It is one of the dreamiest and most sought after tickets in the months of June and July, but the beauty and elegance of Garsington manages to excced expectations. It offers a cultural experience in the charming English countryside, with a gourmet picnic lunch in beautifully decorated tents scattered around a lake, and of course it always comes with Deutz Champagne – what could be more luxe?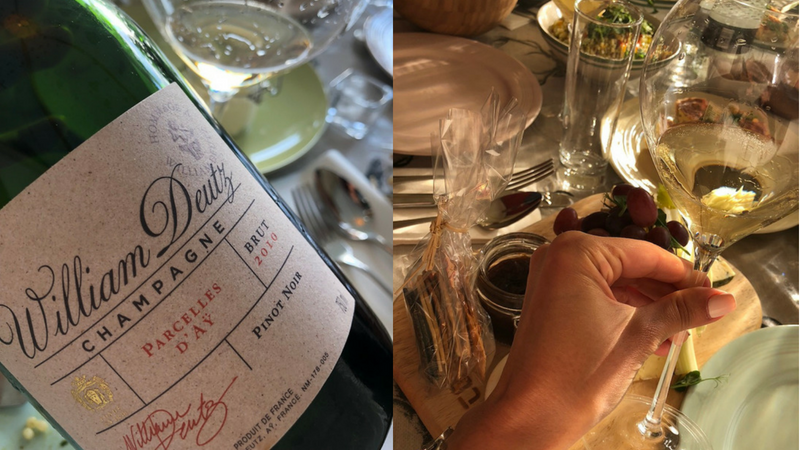 The Getty family grounds are the new home to the Garsington Opera, and it could not have picked a happier location. The Getty family has always been devoted to the arts: the late Sir Paul Getty began his book collection in the States with out of print books by F. Scott Fitzgerald when he was driven into the hands of antiquarian booksellers, but only seriously started collecting antiquarian books when he moved to the UK where his passion was properly nurtured. The collection now numbers many books that are almost priceless, and as part of our visit we were fortunate enough to enter a truly stunning and unique private library. The anteroom is decorated with stenciled designs from Pugin's Floriated Ornament and the interior was fitted out by Chester Jones with a Hammerbeam English oak roof. The ceiling is decorated with the conjunction of the planets at Sir Paul Getty's birth, in the 15th-century style.
The theme of the library is the Art of the Book, as expressed through printing, illustration, illumination, calligraphy and, in particular, bookbinding from the Middle Ages to the 20th Century. There are spectacular examples of book binding ranging across several hundred years, with enamel from 12th Century Limoges, Medieval coverings from deer and sheep, painted Renaissance strap work from the 16th Century, cut leather bindings from the 14th Century, until the Restoration, as well as beautiful jewelled covers.
The room is set out as a comfortable reading library with plump sofas and a welcoming fire. Had this been our final stop for the evening we would have been supremely content to nestle in and lose ourselves amongst the literary splendour.
So what does the perfect day at Garsington look like for anyone travelling from London?
1413        Depart from Marylebone station – could not think of a more fitting station for this exquisite location
14.35       Arrive in High Wycombe for a 15-minute taxi transfer to Garsington
15.00       Arrive at Garsington and take in the views, as well as witnessing one of the most scenic Cricket pitches in England
15.15       Hop on a Hants & Dorset Tour of the beautiful walled gardens (with a refreshing glass of Deutz!)
16.45-17.30         Private tour of the Getty Library
17.30-18.00         A Glass of Deutz by the lake and time to buy a programme and to order more Deutz champagne for the interval!
18.00       Act I
19.30-20.45         Interval with Gourmet Picnic and 3 expressions of Deutz (Blanc de Blancs 2010, Hommage 2010, William Deutz 200
20.45       Act II
22.15       Depart by train or taxi back to London
There is no more spectacular way to see The Magic Flute than this! I can't think of a more charming setting – thank you, Garsington. But mostly thank you, Deutz, for making Garsington even more sophisticated and extra special!
If you would like to taste Champagne Deutz in London, read on to find out where you can taste it in London over the summer months.
SUMMER IN THE CITY WITH CHAMPAGNE DEUTZ
Deutz – one of the best-kept secrets in France – is one of the most elegant and sophisticated Champagnes around, and winner of last year's 'World's Finest Glass of Bubbly' title. Now you can sip it for yourself in the capital!
July
Ritz Bar: choose from Brut Classic, Rose NV and the rare single vineyard 100% Pinot Noir Hommage de William Deutz.
August
Fortnum and Mason's restaurants, just down the road in Piccadilly. You can enjoy a crisp glass of Brut Classic, Rose NV or Vintage 2012 as a refreshing start to your meal.
If Central London isn't your thing, try the City itself, where Deutz has just become the exclusive Champagne at super-trendy Ekte Nordic Kitchen in Bloomberg Arcade, the brand new opening from Soren Jessen – the man behind 1 Lombard Street. Or go north across Regents Park to Primrose Hill, where one of the latest restaurants to open – La Ferme, run by brothers Francois Guerin and Guillaume Dunos (finalist in the Michelin 2016 Young Chef of the Year) has a  Champagne Bar totally dedicated to Deutz. Relax and enjoy a glass of Brut Classic of Rose NV, or push the boat out with a bottle of Vintage 2012, William Deutz 2002 or Amour de Deutz 2005 – just the thing for a romantic dîner a deux.
Let Deutz put some sparkle into your life this summer – wherever you are in London!