As its World Malbec Day, we thought we'd revist the Malbec grape in its original home: Cahors in South West France…
The red wines of the Lot Valley vineyards have such a deep colour that they are commonly known as the Black Wines of Cahors. Loved by Roman Emperors, who authorised the vines to be planted some 2000 years ago, Cahors wine was on the tables at the marriage of Eleanor of Aquitaine and Henry Plantagenet in 1152. Popes (especially Jean XXII, himself a Cahorsin), Kings and Russian Czars loved the stuff and its reputation spread far and wide.
Cahors is made from Malbec, either 100% or blended with a small amount of Merlot or Tannat grapes (usually). Some of the best soils are red with limestone pebbles, which store the sun's heat and releases it during the night. The vineyards stretch from the Pont de Valentré at Cahors itself to Fumel in the west and the producers are only allowed to use the designation AOC (Appellation d'Origine Contrôlée) Cahors for their red wine – white and rosés are sold as 'Vin de Pays du Lot'.
FACT: Malbec is also known as Auxerrois or Côt in Cahors and is called Malbec or Pressac in other regions.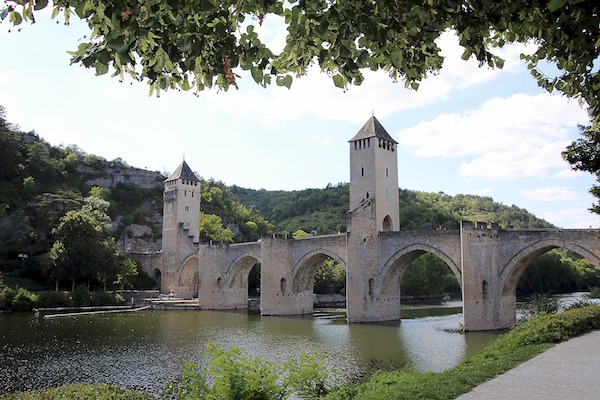 As happened elsewhere in France, the spread of phylloxera during the 19th century more or less wiped out the cultivation of vines in the Lot and again in 1956 the area was hit by severe frosts which also devastated the vineyards. The subsequent replanting with the Malbec grape variety was the foundation for the success of Cahors in recent years.
This extraordinary wine has only had appellation status since 1971 and even now only 4200 hectares/ 10,000 acres are cultivated making it quite a rare wine. There has been a resurgence in its fortunes in recent years due to the popularity of Argentinian Malbec wines which are similar, so if you are in the region you had better grab a bottle (or two) while you are here because it is quite difficult to obtain outside of France!
Want to see Cahors for yourself? Check out our sidebar of joy or take your pick from any of these tours and experiences from winerist.com.