If you are an aficionado of fine wine, Andalucía is definitely the place for you.
Wine in Andalucía has come a long way since the Phoenicians first planted vineyards in the fertile Cadiz area in 1100 BC. By the time the Romans came along, wine was being made in Andalucía in a big way and the activity has continued ever since.
Wine was appreciated even during the centuries of Moorish domination. The Koran frowns on the consumption of alcohol, but the Moors made wine and imbibed it for "medicinal" purposes (sounds like a good excuse to drink wine!). From the 15th century onwards, Andalusian wines were shipped to appreciative drinkers elsewhere in Europe, particularly England, where there was a great fondness for Sack (Sherry) and sweet wines from Málaga.
This happy situation prevailed until the 19th century when European vineyards were affected by the fungus odium, followed by an even more devastating plague of Phylloxera, the American vine root louse, which first appeared in Bordeaux in 1868 and spread to South Spain 20 years later. Most wine areas were replanted with plague-resistant American rootstock, but some others never fully recovered.
From the historic sherries of Jerez, to the up-and-coming new vineyards near Ronda and Granada, Andalucía boasts a great number of top-quality wines.
There are over 40,000 hectares of vineyards in Andalucía planted in 20 regions. Over half of the wine is produced in 4 major 'Denominación de Origen' (D.O. areas or the equivalent to France's Appellation d'Origine Controllée).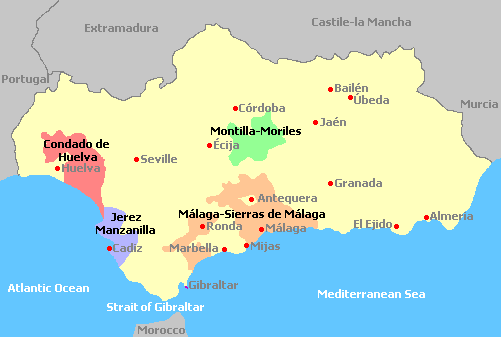 Wine Producing Areas of Andalucía
Jerez, Cadiz Province – Jerez is an area known worldwide for its sherry wine in all its varieties: fino, amontillado, oloroso, palo cortao. This is the place to visit if you're a sherry lover, however there's more to Jerez than just that. A few of its other major attractions are its delicious brandy, its impressive flamenco scene and the horse-riding activities.
Malaga and Sierras de Malaga – You might know Malaga for its abundance of British tourists and its lush beaches, but in the wine world Malaga is best known for its sweet dessert wines.
It was only about a decade ago when a handful of innovative vintners started producing interesting red table wines in the Ronda mountains and they haven't looked back.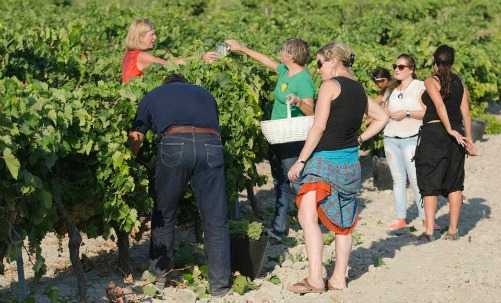 Montilla-Moriles, Córdoba Province – According to Andalucia.com, the Montilla-Moriles wine region consists of 95 bodegas (wineries), which produce 24.4 millon litres of wine annually. Traditionally it is sweet dessert wines that are made here from the grape variety Pedro Ximenez (PX) as well as fortified wines very close to the sherry wines from Jerez. Nowadays this region also produces a wider range of other white and red varieties.
Condado de Huelva – Typically it is the Zalema grape, an indigenous white grape of the region, which makes up Huelva's wine. Available here is a wide selection of dry and sweet white wines. Located close to Jerez, in the past this wine region has struggled to be seen next to it's more famous neighbour, but today, thanks to it's modern winemaking methods, Huelva's wine trade is on the up.
In addition to the above, there are 16 other regions called 'Vino de la tierra'  which is a certified step below DO on the Spanish wine quality ladder. Andalucia is slowly becoming revered worldwide as an important centre for wine-lovers. To use the words of American wine guru Robert Parker: "Andalucia is one of the key regions to watch."
Andalusian wines are world-famous whilst the cuisine is rich and renowned for being delicious. Join Rosa Lara, the author of this blog, to appreciate all things Andalusian: Try her unique 7-day gourmet tour, or explore the vineyards of Cordoba during her 4-day tour for a long weekend!

---
This article was written by Rosa Lara: I am from Córdoba (Andalucia), probably one of oldest cities in the whole Spain and the most important in terms of culture and history. I started my travel company as a personal challenge because I wanted other people to explore this beautiful side of Spain. They say that home is where the heart is and mine definitely belongs here. I feel passion and love for what Andalucia has to offer and I would like to share the most authentic side it with people who are curious and interested in discovering exciting places in a unique way. We add a very personal touch to every single trip that we customise, so the whole experience becomes unforgettable.