South Africa is one of the most exciting wine regions in the world right now, with critics and consumers getting ever more excited about the quality, drinkability and affordability of its incredible wines. One of SA's most famous regions is Stellenbosch, which sits in splendour on the coast of the Western Cape around 50km east of Cape Town and is becoming particularly well known for its incredible hospitality when it comes to wine and food experiences. The wine industry has exploded here in recent years, resulting in a plethora of wine estates throughout the region throwing open their doors to enthusiastic wine tourists. We've shortlisted our pick of the best wineries to visit in Stellenbosch – tourism here is booming thanks to Stellenbosch's welcoming attitude, dramatically beautiful scenery and glorious weather, and we can't think of a better way to spend a few days in South Africa than touring some of the region's very best wineries!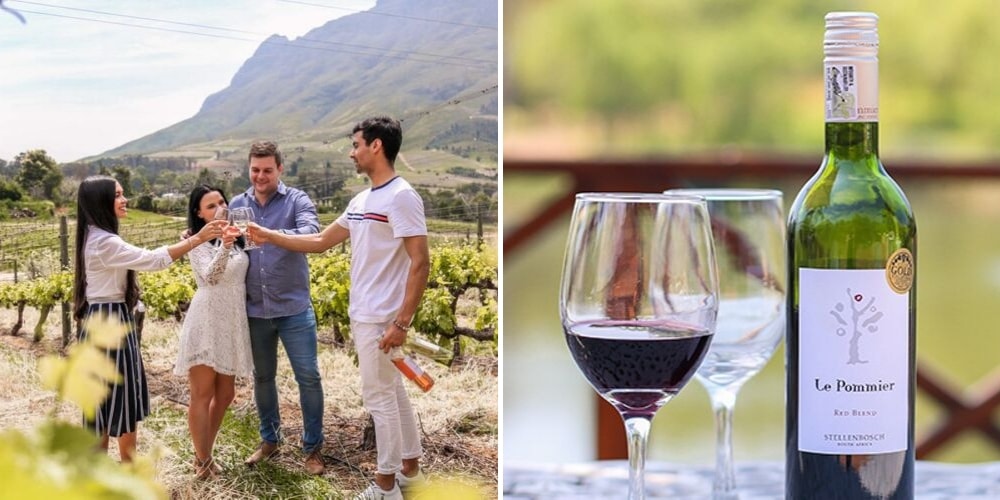 Photo Credit: Le Pommier
Le Pommier, or 'The Apple Tree', is a former apple orchard situated in the beautiful Banhoek Valley. Just 35 minutes from Cape Town International Airport, Le Pommier has something for everyone – begin with a tasting of their award-winning wines (we recommend booking wine tastings and cellar tours in advance) before grabbing a spot of lunch in the rustic South African restaurant. After all this indulgence, it's completely understandable that you may not want to leave, and luckily there are a range of luxurious accommodation options on site with all kinds of activities available for residents, from trout fishing to mountain biking through the dramatic landscape. Wine holidays at Le Pommier is truly not an opportunity to be missed!
For wine tastings and food pairings at Le Pommier – book with Winerist today!

Photo credit: Meerlust Estate
Simply one of the most famous names in South African winemaking and one of the best wineries in Stellenbosch, the Meerlust Estate has a proud heritage which dates back to 1756! 'Meerlust' translates as 'pleasure of the sea', and refers to the close proximity of False Bay, which not only provides a beautiful vista but also refreshes the hot vineyards with cool sea breezes and gentle evening mists. This microclimate aids the production of some of the best quality and most sought after wines in South Africa.
This estate is a National Monument and is a must-visit on your South African wine tour, whether you're spending an hour or two tasting incredible wines such as the iconic Meerlust Rubicon, or spending a night in one of the two king-size bedrooms (formerly slave quarters) which have been lovingly renovated in order to provide visitors with the ultimate Meerlust experience. Don't forget to visit the friendly staff in the wine shop to stock up on your favourites before you leave!
For wine tastings and a visit to Meerlust Estate – book with Winerist today!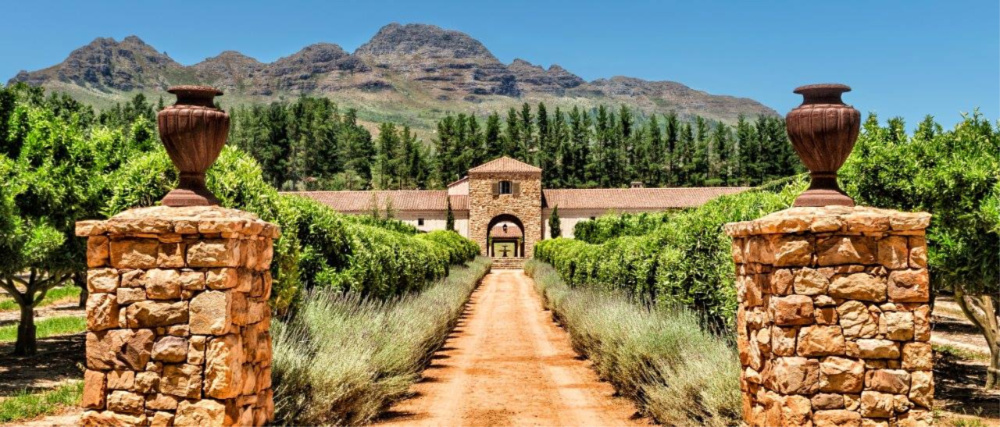 Photo credit: The Waterford Estate
The Waterford Estate is situated in the picturesque Blaauwklippen Valley, and the owners have chosen to use only half of their 120-hectare estate for viticulture in order to preserve the wonderful natural ecosystems of the estate. This sensitive approach means that visitors find themselves surrounded by beautiful local flora and fauna as they wander amongst the vines, and one of the many reasons we consider it one the best wineries in Stellenbosch.
Waterford are well known for their delectable Wine and Chocolate pairing experience, which can be enjoyed in the courtyard in full view of the scenic Stellenbosch Mountains. The tranquil atmosphere and wide selection of wine tours and experiences (including a Wine Safari!) alongside award-winning wines make a visit to Waterford an unmissable stop on your South African wine tour.
For winery tours and tastings at Waterford Estate – book with Winerist today!

Villiera Wines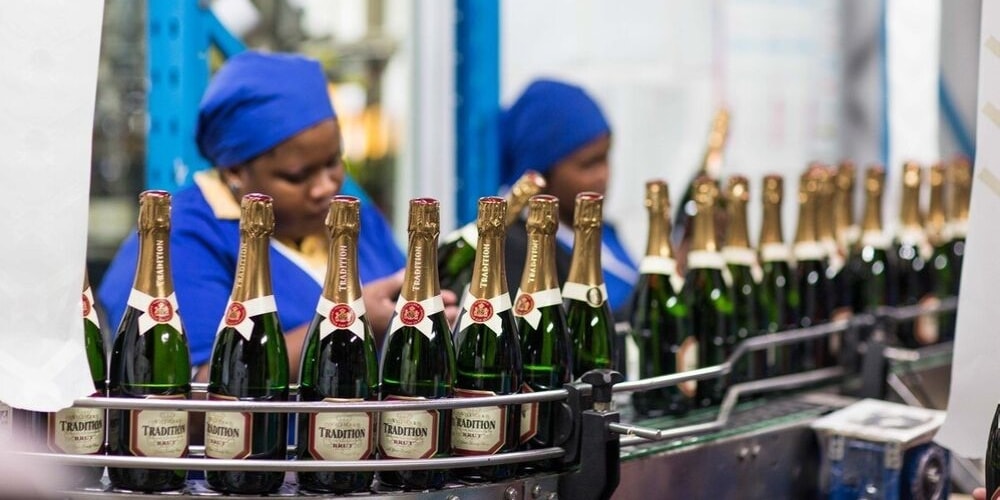 Photo credit: Villeria Wines
Villeria Wines is a pioneering family-run winery which has been owned by the Grier family since 1983, after their grandfather decided that he'd rather make wine than continue to farm chickens! Today, Villeria produces a fabulous range of wines and are particular specialists in Cap Classique, a South African sparkling wine made in the same traditional method as Champagne.
Not only will you receive a warm welcome and a wide selection of tastings to choose from in Villeria's tasting room, the Wine Sanctuary (we are very keen on the bubbly and nougat experience!) but you'll also be able to experience the jewel in the estate's crown …  Villeria have their very own reserve where guests can participate in jaw-dropping game drives, getting up close and personal with everything from giraffe to wildebeest, before retreating to the sanctuary of the vineyard for a cool Chardonnay amongst the vines!

To discover more about one of our favourite South African wine styles, why not spend some time on Winerist's Méthode Cap Classique Wine Tasting Tour? Spend a gorgeous day in the hands of our capable private chauffeur and guide making your way from winery to winery and indulging in three amazing tastings of our favourite South African fizz!
Dornier Wines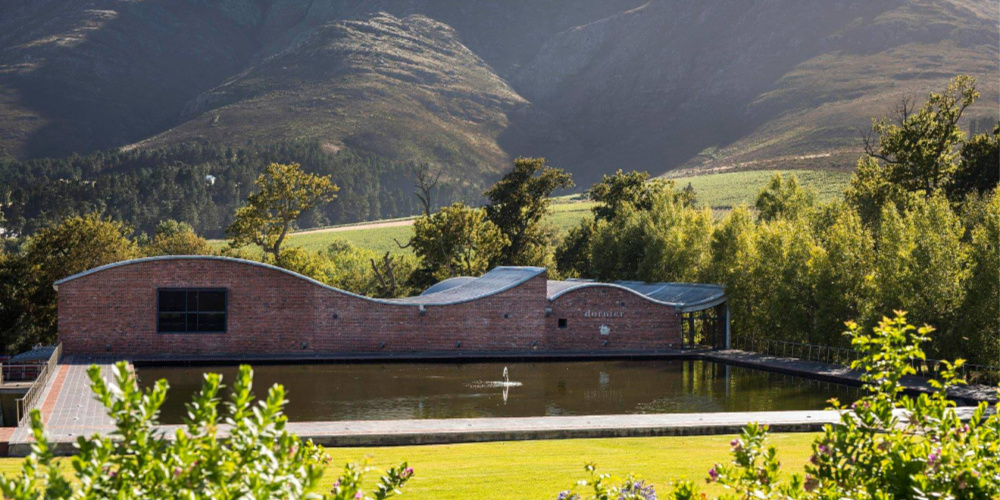 Photo credit: Dornier Wine Estate
Dornier Wine Estate lies in the foothills of the Stellenbosch Mountains, and uses the unique granite terroir in this dramatic spot to produce a wonderful portfolio of elegant wines which often tend towards the experimental (make sure you try the unusual Cocoa Hill Rosé, made from the Merlot grape!)
Wine holidays at here mean guests can wine, dine and stay in luxury in this most scenic of locations; check into one of the estate's nine beautiful self-catering cottages and stroll across to the modern wine tasting centre to enjoy panoramic views of the mountains as you enjoy your wine tasting! End the evening with a slap-up meal of fresh local produce at the on-site Bodega Restaurant to complete your dream stay at Dornier.

Spier Wine Farm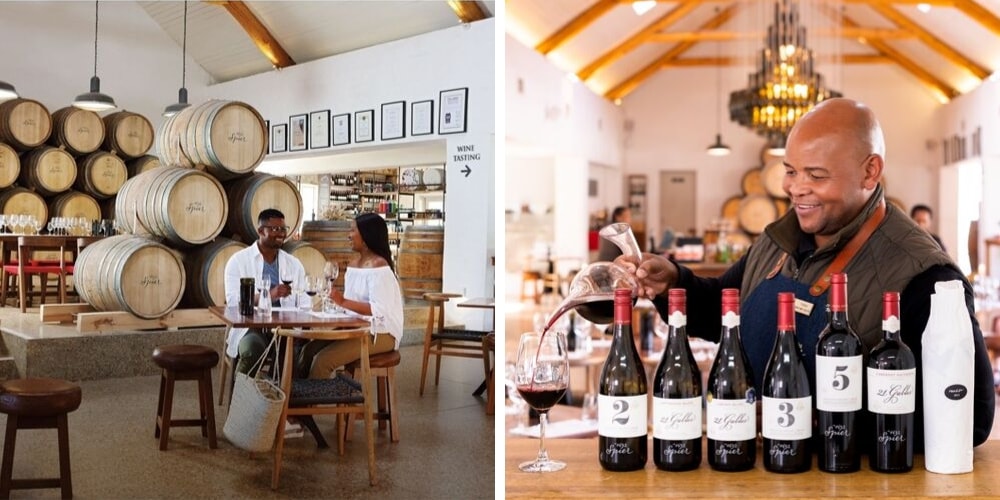 Photo credit: The Spier Wine Farm
The Spier Wine Farm is one of Stellenbosch's oldest working wineries, with a heritage dating back to 1692 – however, this winery is anything but tired, and it's impossible not to fall in love with the boundless energy that greets you. As well as wine, the owners are passionate art lovers and the winery is home to one of the largest collections of contemporary South African art in the world.
The best wineries in Stellenbosch have something for every guest and Spier Wine Farm is no exception! Whether it's a breezy Segway tour through the vines, a tasting of some of the most awarded wines in South Africa, or an unbelievable Eagle Encounter with the many birds of prey who have found sanctuary at Spier, Spier Wine Farm covers it all. At the end of the day, put your feet up and enjoy that famous South African hospitality in the estate's four-star hotel, which boasts multiple swimming pools, a Kid's Club and a spa.

Delaire Graff Estate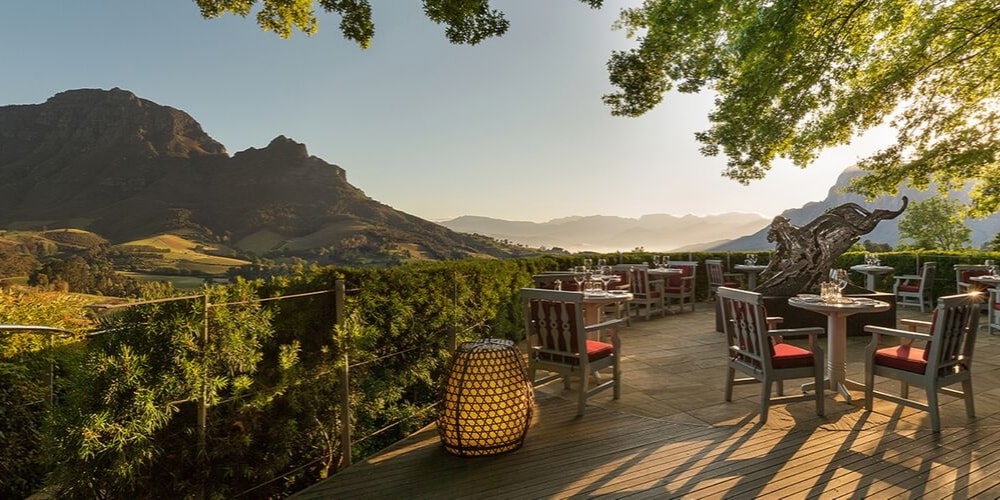 Photo credit: The Delaire Graff Estate
The Delaire Graff Estate is quite simply one of the most luxurious and indulgent wine tourism experiences to be found anywhere in South African wine country. The ten luxury lodges are the epitome of elegance, with private terraces and your own personal heated plunge pool providing the ultimate spot to gaze across the mesmerising landscape. There are two restaurants and private in-room dining available, and even a diamond salon for guests who are looking to splash out!
However, don't forget to schedule a visit to the estate's working winery in amongst all this pampering. True to form, tastings take place in the opulent Wine Lounge, a marvel of design which houses some of the estate's art collection. Luckily, the wines are just as beautiful as the setting, and there's no wine tasting experience in South Africa more likely to make you feel like a million dollars.

If the sheer amount of choice in Stellenbosch is making your mind boggle, why not let the experts make the decisions for you on a Winerist Cape Winelands Wine Tasting Tour?
Peter Falke Wines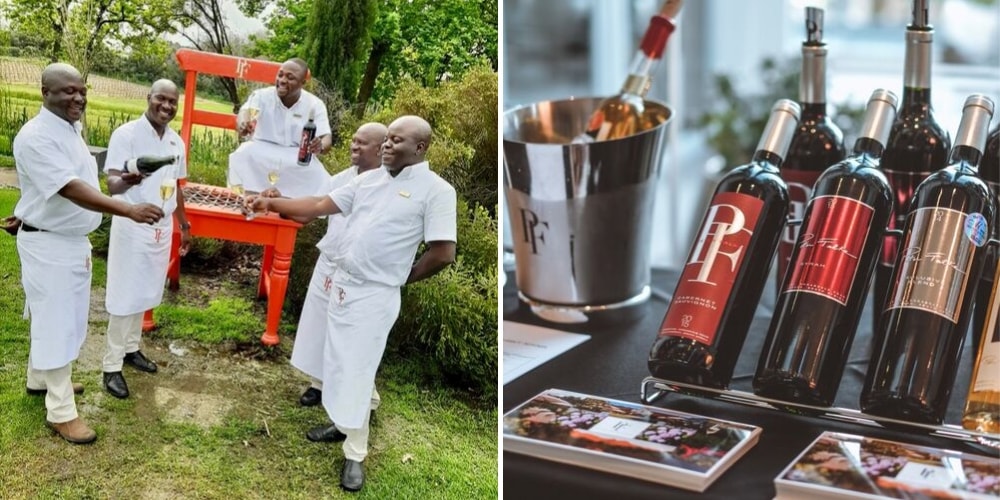 Photo credit: Peter Falke Wines
The Falke family have been farming their stunning vineyards in the heart of Stellenbosch since 1995, when German Peter Falk and his French wife Marie made their dreams come true with the purchase of the Groenvlei Estate.
Traditional Cape Dutch buildings dating back to the 18th century form a wonderful juxtaposition to Falke's very modern approach to winemaking, aided by a dedicated and innovative team of winemakers and managers. The pretty winery is open for tastings from Tuesday to Sunday, 11am to 7pm- choose for a formal event in the winery, or a more informal experience snuggled in bean bags on the lawn outside!

Asara Wine Estate & Hotel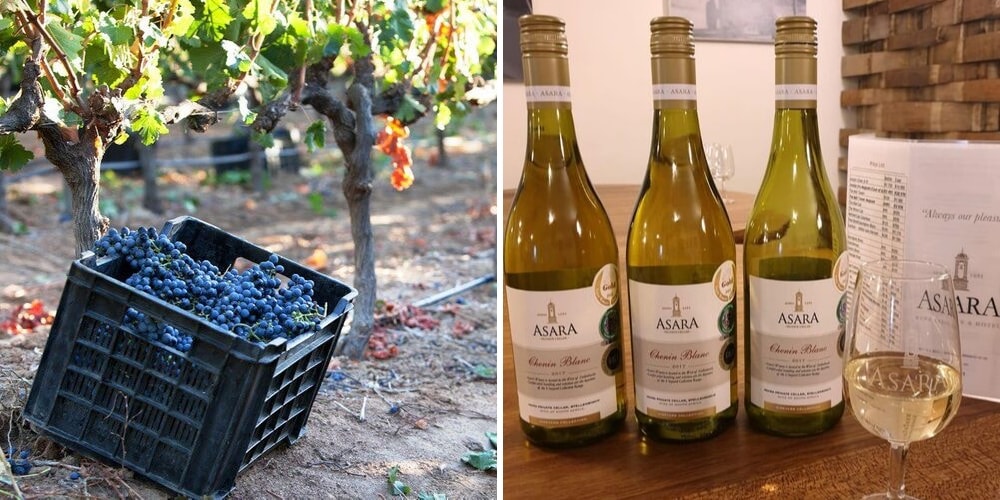 Photo credit: Asara Wine Estate & Hotel
The Asara Wine Estate & Hotel sits at the heart of the Cape Winelands region just 25km from Cape Town. The estate has a long heritage which dates back to the late 17thcentury, but today is not only a modern, innovative working winery but also home to an indulgent wine hotel and not one, but four dining options!
At Asara, if you can imagine it, they probably offer it. There are gin and wine tastings, wine tours taking in the Asara Estate as well as some of its neighbours, a spa treatment room, spectacular golf courses within easy reach and a whole host of day trips available on request. Not only is this a wonderful spot for a wine tasting, it's also a great place to base yourself when planning a longer soujourn in the Stellenbosch region.